Supperclub + Wine Tasting
by Dawn Garcia | Video by A Taste of Dawn™ Productions
On August 2nd and 3rd, ATOD Magazine™ partnered with Los Angeles' premier venue and nightclub, Supperclub in Hollywood to do a dinner + wine tasting with D'Alfonso Curran Winery. Wines created by Bruno D'Alfonso and Kris Curran, the lineup of wines expands well into any palate with a passion and love that can appeal to just about anyone. Below is a video of how the evening went. Thanks to Supperclub, the 4-Course dinner pairing was sublime. Thanks to D'Alfonso Curran Winery for making such lovely wines …
A sampling of the Wines and the Menu following Video:

Thanks to Alexis Murine, my in-house Video Queen, for helping me put the video together.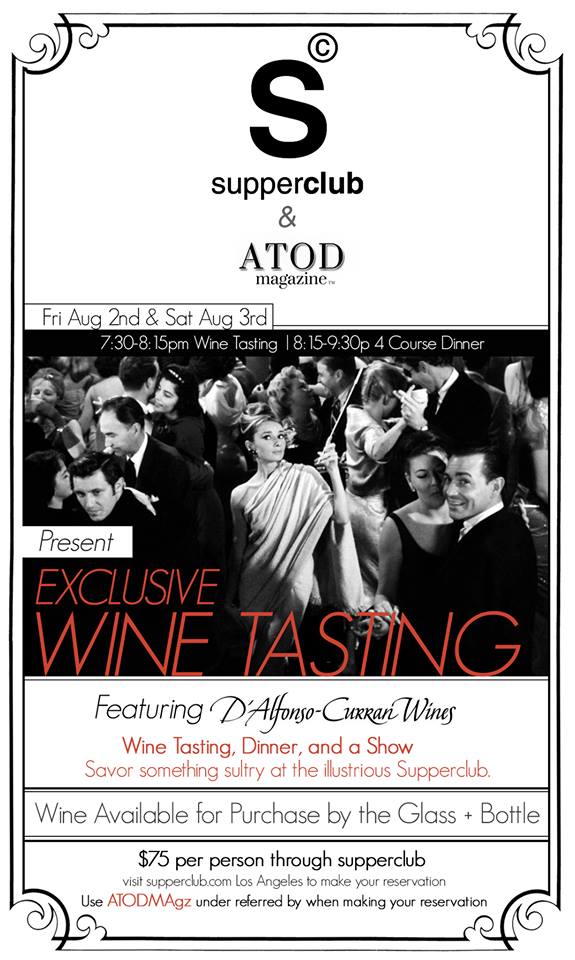 The MENU
Seared ahi tuna: with lettuce heart, sunny side up quail egg and a tartar sauce

Pan roasted wild alaskan halibut: coconut scented sticky rice and sweet and spicy melon

Crispy organic chicken breast: with a puree of celery root, belgium endive and a truffle jus

Finish: Organic farmers market strawberries with short cake
The WINES
The Tasting:
2006 Curran Syrah | Santa Barbara County
2011 Grenache Blanc | St. Ynez Valley
2008 D'Alfonso-Curran Chardonnay | Santa Barbara County
The Flight:
Ahi = 2010 BADGE Chardonnay | Santa Barbara County
Halibut = 2011 Grenache Blanc | St. Ynez Valley
Crispy Chicken = 2008 D'Alfonso-Curran Chardonnay
The WRITERS ROOM:
White = 2012 Di Bruno Pinot Grigio | Santa Barbara County
Red = 2007 Grenache Noir | St. Ynez Valley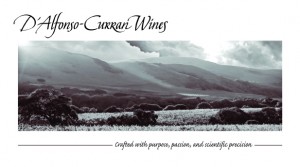 About the Vineyard:
At D'Alfonso-Curran, we focus our efforts on making great wines and leave the growing of world-class grapes to the viticulturalists, from whom we purchase all of our fruit. We are fortunate to be located in this very unique wine grape growing region of our world.
Here in Santa Barbara County, and the AVAs of Sta. Rita Hills, Santa Ynez Valley, Happy Canyon of Santa Barbara and to some extent Santa Maria Valley, there is a unique mountain range called the Transverse Range. It is here, that the only mountain range in both the Northern and Southern Americas run East-West. Every other mountain range on these two continents are north-south running. This creates a unique funnel of oceanic influence into the valleys. Morning maritime fog rolls in slowly and finally meets the warm desert air flowing from the east and the Los Padres National Forest.
Santa Barbara County enjoys the longest growing season in California, making D'Alfonso-Curran's harvest season stretch from August through November. Kris and Bruno have lovingly selected varietals to craft that they have a shared passion for. D'Alfonso-Curran has taken this same care in selecting vineyards to purchase fruit. Kris & Bruno have developed long standing relationships with the following exceptional vineyards throughout Santa Barbara County:
Black Oak

Rancho Las Hermanas

Rancho La Viña

Sanford & Benedict

Sierra Madre

Stolpman

Tierra Alta

Westerly (McGinley)

White Hills
About The Winemakers
Bruno D'Alfonso, Kris Curran, the Crew and the Pack
D'Alfonso-Curran Wines is a family of professionals created out of a shared passion for wine. The crew was created with the same love and consideration that Kris & Bruno use to craft and stylize their unique wines.
Together Kris and Bruno have 50 years of combined winemaking experience. To date and with the help of their loving "crew" and loyal "pack", they produce their personal wines under the Di Bruno, Curran, BADGE and D'Alfonso-Curran labels.
California, by far, produces the finest wines in the world—the most consistent and of the highest value. D'Alfonso-Curran Wines are crafted with purpose, passion, and scientific precision.