Fancy A Drink? Get Your DIRTY LAUNDRY!

A Birthday Bash for the Books …
by Dawn Garcia | Photographs by Clarence Alford
Flyer Design by Lance Gorji
DIRTY LAUNDRY
1725 N. Hudson St. | Los Angeles
Facebook | Instagram | Twitter
A Black Gate
A Man at the Door
A Red Balloon
PASSWORD: EVA
The Preview to the Official Opening …
The pre-party invitation:
"Valentino. A secret door. Sex. Allure. Mystique. Welcome to my party … Just toured the venue. Get your game face on boys and girls. Saturday night will take you on a journey that will wake up an inner you you never knew was so hungry. Prepare for your curiosities to be fed. Come thirsty and remember, look for the man outside at the black gate. Oh and be ready … Quench the ravenous beast."
September 28th was more than just a day. It was a day where (even though my actual birthday was on the 27th) I celebrated being given another year of life. I was long overdue for an ATOD Event and well, there are only two fellas I know in town who have the vision and the creativity to make that happen: Mark and Johnnie Houston. Lucky for me, their brand new venue was getting ready to open: DIRTY LAUNDRY. The original spot of the iconic Rudy Valentino, I was granted access to have my birthday bash there prior to the public and press getting wind of it. The one thing everyone must know about any Houston Bros. joint is that every single detail is taken into consideration. From the arching of the walls to the subtleties strategically placed throughout the room, every single element has been carefully thought out and the remnants of times passed are ever present. It is their intrigue and the reason every one of their venues are among my absolute favorites in Los Angeles.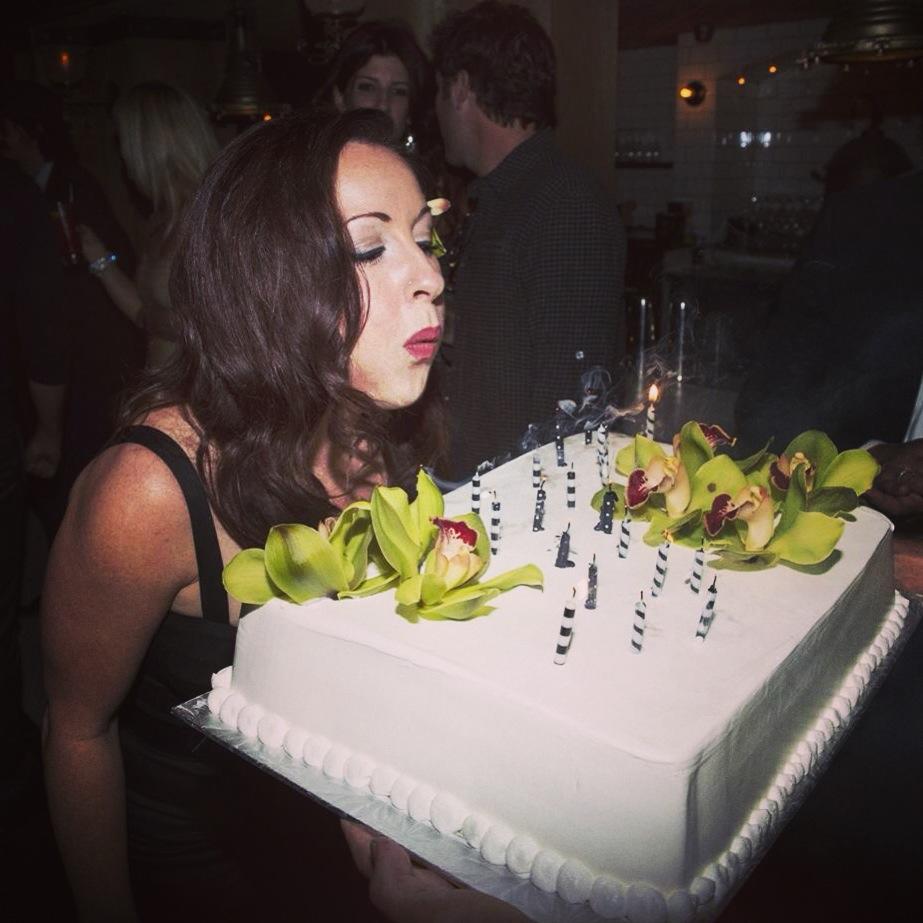 I should explain that I grew up with a grandmother that was the assistant to Max Factor, had a grandfather who was a scratch golfer who would be invited to play with the likes of Bob Hope, another grandmother that worked at the Santa Monica Bank back in the 40s with customers like Rock Hudson and Bette Davis, and another grandfather who loved Bela Lagosi and Luis Buñuel. My life, unbeknownst to me, was steeped in old records, Lawrence Welk, classic films, and a Hollywood I find myself drawn to like oxygen to ones bloodstream. Every Houston Bros. venue embodies precisely that sensual, provocative allure of the eras that oozed cool and sophistication: the 1920s-1940s. Dirty Laundry is no exception and in fact, in spite of not having a fancy show like La Descarga, No Vacancy, or Pour Vous, (Once it's open, there is going to be amazing entertainment!) – that said, it is the one place I feel has the raw and insatiable charm of Speakeasy's from once upon a time. It is, in my opinion, their most appealing.
With an entrance that begs a sense of nostalgia with a simple black gate, stairs leading underground, a large iron-cast door with a rectangular peep hole, call box, and the word "SEX" cut out of old copper metal with marquee bulbs screwed into its shape (some lit, some not … its all in the details) upon entry, you know this is not like any place you've ever been. You can feel this flood of heat rush over you as if your body understands that tonight, you get to revel in some much needed anonymity. To the left of the door you'll find a bar made of marble, encased in a brushed cream wood carved molding with metal wires encasing buttery-like tiles underneath, booths that cushion your body like those in an old film; Tufted black leather, tall walnut tables, beacon lights, and the inexplicably beautiful brick arching that Mark himself designed to give the space a sense of story that anyone with an imagination is all too willing to partake of.  In other words, let go. Slip into a world swimming in  mystery and the uncanny touch of Valentino. As you make your way through, the bar incites a sense of familiarity that is cause to pull your languid body right up to it and watch as the men with the white tees, black suspenders, and smiles ask you, What's your poison. (A spicy concoction that took my tongue to a tantalized ecstasy only to be followed by second cocktail, a celebratory champagne cocktail that tickled my fancy.) Nothing behind the bar is predictable and you can most definitely get the sense of pre-prohibition with alcohol listlessly laying in glass apothecary jars labeled with history and style. The white tiled backdrop, the wooden wall with mysterious boxes (one I hope to find open as the bar ages), the wall opposite the bar a museum of sorts. An homage to medicines, curiosity, sex, literature, the cinema, and even a touch of science.
As you make your way through the illustrious scene cut straight from something that reminds me of how Chicago or New York may have been during the height of seedy elegance and high class crime,  the walls made of concrete and tales (all directly from the imagination of Johnnie and Mark), to the left is a room. The Valentino Room. Tucked away, lined with couches, a truly exquisite crystal chandelier, bookshelves, a dark wooden carved bar, art, and what will soon be a velvet rope for private parties. This is where stories begin. Exit the Valentino Room and down the hall you go to the music. 4 black tufted leather sofas, 8 tables made of old laundry baskets harboring wooden milk crates filled with empty vintage glass bottles. And then, my DJ, DJ Anton Black spinning music that has created the perfect ambiance for the night with everything from Bitter:Sweet to songs of ole mixed in to a playful, sensual beat that begs your hips to play. He seamlessly blends the visual metaphors into ear candy that emulsify like sugar.
While the space fills up with coy conversation, bodies swaying, mouths moving, lips licking off remnants of unforgettable spirits, laughter sifting through the air, dapper men resting their newfound cool onto the bar, the intoxicating beauty of the gals moving about the room as if they too have found their inner kitten, this is the new pulse of Los Angeles. This is unlike any place I have ever been. For a while I am alive, I am playing, I am free to embrace my inner starlet while celebrating another beautiful year of life. All the while being in the company of those who fill my soul with love, alongside two brothers who have a remarkable ability to take the way I envision the world and bring it to life (Thank you M + J!). With music by Anton and the epic performance of Brandon "the Beatboxer" Martinez, "Happy Birthday" sung acapella by Gedina, and premiering my beautiful friend Shana Halligan's brand new single before it's official release, ILLUMINATE, this was an unforgettable birthday. Welcome to the new year! Welcome to the new FIERCE!
To Mark and Johnnie: You are brilliance. XO
To everyone that came out, you made my heart swell.
To those that couldn't make it, we will do this again.
DIRTY LAUNDRY is set to officially open 1st weekend of OCTOBER, 2013.