Garrett Backstrom and Collin Ford
Interviewed by Dawn Garcia | Photographs by Clarence Alford
I had the pleasure of sitting down with two of what I believe will be the actors to keep your eye on in the coming years: Garrett Backstrom and Collin Ford. Invited to attend the Red Carpet DVD Release Event of Michelle Danner's "Hello Herman", I was asked if there was anyone attending I'd want to interview. While the list is always interesting, I wanted to interview someone I felt hadn't really had an opportunity to be seen outside of their realm. For the first time ever, I interviewed two, under 18, rising stars in Hollywood. Both 17 years-old, both with a rather successful career already under their belt, and the endless potential that will no doubt make them household names very soon.
Garrett Backstrom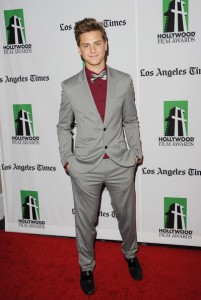 Garrett Backstrom: when I first met him, demeanor is one of cool but approachable, million dollar smile, boyish features subtly fading. Graciously he shakes my hand, says hello and without any ego takes photos, talks to cast and crew, fans, friends all the while never forgetting to make sure the core group he's there with knows he hasn't forgotten them. Garrett starred in the recent Indy film, Hello Herman playing a troubled teen who goes on a shooting rampage at his high school. Killing too many to count, he finds himself sped through the justice system and now facing death by electrocution. This role was way outside of his comfort zone considering past roles include him playing a heartthrob boyfriend or adorable jock. He stepped into the role and in turn matured as an actor. This interview we did while sitting outside of the screening and it's far more casual than the traditional interviews but these aren't your typical young Hollywood actors. Garrett is certainly handsome and charming but he is also very focused and has an authentic love for his craft. While his background is in gymnastics and he has turned to acting, his dream is to play roles that push his physical limits, do his own stunts, tell a story that gets people excited. I admire that. Enjoy the interview below.
Garrett plays the lead role in Hello Herman where he commits deplorable crimes though in-person you're not likely to meet a sweeter, more open guy. Almost 18, the one thing Garrett hopes to do most is to play in Action films like the "Bourne" Series.
ATODMagz – Dawn Garcia (DG): I know you've been on Jessie and Lab Rats, and in fairness I haven't seen all of Hello Herman, but what is your dream role?
Garrett Backstrom: Ya know, between film and the TV world I do prefer film because it's a lot less stressful, a lot slower, there's more rehearsal time, it's just a lot less tedious. It just is so I would prefer film and I would actually like to get into some action movies. I'd love to do something like the Bourne Movies. That's why I moved out here. I actually moved out here to do stunts because I was a gymnast for 11 years but I moved out here and found an Agent and she said, "no you shouldn't do stunts. You should do acting, you have a face for acting and in stunts you just get hurt" so I ended up acting. My dream role is to play like the Jason Bourne's. I really like the fighting, the action, the shooting scenes, I really want to do that but I also want to do other things so I can do a variety of different roles and really push myself.
DG: We'll have to get you in front of some of the Action Film guys like Seamus McGarvey, McG, or the Chris Nolan's.
GB: Yah, and before I was young but I'm just getting to the age where I can do all that stuff. I'm about to turn 18 so I can play the army roles, so I'm excited. Instead of playing the cute boyfriend or jock or whatever, now I can really explore more roles without my age being an issue.
DG: That said, what's your reel like?
GB: I have a reel but right now we're putting together a new reel because I have a new movie coming out so as soon as that comes out, I can send it out this month to everyone.
DG: Do you have any issues going into darker roles?
GB: Well I mean this role I just did in Hello Herman I had to go to really dark places. I mean its hard, I can do it for acting and if that's what it requires then I'll do it. And I did do that for Hello Herman. The end scene is me being electrocuted in the electric chair and the things I had to think about were just – that's dark. Can't get much darker than that and it can be difficult sometimes to snap out of character and go back to your house and be sane without getting to trapped in that mindset, ya know? And luckily I can do it but I would prefer to play the happier roles. But you know, heck, I'm so happy I got to do this movie because its such an intense character and I think it pushed me as an actor. — I mean this role, no one would ever even think of me as a school shooter and that's why I respect Michelle's [Danner] opinion on choosing me because ya know, she wanted to show that these shooters and the people who are doing these things, you never know who they are. They really can be anyone. You don't know what's going on in their lives and even the kid that's fine and not even socially awkward can be capable of doing something like that and just snap. It just shows that anyone can do that and that's why I respect her choice so much more.
DG: So what actors play roles – the badasses – you are influenced by? I mean I know you said Matt Damon but who else?
GB: Gosh, Marlon Brando, Daniel Day Lewis, Joaquin Phoenix. I really like Joaquin's stuff right now. It's hard because I really just love good work. To see good work in a movie theater it just excites me – especially when you see a really powerful scene and that's really what I want to do.
DG: So what's the last movie you saw that did that for you?
GB: Oh, the new movie Joaquin did called, "The Master" and there's this scene with Joaquin Phoenix and Phillip Seymour Hoffman where they're in the basement of this ship and they just do this intense scene and I just got chills. I almost had to get up, I was so overwhelmed. It was so intense – their performance. I just want to be able to do that in my movies. Give that kind of performance.
DG: If someone is reading this that is totally unfamiliar with you or your work, what would you want them to know about you as a person and as an actor?
GB: Ya know, I just want people to know I'm a very easy going, caring, giving guy. I really love supporting different charities and movies like this. I did this movie not because I had to but because the meaning behind it is so necessary. I'm not here to do work to get fame or anything, that's not what it's about for me. It's about giving a performance and just really making an impact on people and that's what I'm looking for in a role. I hope people can respect me as an actor and that, you know, acknowledge that I work really hard and I have a lot of perseverance.
Garrett Backstrom is all heart and it shows. His versatility and conviction is no doubt going to result in a lifetime of work we will all be grateful to witness.
Collin Ford
Collin Ford: At first impression, Collin has a certain calm about him. He is tall and thin and while having worked with the biggest actors in the biz like Matt Damon in "We Bought A Zoo" and being on the new CBS Show, "Under the Dome" where he plays Joe McAlister, he is not an actor with an attitude. In fact he may be one of the nicest young actors I've met. With a love of things vintage and no pretense of being the typical "now generation" of entitled, he has a passion for life and simplicity and a strong work ethic. Collin, at the age of 17, has an undeniable sense of self and an unexplained wisdom far beyond his years. He really is a bit of an old soul in his approach to life, his candor, his demeanor of both shy and cool, and his passion for all things 1960s. We sat down following my interview with Garrett and I have to say, his conviction to want to do work that matters is refreshing. Enjoy our interview…
DG: If you could hand pick the next role you'd be in, what would it be?
Collin Ford (CF): The movies that I really like are the ones like, "Top Gun", "Stand by Me", "A River Runs Though It" with Brad Pitt – ya know ones that have a really good story, the ones that really have meaning like give off a good message, like an audience will laugh or cry or just really feel emotion. To have a real experience. I like to go to the movies and have a really good experience, and draw from what it lets me feel – whatever emotion it is.
DG: What's the last movie you saw that really made you feel something?
CF: Um I was hanging out with my friend, Britt Robertson who plays my younger sister on "Under the Dome" and she'd never seen the movie "Stand by Me" before so most recently that was probably one of the ones that you're just like – OH! That's a great story! And I really like the original Outsiders Movie. That was definitely one of the ones … Just that story was awesome. I mean I would love to, if they were to ever redo that, it would be dope.
DG: How old are you?
CF: 17
DG: You seem to really be grasping on to what you're doing. You seem to really care about what you do.
Collin: People always say to Garrett and I, like "dude you guys must hang out with so many celebrities" and honestly, do you know how many times he and I hang out and talk about acting? Like never. Ya know, I'm here tonight supporting Garrett and the DVD release, that's awesome and everything but at the end of the day we're just gonna go home and laugh about the stupid stuff we're gonna do this weekend. Cuz we're best friends, ya know?
DG: Ok, so then what's the craziest thing you've ever done together?
CF: (Laughing) Oh, I can't tell you that! But we did just get from Turks and Caicos, went to the Caribbean with our families and we just had a blast out there and hung out at the beaches. Oh man it was so cool, we went out on a catamaran and we saw these beautiful islands and these iguanas that were like really big bearded dragons, it was insane. We just had a great time!
DG: So I know Garrett has a thrill seeker in him and wants to do crazy action movies and stunts. What about you?
CF: Oh, yah definitely! I would love to do an action movie like Bourne Identity with Matt Damon or Mission Impossible type thing. Every time on set when they let me, I like to do my own stunts. I had a knee injury a couple of months ago so haven't been able to yet but I'm looking forward to getting back to it.
DG: Before we wrap this up, if you could go back to any point in time —
CF: (Without hesitation) The 60s.
DG: The 60s! Ok, so why?
CF: Oh, I love Ford Mustangs. Well, I should probably go back to the 70s so I can drive a 60s Mustangs around! I have a 1965 Mustang and I got to drive it around when we were shooting Under the Dome and that car is so much fun. I don't even need the modern technology and all the stuff they put in cars now. Like navigation, what? And I have wi-fi in my car or a DVD player? What am I gonna do, go hop in my car to watch a DVD and I'll grab my microwave too and some popcorn? I don't know. It doesn't make any sense. I just need the basics to be honest. I'm good with an engine and four seats.
Collin is a real guy's guy without any of the ego and all of the promise. Looking forward to seeing what he does in his career.
__________________________
Thanks to the entire cast, Director Michelle Danner, Garrett Backstrom and Collin Ford, and Lori Dewal for setting this up.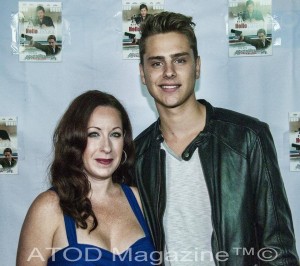 ___________________________
Follow ATOD Magazine™ and A Taste of Dawn™
My Wardrobe Provided by Fashion Columnist and Wardrobe Stylist, Ali Levine – Ali Levine Design, Celebrity Stylist:
Dress- Hailey by Adrianna Papell – @AdriannaPapell
Clutch- @JacquelineQNY – Designer Jacqueline Quinn
Bangle – @ccskye – CC Skye
Shoes- Nina_Shoes | Nina Shoes
Join the conversation on FACEBOOK: