Father + Daughter: David Arthur + Laura Long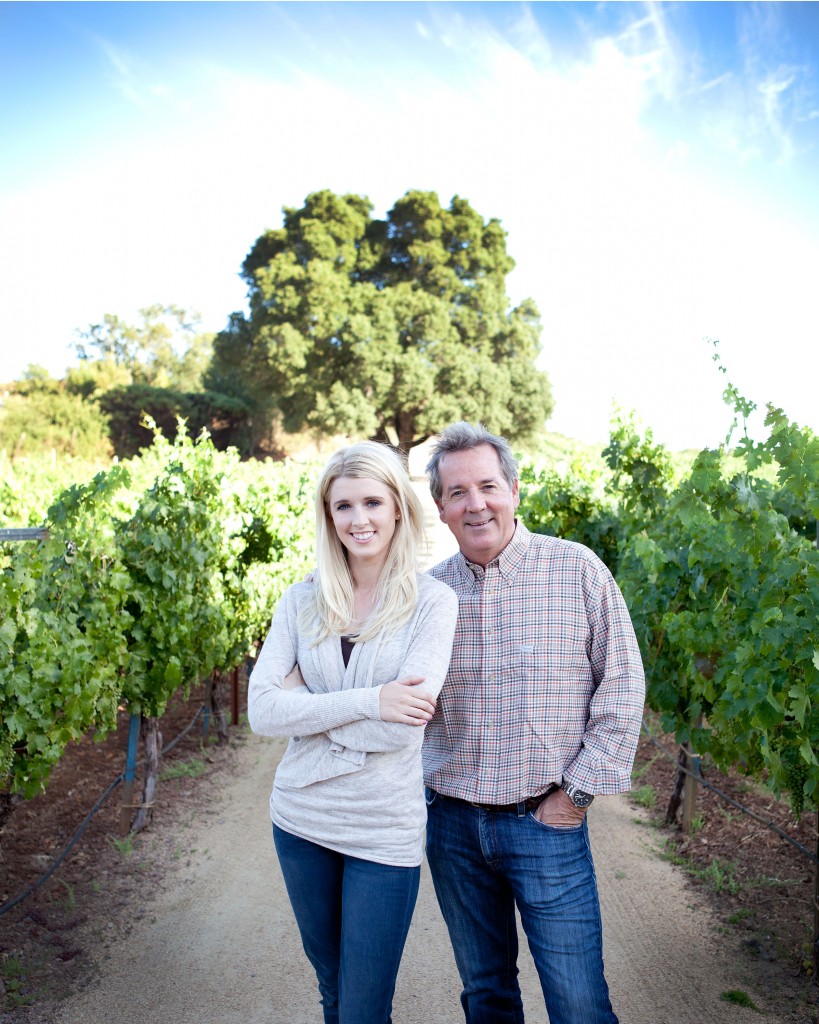 David Arthur Vineyard | Facebook
When I met David Arthur Long and was introduced to David Arthur wines, it was at an event at il Barrone Ristorante pairing the wines with the creations of Chef Franco Barone. David appeared with his bright smile and warm demeanor and of course his undeniable charm. Somehow I knew the evening's tasting would be one to remember. As the crowd settled, he stood up before everyone and spoke, telling the story of his family, his father, and the wonder behind the family business. It was his passion and clear love for being a winemaker that struck me most. And then, well, then I had Elevation 1147 (named because of the elevation levels of the grape). YUM! A surprising red that rests on your tongue and swishes on your palate and packs a memorable punch.
Speaking of the family business, I knew immediately upon meeting David that I wanted to interview him for the magazine and so, I reached out to his daughter, Laura Long to see about arranging it. It can be said that the same drive and passion David possess, Laura has in plenty. Always accommodating and joyful, Laura is just as personable as her father. In fact, you can hear the same endearing kindness that makes her dad so unforgettable.
Soon after that event, I ran into David at the Pacific Wine Food & Wine Festival spearheaded by my friend, Mike Kerr. The one thing you should know about David is he is one of the nicest men you'll meet and he is a sheer pleasure to talk to. He has this uncanny magnetic draw that makes you want to stay and talk about wine, life, and really, anything as long as possible! He invited me to join him and his group of travelers and friends at Newport Beach's 3Thirty3 and I happily did. I arrived and was seated inside with David and Antonello's Sommelier Steve Ebol, a familiar face, Thaddeus Forret, and a group of David's friends and colleagues. We all enjoyed wines that David graciously brought and poured because to him, what is the point of being around friends if you don't enjoy wine, share stories and just live in the moment?!
In the same breath, when you listen to him discuss varietals, there is an unmistakable excitement in his voice and it is contagious. I have had the pleasure of knowing David a few years now, attending several wine events where he and the winery were present and he epitomizes sincerity in every form of the word. So does his daughter Laura. There is something truly beautiful about the family dynamic … when it works – and with David and Laura it does. I feel very fortunate to have gotten to know both of the Long's over the years. This interview was possible because while David is always on the go to share their story with the sipping world, Laura would catch her dad and they would sit together to go through the questions, jot them down and then she and I would touch base. I want to thank them both for their generosity of spirit, incredible openness, and for making wines that exemplify love and story.
Oh, and because ATOD Magazine is a huge supporter of MOVEMBER, they sported their coolest mustaches for me, took a picture, and well, I have to say a huge THANK YOU! David and Laura, this was so much fun. Thank you again for everything you do …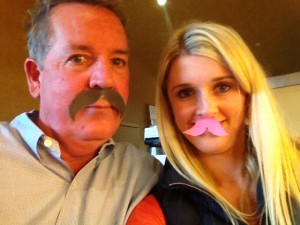 To my readers, enjoy the interview and be sure to scroll down to find out what Events David Arthur Vineyards has planned over the next year. I encourage you to attend as many as possible wherever you are.
David Long of David Arthur Vineyards sits down with daughter, Laura Long:
ATOD, Dawn Garcia (DG): What is the grape that really opened your palate to a more distinguished
varietal of wine?
DA | LA: Without a doubt. Cabernet Sauvignon.
DG: David Arthur is a family owned and operated Winery. I remember that story
you told about your dad talking to you about the business. What was the best
advice you were given?
DA | LA: My Dad told me: Follow your passion, and the money will come.
DG: If you could make the blend of your dreams, what would it be?
DA | LA: Can you believe I'm making it!? Meritaggio! It's my Bordeaux blend with an Italian twist … we add a little Sangiovese. I came up with the blend at my kitchen table in the middle of the night.
DG: What is the of your fondest memories growing up?
DA | LA: Racing Go-Carts around our neighborhood in Los Altos Hills.
DG: What is your favorite cocktail?'
DA | LA: Not much of a cocktail guy. But people who know me, know that I enjoy the occasional tequila on the rocks. Don Julio 1942.
DG: If you could hop on a plane, go anywhere in the world for a great meal, where would you go and what would you be eating?
DA | LA: Alba, Italy at a small restaurant called La Posta, eating short ribs on polenta.
DG: Favorite word.
DA | LA: Awesome!
DG: Your guilty pleasure.
DA | LA: Peanuts with Dark Chocolate.
DG: When you and your father began working on the roads and you were so hands on, was there ever a day where you thought, "this is too much work!"?
DA | LA: Never … I loved every minute of it!
DG: Now that Laura works at the Vineyard, how is being able to work with your daughter and pass on the family business to her?
DA | LA: Working with my daughter Laura is an experience like none other. There is a pride in working with your daughter that you can only know when you are fortunate enough to experience it.
DG: With Harvest now officially done, what varietal has stood out this year?
DA | LA: (Laura) Our Old Vine Cabernet. David planted these vine in 1980 and they are just in their prime now!
DG: With all the traveling you do for David Arthur, what outside of Napa is the one region you look forward to visiting most?
DA | LA: We enjoy skiing in the Rockies during the winter months.
DG: If you could have a wish list of countries that carried your wines that don't already, where would they be?
DA | LA: Switzerland. It would give us a reason to go skiing there!
DG: Name 5 things you can't live without.
DA | LA: Chocolate, hamburgers, salsa, cowboy boots and fine wine.
DG: Name one song you hear that always makes you happy.
DA | LA: Mack the Knife by Louie Prima
DG: Your favorite smell.
DA | LA: First rain on asphalt.
Thank you again to Laura and David for doing this interview for all you represent. You represent the reason wine is such a beautiful experience!
2013 Events
SAN DIEGO FOOD & WINE FESTIVAL
Thursday, Nov 21st
David Arthur Wine Luncheon
Fleming's
San Diego, California
Thursday, Nov 21st
Wine Spectator Celebrity Chef Dinner and Big Bottle Live Auction
Hosted by Thomas Arvid and David Long
Marriot Marquis Ballroom
San Diego, California
Friday, Nov 22nd
The Collection Hosted by Thomas Arvid
David Long will be pouring David Arthur Wines
Marriot Marquis Ballroom
Limited to 100 guests
San Diego, California
Saturday, Nov 23rd
The Grand Event
San Diego Food and Wine Festival
Featuring David Arthur Wines
2014
Feb 21, 2014
Wine Spectators Best of the Best
South Beach Food and Wine
Miami Beach, Florida
March 6-8, 2014
Red, White and Snow
A Wine,Culinary and Ski Festival to benefit the National Ability Center
Park City, Utah
April 4 & 5th , 2014
Chi Chi Miguel Throwdown
Friday, 4th -Golf Tournament and Sip n Shop
Saturday, 5th- Throwdown- David Long will once again compete against Emeril Lagesse
Destin, Florida
Oct 11- 25th, 2014
David Long's First Cruise
10 Day Barcelona to Venice
http://www.foodandwinetrails.com/davidarthur2014
Here is a little history behind the wines and Napa Estate:
THE DAVID ARTHUR ESTATE
In 1978, Donald along with his 28 year old son David began the epic job of building roads, clearing land and finally planting wine grapes. Although David lacked a formal viticultural education, he learned hands-on by working in the vineyards and cellars of local wineries such as the Chappellet and Joseph Phelps. The first vintage of Chardonnay was harvested in 1985, followed by Cabernet Sauvignon in the nineties. As his experience and knowledge of the land grew, David learned the ability of these hills to grow the very finest wine grapes. Today, with the help of a highly insightful team, we continue to cultivate rich concentrated wine grapes that in turn help us craft distinctive and memorable wines.
THE WINES
David Arthur is dedicated to producing hand crafted wines that express the unique terroir of our estate. Despite the rough rocky terrain these vines hail from, year after year they produce wines with lush fruit character and silky tannins. From the 21 acres planted on our Pritchard Hill estate, we cultivate small amounts of Cabernet Sauvignon, Cabernet Franc, Merlot, Petite Verdot, Sangiovese and Nebbiolo. Our wines, Meritaggio, Cabernet Sauvignon, and Elevation 1147, are all crafted 100% from these estate grapes.
In continuing with tradition, we produce a very limited amount of Chardonnay. We have found the highest quality grapes of this delicate variety thrive in the cooler temperatures of the Oak Knoll district in Napa. Our new project, Sauvignon Blanc, hails from vines grown in Yountville.
THE FAMILY
Three generations of the Long family have worked together to establish David Arthur as a world class producer of the highest quality wines. In this labor of love, everyone contributes their strengths to the strong group that makes up the David Arthur team. Brothers David and Bob along with Joye Long are co-owners, with David acting as General Manager. David works alongside his daughter Laura who runs the office and daily operations.