A Night of Blood Reds, Bites, and Bubbles
The Vampire Masquerade Ball
Chronic Cellars | Peachy Canyon Vineyards
by Dawn Garcia | Professional Photos Courtesy of Chronic Cellars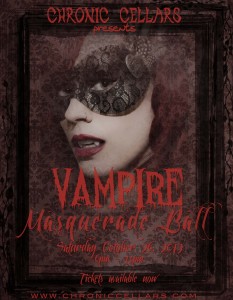 Admittedly, I have been wanting to attend the Chronic Cellars Halloween Bash for 4 years so when the opportunity presented itself to attend this year's, Masquerade Vampire Ball, I didn't hesitate. Not only would I finally get to see if it's all I've imagined but I would finally get to meet the Artist of the very first original painting I ever purchased, Joseph Kalionzes.
The evening officially begins: Directed up the dirt entry road to the Peachy Canyon Vineyard, we arrive only to be ushered to a vacant parking spot to the left of the barrel room. I am fortunate enough to be attending this event with my friend Matt Ortman from Villa San Juliette, a Paso winemaker and his esteemed winemaking team of young enthusiasts, hardworking individuals that likely know more about wine than I ever will, and of course the Anchorman News Team. Oh wait, it's just the clever costuming of the VSJ winemaking crew. I put on my bright blue feathered masquerade mask (that reminds more of something one would wear in Rio de Janeiro) and we head towards the barrel room where the festivities will be held. As we enter the area, we are greeted by the dead hanging by a noose just overhead. They are the welcoming committee at first glance but just past their corpses is a table, well several in fact, a bar, live humans, and the inviting scent of grilled meats (tacos – that unfortunately were gone way too early on in the evening but we'll get to that later). I have a deep sense of excitement because I really have wanted to come to this shindig for years. I walk right up to the check-in table, say my name and am greeted with a trio of smiling women; two of which are Dawn and Jessica with whom made this evening possible. I get my wristband on and pick out my groovy light up wine glass, am told to write my name on it, and off I go. My entourage of winemakers have already dispersed into the crowd and I find my legs lunging me towards the barrel room where the promise of meeting my Artist, sipping bubbles and reds, and endless hours of dancing await.
The room is dimly lit with hues of reds and blacks, tables adorned with black linens, subtle lighting, stacks and stacks of barrels aged with time and fastened with story,  a couple of couches strategically placed on the cold concrete floor, a photo booth for secrets and fun, and a V-shaped bar. Bottles of Chronic's Bubbles – Spritz & Giggles, Reds – 2011 Ricardo Grande,  Purple Paradise, Sofa King Bueno, Dead Nuts, Mr. Nibbles,  2011 The Unteachables, and their bottle of 2012 Stone Fox line the bar top. At the pivoted corner? A neon lit Sangria fountain. Behind that, the man in the green mask (and bartenders) but him – well, HE is JOSEPH! I am elated! I introduce myself, he comes around to give me a squeeze and all is right with the world. We talk about art and his latest projects and he explains he's hit a bit of a lull. I implore him to keep creating. Like every artist, sometimes we need to be reminded that what we're doing matters and I believe in him. He modestly accepts my praise and promises to get back to it. Now that my creative fix is fed, I engage my thirst for vino. I try a few things including a sip of the Sangria. Not my favorite but I attest that to being spoiled by having sangria in Barcelona. I do however gravitate towards the Spritz & Giggles and Ricardo Grande. Why? Well, bubbles are always a girl's best friend and quite honestly, I like the label on the Ricardo Grande. It's clever and Daniel Boone-like with a twist of … twisted. The cuvee is refreshing and well blended and befitting for tonight's festivities. The deep richness of the Ricardo Grande appeals to my desire for something a bit more complex.
The music pulses through the room transmitting in between the rows of barreled wines and painted costumed bodies and I can't help but give in. My friends are dispersed still and nowhere to be found so I allow my body to carry me solo to the dance floor and I let my hips and feet lead. Not soon after I find a plethora of dancing partners all too happy to frolic with me including a beautiful blonde vampire, a harrowing farmer, and a cowboy. My night is in no way dull … Soon, however, my stomach cannot fathom another moment without food and I venture out to the courtyard for some of those tasty tacos – only – they no longer have any! If I can say that I have one hiccup to mention it's that the tacos were cooked far too early and stopped serving all too soon. They should have started serving later. With the mass amounts of alcohol being consumed, food is like oxygen to both inebriated bodies and churning stomachs. Alas, I know my time limit is going to summon far sooner than I anticipated for the one simple fact: hunger. Still, after attempting to summon my friends to the dance floor only to fail to convince them to join me, I turn and head back to the room flooded with bodies moving. I get back to dancing with my newfound accomplices until my throbbing appetite can no longer be contained.
I find my friends, meet the most famous man in Paso – "Bobby Fox" (there is even a song about him!) – several winemakers, happy party goers, say goodbye to the cowboy, vampires, women dressed in true Dia de Muertos costume, shake hands with a few welcomed strangers, and find that the hours of dancing and sipping have led me to the moment where hunger wins. We gather our stragglers and head to the table to summon our SafeRide Driver. This is the best idea yet and one I believe all of the Vineyards should imitate. Chronic Cellars has a program where, for a nominal fee of anywhere from $30-$100 depending on distance, a designated driver will drive your vehicle (and you) back to your home or hotel safely. It's brilliant. And responsible.
And so, the festivities draw to a close for this happy traveler and I bid adieu to an evening of blood sucking wonder, flowing grapes, and titillating costuming. Thank you to everyone at Chronic and to Joseph Kalionzes. Without having wandered into that Tasting Room 4 years ago, not only would I had never known about Chronic Cellars, but I never would have found my favorite painting.
WINES
Spritz and Giggles
This is the first release of our Grand Cuvee of Champagnes!
"Spritz" is a blend consisting mainly of Pinot and Chardonnay
from a handful of vineyards on the North Coast of California.
Aromas: Pears, Cut Apples, hints of fresh baked bread,
light spices and floral notes
Tastes: different citrus flavors along with apples and pears
$18.00/$12.60 WINE CLUB
2011 Ricardo Grande
37% Mourvèdre 35% Syrah 28% Grenache
This GSM blend is more unique than past vintages. With Mourvedre as the dominant varietal, we have a wine that offers an incredible balance of earth notes and gravel with a beautiful violet tone. The mid body Syrah is dense and rounds things out with some mild tannin. The Grenachebrings some acidity and a fruity, juicy character full of black currants, cherries and a hint of spice. Drink now or it will only get better with age. Ricardo will always be a friend of mine.
$35.00/$24.50 WINE CLUB
2011 The Unteachables
43% Zinfandel 26% Tannat
20% Petite Sirah 11% Syrah
OH NO THEY DIDN'T!!!!!! Take Cali's Zinfandel and throw the big three in the mix, making this wine layered with savory smokiness, beautiful blueberry and cranberry, as well as meaty undertones. The Zinfandel grapes are carefully selected from our favorite low yielding, dry farmed vineyards.
$30.00/$21.00 WINE CLUB
Mr. Nibbles
(WINE CLUB ONLY)
70% Zinfandel 20% Petite Sirah 5% Syrah
This Zinfandel blend is amazing! It's full of bright strawberries, cherries and raspberries with a strong presence of white pepper leading the charge. The Petite Sirah supports the Zinfandel with some depth and power. The Syrah rounds everything out with some mild tannins and a slight hint of ciger and black tar. Both the Syrah and Petite Sirah give this wine a beautiful purple color. The rabbit is back and reminding us that just a nibble is never enough.
$24.50 WINE CLUB
2012 Purple Paradise
73% Zinfandel, 18% Syrah, 3% Mourvedre,
3% Grenache, 3% Counoise
AROMAS: VANILLA, MOCHA, DARK CHERRIES, ALL SPICE, WHITE PEPPER, SMOKE, ROASTED ALMONDS,CEDAR, NUTMEG, CINNAMON.
TASTE: JUICY FRUITS, CHOCOLATE, RIPE STRAWBERRIES, DARK RICHNESS, MARZIPAN, LEATHER, MILD TANNIC, FULL BODIED, BALANCED ACIDITY, DARK PURPLE HUE.
$14.99/$10.50 WINE CLUB
2011 Sofa King Bueno
79% Syrah, 12% Mourvèdre,
5% Petite Sirah, 4% Grenache
Aromas: Black Licorice, violets, clove, bay leaves, and thyme
Tastes: Fresh Berries, Black Pepper, Licorice, Clove, and Thyme
This wine is youthful and fleshy!
Bueno has many layers that fill the nose and palate.
It is a full bodied wine with balanced tannins and different spices.