To which I simply reply … art.
by Dawn Garcia
"Art is the elimination of the unnecessary."

– Pablo Picasso
Select Antiquity Curation by Simon Djeredjian
Music by DJ Gossip
Images by Dawn Garcia  (unless otherwise noted)
Featuring New Works by Robert Standish | Melanie Newcombe | Paul Rusconi | RETNA | Mathieu Bitton | Cheryl Ekstrom:
Thursday, November 14, 2013
Last night I attended an Art Exhibition unlike any other. Fashion, sculptures, photography, painting, music, soul, an infinite realm of art that extended its reach into me. The crowd peppered with familiar faces, gorgeous unknowns, smiling creatives, lustful glances, stolen touch – all swimming in a sea of inspiration that opened us up and invited us in.
The question of the evening posed at the Church Boutique was simply :
WHAT DO YOU WORSHIP?
The question alone invoked a cyclone of thought.
Tonight at the Church, the evening was absolutely endearing with pieces strategically placed about the room, mixed mediums, casual curiosities.
The beauty of tonight's show is that none of the art competes with another. Every piece has the ability to breathe and move and impact without being suffocated by clusters of reflected similarity.
Set inside a world unto its own, the heartbeat pulsating in this room is like the earth busting through its crust, deeply and honestly penetrating it's rhythmic movement. Art that breathes, talks, gestures in agony, in liberation, in beauty, in longing, in lust, in abandon, in a sexy lull that takes control of that place lying dormant within – it's simple, indulgent, provocative, practical and ridiculous all at once. It thrives.
Much like the varying art, as I am moving through the room, allowing each piece to envelop me, I pause to write and this is what poured out:
The Warrior.
The woman pushing through the confining cage that thrusts her to that sacred existence very few know of. The woods, the mesh, the solitude, the wonder, the secrets – they are shoving out the rusted metal, the nails breaking her completely. We are fragile, broken, obstructed, silent, screaming, boisterous in theory but sinking in practicum. Who are we? Why must we find ourselves in that melodic revolution, that careful dance, that seeming whisper as if the birds at any time will scatter …
This is what art is.
It frees us. It sucks us in and bleeds us dry and we willingly offer our veins because that kind of feasting is oxygen to the soul. It's mesmerizing.
The Bridge.
The bridge all wilted and worn. Each and every crack, a tale to be tamed. So finely woven.
Who we dare ourselves to be is not like anything we let melt into this tainted oblivion.
The Darkened Skull.
The one I deem with a tortured sense of sweet wonderment all strung together with bones and fragments of life. Again, humanity's ability to find solace in morbidity. It's almost toxic and intoxicating. This submission to the stark cold contrasting liquidated loss.
Our feelings strewn onto the walls, the mounted sculpture, the oppression of never revealing the things we desperately crave.
The room floods with bodies all warm and unfamiliar and it is perfection – total and utter anonymity. This – this is what is worth our worship. Touching bouts of sporadic rivers, droplets of strangers, faces, eccentricity, sex, touch, earth, texture, sound, candles burning representing the fire within each of us.
Art.
Like the touch of his hand on your flesh, caressing ever so breathlessly … gliding against you, firmly and soft as every inch of you feels the fingertips melting into you. Ecstasy. Honesty. Art.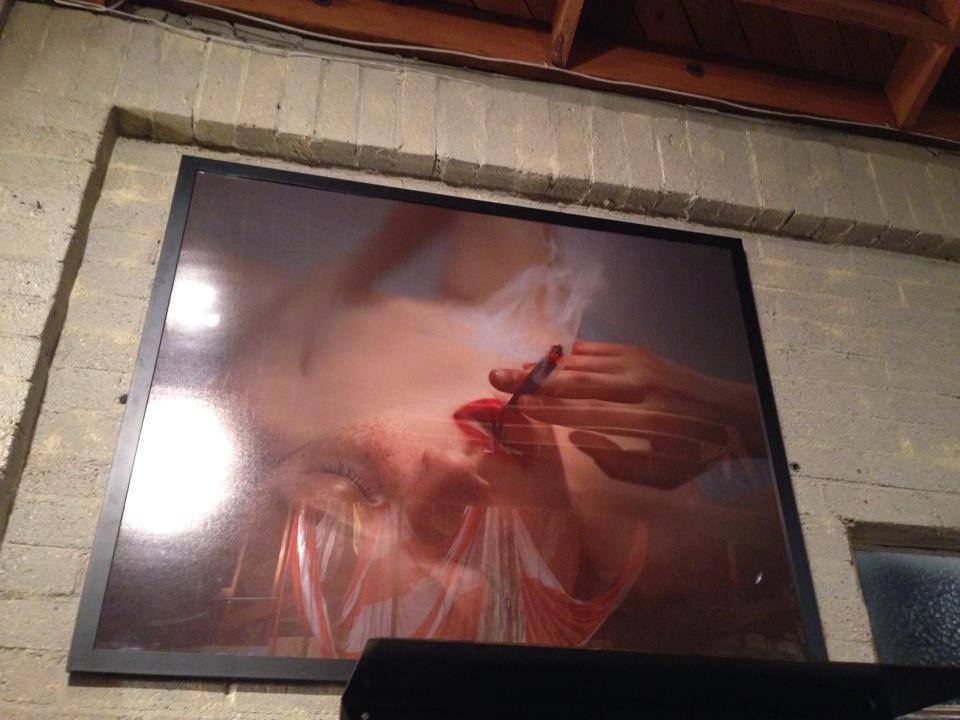 We are wickedly intriguing, us humans. And artists are the excuse we've begged for in fallen tears, deepened stillness, tattered heartache, suffocated longing, and insatiable hunger within.
– This is where I shall lay my soul to sleep to awaken to its beautiful transparency. This is where liberation creeps in and beckons … and you cannot stop it from gripping you and leaning towards you pulling you closer.
---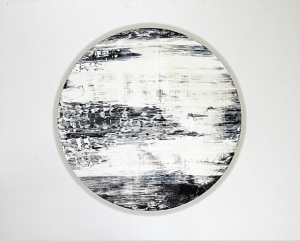 The ORB Series: Do you see what lies in the confines of the orb? The careful boundaries Standish sets before us with the almost universal feel of life and movement is striking. The colors vibrant but restrained gives a sense of both life and restriction and if you stand just so, you can see images, perhaps reflections of swelling emotion. I tend to gravitate towards his black and whites in this particular series simply because there is something rather telling when you strip down the color and instead force yourself to find the vicarious voice whispering in the strokes of paint. I sea landscapes of curiosity and his ability give you both space and limitation is remarkable. I can see the evolution from Bathers to Orbs and how one has clearly influenced the other in the span of 10 years.
The ORBS placed about the room from moment of entry to whispering pounds of the walls they lean on, now beckoning…
Photograph via RobertStandish.com
---
The human form is telling. Body language, posture, how we are pieced together … Are we folding? Bound together with aluminum screen wire, positioned with the structure of woods, sewn with heavy wire, Melanie's two pieces on display tonight were sheer awe. Each figure, both "Folding" and "Haven" represent so much emotion through the positioning of both females one cannot help but find the breath escaping you. Each piece taking anywhere from 9-12 months because she does this part time … I imagine were she to be free to do it full time, it would take on a form that would change the world in the most transforming and extraordinary way. The intricacy of each figure is as if every square in the screen wire takes stock of every trapped feeling brimming inside and then, with careful weaving, Melanie is open to piece you back together. The breakthrough in her work is revealed in the "hair" of both figures. It has a sensational sense of movement that act as the releasing of the soul. It is – as a viewer – sublime.
Should you ever meet the artist, be prepared for sunlight.
Photograph via MelanieNewcombe.com
---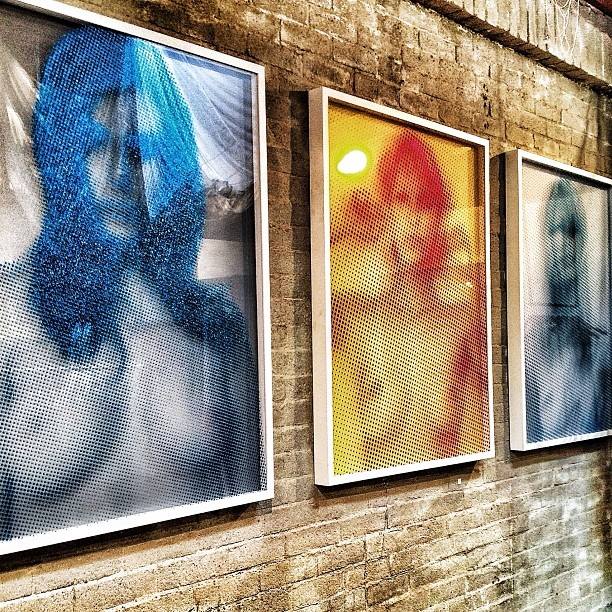 Known for his pop art including his Warhol-esque images of Obama, Kate Moss, Paris Hilton and more, the work Rusconi displayed tonight resonated with sensuality and isolation. It displayed a wonderful twist of beauty and obscurity with the definition of his subjects, exposed but deeply emotional and introspective.  The contrast of color and an unexplained sense of emptiness lured you in as each piece graduated you to the next, allowing you to feel slight sadness, a moment of released confinement, to the third image which candidly invites acceptance. As if each piece was a stage of mourning and liberation, the signature look of his work has been awakened in this series.
Photograph by Church Boutique.
---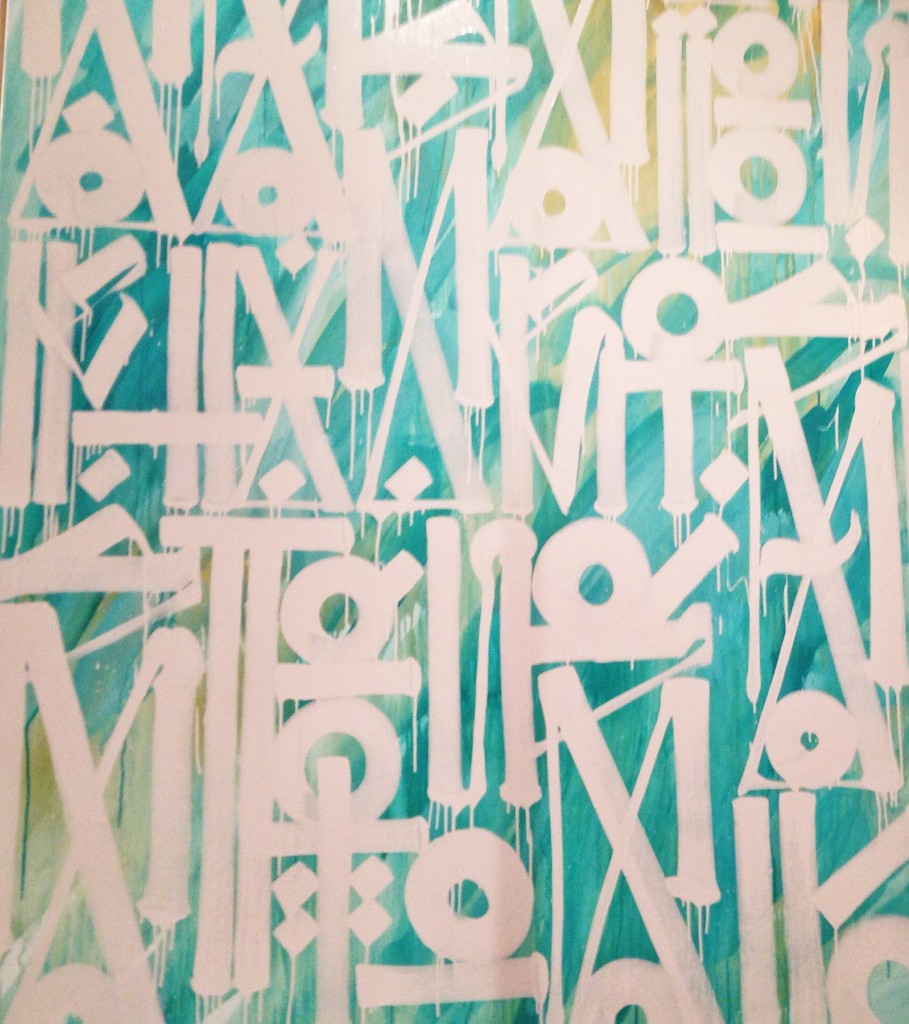 The precision of the brush, the can of spray paint, the finite lines telling a story that amplifies the life within our spacial remedy is truly like nothing else. While there is street art, graffiti art, and the like, RETNA's work set him apart by its sheer sophistication. It is structured and thought out. With his recognizable hieroglyphic-like influential symbols and quizzical subjection, the pieces shown tonight ranged in sentiment, color, regime, and undertones of release. His motivation of unity comes through with the black and white and the bright turquoise piece for me. I believe in the story he's telling and to see an artist "write" through paint, well, its impossible not to find some solace and seek refuge in that.
---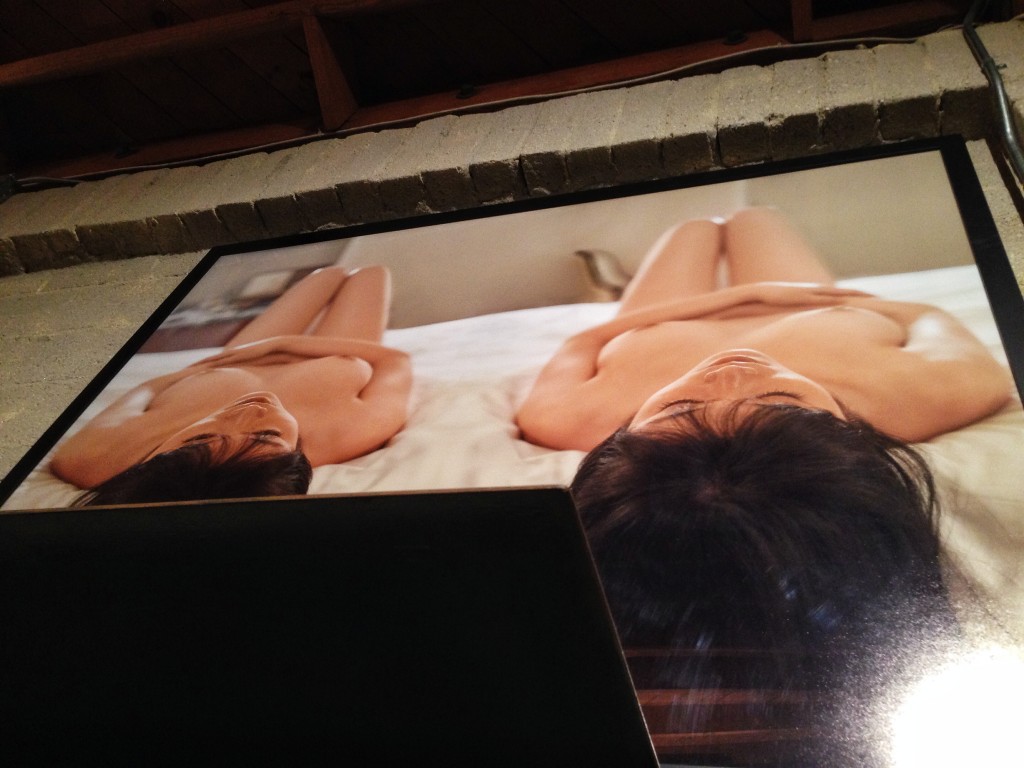 Every image, every catalog Mathieu touches no longer possesses that vacant nature. Somehow when his lens captures that millisecond, the shutter cries out and the subject's fears, worries, heart, wonder, truth becomes a temperature in and of itself. He does not see the world through a reality-based lens but rather one that is evocatively haunting and honest. In that lies a sensuality of a voyeuristic essence, as a viewer, you willingly partake in. I have seen Mathieu's work evolve drastically over the years having seen so much of it and without fail, he expresses the beauty, life, and captivity of the moments he pauses to notice – whether intentionally or simply by the sheer brilliance that time allots him in a single snap of the shutter. Notably having photographed some of the most iconic music legends in our time or some form of relic ecstasy in nature – (visit his site and find his tree series …), he is a gifted artist. He picks up a camera and when he takes that one breath, somehow he expresses everything words are unable to.
---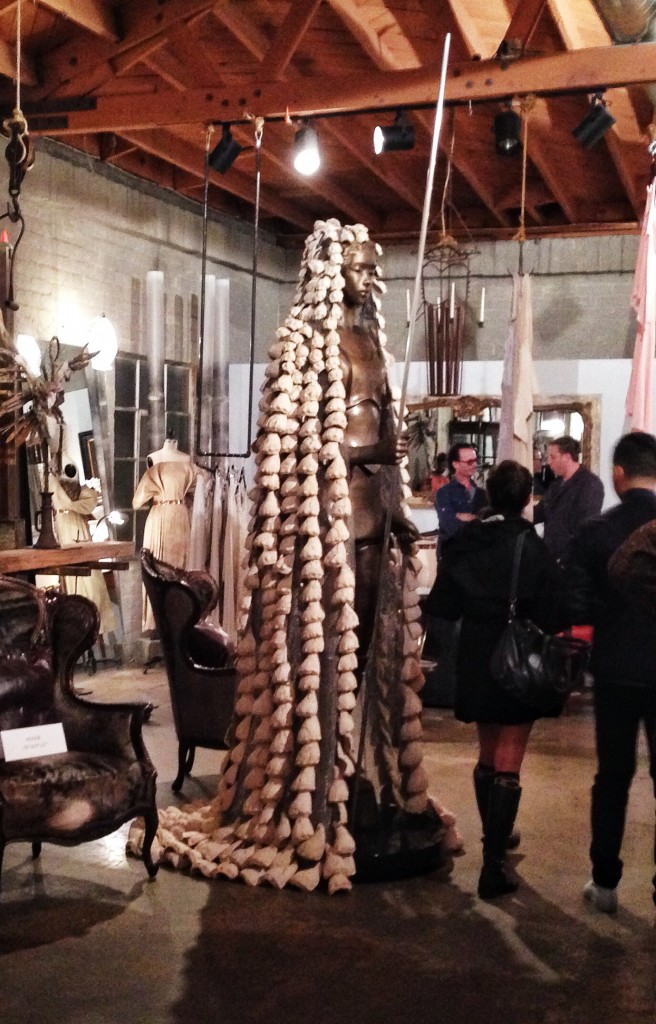 Of every piece exhibited tonight, there was one by Cheryl Ekstrom that forced me to open up my notebook and scribble madly away. It genuinely swallowed all of my thoughts and emotions only to regurgitate them and give them life. The Warrior (this is the piece I refer to above) is striking. She is beautiful and strong and the detailed carving of her bodice, the draping weight of the adorned covering made of wire and sculpted shells, her eyes hollow but never losing sight, and the staff made of metal sternly keeping her upright create an unexplained sense of calm and courage. This is a piece of miraculous proportion. Grand and bold, it is the foundation of all we are. Drawn to it in ways words cannot equate, this was the center of the show. Ekstrom's ability to take her figures, regardless of material, is lyrical, both graceful and raw and that allows for each piece to have a voice that cannot be silenced.
---
Lenny Kravitz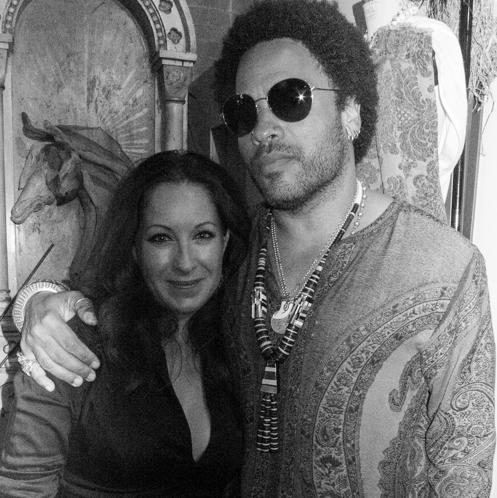 Our Co-Host for the evening. While I have written various pieces about Lenny Kravitz, including reviewing the film Directed by Mathieu Bitton, "Looking Back on Love", tonight would be my first time meeting him. Real to his core, there is not pretension nor restriction to him as a man or an artist. It seems fitting that he was there to lend the musicality of soulfulness to a room swarming in a silent symphony of notes only heard through the pieces of art themselves.  Dressed in tones of earthy browns wearing a smile the world has become familiar with, it can be said the minute we were introduced, the genuine warmth of his nature came through in the extension of his hand to mine as we shook and said hello. There are few artists with decades of success that can still be grounded and while, we hope they maintain that sense of self few often do. Kravitz however, is real in every way. It can be heard in the music he continues to create, the words he writes, the calming demeanor that makes one feel rather tranquil in his presence. Were you to remove the "celebrity" associated with him, the man himself is someone you would gravitate towards simply because he inspires the creative spirit to soar.
Photograph taken by Mathieu Bitton.
---
About CHURCH Boutique
7277 Santa Monica Blvd | Los Angeles, California 90046
CHURCH Boutique opened in Sept. 2009 and is encompassed in a 5,000 sq. ft. industrial yet warm refuge in West Hollywood. CHURCH is a creative collaboration by Rodney Burns and David Malvaney, housing exclusive high-end, avant-garde fashion, accessories and jewelry collections from international designers around the globe. The environment showcases meticulously curated art, sculpture, antiquities and designs from emerging and established artists and designers, with the likes of a permanent installation wall by Retna. CHURCH is a communal space bringing together the community and like-minded, forward-thinking creative individuals with style.
I want to thank Simon Djeredjian for sharing this exquisite art, Justin Lynn for being such a huge help, and DJ Gossip – a 13 year-old DJ who spins music that will transcend you!
Tonight at the Church, this is where I shall lay my soul to sleep to awaken to its beautiful transparency. This is where liberation creeps in and beckons … and you cannot stop it from gripping you and leaning you closer.
To see the professional images by WireImage, click HERE.
Join the conversation on Facebook