TOTEM is Cirque EVOLUTION
When Evolution Meets A Little Magic
[dropcap letter="A"]s a lover of
Cirque du Soleil
, I am continually in awe of the precision, grace, style, timing, humor, and design quality of each and every show. Every few years they continue to reinvent themselves, finding a new way to present the world with a story worth telling. I have had the honor of seeing Varekei, LOVE, Iris, and now TOTEM. I sit in amazement and awe at the sheer brilliance and scope of talent that embodies all they are.
This year they set up that multiple ton white tent in my home town of Santa Monica and I was all too thrilled to grab the hand of my 7 year-old and share with her the wonder that is Cirque. Harrowing in tale, #TOTEM pokes gentle fun of our often times baffling sense of evolution including our reliance on shiny objects – aka, technology. This performance is a truly exquisite display of innocent joy. Some of the highlights:
The trapeze artists in yellow
The 3-Bar balancing
The Tribal Drum
Pocahontas | Tribal drum on skates.
TOTEM traces the fascinating journey of the human species from its original amphibian state to its ultimate desire to fly. The characters evolve on a stage evoking a giant turtle, the symbol of origin for many ancient civilizations.
Inspired by many founding myths, TOTEM illustrates, through a visual and acrobatic language, the evolutionary progress of species.
Somewhere between science and legend TOTEM explores the ties that bind Man to other species, his dreams and his infinite potential. Uniquely beautiful costuming, golds, eccentric, feathers, bowls, juggled balanced passed from performer to performer with a skill absolutely bewildering.

Sat in the middle to the right of the stage, just behind the sound booth, the view is spectacular. The scenes unfold and while at first, they seem disconnected, the story begins to come together bit by bit. As are all Cirque performances, there is an airy flow to every act; a sense of awe; an admiration for the tireless hours that must go into rehearsals. Enamored by the story's ability to combine science, sound, precision, grace, timing, athleticism, playfulness and wit, there is something quite extraordinary about any visual performance that can tear you away from the instantaneous revelation of modern technology. A performance that invites you to listen, to watch, to nibble on popcorn while listening the sounds of young children in the audience oohing and ah-ing at the magical qualities of an old school form of entertainment. TOTEM is fun to watch and while I am still partial to IRIS, this is one Cirque performance that painted the Los Angeles landscape with some much welcomed color.
NOTE: Singer Christian Laveau was the gentle persuasion in this performance. He is one to watch for.
[separator type="thin"]
About Chrisian Laveau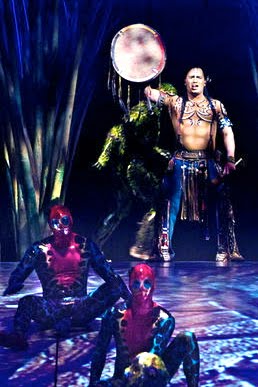 A Huron-Wendat from Wendake, Christian Laveau is the original lead singer in Cirque du Soleil's show TOTEM, written and directed by Robert Lepage.
Following his participation in the show KIUGWE (Quebec City's 400th birthday celebrations), gained him the notice of Lepage, who told him it could play a role in the upcoming Cirque du Soleil show. He also participates in the CANOTGRAPHIE, another show directed by Lepage.
Host and producer of the cultural magazine CHIC CHOC, he won a GEMEAUX award for this youth miniseries on APTN.
Christian received the Medal of Honor ''DIAMOND JUBILEE of QUEEN ELIZABETH II'' to mark his entire career and his international reputation.
On November 18th 2013, Christian sings at the legendary TONIGHT SHOW hosted by JAY LENO ! Performances with a collage of Cirque du Soleil's show TOTEM.
His album SONDAKWA under the musical direction of Gilles Sioui is now available in stores and on iTunes … album that was adored by critics !
A draft soundtrack for an American film to the big screen is in focus !
---