With grown-up gourmet flavors, a new brand introduces cannabis-infused ice cream in the heart of LA.
[dropcap letter="F"]ew things in this world are more wonderfully gluttonous than ice cream. We have childhood memories of eating ice cream cones with friends, laughing away the blister of hot summer days while shoveling spoonfuls into our mouths, or enjoying the cold of winter snowfall while we shiver and devour a cup of our favorite flavor(s).
Ice cream
provides us all a comfort that only this frozen concoction can bring, and as we've matured, our love for gourmet ice cream has grown with us.
The meaning of luxury has evolved over the years, but this past year the idea of luxury has leaned less toward things and more toward unique experiences, foods, and stepping out of our comfort zones. So, when word of Mellow Ice Cream, a luxury brand of ice cream infused with THC and CBD got out? We knew something special had come to town. With a brand devotion to using and sourcing high-quality, natural ingredients and a desire to break cannabis stigmas, Mellow really is a welcomed addition to the culinary cannabis marketplace.
[columns_row width="half"] [column]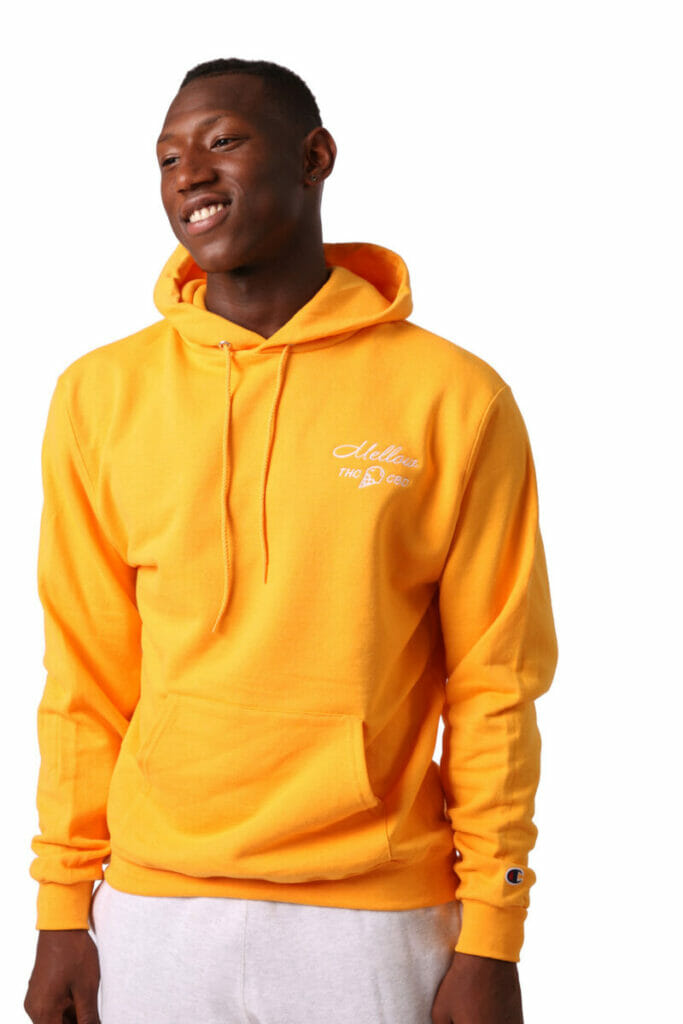 [/column] [column]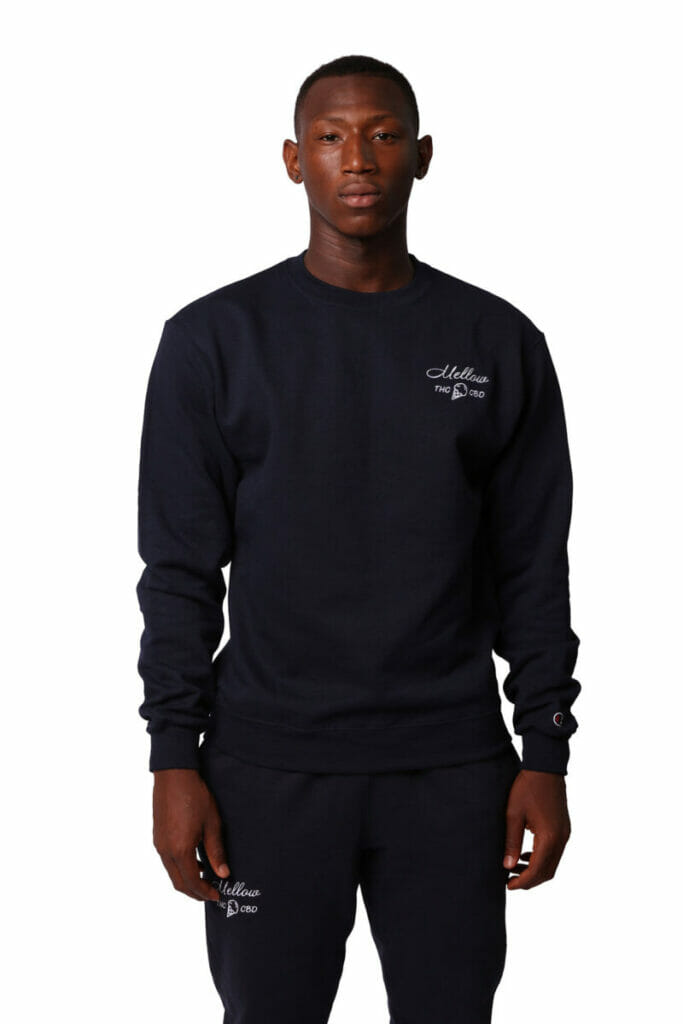 [/column] [/columns_row]
Mellow Ice Cream is changing the way we indulge. Located in the heart of Downtown LA, Mellow is a brand-new company you'll want to keep on your ice cream speed dial.
When Mellow announced its opening at the end of 2020, we were dying to get a taste. The pandemic didn't stop the four partners—Jesse Bride, Enrique Gonzalez, Chris Cornish, and Miguel Sugay—from adjusting, adapting, and creating. We reached out and, with the wave of an ice cream flavored magic wand, Cornish drove out in one of its fleet of Teslas with built-in trunk freezers and delivered two pints for us to taste. With packaging that has a coolness factor and simple messaging that isn't lost in a sea of labels, as well as a Mellow apparel line, these gents are bringing luxe to Los Angeles.
The two Mellow flavors we tried, mint chocolate chip and Tahitian vanilla peanut butter cup, easily stand up to gourmet brands. While our samples weren't infused, the ice cream itself is beautifully balanced with ingredients so fresh you can literally taste the namesake flavors. The mint chocolate chip took me back to some of my most nostalgic moments of growing up in LA.
We caught up with the four partners for a collective Q&A on how Mellow came to be.
[columns_row width="third"] [column]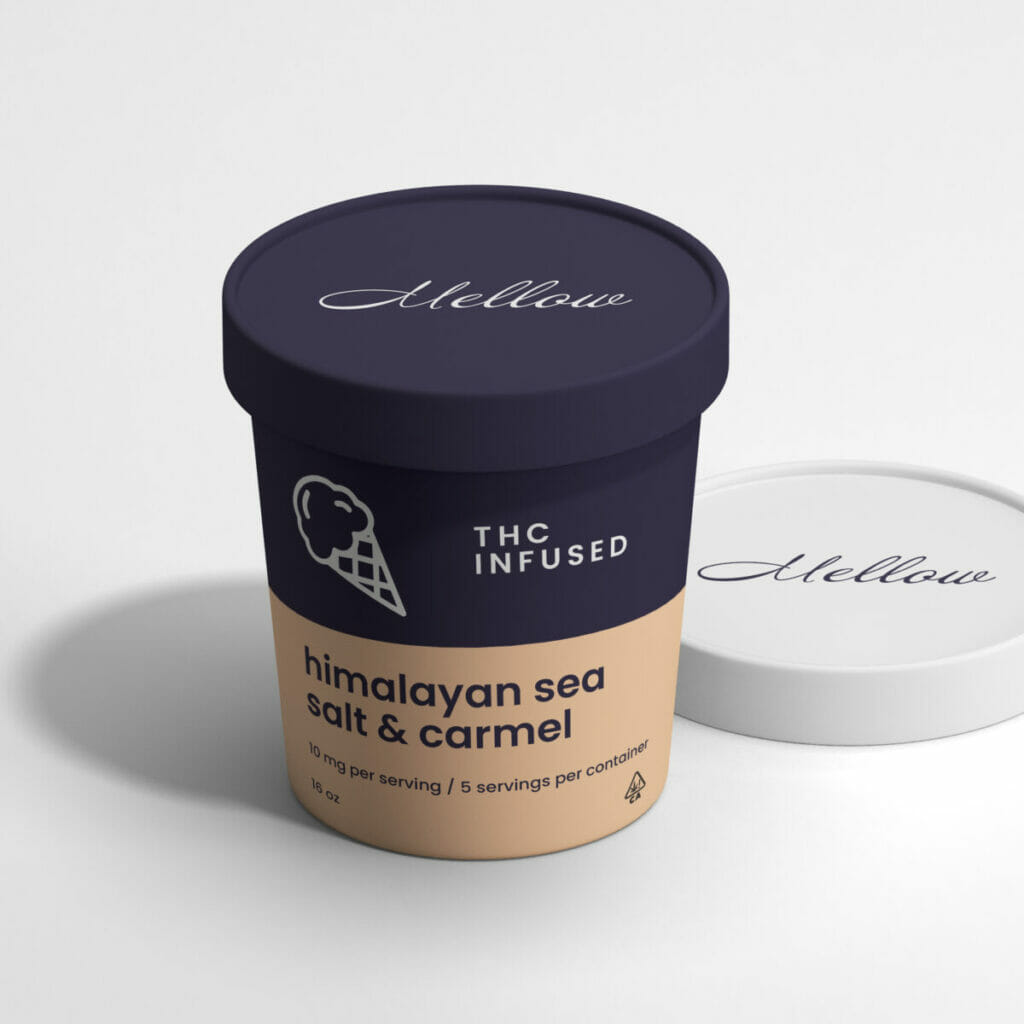 [/column] [column]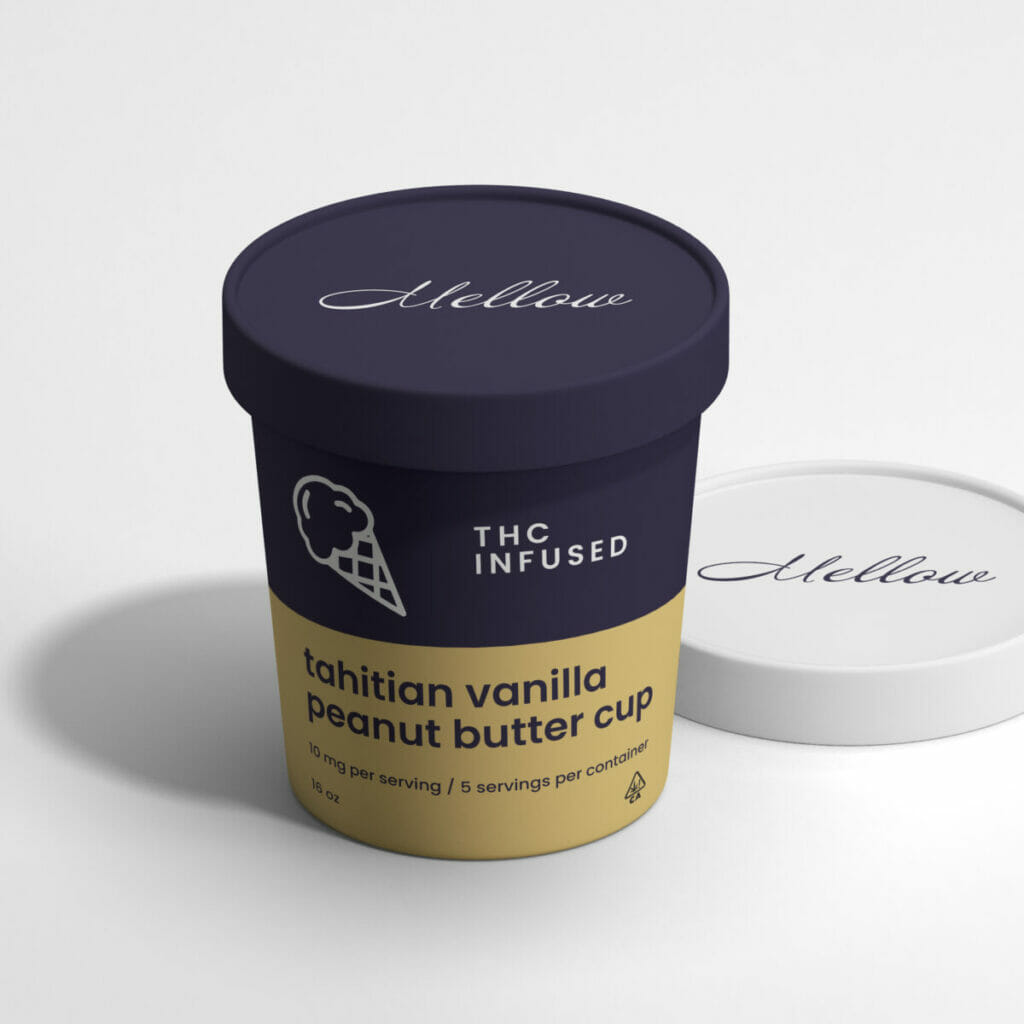 [/column] [column]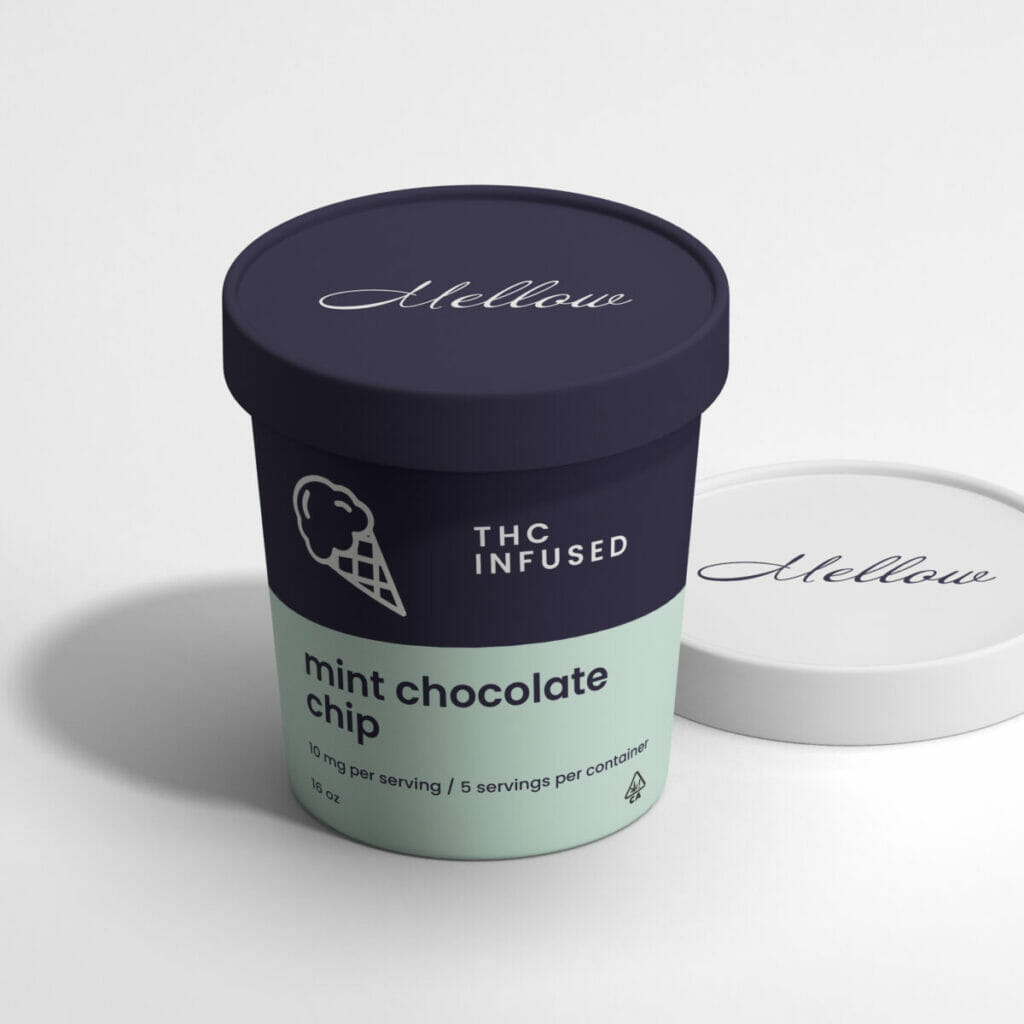 [/column] [/columns_row]
Tell us about Mellow's origin story.
As four distinct entrepreneurs, we all had separate reasons for entering the cannabis space given the varying degrees at which cannabis impacted our lives. As friends, we had honest conversations regarding these personal experiences in and out of the business world.
Given the trust we shared, forming a partnership was a no-brainer. We also have families and friends we care about and were cautious about moving into such a stigmatized business.
Our collective aim was to create something that hadn't been done before, but more importantly, we wanted to create a product that we would be proud to stand by. From a branding standpoint, we wanted to mix luxury with ice cream shop nostalgia that was mature instead of kid-friendly. Everything from our product packaging to live event activations were designed to uphold that aesthetic.
What goes into your ice cream? 
All of our ingredients are locally sourced. We vetted out the highest quality and most trusted suppliers in the dairy, confectionery, and cannabis industries. We source ingredients from the same providers who service Whole Foods and Trader Joe's. From Scott Brothers Dairy to our packaging suppliers, we put quality and safety at the forefront of our processes. The ice cream is created in-house by our confectionery team in DTLA. We run a small-batch operation to ensure freshness and quality control.
How do you offset the taste of THC in infused ice cream products?
Since early 2019, we have invested heavily into research and development through hiring and consulting with chemists, food scientists, chefs, and food and beverage experts. With their participation, we've worked tirelessly to solve the age-old problems of how edibles taste and how they feel. Our choices of infusion delivery format and source materials directly impacted taste, effect, and likeability. Additionally, onset time, strength, reliability of high, and consistency of dosage were big hurdles that we set out to solve immediately.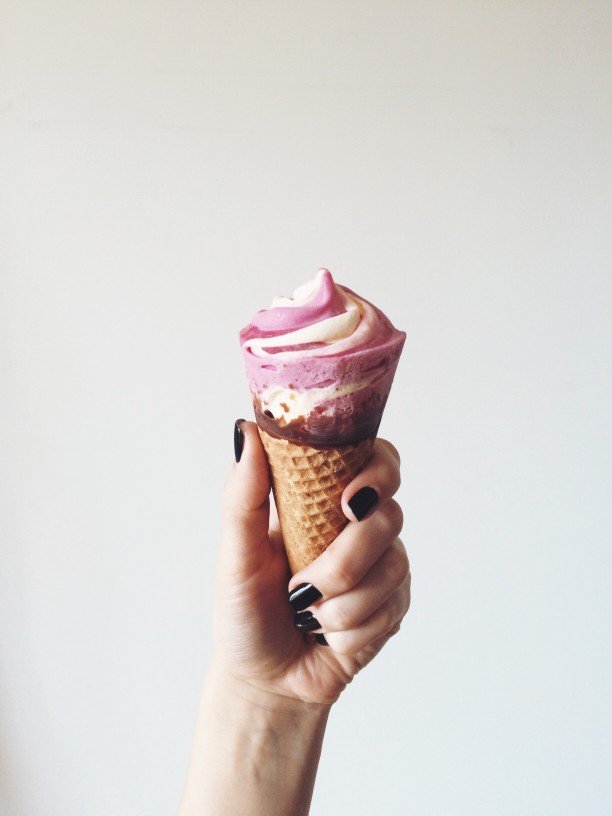 Tell us about the cannabis brand line of pre-rolls, ashtrays, and apparel.
We wanted all our products to be luxurious and of the highest quality. Mellow luxury is a mentality that we imbue into every product we make. From our marquee product ice cream to our entire supporting cast of pre-rolls, ashtrays, and apparel, all products fit seamlessly into the lifestyle of our customers, helping them effortlessly achieve luxury without compromising quality.
What challenges have you faced launching amid a global pandemic?
Mellow is a mentality that aims to elicit a specific feeling. We were looking forward to helping our customers experience that through live events and in-person activations. That is, the Coachellas and Smorgasburgs of the world. Given the global pandemic, we've had to get creative around rethinking marketing and distribution strategies. Launching a brand from multiple US cities with increased restrictions on travel added an elevated level of difficulty to our mission.
How have you adapted?
Because we were unable to operate as a standard business, we developed a mindset of inspired innovation.
This mindset has allowed us to move unpredictably fast through our timeline.
Not knowing what to expect, due to pressures from the global pandemic as well as state and federal legislation, it prompted us to stay agile in our processes while creating solutions in an ever-changing market.
Why open up shop in DTLA? 
It was no secret that California is the largest cannabis market for us to enter. We wanted to align with the best in the industry and already had boots on the ground in DTLA, namely Chris Cornish and Miguel Sugay. This allowed us to open up our office and get to work very quickly. We also knew that many of the solutions being provided to the industry are in California, and we planned to contribute to that aspect of the industry as a solutions provider ourselves.
What keeps you inspired?
Feedback and support from the market have been huge sources of inspiration for our team. Just being involved in a growing industry that continues to flourish—even during the pandemic—continues to instill confidence that we are making the right moves.
What are your plans for 2021?
Having identified the level of demand for Mellow, we intend to optimize our process in 2021 to get our products to as many people in as many places as possible while operating within the confines of the law.
Any new products coming?
We are very excited to launch many new flavors and collaborative products this year, including nondairy options, various size options, and other frozen and nonfrozen treats made with natural ingredients.
What is your ultimate goal with Mellow?
To impact as many lives as possible as a household name in the medical and recreational spaces. Knowing that our friends and family can go to their local store and purchase our product without the stigma associated with cannabis use. Additionally, creating a brand that is a trusted onramp for customers who otherwise might not have been open to discovering the value of CBD or THC in their lives.
What have you learned along the way?
From an entrepreneurial perspective, Mellow has taught us so much. From the industry and legal challenges alone, this business has stretched us all to become more effective entrepreneurs. Not only have we grown professionally but we have been afforded the opportunity to work closely with friends on a vision we each truly believe in.
mellowicecream.com | @mellow_icecream
This article was also published in Sensi Magazine Southern California, written by Dawn Garcia. 
[separator type="thin"]
FUN FACTS
Mellow aims to provide the best tasting and eco-friendly products with all natural and responsibly sourced ingredients.
Cannabis flower for joints are locally sourced in California and rolled in Los Angeles.
All ice cream is handmade in California.
All packaging is biodegradable and recyclable.
Mellow launched with three flavors of ice cream and brand expressions in pre-rolls and fashion.
Focusing on natural ingredients and medicinally led manufacturing, Mellow debuted with nontraditional flavor recipes: mint chocolate chip, Tahitian vanilla peanut butter cup, and sea salt & caramel
Mellow's ice cream base is infused with the highest quality CBD and THC.
Mellow's CBD ice cream contains 80 mg of CBD per serving.
The CBD pint contains 400 mg of CBD per pint and five servings
Launching in Los Angeles and expanding to the major markets in California, Mellow will be doing home deliveries using ice cream trucks and a fleet of Teslas with freezers built into the trunks and is looking to host tasting parties once COVID-19 restrictions are lifted.