French Stewart as BUSTER KEATON!
Pasadena Playhouse | 39 S El Molino Ave | Pasadena, CA 91101
I had the pleasure of seeing a preview of the show opening at the Pasadena Playhouse this weekend. I was given the opportunity to sit down for one-on-ones with the Writer, Vanessa Claire Stewart, Director, Jaime Robledo, and the entire Cast of STONEFACE. The passion and love behind the birth of this show is what makes it so special. Vanessa Claire Stewart, French Stewart's ("MOM", "Inspector Gadget 2", "Third Rock From The Sun") wife, wrote this play when her husband French told her his idol was Buster Keaton. He explained he had always want to play him but, as time marched on, felt he was too old to play the role. Alas, she disagreed and out of a sheer act of love and the hope of giving her husband his dream role, she wrote one for him. The play began with sell-out performances at the 99-seat Sacred Fools Theatre in Los Angeles where it won multiple Awards and stole audiences hearts. Now, as a natural progression, the Pasadena Playhouse has invited them to bring the show to a much larger 600+-seat theatre for a limited engagement. For anyone who ever loved classic cinema or believes in the beauty of physical comedy, the power of love, and the stories of friendship, this is a play you MUST see.
"I mean, I never thought I'd have all of this. Look at me! I'm 50, married to this incredible woman [pointing to Vanessa], have a beautiful little girl, work for Chuck Lorre during the day [MOM on CBS], and at night, I get to do this with all of my friends playing a character of a man I've admired all of my life. I'm living the dream!"

– French Stewart
Opening this Sunday, the show runs for 3 weeks. Please see the information below to purchase your TICKETS.
THE PASADENA PLAYHO– — USE presents …

VANESSA CLAIRE STEWART'S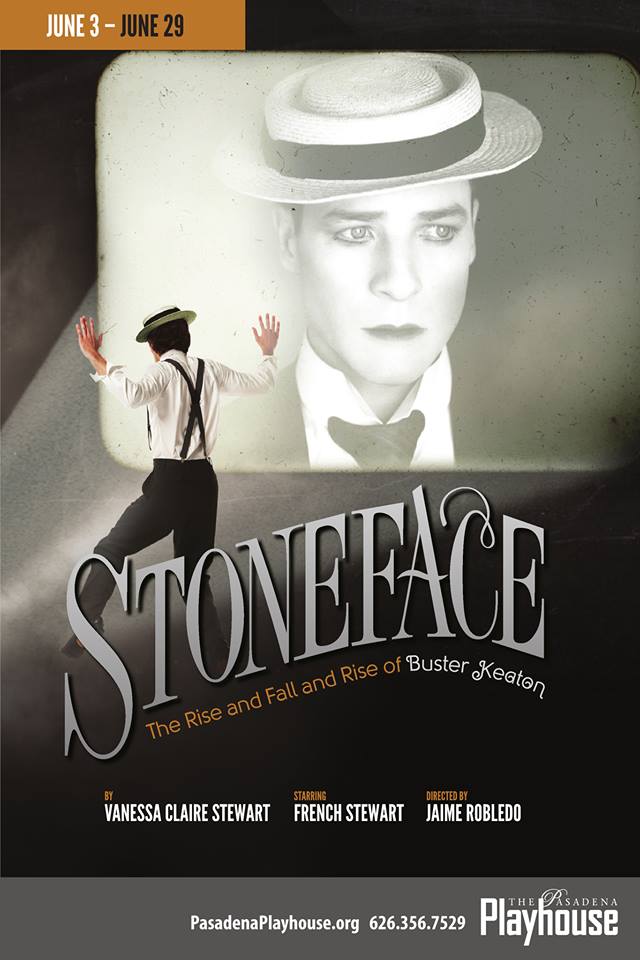 STARRING
JAKE BRODER, TEGAN ASHTON COHAN, CONOR DUFFY, JOE FRIA, SCOTT LEGGETT, GUY PICOT, RENA STROBER, PAT TOWNE, AND DAISY EAGAN AS "MAE"
Directed by JAIME ROBLEDO
Previews through June 7
Opening Sunday, June 8
Engagement continues through June 29, 2014
PASADENA, CA (June 4, 2014) – The Pasadena Playhouse (Artistic Director Sheldon Epps and Executive Director Elizabeth Doran) presents Vanessa Claire Stewart's STONEFACE, the fifth production of the 2013-2014 season. STONEFACE, directed by LA Weekly Theatre Award winner Jaime Robledo, is performed now through June 29, 2014; the press opening is Sunday, June 8.
The cast of STONEFACE stars French Stewart, Jake Broder, Tegan Ashton Cohan, Conor Duffy, Joe Fria, Scott Leggett, Guy Picot, Rena Strober and Pat Towne and Tony Award winner Daisy Eagan as "Mae."
Writer Vanessa Claire Stewart (formerly Vanessa Claire Smith) starred in and penned the multiple award-winning Louis and Keely Live at the Sahara, which had a record-breaking run at the Geffen Playhouse in 2009 after originating at Sacred Fools Theater Company.
Joining Stewart and Robledo, the STONEFACE creative team includes Ovation Award-winning composer Ryan Johnson, costume designer Jessica Olson, Ovation and LA Weekly Award-winning scenic designer Joel Daavid, multiple Ovation Award-winning lighting designer Jeremy Pivnick, Los Angeles Drama Critics Circle Award-winning sound designer Cricket S. Meyers, choreographer Natasha Norman, stunt choreographer Andrew Amani, fight director Mike Mahaffey, and LA Weekly Award-winning projection designers Ben Rock & Anthony Backman, all reunited to take this new journey with their show at The Pasadena Playhouse.
Chronicled through the lens of his own silent films, STONEFACE recreates some of Buster Keaton's most memorable gags live on stage, capturing the legend of a bygone era and telling the tale of the redemption of one of Hollywood's greatest performers. Following a successful engagement at Sacred Fools Theater Company this past summer, STONEFACE was designated a Los Angeles Times "Critic's Choice" and French Stewart's performance hailed as "… quite simply, a revelation." LA Weekly said, "GO! … one of the best new works of the city's theatrical season."
In conjunction with The Pasadena Playhouse production of Stoneface audience members can enjoy an interactive installation in The Georgia T. McClay Friendship Center, created by Los Angeles-based theatrical, interior, and event designer Tifanie McQueen. The exhibit aims to enhance the audience's understanding of Stoneface's inspiration and history. Audience members will have the opportunity to "Be a Buster," by taking a photo in a Buster Keaton style porkpie hat and "Try the Table" by experimenting with a contraption like the one seen in the dinner scene from "The Scarecrow."
For the past 30 years, Mr. Stewart has been a proud participant in L.A. theatre: both as a member of Justin Tanner's legendary Cast Theatre (Zombie Attack, Pot Mom, Party Mix, Teen Girl and Happy Time X mas) as well as a current member of The Sacred Fools. Recent stage credits include: Matthew Modine Saves The Alpacas (Geffen Playhouse), Watson (Sacred Fools Theater Company) and Voice Lessons (with Laurie Metcalf) Off Broadway at Theatre Row. French is best known for his work on the classic T.V. series "Third Rock From The Sun." He has also appeared on "Seinfeld," "The Larry Sanders Show," "Just Shoot Me," "The Drew Carey Show" and "News Radio." Recent credits include "Community," "Psych," "Bones," "The Closer," "Castle," "Pushing Daisies," "Private Practice," "The Birthday Boys," "Comedy Bang Bang," a recurring role on "The Middle" and Chuck Lorre's new hit comedy "Mom." Film credits include: "Stargate,"" Leaving Las Vegas," "Surveillance," "The Flock" and cult favorite "Love Stinks."
Daisy is the youngest actress ever to win a Tony Award for her performance as Mary Lennox in The Secret Garden (Drama Desk and Outer Critic Circle Award nominations). Most recently on stage she was seen in San Francisco, Los Angeles and New York in her third one woman show, One For My Baby, directed by Drew Droege. Other theater credits include Les Miserables (Broadway), James Joyce's The Dead (Original Broadway production), the first national tour of Love, Loss, And What I Wore, Jersey Shoresical: A Frickin' Rock Opera!, Be Aggressive (world premiere at La Jolla Playhouse, Garland Award honorable mention, and regionally at TheaterWorks), On the Mountain (world premiere at South Coast Repertory), A View from the Bridge (South Coast Repertory), The Wild Party (The Blank Theater Company. 2005 LA Weekly Award for Best Supporting Actress in a Musical) and a whole bunch of other plays and musicals. Her T.V. and film credits include "The Mentalist", "Without a Trace", "Ghost Whisperer", "Numbers" and "The Unit", "The It Factor", "All My Children", "Another World", "Space Cases", "Square One TV" "Losing Isaiah" (Paramount), "Ripe" (Trimark), "Tony n' Tina's Wedding" (Green Street Films) and "Judgement" (HBO). Daisy co-created, co-wrote and starred in "Krystal Park", a soap opera set in a trailer park, pieces of which can be found on YouTube.
Jaime Robledo most recently directed the West Coast Premiere of Edward Einhorn's adaptation of Do Androids Dream of Electric Sheep? which garnered 8 LA Weekly Theater Award Nominations including Production of the Year and the sequel to 2010's Watson entitled Watson and the Dark Art of Harry Houdini. The original Watson won him an LA Weekly Award and an Ovation nomination for his direction and the Saturn Award for Best Local Stage Production as well as being named one of 2010's top rated new plays in Los Angeles by Bitter Lemons. His direction of the Sacred Fools production of Stoneface: The Rise and Fall and Rise of Buster Keaton earned him an LA Weekly Award for Best Director.
---
A Preview of the "HO– — USE FALLING"

The cast of STONEFACE for The Playhouse presentation features (in alphabetical order):
Jake Broder as Joseph Schenck (Broadway/West End: Amadeus, West End: When Harry Met Sally Off Broadway, Off West End, L.A.: His Royal Hipness Lord Buckley Regional: Stoneface, Louis & Keely live at the Sahara (Sacred Fools, Matrix and The Geffen Playhouse, Ovation Award) Film: Kevin Spacey's "Beyond the Sea," "Shadow Dancer," "In A Day and The Barn" (2004 BIFA award)
Tegan Ashton Cohan as Natalie Talmadge (Stage: Stoneface, Hamlet Shut Up, Romeo & Juliet, Lady Windermere's Fan, The Mysteries Film: "Odd Brodsky," Empty Rooms")
Conor Duffy as Edward Sedgewick/George Jessel (Stage: Stoneface Film: "From a Place of Darkness," "Falling in Love with the Girl Next Door," "The Break Up.")
Joe Fria as Young Buster (Stage: Stoneface,Bag-Punching Dog (LA Weekly Award), Heart of a Dog (LA Weekly Award). Film: "Scorched" starring Woody Harrelson, "Guido" starring Gary Busey, and the lead in the recently completed independent film "Speedwagon.")
Scott Leggett Roscoe "Fatty" Arbuckle (Stage: Stoneface,Watson, Dark Art of Harry Houdini, Watson: The Last Great Tale of the Legendary Sherlock Holmes, Swine Show, 43 Plays for 43 Presidents )
Guy Picot as Charlie Chaplin (West End: Street Scene Sacred Fools- Stoneface,Neverwhere, Fast & Loose)
Rena Strober as Eleanor Norris/Norma Talmadge (Broadway: Les Miserables (Cosette) Off Broadway: White's Lies (with Betty Buckley) National Tour: Tzeitel in Fiddler on the Roof opposite Topol, Harvey Fierstein & Theo Bikel. Regional: Zhivago at the La Jolla Playhouse. (Directed by Des McNuff) When You're in Love the Whole World is Jewish (Directed by Jason Alexander) Stoneface Television: recurring character on Disney's "Liv & Maddi")
Pat Towne as Louis B. Mayer (Stage: Stoneface,Frank Zappa's Joe's Garage (winner of two LA Weekly Awards,) Hoboken to Hollywood, winner of the 2011 LA Weekly Award for Musical of the Year, Gorey Stories (Ovation Award for Best Musical in 2005) founding member, Managing Director of Chicago's Annoyance Theatre (Pat also originated the role of Greg in the Annoyance's production of The Real Live Brady Bunch, and eventually went on to direct the show Off-Broadway.)
STONEFACE will play through June 29. The Pasadena Playhouse is located at 39 South El Molino Avenue, Pasadena, CA 91101. The performance schedule is Tuesday through Friday at 8:00 p.m.; Saturday at 4:00 p.m. and 8:00 p.m.; and Sunday at 2:00 p.m. and 7:00 p.m. Tickets, priced from $34 to $74, plus premium, are available by calling The Pasadena Playhouse at 626-356-7529 or by visiting The Pasadena Playhouse Box Office, Tuesday – Sunday from 1:00 p.m. until 6:00 p.m. during non-performance dates. On performance dates the Box Office is open Tuesday – Saturday from 1:00 p.m. – 8:00 p.m. and 1:00 p.m. – 7:00 p.m. on Sunday. For more information, visit www.PasadenaPlayhouse.org.


Calendar listing for STONEFACE
The Pasadena Playhouse
Dates:
Now through Sunday, June 29
Sunday, June 8 at 5:00 p.m. – Press Opening
Playing
Tuesday through Friday evenings at 8:00 p.m.
Schedule:
Saturdays at 4:00 p.m. and 8:00 p.m.
Sundays at 2:00 p.m. and 7:00 p.m.
Special
Talkback Tuesdays – June 10 and June 17 following the 8:00 p.m. performance
Events:
Post-Show Discussion – June 15 following the 7:00 p.m. performance
Prices:
Previews June 3 to June 7 — $34 to $54 plus premium
Following June 7 — $54 to $74 plus premium
Venue:
The Pasadena Playhouse, 39 South El Molino Avenue, Pasadena CA 91101
Tickets:
Online sales and information: www.PasadenaPlayhouse.org
Phone: 626-356-7529
In Person:
On non-performance dates, the Box Office is open Tuesday – Sunday from 1:00 p.m. until 6:00 p.m.
On performance dates, the Box Office is open Tuesday – Saturday from 1:00 p.m. – 8:00 p.m. and 1:00 p.m. – 7:00 p.m. on Sunday
---
Follow ATOD Magazine™