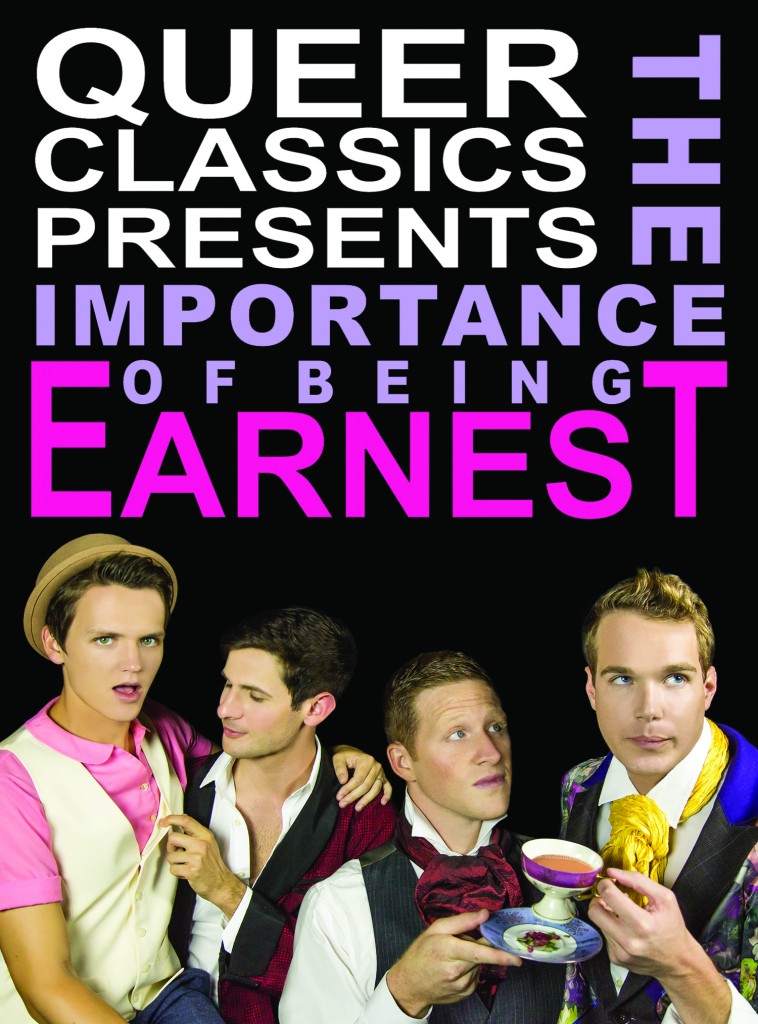 "The truth is rarely pure and never simple …" – Oscar Wilde
A Play Adaptation by Casey Kringlen
It's true, Oscar Wilde was a theatrical genius, an author who dared to push the boundaries of what relationships were socially acceptable in a rather hierarchical system where the mass populace grimaced at his rather unconventional ways. It's also true that his plays have made quite possibly some of the most lovely films both in the US and abroad. His work is, without a doubt, timeless and surprisingly relevant.
The one play that embodies the humor, tenacity, cheekiness, societal restriction, and telling candor is, "The Importance Of Being Ernest" so when a Writer/Director dares to recreate a theatrical masterpiece, I'm understandably leery. However, Writer/Director, Casey Kringlen has put any hesitation I may have had, at ease. Having written a new version of Ernest,  this time, he's recreated the lead characters played by these incredibly talented male leads, Mason McCulley, Philip Orrazio, Grant Jordan and Boone Platt. It's a truly refreshing version of the play with all of the wit, charm, intellectual flurry, and literary beauty we've come to expect from any Wilde piece. Notable mentions are Jeff Elam, Nancy Lascala, and Megan Soule.
With 2 runs in Los Angeles, I write this with the hopes that it will encourage an even longer run of this performance. Mister Kringlen is one of the youngest theatrical visionaries I have ever met and yet it doesn't stop him from challenging himself, his actors, his producers, and his entire crew to make quality theatre that moves and awakens. He began "QUEER CLASSICS" recreating literary masterpieces using primarily all gay leads – or as he says, "Queer Classics through a Queer Lens". It's a breathtaking and welcomed approach and every performance I have seen thus far, rivals any other performance before it. Like many of Wilde's tales, Ernest is apropos to modern society; the continued pressures, the systematic breakdowns, the foolish biases, the unfortunate misconceptions.  However, much like Oscar Wilde himself, Casey Kringlen and his passion to bring a new approach to the classics, has that beautiful essence of hope and an evolution of changed preconceived ideas. What he has done, not just for the LGBT community, but for theatre on the whole, is awaken a sleeping artform. His ability to tell a story and be a successful one at that is something no one should miss.
With an ensemble cast of sensational actors, I find his rendition of "The Importance of Being Ernest" to be among my favorites. You will laugh and love and find yourself quite charmed. Bravo to Casey for yet another theatrical masterpiece!
ABOUT ERNEST
Winner of a 2014 Hollywood Fringe Festival Encore Producer's Award, the Queer Classics production of The Importance of Being Earnest is set to return for four weeks only at The Lounge Theatres in Hollywood.
Opening Night – Saturday, October 25 at 8pm.
Closing Night – Sunday, November 16.
Queer Classics re-imagines one of the most popular comedic plays ever written by presenting the four lovers in the story as dashing gay men. Two couples fight for the right to be engaged in this masterful satire written by Oscar Wilde, arrested in 1895 for "gross indecency with men." This timeless tale gallivants through a world obsessed with appearances, money, and social status. The parallels with today's Hollywood and American culture make for searing fun, and by presenting the four lovers as gay men, Queer Classics creates a play more hysterically fabulous than Oscar could have imagined possible in his lifetime. Running time is 90 minutes.
Directed by Casey Kringlen, the cast features (in alphabetical order) Grant Jordan, Nancy La Scala, Mason McCulley, Philip Orazio, Boone Platt, and Megan Soule. Lighting design is by Dan Weingarten.
Queer Classics is dedicated to sharing classic stories re-imagined through a queer lens – art for the LGBTQ community and its supporters. The Importance of Being Earnest will play one preview on Friday, October 24 at 8pm and opening is set for Saturday, October 25 at 8pm. Performances will be on Friday and Saturday at 8pm and Sunday at 5pm through November 16 only. No performance on Friday, October 31. Tickets are $40 for opening night (includes post-performance reception and meet-and-greet with the artists), and $20 for regular performances. They are available online at www.QueerClassics.com or by phone at (323) 450-7399.
The Lounge Theatres are located at 6201 Santa Monica Boulevard (at El Centro) in Hollywood, 90038.