Untapped Festival: A Beer Lovers Haven
ALL Photos ©by Kevin Curtis
It all started with a love of high-quality, craft beer and a passion for emerging local and national bands. UNTAPPED was specifically designed by us as an event equally focused on both, an uncommon balance rarely found at festivals and events. The aim never will be about the quantity of selection, but rather about curating the best in must-taste brews and must-hear music… a few of our favorite things, so to speak! The addition of local artisans, quality food vendors, dynamic sponsors and unique locations adds texture to each event and creates a vibrant village of activity. What started as a self-serving shindig designed to showcase our personal interests turned out to be something that resonates in a way that is meaningful to us and our supporters! Cheers!

–Matthew B. Harber, UNTAPPED CEO and Co-Founder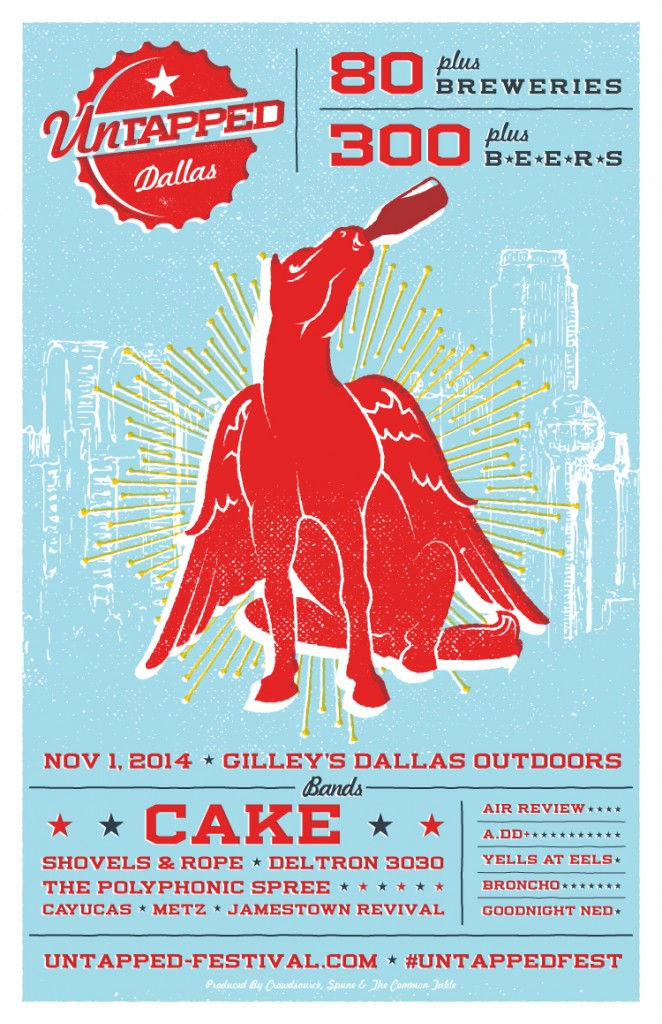 Dallas is known for a great many things: Cheerleaders and Barbecue being two of those things. Now add Beer to that equation. As the craft brewing movement continues to be ever expansive in the US, there are Beer Fests happening everywhere – BUT – not all of them have that extra something. Introducing the UNTAPPED FEST. A Beer Lovers Haven.
With an impressive lineup of over 80 Brewers with a variety to the tune of something like 300 beers, this Festival also happens to include some rather notable bands including CAKE and DELTRON 3030 and some pretty spectacular "Happy Food". From bacon beer battered donuts to every kind of beer imaginable, all those who come will find their bliss.
The MENU provided by BOLSA
Smoked Sausage w/ Dijon Mustard, Red Wine Braised Cabbage
Smoked Chicken Drumsticks w/ Lemon Pepper
Chopped BBQ Pork Sandwiches w/ Horseradish Pickle, Carolina BBQ Sauce
Mac and Cheese Bites
Twig and Branch (flatbread) w/ Roasted Grapes, Goat cheese, Arugula
Sausage and Banana Peppers (flatbread)
Texas Chili Frito Pie w/ Scallions, Cheddar
Garlic Fries
The sweets were provided by Hypnotic Donuts and it's no wonder, it's titled that. One bite of that sweet and salty goodness and you will find yourself in a happy trans-like state. And it's completely acceptable. And I'm pretty sure this photoessay below proves the tried and true theory that BEER does in fact, make a man happy.
[separator type="thin"]
DELTRON 3030
[separator type="thin"]
Bolsa is located on Davis Street just west of the Bishop Arts District in a historic building known as Settles Garage. The original owner built the core building block by cinder block himself and established a reputation for great service. Bolsa has paid tribute to the Settles Garage by restoring many original elements from the original garage doors on Davis to the original cement floor salvaged for paving stones on the patio.
The Bolsa bar and kitchen rest solidly on cinder block that Settles would have used. The location in Oak Cliff was chosen based on the sense of community that exists in this eclectic, bohemian neighborhood – a perfect match to the Bolsa experience. Bolsa, like the streets of Oak Cliff, is just minutes from Dallas but a world away from the city.
ABOUT HYNOPTIC DONUTS
Based on the culinary creations of Chef Andrew Bell and Chef Justo Blanco, it is described on their web site as "[drawing] inspiration from the best local ingredients available each season and changes regularly depending on produce offered by local farmers, small growers, ranchers and fishermen".
BOLSA has won the affections of many Dallasites and continues to win awards and be recognized for its unique atmosphere and distinct personality.