Fall #RECIPES
Chef Jason Hook created H2O Kitchen with a vision to bring beautiful, quality food to the Philadelphia area as well as the outskirts of Pennsylvania. He pushes the culinary envelope creating experiences that embody the artistic essence of cooking. Below he has created a 4-Course Fall Menu with #Recipes for readers to try at home. He is both an artist and a perfectionist who believes in sourcing locally and always using the freshest and most flavorful ingredients.
All Photos by Chef Jason Hook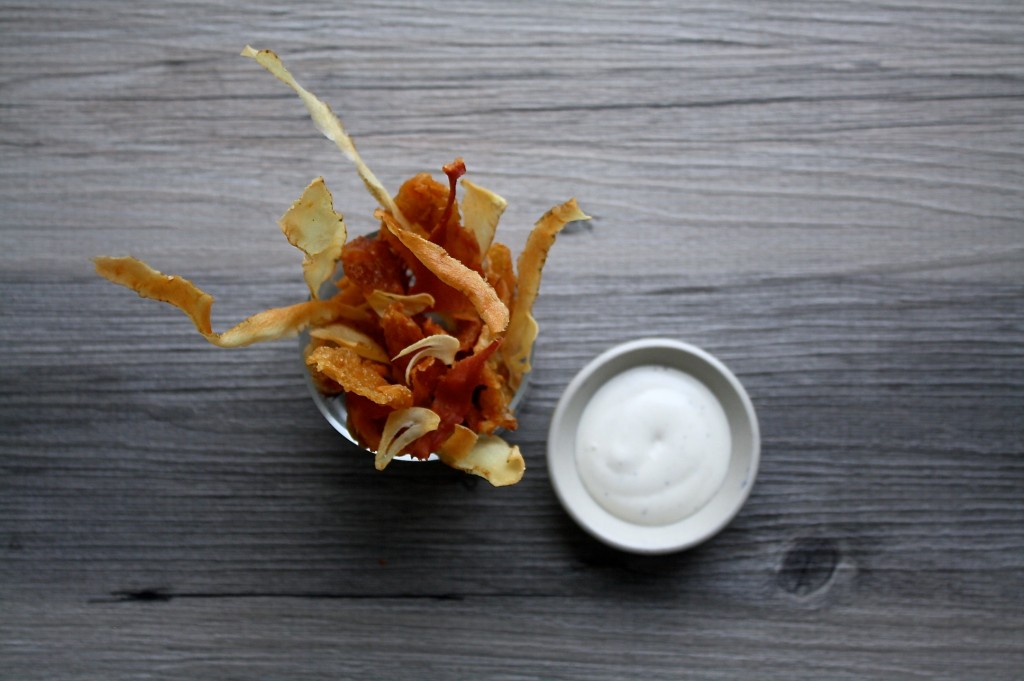 Autumn "Chips" with a Black Truffle Ranch Dip
Black Truffle Ranch:
1 clove garlic
1/2 tsp kosher salt
1 C mayo
1/2 C creme fraiche (or sour cream)
1/4 C Italian flat leaf parsley, chiffonade
2 Tbsp chives, minced
1 Tbsp chervil, minced
1 tsp worcestershire
10 turns of the pepper mill
1 tsp apple cider vinegar
1/8 tsp cayenne pepper
1/2 C buttermilk (or as desired for proper consistency)
1 Tbsp minced fresh black truffle (or canned black truffle peelings)
2 Tbsp black truffle juice
Mince the garlic by smashing and smearing it on a cutting board, then mince fine with a knife.  Place in a mixing bowl.  Combine all other ingredients and whisk in the buttermilk to desired consistency.
Serve the chips together in a serving vessel and the black truffle ranch dip in another.
*This is more of a technique regarding the chips then a a recipe. I just took fresh seasonal parsnips, salsify, and fingerling potatoes and shaved them lengthwise on a mandoline into thin strips.  I brought grapeseed oil up to about 375F and fried each in the hot oil until golden brown and removed and let drain on paper towels, seasoned with sea salt.  For the country ham I again shaved it thin and deep-fried the ham as well until crispy.. no need to season the ham with salt as it is salty enough.  For the chicken skin I took the skin from the breasts and scraped it clean with a knife and placed in the dehydrator overnight.  The next day I again brought grapeseed oil up to 375F and fried until crispy and golden brown (chicken "chicharonnes") and again laid out on paper towels to drain and seasoned each with a little sea salt and a few turns of the pepper mill.
[separator type="thin"]
Wild Mushroom Risotto | Pearl Barley | Chantarelle Puree
Mushroom Stock
mushroom scraps
h2o to cover
garlic cloves, skin on
shallot
fresh thyme bouqet garni
bay leaf
peppercorns
sage leaves
salt to taste
*The mushroom stock replaces chicken stock in this dish.  Cooking the pearl barley in the mushroom stock adds an earthiness and an unami aspect that works well in this dish being that it is mushroom-based and a great starter in the fall months.  I just take all the mushroom scraps reserved from cleaning all seasonal mushrooms for this dish and cover with h2o in a sauce pot.  I then add some crushed garlic cloves, sliced shallots, peppercorns, a fresh thyme bouquet garni with some fresh sage leaves, and a a bay leaf.  Bring to a boil, reduce to a simmer and cook for about a half hour.  Strain through a chinois lined with cheesecloth and adjust seasoning with salt to taste.  Reserve.
Chantarelle Puree
Place all chantarelle scraps in a small sauce pot.  Cover with chicken stock, some fresh thyme leaves, a crushed and minced garlic clove and some salt + pepper to taste.  Cook until tender.  Blend in a vita mix blender until smooth.  Pass through a tamis or chinois and reserve.
Risotto
1 small onion, minced
1 Tbsp grapeseed oil
1/2 C dry white wine
1 1/2 C pearl barley, toasted lightly in the oven
7 C simmering mushroom stock
1 C assorted seasonal wild mushrooms, cleaned and cooked (chantarelles, cepes, black trumpets, creminis, shitake, etc.)
1 C freshly grated parmesan-reggiano on the microplane
1 Tbsp mascarpone
6 Tbsp whole butter, unsalted
zest of 1 lemon on the microplane
1 Tbsp Italian flat leaf parsley, chiffonade
1 Tbsp fresh chives, minced
salt and fresh ground pepper to taste
In a flat-bottomed sauce pot with a large surface area sweat out the onion in grapeseed oil until translucent.  Add the toasted pearl barley and coat in the oil.  Add the white wine to de-glaze and cook until dry.  Add the mushroom stock in three stages until the rice is al dente, stirring often; about 20 minutes.  Using a wooden spoon or rubber spatula, whip in the butter along with the Parmesan until creamy and emulsified.  Add the mascarpone, cooked wild mushrooms, lemon zest, fresh herbs, and salt + pepper to taste.  Serve immediately and garnish with some fresh brussel sprout leaves, shaved Parmesan, and a little more microplane lemon zest.  Add a spoonful of the chantarelle purée on the plate and drag with the back of a spoon.  Serve immediately.
[separator type="thin"]

Roasted Duck Breast | Savoy Cabbage + Black Truffle Fondue | Mustard Braising Greens | Tokyo Turnips | Natural Jus de Canard
Savoy Cabbage + Black Truffle Fondue
1/2 head savoy cabbage, core and outer leaves removed, shredded
1/2 onion, minced
1 clove garlic, peeled and minced
1 Tbsp grapessed oil
1 C chicken stock
3 Tbsp whole butter, unsalted
1 tsp black truffle, minced
1 Tbsp black truffle juice
salt and pepper to taste
In a flat-bottomed sauce pa,n sweat out the onion and garlic in grapeseed oil.  Add the savoy cabbage and sweat out.  Add the chicken stock and butter, cover with a parchment lid and turn the heat to low.  Cook for about 45 minutes until fully melted and emulsified, no caramelization.  Fold in the minced black truffle along with the black truffle juice.  Season to taste with salt and a few turns of the pepper mill.  Reserve.
In a heavy bottomed saute pan over medium-high heat, add a little grapeseed oil.  Season the duck breast with salt and pepper on both sides.  Score the duck skin with a sharp knife and place skin-side down in the saute pan.  Turn heat to medium-low and render/crisp the skin, degreasing often.  After about 10 minutes on the skin side flip over and place in the oven for about 3-4 minutes until medium rare, remove from the pan and let rest on a rack.  Place the pan back on the heat and toss in some fresh mustard greens along with some roasted Tokyo turnips. Toss together in the duck fat.  Turn the heat up to medium-high and continue to cook the greens.  Add a little apple cider vinegar to the pan to deglaze and a little chicken/duck stock.  Reduce until nape, finish with a knob of butter to emulsify.  Slice the duck breast and spoon the turnip/mustard green ragout onto the plate.  Arrange the sliced duck breast and the savoy cabbage fondue on the plate as well. Spoon the pan jus over the duck and serve immediately.
[separator type="thin"]

Warm Chocolate Cake | Whipped Fudge | Graham | Meringue
Whipped Fudge Icing
1/2 C butter
3 oz. unsweetened chocolate
1 lb. confectioners sugar
1/2 tsp vanilla extract
1/2 C whole milk
1/4 C heavy whipping cream
Melt chocolate and butter over a double boiler.  In a kitchen aid mixer bowl combine the confectioners sugar, vanilla extract, and 1/2 C of the whole milk.  Whisk in the melted chocolate mixer.  Beat on medium high speed in the kitchen aid and add the heavy cream a little at a time until desired consistency is achieved.  Let stand until spreadable.
Meringue
3 egg whites
1/4 tsp cream of tartar
3/4 C white sugar
In a large bowl, beat egg whites and cream of tartar in a kitchen-aid mixer until foamy.  Gradually add the sugar, beating until mixture forms soft/stiff peaks.  Reserve.
Warm Chocolate Cakes:  (makes 4 each 6 oz. cakes)
4 oz. unsalted butter (1 stick)
6 oz. bittersweet chocolate, Ghirardelli or Valrhona, etc.
2 whole eggs
2 egg yolks
1/4 C sugar
1 tsp salt
3 Tbsp all purpose flour
Preheat the oven to 450F.  Butter and lightly flour 4 small 6 oz. loaf tins.  Tap out excess flour.  Set the mini loaf tins on a baking sheet.  In a double boiler over simmering water, melt the butter along with the chocolate.  In a medium bowl, beat the eggs with the egg yolks, sugar and salt at high speed until thickened and pale in color.  Whisk the chocolate until smooth.  Quickly fold it into the egg mixture along with the flour.  Spoon the batter into the prepared loaf tins and bake for about 12 minutes, or until the sides of the cakes are firm but the centers are still somewhat soft.  Let the cakes cool in the tins for about 5 minutes.  Then cover each with an inverted dessert plate.  Carefully turn each one over, let stand to cool for 15 seconds and then un-mold.  Pipe the fudge icing on top, sprinkle with toasted graham (toasted in clarified butter) and a coarse sea salt like Maldon or Fleur del Sel.  Spoon some meringue on the plate and smear with the back of a spoon.  Torch lightly.  Serve immediately.
[separator type="thin"]
Pair with a lovely Paso Robles Wine by Ancient Peaks Winery and get 20% OFF Using CODE: "ATODMagz"