GLENFIDDICH '63: Bond. Aston Martin. Scotch Whiskey. On the rocks.
photos by Tram Tran
Going A Little More In-Depth with Brand Ambassador Mitch Bechard
Enter an architectural landmark in the heart of Beverly Hills. Designed by the illustrious John Lautner, the Sheats Goldstein Residence is something of a Los Angeles iconic site. With design that boasts modern and sophisticated-without-pretension, the home is a wonderful homage to artistry that never forgets the importance of detail. Lines and textures exemplifying the 1960s, even the trellis' near the tennis courts outdoors are thoughtfully planned out. It is both zen and modern giving the hilltops of Beverly Hills something rather exquisite.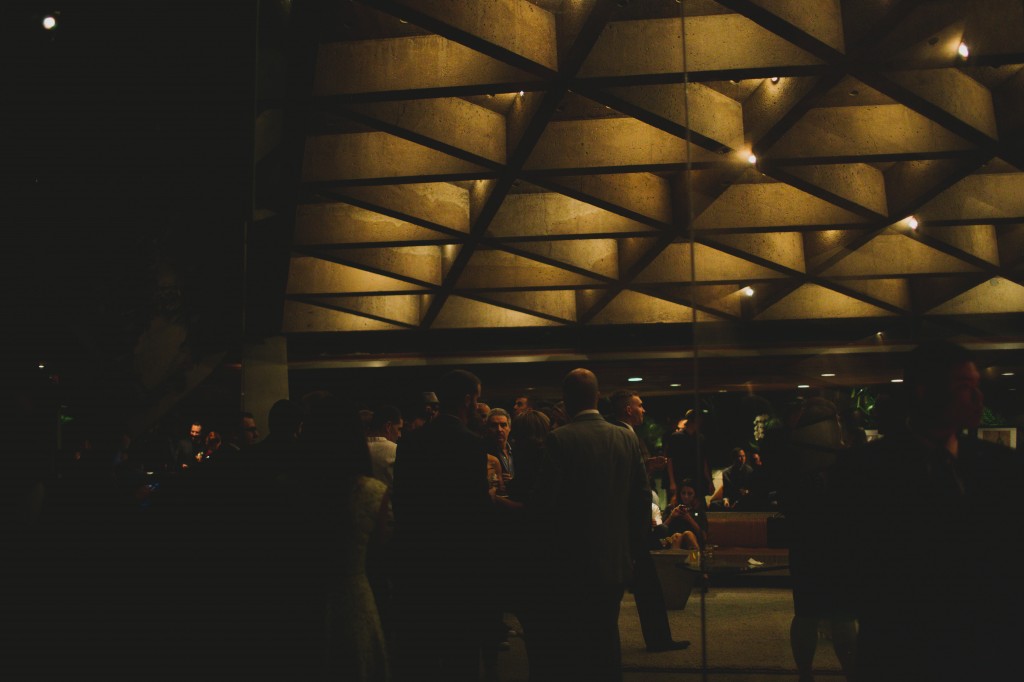 Greeted, upon arrival, with a beautiful DB6 1967 Aston Martin parked just out front, the mood for a night of sleek and sexy was well underway. The attire requested was strictly to fit into the spirit of 1963 and it was all too fun to oblige. Invited this evening to take in the truly magnificent homage to the times with Glenfiddich '63 Scotch Whiskey, this was going to be an evening no one would soon forget. Like something straight out of a Bond film (Sean Connery style), it was as if we were on the set of a movie. The set? A home designed with geometry and elegance flowing in every corner, every line and texture embodying the soul of the original intent of Lautner's vision, there is certainly an unmistakable sense of nostalgia when you're here.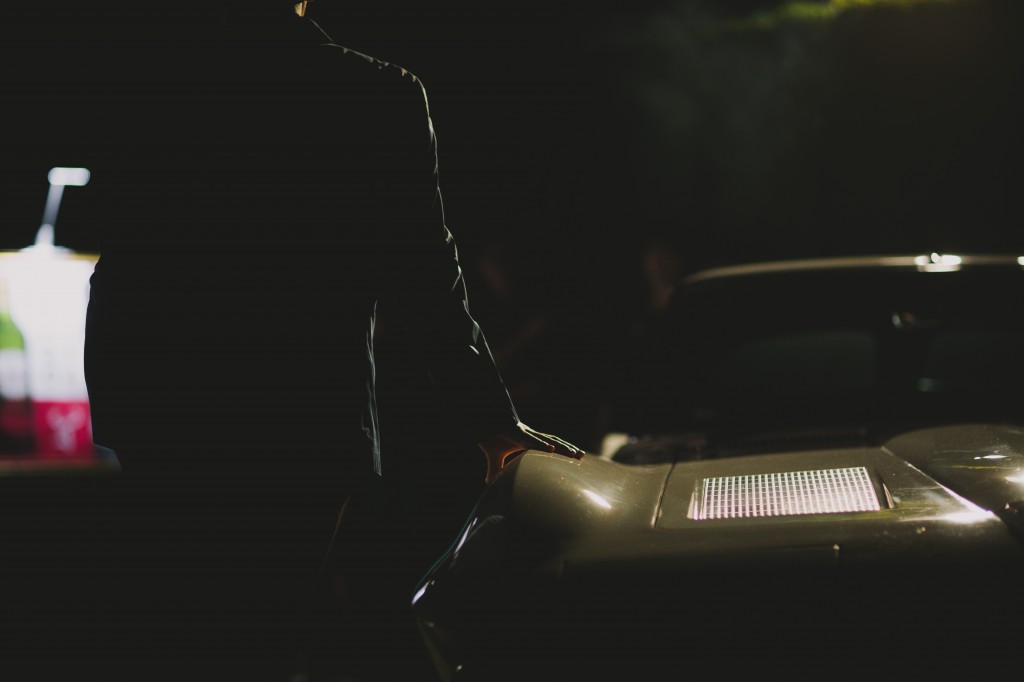 With a menu of cocktails and tray passed hors d'oeuvres, a house full of guests talk and take photos, including the various photo "sets" taking us to into the world of "Mad Men" and sharp suits and keen advertising. Soon we are ushered outside to the anticipated toast of Glenfiddich '63. Servers wait for us with trays full of glasses happily holding the festive spirit. This vintage, the '63, is one released to commemorate the year when Glenfiddich was no longer a secret of the Scots. In that year, Glenfiddich would travel the world and be introduced to a flurry of Scotch Whiskey drinkers and cocktail savants.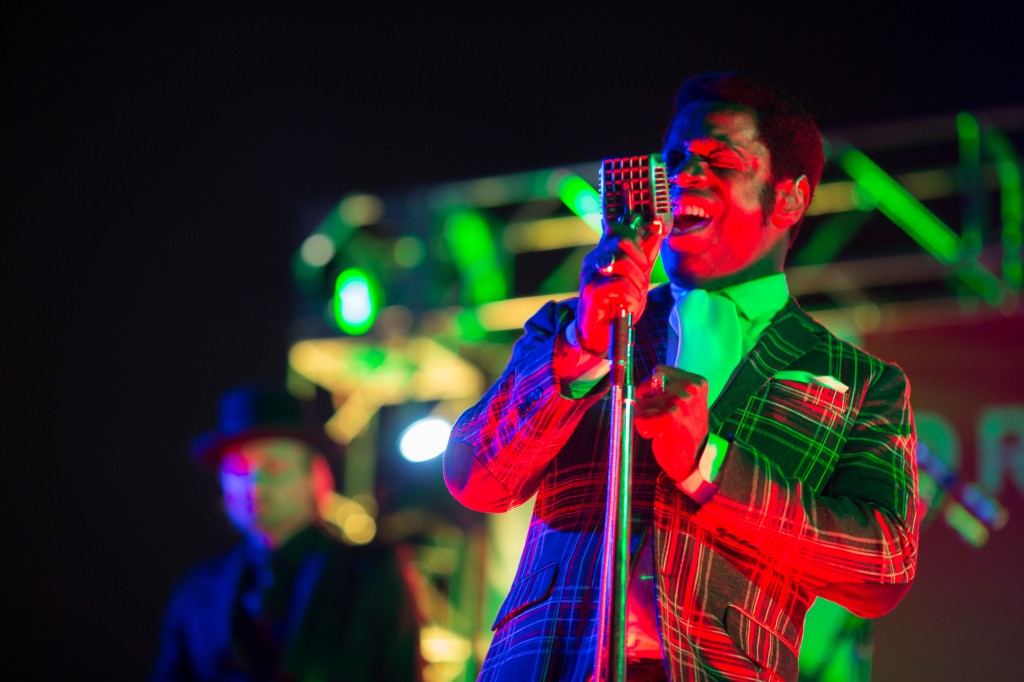 Without pause, Glenfiddich's Mitch Bechard steps onto the stage for a toast. He raises his glass to us and us to him and down the hatch it goes, slowly, as to not rush the beautiful taste of this surprisingly smooth spirit. This Scotch Whiskey is gorgeous on the nose and suave on the finish. Mitch introduces the band and we are in for a treat: a live performance from musical artists, Vintage Trouble! The fellas of the band –  Ty Taylor (vocals), Nalle Colt (guitar), Richard Danielson (drums) and Rick Barrio Dill (bass) – come up on stage and Ty grabs the microphone and that unmistakable voice bellows out and give us (and Los Angeles) one phenomenal live performance.
[separator type="thin"]
My "One-on-One" with the debonair, Mitch Bechard:
1.      Growing up in Scotland, what was your fondest childhood family tradition?
I would say Christmas day.  Being together as a family and opening presents around the tree then having a huge sit down dinner.
2.      Representing Glenfiddich has taken you to some extraordinary places from what I've learned. That said, if it were entirely up to you to arrange a tasting – and there were absolutely no limitations – where would you have it and what would you do?
That would be hard to top as I have done such amazing tastings that include at 20,000 feet on a private jet, flying helicopters into the grand canyon and on the Statue of Liberty.  Glenfiddich has always been the pioneer, in keeping with that though, I suppose I would literally like to shoot for the stars and do the first ever tasting in space.  Mr Branson if you are reading let's do this!!

3.      At the Los Angeles launch, I had the pleasure of tasting the '63. While admittedly hesitant (as I'm not a Scotch Whiskey drinker), I found myself sipping it in. It has a lovely nose to it and a beautifully smooth taste. What makes the '63 so prestigious in terms of the product itself?
To fully explain the story of the '63 I need to talk on the history of scotch.  Our first written record of making 'Aqua Vitae,' as it was called back then, was in 1494 and from this scotch eventually expanded through the blended category in the 18th century.  Blends such as Grants, Johnnie Walker and Chivas Regal lead the way and blended whisky still accounts for around 80% of global scotch whisky sales.  When we talk about single malt scotch whisky, which is defined as liquid from one grain and one distillery, this is a new category within the market.
What we are celebrating with the Glenfiddich 1963 Original is the birth of the single malt category as Glenfiddich was the first to be readily available.  Glenfiddich's Malt Master, Brian Kinsman, has faithfully recreated the Glenfiddich that was released in 1963 using records from the distillery and liquid obtained from that year.  It draws heavily from the influence of Sherry casks which were the most prominent vessel used for aging scotch at the time.  What I enjoy about this particular expression is the gentle fruit and malty notes that come through that include pear, vanilla and citrus.  A very approachable style of scotch whisky which is probably the main reason you, as a non scotch drinker, enjoyed it so much.
4.      When drinking the cocktail "Blood & Sand" at the event, I was pleasantly surprised at the well-balanced components of a rather airy cocktail using Glenfiddich. What would you say is one of the most prominent features of GF that sets it apart from say, The Macallan?
The amazing thing about the Scotch industry is that we do not compare each other and say any single malt is superior to another.  I always say that if someone is drinking Scotch then as a Scotsman that makes me happy, obviously if they are drinking Glenfiddich – it is a bonus!  When I talk to people about Glenfiddich I am always very proud to say I work for a family run company.  We are one of the few independent distilleries, still completely owned by the same family who built the distillery back in 1887.  A boast that is a rarity in this day and age.
5.      Do you ever wonder if you're really James Bond in training …
All the time, the problem is I don't shake my martinis.
6.      Do you remember the first time you had Glenfiddich? If so, describe your experience.
One of the things that is so powerful about scotch is that the smell and taste can take you back to a certain moment in time.  For me one of my favorite expressions of Glenfiddich is the 15 year old. Not only because it is incredibly smooth and elegant but because it reminds me of a time when a very good friend of mine introduced me to it.  This happened in Scotland and I remember I was at his house which had a great garden.  On this particular occasion we were sitting in his garden late evening with a fire going.  He brought out a bottle of Glenfiddich 15 and we had a few drams while chatting and listening to some great music.   For me this is a classic example of how scotch can be savored.  Enjoying the moment with close friends or family.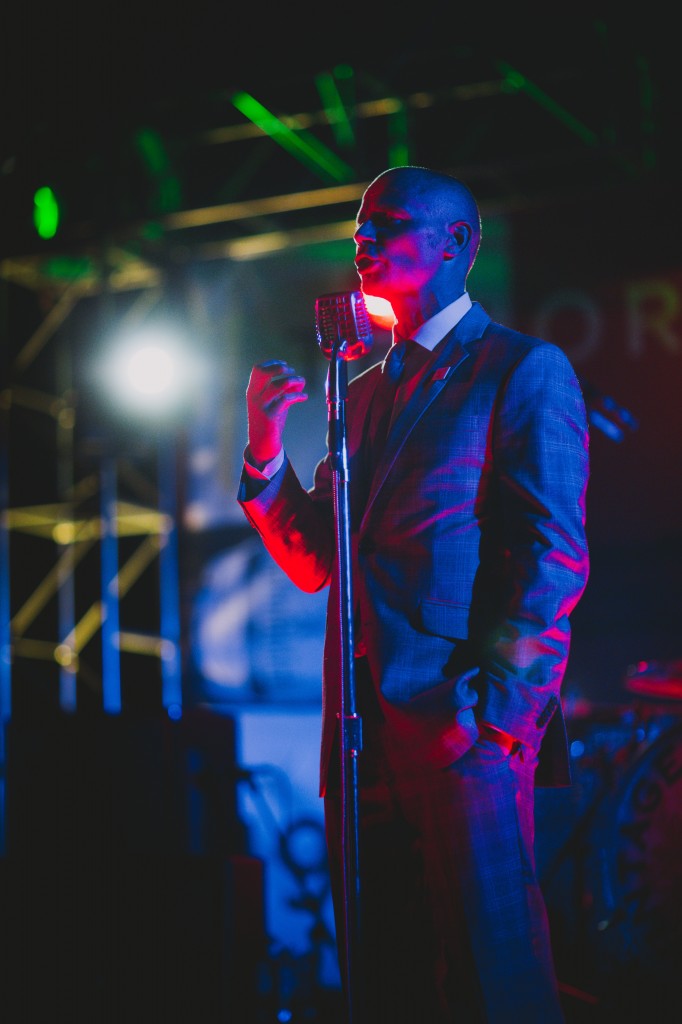 7.      Most compelling part of being a Brand Ambassador is the adventures you have and the people you meet. What is the one "constant" you tend to hear from Scotch Whiskey savants? And what do Glenfiddich "virgins" say about it upon being introduced?
My job is different every day and that is one of the things I love about it.  The other is that I get to share my passion and knowledge about scotch whisky and obviously Glenfiddich.  I do a lot of tastings for both types of people you mention. One thing that whisky 'savants' often say about Glenfiddich is how the older expressions are so complex and layered.  I often introduce people to scotch for the first time which is great or they say that they do not enjoy it.  My answer to those who say they do not enjoy it is that most of the time they have simply not found the right one that suits their palate.  There are so many flavors in Scotch whisky, it is about finding the right one for you.  It always makes my day when this happens with Glenfiddich.
8.      At the LA Event, there was a 1967 Aston Martin which completed the entire experience of revisiting the 1960's. What image do you hope to see the '63 Vintage portray?
For me the event at the James Goldstein Residence in LA encapsulated everything I had in my mind about the 60's era, from the cars, décor and cocktails. However, the overpowering image that I have of it is that of people sitting down and taking the time to enjoy it, from the first time scotch drinker to the whisky connoisseur.
9.      One word to describe the Glenfiddich '63 on the rocks.
Timeless.
10. Most random thing that has happened to you since you started working as a Brand Ambassador (no holds barred).
Ha! So many to choose from!  I think it would have to be a project that I worked on a few years back called Cask of Dreams where I rolled Glenfiddich casks through cities in the USA including Seattle, LA, New York and San Francisco.  This was for a bottling we were doing where the casks were eventually used for the actually aging of the expression.  Rolling casks over the Golden Gate Bridge, down Lombard Street, though Times Square, along Hollywood Boulevard and through Pikes Place market was definitely a random experience!
 [separator type="thin"]
A RECAP VIDEO of the Evening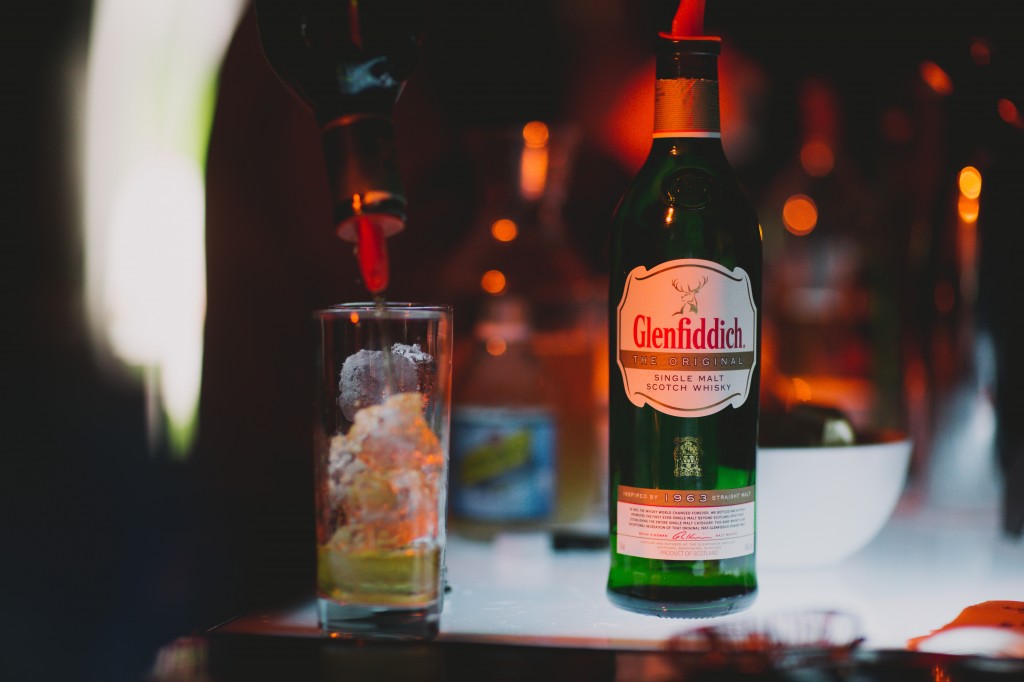 ABOUT GLENFIDDICH and the '63
1887: William Grant fulfills a lifelong ambition and starts building his own distillery with the help of his nine children and a single stone mason. He names it Glenfiddich, Gaelic for Valley of the Deer. After a year of hard labour the first drop of spirit falls from our copper stills on Christmas Day 1887.
1963: Sandy Grant Gordon, great grandson of William, is so proud of our single malt that he makes Glenfiddich the first to be actively promoted outside Scotland. Consumers around the world used to drinking blended whisky, are initiated to the delights of single malt. Until then a well-kept secret of the Scots.
2014: A vintage made to commemorate the introduction of Glenfiddich to the world in 1963 is released.
ABOUT SHEATS GOLDSTEIN
The Sheats Goldstein Residence is a house designed and built between 1961 and 1963 by American architect John Lautner in Beverly Crest, Los Angeles, California, just a short distance from the Beverly Hills border. The building was conceived from the inside out and built into the sandstone ledge of the hillside; a cave-like dwelling that opens to embrace nature and view.[1] The house is an example of American Organic Architecture that derives its form as an extension of the natural environment and of the individual to whom it was built. Typical of Lautner's work, the project was approached from an idea and a unique structure was derived that solved the challenges of the site.
All Photographs Copyright© 2014 – ATOD Magazine™