Eggs + Roses
breakfast with a kick of passion.
by Dawn Garcia, ATOD Magazine
Serves 2 | Total Time: 20 minutes (give or take)

I recently created this breakfast on a morning whim when I was feeling a little more passionate than normal. The need for spice and sensuality was ever present. I was prepping and then, for some reason, remembered the film, "Like Water For Chocolate" and recalled a dish where the main character uses rose petals to cook.
Having just bought a fresh batch of red roses, I decided to incorporate it into the breakfast. I will make this dish again and provide far more gourmet-worthy photos -(we are in the middle of moving so all of the "fancy" cookware is officially being packed away). Either way, the taste was beyond phenomenal with traces of bitter using the leek, the cream from the cheeses, the kick of heat from the cayenne and red pepper, the subtlety of elegance from the rose petals and of course, and the beautiful caramelization from the bacon and pear.
Breakfast should be a dish that you play with. Pair this with a lovely cuvée or a gorgeous brut champagne and there is no doubt more passion will follow shortly after  consumption … Trust me on that.
$$ – Piper- Heidsieck | Brut Cuvee, France, 92 points
$$$$ – Krug | "Grande Cuvée" Brut Champagne | 95 points
[separator type="thin"]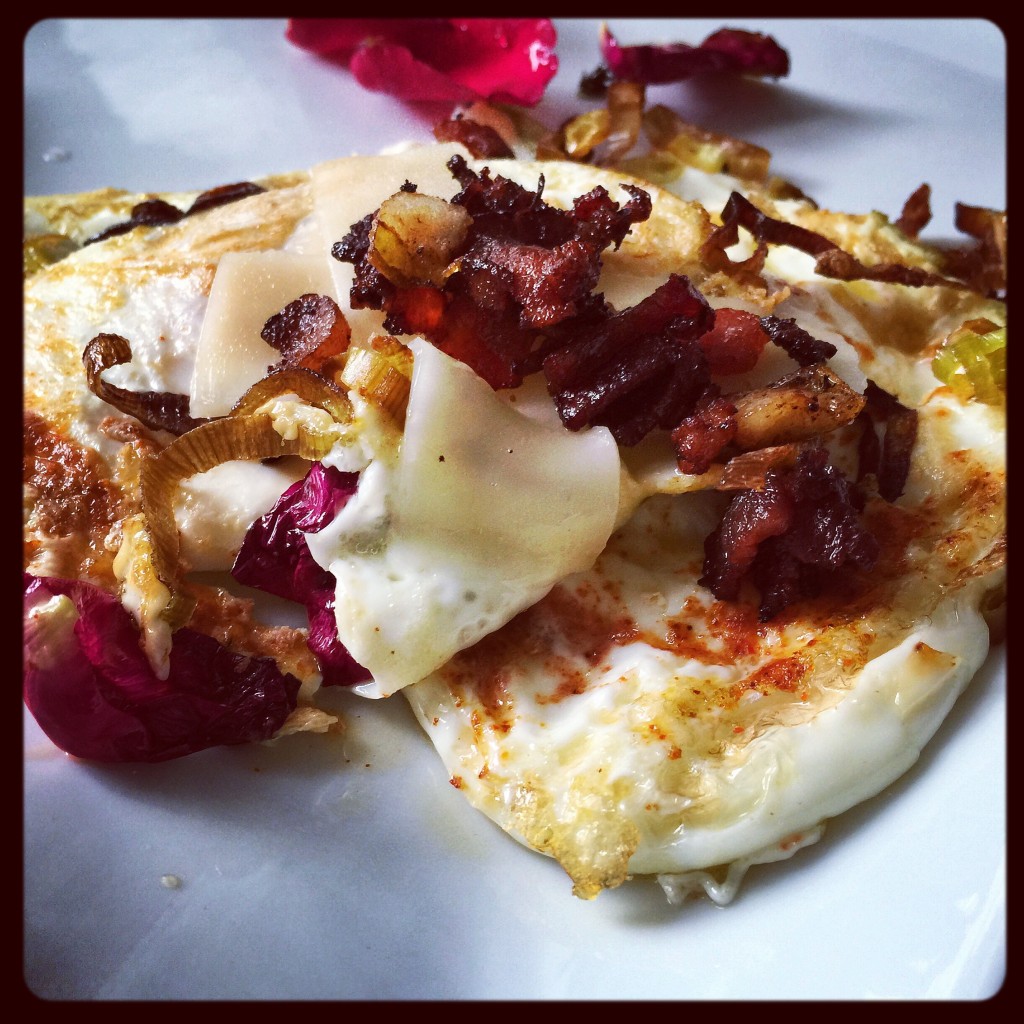 INGREDIENTS
4 Large Eggs
Cheddar/Gruyere Cheese (A Blend)
1/2 Leek (Peeled and prepped to clean stalk)
1 Red Rose (pull and wash petals)
Olive Oil (Cold Pressed)
4 Slices Applewood Smoked Bacon (Butchers Cut)*
1/2 Green Pear
Cayenne Pepper
Red Pepper (ground)
Himalayan or Sea Salt (preference)
Thyme (1 Stem)
Udi's Whole Grain Bread
*Please note we purchase all of our meats from the Farmers Market OR Premier Meat Company. Fresh and premium every time.
[separator type="thin"]
PREP + PREP TIME
10 minutes.
Chop leek so leeks are circular. Pinch off thyme from stalk. Cut bacon into 1/2″ strips. Put aside. Cut pear into strips and half.
 
[separator type="thin"]
DIRECTIONS
Heat saucepan. Add bacon. Add pear. Let simmer until bacon is crisp.
*Pear will slightly caramelize in bacon fat.
Heat skillet. Add olive oil. Add thyme and leek. Simmer for 2 minutes. Add eggs.
PLATING
While not shown in this photo, plate with at least 1 full budded rose. Place eggs stacked off center, top with peeled cheese, bacon + pear, and a few rose petals. Add Toast and a fresh bowl of mixed berries. Add sugar, lemon and fresh mint to your berries for added taste, color and texture.

[separator type="thin"]
I'd encourage you to use the FINEST quality meats. ATOD Magazine's top pick for Premium Cuts is:
Here is a look at one of the dishes using Premier Meat Co. we featured at our recent PopUp Restaurant with Chef Ryan Rondeno. The cut? Beef Cheek.