The Judge
A son. A father. A husband. A brother. A divorce. A murder. A lawyer. A judge.
Big city lawyer Hank Palmer returns to his childhood home where his father, the town's judge, is suspected of murder. Hank sets out to discover the truth and, along the way, reconnects with his estranged family.
A QUICK REVIEW: In a heart wrenching story of father and son(s), the tragic shortcomings of cancer and the hope for second chances, "The Judge" is an exceptional and completely exposed film. Robert Downey Jr.. gives a performance that is resolved to containment with powerful conviction and a gut gripping hold. I've never seen him as raw. Acting alongside Robert Duvall well, this was an extraordinary cast. Robert Duvall is, without a doubt, at his best. His performance was so painfully candid, every frame took hold of you. With a supporting cast of Vincent D'Onofrio, Jeremy Strong, Vera Farmiga, Billy Bob Thornton and Dax Shepard, The Judge delves into the breakdown of family, essential human needs, and the complex nature of a flawed legal system.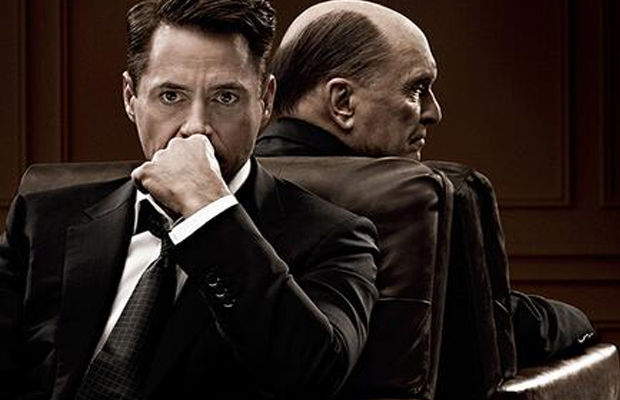 I remember waiting for this to come out. Time marched on and alas, I had to wait to buy a download to finally watch it before The Oscars. I was thankful I did.
The story of a questionable murder and an unlikely suspect unravels as successful big city lawyer, Hank Palmer goes back home after a family loss and finds himself in a precarious situation when his father is accused of manslaughter. Trouble at home, Hank decides to stay to help defend his dad. With a complicated relationship between them and decades of harbored regret and resentment, there is so much to this story, you won't want to stop watching.
This film tackles the continual struggle of the family dynamic. The people we need the most and yet somehow, through our own personal struggles and journeys, we stray from one another so deeply, finding our way back is never easy. Hank and Joseph Palmer are a father and son that cannot see their through their judgments and past and as the story reveals itself, you will find yourself deeply enthralled in what will happen next. Complicated by life, there are moments of utter triumph when social justice is served and clarity deems itself worthy of a well crafted story.

HIGHLIGHT: Powerful scenes between Hank and his brothers, Glen and Dale – Dale is mentally challenged with a deep passion (and talent) for old school filmmaking. His character may be as a supporting actor but his presence is anything but. I can't wait to see more of Jeremy Strong. I also have to mention Emma Tremlay who is a force to be reckoned. This little girl can steal your heart AND the scene!
A Warner Bros. film, it is available now on RedBox and OnDemand as well as streaming through PlayStation. It's worth every minute …