The Academy Foundation Takes Images Seriously
DIGITAL PRODUCTION AND ARCHIVING STANDARD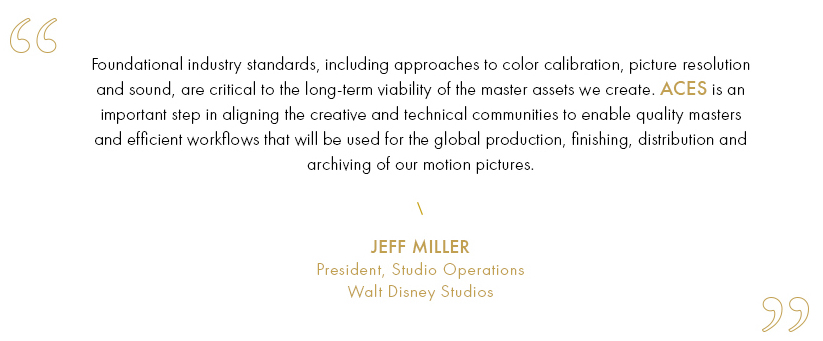 As The Academy continues to blow my mind with their unending innovation and quest to create quality, cinematic perfection, restoring and honoring the beauty that is film, and now? They have come up with yet another truly brilliant program: ACES. Below is everything you need to know about this program and how it will transform film into an even further elevated standard.
WHAT IS IT? Color management and image interchange system targeting production, mastering and long-term archiving of motion pictures.
ACES Logo Program encourages industry-wide adoption | Academy exhibits ACES at 2015 NAB Show® in April – Booth C9132
(LOS ANGELES, CA) – The Academy of Motion Picture Arts and Sciences announces the launch of the Academy Color Encoding System (ACES), a free, open, device-independent color management and image interchange system that offers a critically needed global industry standard for motion picture and television production.
From image capture through editing, VFX, mastering, public presentation, archiving and future remastering, ACES enables a consistent color experience that preserves the filmmaker's creative vision.  It addresses and solves a number of significant production, post-production and archiving problems that have arisen with the increasing variety of digital cameras and formats in use, along with the surge in the number of productions that rely on worldwide collaboration using shared digital image files.
"A decade ago, the Academy recognized the need for a new set of infrastructure standards as the industry moved from film to digital," said Richard Edlund, Academy governor and founding member of the Academy's Science and Technology Council.  "We made a deep commitment to the effort – coordinating hundreds of top industry scientists, engineers and filmmakers on years of research, testing and field trials – so we're both proud and excited to launch ACES 1.0 as the first production-ready release of the system."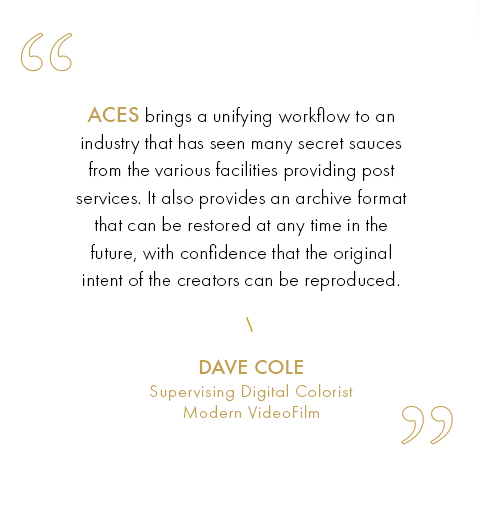 The Academy is simultaneously launching the ACES Logo Program to encourage consistent, high-quality implementations of ACES concepts and technical specifications throughout the industry.  Initially focused on production and post-production equipment such as cameras, color correctors, displays and visual effects and animation software, the Logo Program is the first step toward enabling facilities and productions to take full advantage of ACES benefits.  There are 22 leading companies already in the Logo Program: ARRI, Assimilate, Autodesk, Canon U.S.A., Codex, Colorfront, Deluxe Media Creative Services, Digital Vision, Dolby Laboratories, FilmLight, FotoKem, The Foundry, FUJIFILM North America, Light Illusion, MTI Film, Panasonic, Pomfort, Quantel, RED Digital Cinema, SGO, Shotgun Digital and Sony Electronics.
ACES has been used on scores of film and television productions to date, including such features as "Chappie," "The Lego Movie," "Big Eyes," "Elysium," "Oblivion" and "Chasing Mavericks."
As part of the ACES launch, the Academy will be exhibiting at the 2015 NAB (National Association of Broadcasters) Show, April 13–16 at the Las Vegas Convention Center, in booth C9132.  The Academy also will make two ACES presentations: the first as part of the Technology Summit on Cinema, and the second in conjunction with NAB's Creative Master Series.  Science and Technology Council Managing Director Andy Maltz will make the Summit presentation "The Academy Color Encoding System (ACES): A Digital Production Infrastructure Standard," covering the science, engineering and practical application of ACES, on Saturday, April 11, at 4:15 p.m.  The panel session "Coming to You Live: ACES 1.0," with top industry professionals discussing how ACES helped them successfully manage complex cinematography, visual effects and color correction issues on a variety of motion picture and television projects, will take place on Tuesday, April 14, at 3 p.m.
For more information about ACES or the ACES Logo Program, visit Oscars.org/ACES.
For complete information about the 2015 NAB Show, visit nabshow.com.
[separator type="thin"]
ABOUT THE ACADEMY
The Academy of Motion Picture Arts and Sciences is the world's preeminent movie-related organization, with a membership of more than 6,000 of the most accomplished men and women working in cinema. In addition to the annual Academy Awards—in which the members vote to select the nominees and winners — the Academy presents a diverse year-round slate of public programs, exhibitions and events; acts as a neutral advocate in the advancement of motion picture technology; and, through its Margaret Herrick Library and Academy Film Archive, collects, preserves, restores and provides access to movies and items related to their history. Through these and other activities the Academy serves students, historians, the entertainment industry and people everywhere who love movies.
FOLLOW THE ACADEMY
www.oscars.org
www.facebook.com/TheAcademy
www.youtube.com/Oscars
www.twitter.com/TheAcademy