NOTESTREAM Mobile App Joins Forces With ATOD Magazine's Founder, Dawn Garcia
FOR IMMEDIATE RELEASE
LOS ANGELES, CA – We are proud to announce that ATOD Magazine has officially joined forces with the Mobile App, NOTESTREAM. A guide to everything wonderful in life, you can now find our guides, stories and more once you download the app on your smart phone or mobile device.
On Notestream, you can pull up pages to some of your favorite writers and their favorite restaurants, fashion, travel stops, and more.
The NoteStream™ app is for learning about things that interest you: think craft brewing, travel, fashion and modern art. NoteStreams are actually easy to read on your smartphone—so you can learn more, start a conversation and play a part in the world around you.
NoteStreams are readable online but you'll love them in the App!
[separator type="thin"]

[separator type="thin"]
Mobile Learning App Provides Platform For Writers and Journalists to Engage with Readers via Mobile
NoteStream™, the innovative learning app designed to enable users to find, enjoy and follow long-form articles and blogs easily on their mobile devices, today announced the launch of NoteStream version 2.0. Available via the Apple® App Store (http://notestream.com/app), NoteStream's latest update provides readers with an enhanced user experience and navigation capabilities, unprecedented control over in-app push notifications and improved search functionality.
Founded in 2014 by Richard and Michelle Forsythe, the NoteStream app presents content known as NoteStreams in sequential, short, easy-to-read segments known as Notes. Ideal for consumption on a mobile device, unlimited NoteStreams can be saved in a user's personal file box, are accessible in any order, always remember the user's last place, and once downloaded, are available offline. Key features of NoteStream version 2.0 include:
The Power Wheel™ – the innovative Power Wheel allows users to navigate the app in an intuitive way. In addition, the Power Wheel makes it simple to share a NoteStream via social media and offers the ability to bookmark a particular note for easy access later.
Push Notification Control – NoteStream provides readers with unprecedented control over push notifications by allowing them to set the frequency of in-app notifications to either immediately, daily or weekly.
Red Crumbs™ – with the introduction of Red Crumbs, users have the ability to "follow the trail of crumbs" to find new and updated content within the NoteStream app, offering a clearly marked trail to new content from the user's favorite authors.
Author Profiles – authors will now have the opportunity to contribute as both a primary or secondary contributor, allowing those who write for multiple publications to have their work featured on NoteStream either as part of the publication or individually. Each NoteStream clearly displays its author along with their respective background or biography.
Explore Page – designed to inspire and encourage discovery, the Explore Page allows each subject category of interest to be sorted in one of four ways: by rating, newest, author name or A to Z. Additionally, readers can choose to follow authors via the Author Profile in Explore or even at the end of each NoteStream.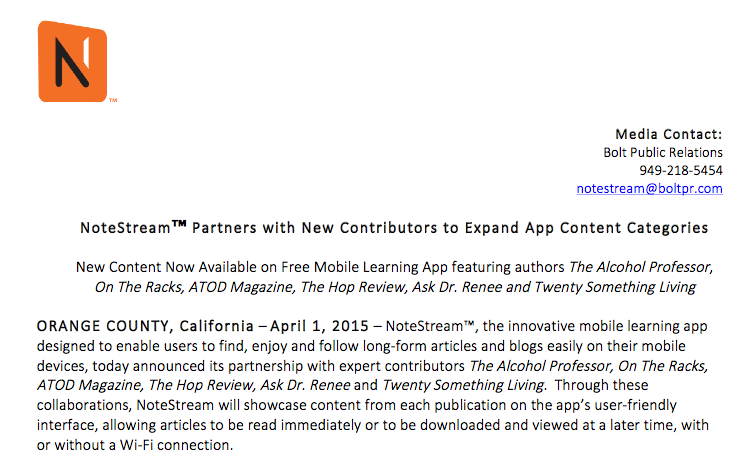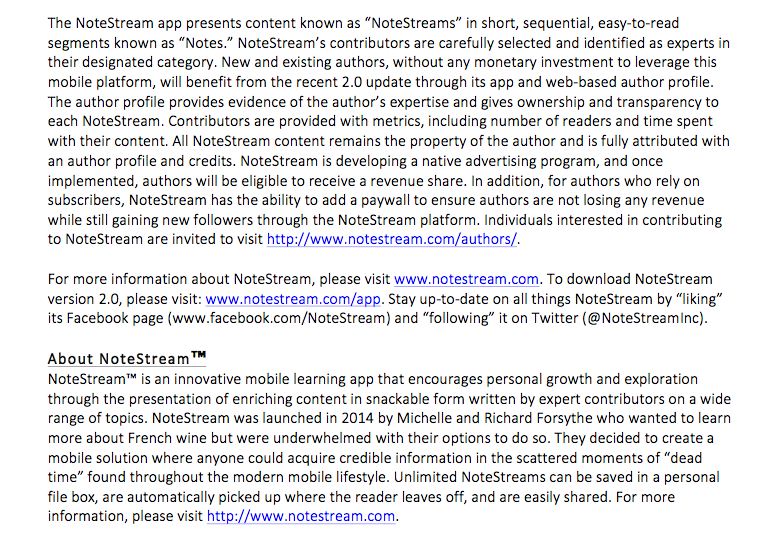 SCREENSHOTS