Chef Robert Irvine: A Brief One-On-One
Recently, HSN Hosted a one-of-a-kind 24-hour Cooking Show celebrating 4 incredible chefs: Curtis Stone, Eduardo Garcia, Lorena Garcia and Robert Irvine. Each chef has their own style, finesse, and personality along with lines of products that represent who they each are and what they are most passionate about in the kitchen.
Chef Robert Irvine is a regular household name with shows like Restaurant Impossible and  Worst Cooks In America, and his passion for what he does is infectious! Chef Irvine distinguishes himself not only for having a handful of culinary TV Shows that exemplify the need for quality and service but it's his approach to health and fitness that set him apart. His sole focus is to not only be a chef but to educate the world of consumption on healthy eating habits and the value of physical fitness. (He even makes on-the-go 15 minutes workout videos while traveling!) He truly does practice what he preaches, working hard and maintaining a healthy lifestyle. And, if you've ever watched one of his shows, you know he is also a stickler for quality and believes every chef should elevate themselves to always strive to put their best self forward.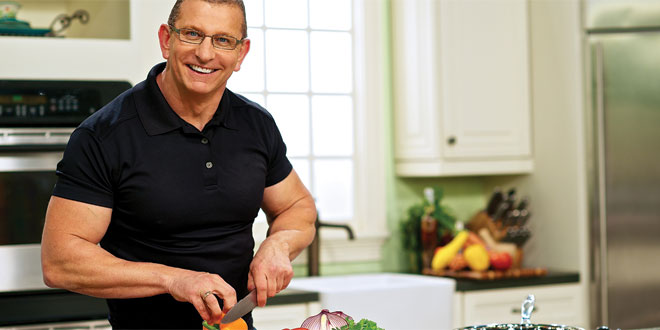 I was curious to find out a bit more about the man behind the successes as well as inquire as to how the rest of us  could incorporate health into everyday cuisine … so … I asked. Below is my interview with Culinary Master, Robert Irvine.
Cover Photos courtesy of HSN. You can find a plethora of kitchen devices and tools from your favorite chefs, including Chef Irvine, by clicking here. A big thank you to HSN.

[separator type="thin"]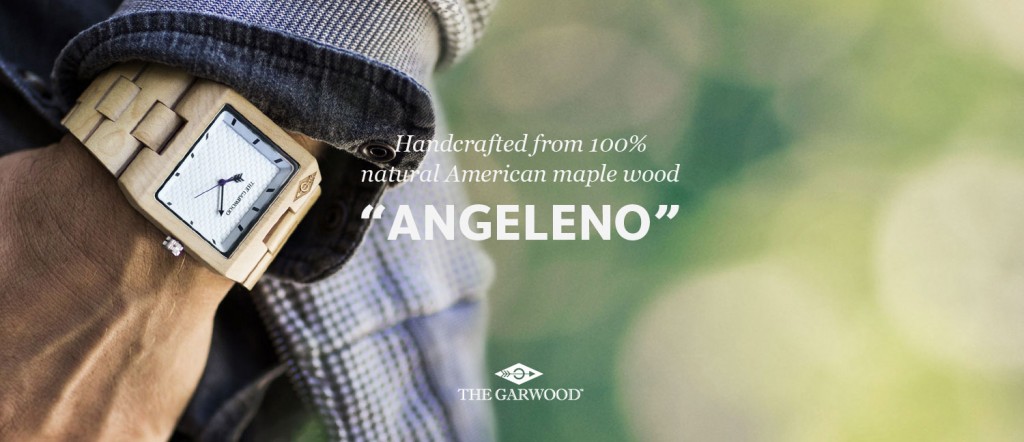 [separator type="thin"]
In your quest to help others understand the correlation of health and fitness through food prep and fresh ingredients, what are 5 items everyone should have in their refrigerator to keep them on track?
Grape Seed Oil – A great substitute to vegetable oils when cooking at a high smoke point.  Grape Seed Oil has tremendous health benefits, such as a high levels of vitamin E and polyunsaturated fats.
Agave – Agave is not only a great, natural sweetener, but it will also help to stabilize your "sweet tooth" tolerance, which in most of us has been desensitized because of refined sugar levels in every day foods that go way beyond what our bodies naturally crave.
Citrus – Oranges, lemons, limes, grapefruit, etc., all are an excellent alternative to sugary jarred marinades, such as barbecue sauces, and provide a much cleaner, fresher flavor when grilling.
Grain-based salads – Choosing a quinoa or couscous as a protein companion in your dish can save you a lot of the empty calories and lost nutrients of refined white rice.
Herbs – Reduce the sodium level in your favorite foods without compromising flavor by experimenting with fresh herbs and spices instead of simply loading up on the salt.
Your latest baked fitness bars released last year, Fit Crunch, how long was the process from conception to implementation to actually getting them in the hands of consumers? How many versions did you make before you found the right combination?
When I started working with industry pioneer Sean Perich to create the bars, we decided to set a few rudimentary goals about the final product:  We would commit to using only the highest quality proteins to create a product that people would describe as genuinely enjoyable – not just "good for a protein bar."  Sounds easy enough, but if you've tried more than one protein bar in your day, you'd know that its not so easy to find. We went through a variety of versions, but we finally landed on the perfect combination of flavors, ingredients, and health benefits with the current line of bars.  Not only does each FIT CRUNCH bar list Whey Protein Isolate as its primary ingredient, but they are also the only baked bars on the planet with six layers, each contributing to its overall nutritional value.
What was the first dish you ever made that really changed your approach to cooking?
It wasn't a specific dish or experience that changed my approach to cooking as much as there was a shifting industry mindset about food and the benefits of eating. It's always been a priority of mine to promote a healthy lifestyle, but it's never been easier for me to explore the culinary aspect of this and to share my findings, because there's never been a greater public interest.
As someone who has traveled the world, what culture had the most lasting impact on you as a chef, a traveler, a philanthropist, and serviceman? And why was it so impactful?
My travels had impacted me in different ways … but there have been a few that really stick out from a culinary perspective.  I've had everything from unforgettable street food in Cairo to delicious, time-honored dishes in France. I enjoy food no matter where I am. As a serviceman, any travels that have allowed me the opportunity to spend time with our troops and to show them my gratitude for their service through cooking will forever be among my favorite experiences.
What is your guilty pleasure?
Desserts.  Virtually any and all desserts on this earth – save for those with cinnamon- would make my guilty pleasure list.  The good news here is that I can enjoy my guilty pleasure as can anyone that understands the concept of moderation.
[separator type="thin"]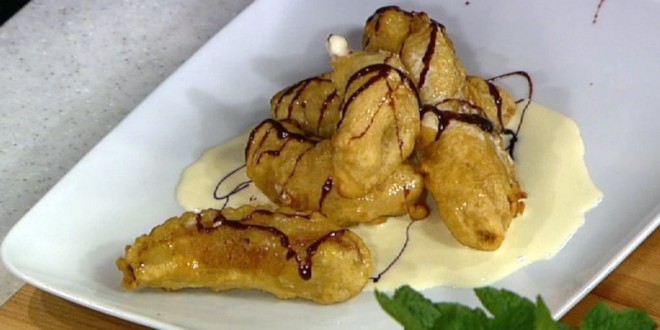 Fried Bananas with Chocolate, Lavender Honey, and Five Spice
Recipe by Robert Irvine
1/2 cup  good quality chocolate syrup
1 teaspoon  Chinese five-spice powder
Vegetable oil for frying
1 1/2 cup  all-purpose flour
3/4 cup  cornstarch
1 1/2 tablespoon  baking powder
1 1/2 cup  seltzer water
4 bananas (cut in half on the diagonal)
1/4 cup  powdered sugar
Lavender honey for drizzling
Creme fraiche for garnish
Small chunk dark chocolate for garnish
Fresh mint sprigs for garnish
DIRECTIONS
Stir the chocolate syrup and 5-spice powder together and set aside.  You can also use Tabasco.In a deep fryer or large heavy saute pan with deep sides, heat the oil to 375 degrees F.In a large mixing bowl, combine the flour, cornstarch, and baking powder. Add the seltzer water in a stream while whisking constantly.Dip the bananas in the batter to coat and fry until golden brown. Drain on paper towels and sift the powdered sugar over the top immediately.Place 2 banana pieces on a serving plate and drizzle chocolate sauce over. Top with a drizzle of honey.Top with a spoonful of creme fraiche. Grate chocolate over top. Garnish with a small sprig of mint.
[separator type="thin"]
Where To Watch Robert Irvine: