Azie Tesfai of "Jane the Virgin"
Beyond the screen, she is making some huge strides in changing the lives of women everywhere …
A one-on-one that will leave you inspired.
I think it's safe to say the world has taken notice of the new show,  "Jane The Virgin"; the homage and cheeky look at telenovelas with all of the dramatic splendor and melodramatic fun that makes it so wonderfully indulgent to watch, let's just say that I'm a fan. As the show unravels and the plot thickens (and livens up!), there is one recurring role that inspires some mystery and that is, "Nadine Hansan", played by the beautiful Azie Tesfai. She is an accomplished actress, designer, philanthropist and women's rights advocate (the kind that inspires and encourages). What you may not know though is that Azie is doing some truly powerful things to change the lives of others. With a jewelry line, Fortuned Culture, she has created something that isn't just beautiful, it's purposeful. Partnering with huge philanthropic companies like TOMS Shoes, Azie has already used her influence to inflict heart, compassion, and benevolence into this world. The mission is incredibly simply but essentially poignant:
Fortuned Culture's mission is to design jewelry for charitable giving.  Each piece symbolizes human needs we all desire: health, love, faith, wisdom, balance and more.  And with  each purchase, these needs are fulfilled for someone less fortunate.

We strive to promote the idea of a connected planet.  Fortuned Culture:  We relate.  We give.  We cultivate a one world connection.
After reading that, I couldn't help but love her. (That and the fact that she loves to write and speak her truth!)
In keeping with that, the world is a place so vast and big and yet, the human condition is one that is starving for connectedness. Art creates that, humanity implements it. Changing the world one piece of jewelry at a time, one playful scene, one act of kindness – I'm thrilled to be able to talk to Azie about her life outside of Jane The Virgin and the immeasurable endeavors she is embarking on.
[separator type="thin"]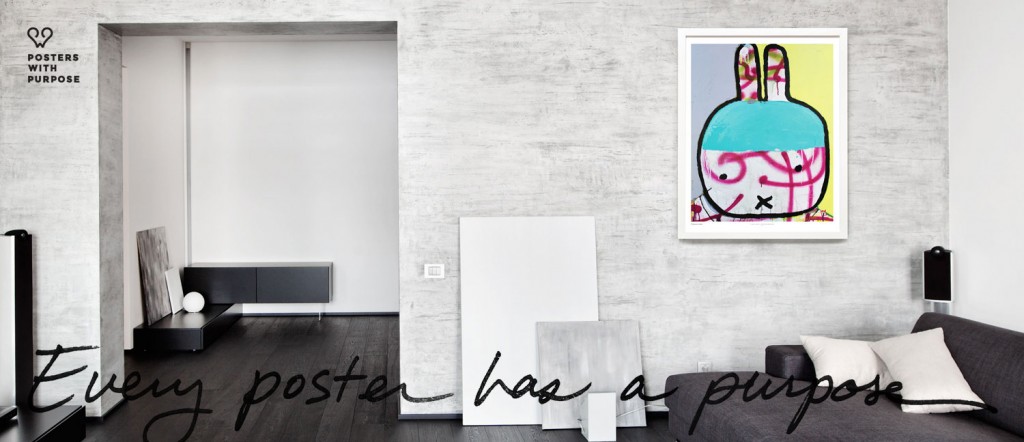 As an advocate of women's rights, what is something that can be done, in your opinion, in the immediate future to change the constant degradation of women in societies like those in The Sudan, the Middle East, and sadly even here in the US?
I think awareness for possibilities is a huge first step. As much as I resist social media, I see the importance of sharing positive information that can reach women all over the world. The degradation of women is not okay and shouldn't be accepted or stood for anymore. This goes beyond educating women, but men as well. It's tricky and can be difficult when breaking what have become societal norms, but I do believe there is a new generation of young people in every country that have access to so much more information and understand that every human should be treated with respect and equality.
What was one of the most impacting revelations you've had traveling between East Africa and the U.S.?
Priorities of what truly matters in life – family and love. And that material things can complicate life, it's about simplicity and connection to one another. Also that we are all one, we all want the same things: love, health, to be heard and to leave a legacy.
As an actress who comes from a background in law and humanitarianism, how have you used your experiences to make a difference?
I think my desires within humanitarian work is rooted in my culture. Through traveling back home as a child, I became aware of injustices and the lack of opportunities in developing countries. I knew early in my life that if I had any way to help alleviate those injustices that I would commit my life to it.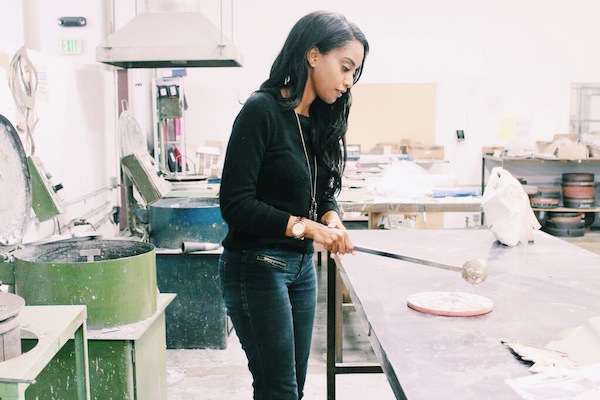 Once you caught the acting bug, what was one of the most exciting moments you've experienced where you felt you were really finding your voice in the industry?
I have been lucky to work alongside such talented women that were very kind to me when I was starting out. The first job I ever had, was a series starring Tatum O'Neil. Also, I did a pilot where Melanie Griffith played my adopted mother and Tippi Hendren played my grandmother: pretty incredible women to get to work with and learn by example.
What is a favorite Eritrean tradition you continue?
The similarities of the cultures that I love most- The food (SO GOOD), the traditional clothing (hand woven of the softest cottons), and wedding ceremonies (it's a 3 day event!)
The name of your line is Fortuned Culture. Knowing each piece represents basic fundamental needs: health, love, faith, wisdom, balance – What awakened your desire to bring that sort of unified mindset to your creations?
Being from a developing country, I always had an issue with the portrayal of certain countries being 'less than'. So with this line I didn't just want to raise funds for causes I believe in, I also wanted to bring to light the basic truth that we are all one. No matter where you are from or what you have been through we are all the same, and we all want love, wisdom, health, and other basic human desires.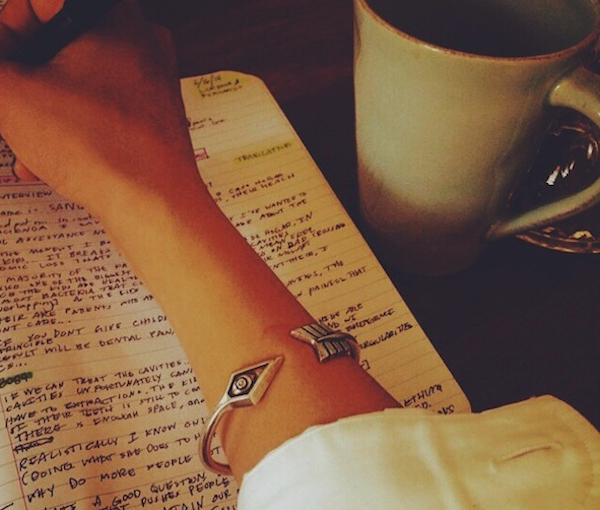 I believe in the triumph of the human spirit. While admittedly there are plenty of reasons not to, it seems you are someone who believes in the same. If you could put your life's message into a simple statement, what would that statement be?
We are truly in control of our fate. So live your life like every minute is your own decision. Any time you get knocked down, get right back up and keep pushing. You only get one short life and pursuing what and who you love should not be compromised.
What is one thing you'd love to see Nadine do on "Jane The Virgin"?
Arrest Sin Rostro!

(ATOD: Me too!!)
One thing you did as a little girl that would surprise your fans?
I was really into sports: basketball, volleyball, crew, soccer. I used to play every sport all year long!
What is your guilty pleasure?
Anything fried, the saltier the better.
Would the 8-year old version of yourself be proud of you?
Hopefully my perseverance and tenacity with pursuing my dream.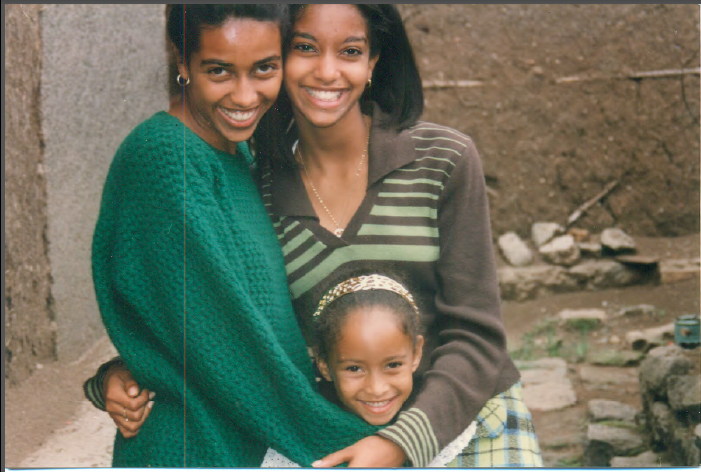 What is a city you've dreamed of exploring?
Dubai! I've been blessed to travel a lot around the world. Recently, I've been dying to get to the middle east!
Who inspires you to fight for the rights of women and encourages you to believe anything is possible?
Women around the world who don't have the 'luxury' to speak openly and freely. Women anywhere that are treated as equal to men. My favorite expression is "To exist to speak up for those who cannot." My mother is a very strong woman, and she made me believe I can do anything I set my mind to with hard work, any chance I can pass that on, I hope to.
If you were in a room full of 14- year old girls from all around the world, what would you tell them to bring them together?
A journal. I love to write. I think it's so incredible what can come once you start writing your truth and feelings as a woman. Things you would never realize or speak verbally you can explore with words and paper.
What is next on the creative endeavors docket?
As this season of Jane wraps up I really want to refocus my energy back on my charity jewelry line, Fortuned Culture. Acting is my passion and I feel I get to fully express various parts of myself, but the charity work is really my purpose. I believe being of service and connecting to people is the legacy of life that we all should leave behind.
Selfishly, because I love food and culture, I'd love to know what your ultimate favorite dish is to make at home.
Ethiopian food! My mother makes hand down my favorite Ethiopian food. The aromas, the food, the association it has for me is like no other!
Thank you so much to Azie for taking the time to go so beautifully in-depth, for being transparent and real, and for being a woman who still believes in the purity and wonder in this world. Life really is a journey to revel in …
[separator type="thin"]
Based in Los Angeles with a global mission, Fortuned Culture is a jewelry line rooted in social responsibility and giving. Partnering with charities in Ethiopia and Mexico, it helps children on two continents.