Betabrand Takes Over the Silicon Valley Runway
SAN FRANCISCO,  MAY 12 —  Robots are massing and drones are abuzz as Betabrand kicks off the tech world's foremost fashion spectacle. The online retailer is giving a runway to makers, hackers, and wearable technologists — clothing designers too!
With drones and robots, you will find your fashion sense and tech curiosities stirred!
Premiering Today: Flashback Photon Shoes By Vivo
The festivities begin with the world's first e-bike commute, a pilgrimage of 50+ electric cyclists and skaters led by GenZe, makers of electric scooters and bicycles.

About Betabrand:
San Francisco-based Betabrand is a crowdfunding clothing company that releases new designs daily.
Notable inventions include:   Dress Pant Yoga Pants,  Flashback Fashion, Gay Jeans, Black Sheep Sweaters, Executive Hoodies, and many, many more.
This amped-up pack will ride from San Francisco's Embarcadero to Silicon Valley Fashion Week's main stage at the Chapel in the city's Mission District.
Tonight's show will focus on Motion and Light, showcasing the latest in commuter technology and apparel from companies including GenZe, Torch Helmets, Tespack, Timbuk2, SOVO, Sensilk, Misfit Wearables, Boosted Boards, Zackees, Sunny Babbar, Vivo and Betabrand.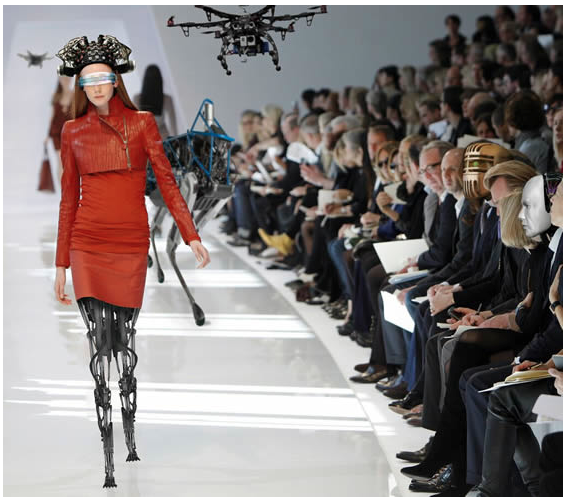 Wednesday night's theme will be Wearable Tech, while the Thursday finale will showcase crowdfunded fashion.
Says Betabrand founder Chris Lindland, "With technology in every pocket and soon every wrist, Silicon Valley has an outsized impact on the way people look and experience the world.  Why, the next Karl Lagerfeld is likely staring into a computer, drinking his 4th Red Bull right now!
The event sold out (1200 tickets) in a matter of days. And drones are diligently preparing to replace models on the runway; watch as these garments dance gracefully through the air in ways Gisele Bündchen never could … unless she were juggled by a cyborg Tom Brady.