The Getty Restaurant | Art + Subtlety
All iPhotos by Dawn Garcia ©
1200 N Sepulveda Blvd | Los Angeles, CA 90049
[dropcap letter="T"]
he Getty Museum
can only be described as an architectural dream, housing some of the world's finest art, as well as giving a home to emerging artists, and a platform for inspiration and art education that extends well into the future of generations to come. Now introduce a restaurant into that mix of artistic merit and your evening is set up for a memorable experience. While I have eaten at the
Garden Terrace Café
, a café with ready-made prepared items at the Getty Museum, the restaurant {
The Getty
} is among the more elite, boasting gorgeous
near
-panoramic views of Los Angeles and mountainous terrain, and a menu that hopes to speak as loudly – creatively – as the museum itself.
The question really is, does it? The answer is simply (or perhaps not so simply): In many ways it does stand out as a beautiful culinary stop, and in some ways, it could stand to use a bit of restraint.
With Somm's on staff and service that one would expect at the Getty, the menu poses selections with quite an array of flavor from coastal cuisine to farm-to-table ingredients. As one would expect, they are plated with artistic flare (but this is where, some restraint would allow the star of the plate to be the actual food). Something as simple as the serving plates could have allowed me to focus more on the cuisine itself rather than have to be impressed with every detail on the plate – the plate being the distraction from the food. (While presentation is everything, there is beauty in simplicity as well. Some single color plating mixed with their chosen stone wear could make all the difference).
[separator type="thin"]
Much like the gorgeous backdrop, the restaurant itself strives to be its own timeless art with poignant social pieces displayed and the Los Angeles skyline. The food was delicious but the presentation lacked that grandeur of such an exquisite locale. With impeccable taste brimming from every crevice of the restaurant itself from the wine selection to the art places throughout with an air of clever vocabulary, I think a few dishes that were abundant in taste were lacking in visual appeal.
I begin the dinner with wine. I'm offered two to taste.
[separator type="thin"]
A Malbec is certainly a distinctive varietal and while it's origin often varies, it's the winemaker's personal touch that makes one different from another. I rather enjoyed opening with this Malbec and found the notes of blackberry fruits and rich spice to be at the forefront on the nose and finish. Sure, it isn't the most prestigious wine you'll have but it was fine enough.
Deep down, I've come to realize that at this stage of my wine drinking life, I love a hearty Cab. This blend was better than the Malbec. I enjoyed the undertones of dark chocolate and the subtle infusion of the black currants that took hold the minute it hit my palate. It's an easy red that paired well with the range of flavors to follow.
And now, onto dinner …
[separator type="thin"]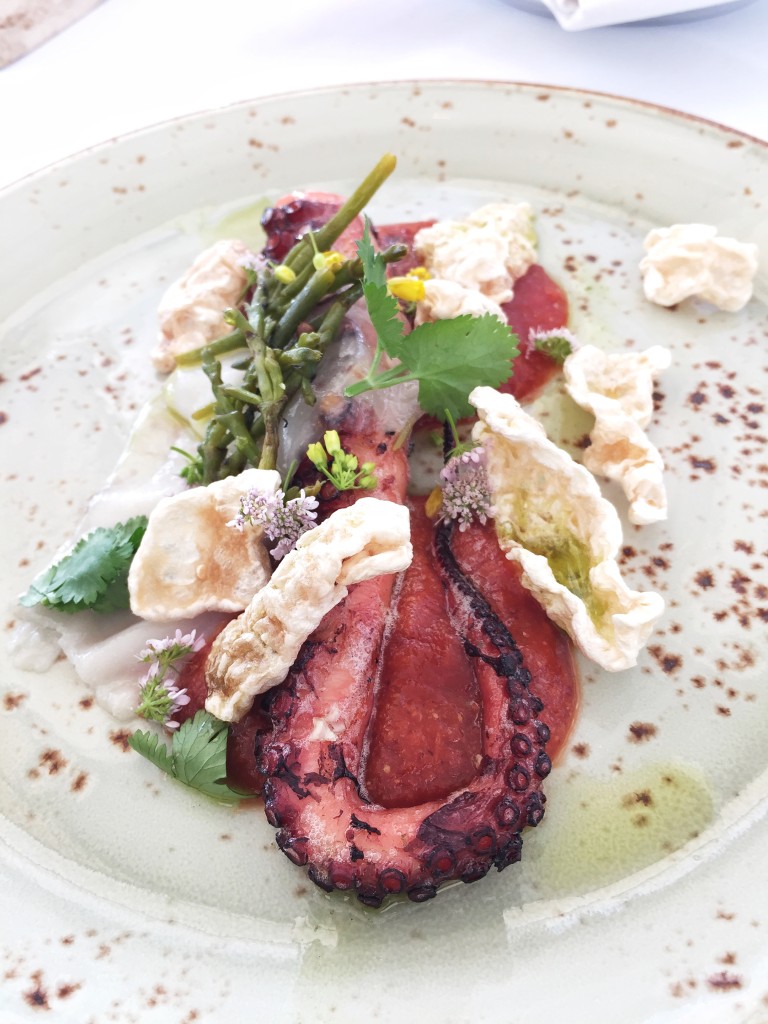 GRILLED OCTOPUS
Tomato mostardo, bacon, lardo, chicharones, pickled sea beans, cilantro oil
Allow me to admit that this was the first time I'd had grilled octopus. While I've had it fried, baked, sautéed and raw (in Tokyo), having it grilled was enticing. I expected for this to be chewy but to my surprise it was actually quite nice! With the cuts of citrus I crave in seafood, it was the components blended on the plate like the lard, bacon, chicharones and the tartness of the pickled sea beans that, when put together was really beautiful. This also happened to be the most stunning in terms of presentation.
CHEESE BOARD
Ajo Blanco, broccoli di ciccio, pickled grapes
When the cheese board arrived, the ingredients were blended together which was different. Immediately I was thrown by the broccoli de ciccio until I tasted it. Very well seasoned and crisp and the cheeses were creamy and well chosen. Where I see that this dish fell a bit short was presentation. Had the components actually been separated more thoughtfully, the colors and textures would have been more visually impressive.
ALASKAN HALIBUT
red quinoa, grapefruit, asparagus, roasted fennel, radish, citrus butter
I'm a big fan of citrus (it elevates every dish) so rather than seeing the traditional overuse of lemon or orange, I was pleasantly surprised to see grapefruit incorporated into the halibut. A halibut that was prepared beautifully with just the right amount of pink inside and a good crisp outside without having overdone the fish altogether. The vegetables, quinoa, fennel and radish allowed the flavors of the fish to be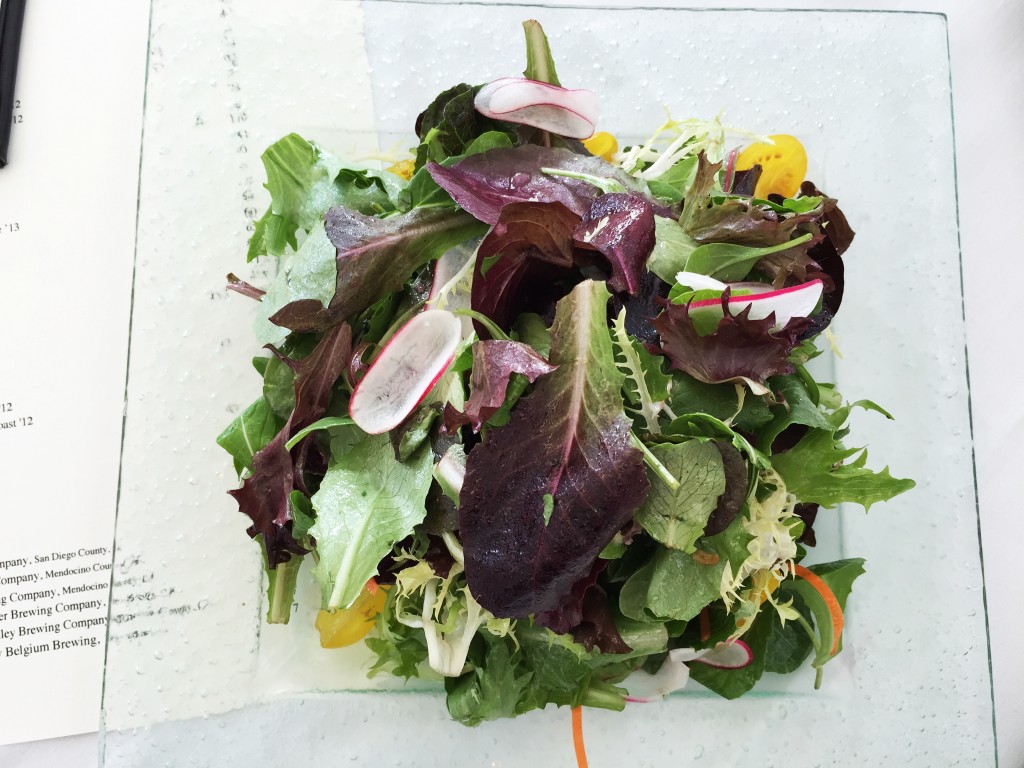 center stage while complimenting it with a symphony of brightness. My only complaint would have to be the plating. Oh how I wish this was on a stark contrasting plate to really emphasize the colors presented!
SALAD
mixed
A salad is a salad is a salad. Fresh ingredients, refreshing dressing, but nothing really took hold of me and I'm always hoping for that with a salad. Nature provides us with such an array of flavor!
[separator type="thin"]
DESSERT!
All of the desserts below will have their own description but I do believe they lost a bit of their panache of such a lovely display that was buried in a loud visual background. I focus so much on the visual downfall of the plating because dining in one of the world's most beautiful museums, one has the expectation of everything being displayed to perfection.
Valrhona Guanaja Cremeaux
crispy chocolate mousse, blackberry hazelnut sorbet
What a rich and sumptuous dessert! With all of the essential aspects one comes to crave of a quality chocolate, this amplifies the need for another bite. I adored the blackberry hazelnut sorbet that gave this deep, dark dish a colorful pop.
The final 2 dishes were sent out by the chef. Both desserts were unique and blended both sweet and savory with punches of piquancy to make the finish one to remember. All in all, the sweet tooth was satisfied. 
After I finished sipping my latte, it was time to call it a night.
You see, the Getty Museum is a special museum to me. Growing up in Santa Monica, art was an integral part of how I perceived the world and the Getty family did an exceptional job of encouraging young minds to explore, appreciate and understand the multi-faceted layers of beauty that exist in this world. I had high expectations for the Getty Restaurant and while not everything was a huge hit, I would dine here again. The staff here extends their love of all of things through their service and while the menus evolve, the quality is not to be overlooked. I do hope a few of the visual deficiencies will be worked on. In the end though, I encourage you to make a reservation and take a moment to look at their Events Calendar. The Restaurant hosts some truly breathtaking dining experiences integrating art, literature, and culinary curiosity.
You can view their CALENDAR here.
Santa Monica Welcomes Sustainable Seafood at the 1st Seafood Festival on the Pier: