Brunch At Cerveteca DTLA
Mama + Oscar cooking up tasty comfort food
photos by Dawn Garcia (iPhone6Plus)
923 E 3rd St #109 | Los Angeles, CA 90013
[separator type="space"] [dropcap letter="T"]here is one thing that you can say about Oscar and Mama: You'll be hard pressed to find more passionate and hardworking people in Los Angeles. The first time I was introduced to Cerveteca, I was a journalist for a newspaper on the Westside. I went in to the Venice locale for lunch and ordered tacos, molé, hush puppies and wine and when I left? My love for their menu abounded. So when I began the #ATODBrunchHop in search of the tastiest brunches around town, I was all too happy to check out Cerveteca's brunch menu. I headed to the Downtown LA location, right next to another fun eatery (Eat, Drink, Americana) and ignored the immense heat bearing down on my pale skin. Situated directly across from street art that bellows excitement and misplacement, the worn brick on what looks like an old train station stop in the heart of the Industrial Art District, is the restaurant with an open terrace reminiscent of the Venice location.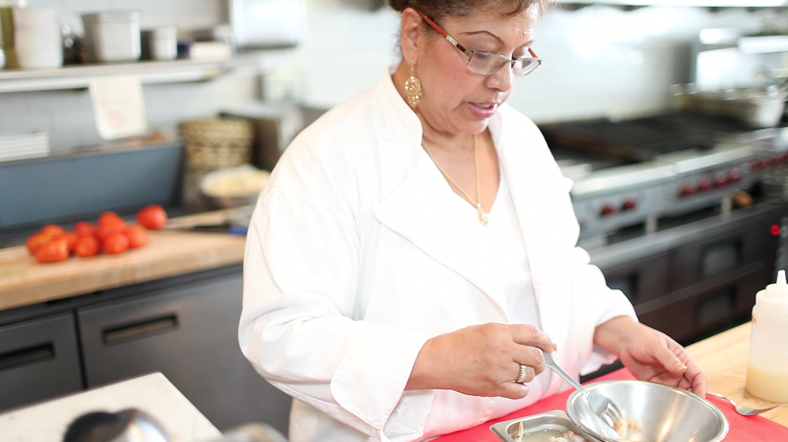 I begin my brunch by testing my tried and true brunch cocktail: Bloody Mary. To me, a Bloody Mary says it all. It's a drink I have unnaturally high expectations of because when done exceptionally? It will open up your taste buds and stir your desire for more. I give my order and moments later my drink arrives. Liquid goodness in a tall glass with chile salted dusted rim, a flurry of flavor from olives to red chile. I take a sip. It's not the best I've ever had but it'll do. Next I scour the menu and decide that I want to see just how Oscar and Mama really do brunch so I go for the things that seem to comfort. I start with Mama's Ceviche.
Mama's Ceviche
Whitefish, tomato, cilantro, onion, radish, jicama, mango, cucumber (served with homemade tortilla chips)
They really have mastered a ceviche'. It is well balanced with just the right amount of ingredients as to never mask the freshness of the fish itself.
Smoked Poblano Cheese Grits w/2 Quail Eggs
This was a rather interesting dish because I've never had it. It was almost like a corn cake but with cheese and eggs. Texture wise it had the makings of grits and the undertone of the smoked poblano gave it a little more flavor but for me, I think a little cut of citrus or am emphasis on the smokiness of the poblano could have made this a bit more standout.
Chorizo Burger
Chorizo (Pork and Beef) Burger Pattie, Oaxocan Cheese, Aioli, Fried Egg on Brioche, w/ Patatas Bravas, Breakfast Taters or House Salad
This I thoroughly enjoyed. The culmination of flavor emanating in every bite of that burger was unforgettable. Well cooked, a great combo of meats, the punch of ailoli, and of course that fried egg on top? Well, this one I'd have a number of times – and I still think their breakfast taters are among the best. (It was that good.)
Chorizo Scramble
w/beans, tortillas, house salad or roasted breakfast taters
Simple in approach but tasty in execution. This is a great everyday breakfast staple.
Prosecco, Drusian, Valdobbiadene (Italy)
It's bubbles … need I say more? This was refreshing and crisp with notes of pear and granny smith apples.
The brunch was made a bit more personal when Oscar himself showed up to check in at the DTLA location.  With a smile on his face, Oscar strolls in with the ease and joy of a man who sincerely loves his job … and it shows. Thank you once again to Oscar, Mama and Larry for inviting me down to experience the brunch menu. There is still a LOT on the menu that I have to explore but you remain a great #ATODBrunchHop stop in Los Angeles and the next time I come in, I'll certainly have to expand the range of the "taste" canvas I embark on. There is so much I still haven't tried!
Sponsored by The Garwood Watch: ANGELENO

[separator type="thin"]
Photo Gallery