Product Reviews No. 3 | Gluten-Free
This Products Review is devoted to all Gluten-Free Products I have been sent to try or have come across while in search of better alternatives. As someone who is lives gluten-free (because I'm allergic, not because it's the latest trend), finding brands that have choices that actually taste incredible? Not such an easy task. Alas, there are now a surging amount of options available to anyone looking to live a gluten-free lifestyle. Thankfully, there are also numerous alternatives.
Health is more than a state of mind.
Below are products I've personally tried that gave me a LOT of variation and brands I have discovered along the way.
[separator type="thin"]
WHAT IS IT?
A high protein, gluten free, nutrient-rich, sweet "ball" to take the place of sweets and that gnawing craving for something of substance. | COST – $5.00 USD per bag
REVIEW:
Like everyone who has a pulse, I crave something sweet every now and again but I also want that something sweet to have some benefits. When I tried the slew of flavors from Gluten-Free Bites, I was so glad to try something that didn't taste boring! I tried all of the flavors below. Here is my roundup from Best Rated to Least Favorite:
Dark Chocolate Peanut Butter | Chocolate Hazelnut – Both of these were creamy and took the place of me wanting a Reese's PB Cup and while no, it will never take the place of candy, this was a welcomed new snack that gave me the energy and satisfied me.
Chocolate Cherry Almond – I'm allergic to almonds so wasn't able to have this one but I was told from my Editorial Staff that this was to die for! Didn't taste GF and sufficed as a sweet stop in a lulling day.
Dark Chocolate Coconut | Coconut Cashew Crunch | PB + J – These were okay but definitely my least favorite. I had high hopes for the PB + J but it didn't quite live up to my standards.
About The Gluten Free Bar
Based in Grand Rapids, MI, The Gluten Free Bar was founded by two celiac brothers, Elliott and Marshall Rader. The company produces its own bars, crafts its own flavors, and picks ingredients based on their production schedule and demand. This hands-on process makes their ingredients fresher and brings a level of dedicated attention to the products that can be tasted in every bite. Completely self-funded to date, The Gluten Free Bar is a robust, quickly growing brand carried in over 5,000 locations across the country.
[separator type="thick"]
Think Jerky
WHAT IS IT?
"We use sustainably-raised proteins, with restaurant quality ingredients, in recipes by famous Chefs."
Gluten Free Beef and Turkey Jerky's that raise the bar of "gourmet" proteins. Used by chefs around the world, Founder, Rick Hirsch is passionate about quality ingredients and an exceptional product. THINK JERKY was recently featured on WGN TV.
REVIEW:
Ginger Orange Beef Jerky | Finding jerky that is gluten-free is like being assigned an impossible mission. It's almost non-existent but thankfully there are brands like THINK JERKY that make all their products gluten-free. With a line of 4 flavors, I was sent the Ginger Orange BEEF jerky. Upon opening the package, the smell of citrus and hint of ginger spice welcomed the nose. Then you dig in. The jerky itself is cooked flawlessly and is so soft and moist (and not chewy!). The essence of the meat isn't masked by too much flavoring while still giving that surprise of something as interesting as orange and ginger combined. I absolutely LOVED this jerky and now, of course, I'm going to have to try all of the beef flavors (I'm also allergic to turkey but that's another story).
Think Jerky is by far the best tasting and most well made jerky I've had and it takes the cake on gluten-free jerky – no contest. And it doesn't hurt that 2 of the 3 Chefs behind it are Michelin starred. 
*They do make Turkey Jerky and are in production to make Salmon Jerky as well. 
[separator type="thick"]
Bakery on Main | INSTANT OATMEAL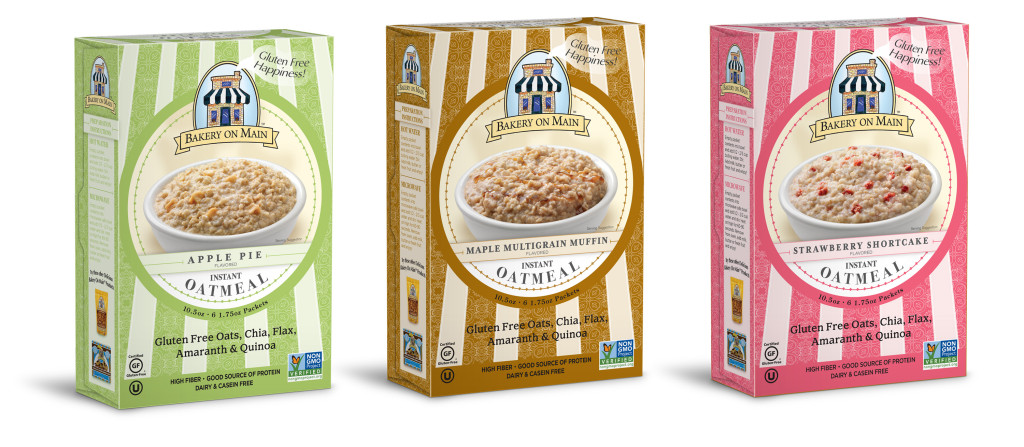 WHAT IS IT?
BAKERY ON MAIN Instant Oatmeal is certified gluten free, Non-GMO Project Verified and Kosher, making it a convenient comfort food that's good for you. The added benefit of the ancient grains chia, flax, quinoa and amaranth makes our oatmeal a good source of protein, fiber and Omega 3. | COST – $5.99 USD
REVIEW:
Oatmeal holds a certain nostalgia for me because as a kid growing up, I LOVED Quaker's Maple & Brown Sugar Oatmeal. Even now, I have a soft spot for brown sugar (just on its own). That said, as my tastes evolved and health awareness became a priority for longevity, my lifestyle has changed since I was that 8 year-old little girl. However, I still love a good oatmeal only now I prefer gluten-free oatmeal with chia + flax and fresh fruits instead. UNTIL – Bakery on Main's Instant Oatmeals. Now I say this with conviction that when I got the box to try and saw the flavors my immediate thought was, "Great, yet another oatmeal that says it tastes like one thing and will sorely disappoint". So – I opened up the package. Over three days, I tried all three flavors and here's what I have to say:
STRAWBERRY SHORTCAKE | Definitely not my favorite. No particular reason other than it was a bit bland and perhaps it would taste better with real strawberries placed on top.
MAPLE MULTI-GRAIN MUFFIN | This was delicious! I appreciate that not only is this a healthy option, it tasted like a maple bar doughnut (which isn't easy to do!).
APPLE PIE | I saved the best for last. I did not expect to be so over-the-moon about this flavor but I'd eat this one regularly. With actual pieces of apple inside and the precise amount of cinnamon and spice, this feels like "home".
I appreciated that each oatmeal contains the right amounts of fiber and protein that not only taste good but benefit heart health, the circulatory system, and overall well-being.
ABOUT | It all started in the small bakery of a natural foods market on Main Street in Glastonbury, Connecticut. Founder Michael Smulders listened to his Celiac customers complain about the taste of many of the gluten free options available to them. He thought that no one should have to suffer because of a food allergy or other special dietary need, and made it his mission to create products that would make his customers happy. Eleven years later Bakery On Main has seven product lines and over 30 items.
[separator type="thin"]
OVERALL
I applaud the efforts to make anything with health benefits in mind that don't taste like cardboard. Or rubber. Or a piece of styrofoam. And sadly, that seems to be the norm and undoubtedly so with gluten-free products. Finding anything that taste "real" let alone has a punch of flavor can seem daunting and discouraging. All of the products above have their strengths and sure, while they aren't all "perfect", they are still worth keeping in your pantry or fridge at home.
Thank you to each company who shared their products with me and for bringing more healthy choices into my family's home.
Ready to celebrate Sustainable Seafood + the Santa Monica Pier?