ARTIST America Martin
Art | Vision | Humanity
In life we are given a blank canvas of our own. The markings, the strokes, the hues vary depending on each of us. Our truth that lives idly within is freed when we give it a place to find liberation.
Rarely is it that an artist can embody the exceptional authenticity of the artistic greats: DiVinci, Matisse, Van Gogh, Renoir, Dali, Miro, and of course Picasso. However once in a great while, an artist comes along that takes the joyful and colorful energy of those who laid the foundation for broadening the visual lens for which art was seen, and, transforms it once again. Meet AMERICA MARTIN.
A transformative, soulful, female artist that finds the prose in the paintings she creates, whether it be through the notes that dangle off of the brush swarming through her ears or the composition of a well constructed piece of literature that somehow dances on the edge of her brush, or the influence of fellow artists, past and present that give her the insightful fancy to playfully roam amidst a vacant canvas. The beauty is, she dances and she roams and she extends her plentiful curiosity and near unquenchable thirst to see everything in this infinite world as a remedy to create.
That said, having an opportunity to interview America has been an inspiring process. So much of her process is something I relate to from the, "doing everything to a level 10 until she drops" approach to the way a song can transform the results of her work. Rarely do I get to share in the glimpse of someone's creative ways but her answers alone transcend the norm and invite you into her world of whimsy, movement, color and vivacity.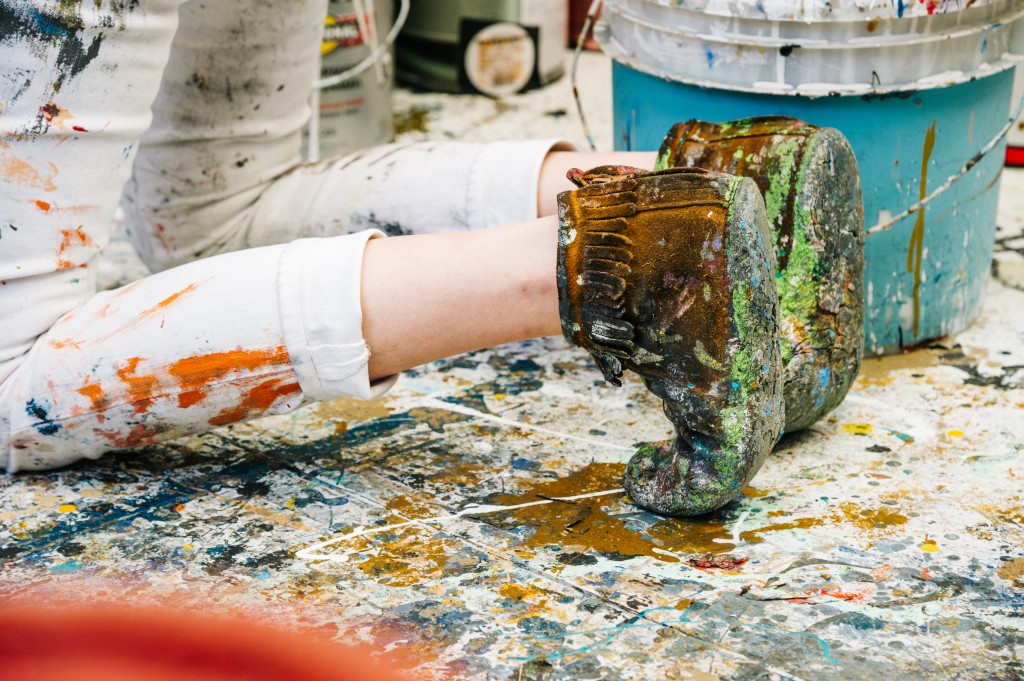 One of the things you said about working with VERNON WILSON hits home for me: "In his era, it was more figurative and fine art. He was one of the great walruses of that time, which I was very lucky to get a piece of. He was amazing and one of those of teachers who share-teaches instead of sitting on top of your head and teaching."
That line, "He was one of those teachers who share-teaches instead of sitting on top of your head and teaches."
I love the visual texture of that; the opening of ones soul rather than the dictating of ones knowledge. It changes the way you learn and clearly it awakened something in you.
Over the 8-9 year apprenticeship, can you tell me 3 moments that were creatively euphoric?
Absolutely – The first three things that come to mind, when remembering my time as a young person falling in love with art include:
The life drawing classes Vernon Wilson held in his studio. Every Saturday, I would get to be immersed in a tone of focused ease. He would play opera arie, while the smell of coffee and doughnuts would be as vivid as a color – the hours would fly.
Once, when working from a longer pose, I remember feeling as if I was repeating myself. I felt there was nothing left to discover. I had seen and understood this particular hip angle, and thought there was nothing left to discover. It was then that Vernon came over, looked over my shoulder and said in his gentle voice, "When you think you've seen all there is to see, that's when, as an artist you get to be curious. And when you're curious you see things you didn't notice before." This gift of truth has become one of my many mantras.
Another Saturday, Vernon told me, "Look at that wall" – pointing to his massive collection of art books – "Every time you come here – I want you to pick a new book and introduce yourself to a new artist. You will meet your best friends in those books. I followed his advice and still do – what a gift that was. After that, I asked for a new book every birthday or Christmas.
When I look at your work, it's so familiar to me. It reminds me a bit of early Picasso as he began his ascent into more linear work. Do you find that outside of your own work, you are influenced by architecture and movement?
All forms of art equally influence me. I find as much inspiration in literature as I find in painting, photography or architecture. There are times that I am so bulled over by music, that when listening to a favorite artist, the music actually changes the way I work. It alters my perspective, and new series and ways of working emerge.
What has been challenging for you as an artist?
The most challenging thing for me has been finding a balance. I am naturally a ravenous, passionate person. I am interested in so many things that this wide old world has to offer, that balancing my different interests is always a challenge. I throw myself into chapters of discovery and sometimes forget that there are only 24 hours in a day. You must get a little sleep and a little food.
The balance of art, love, learning and discovering is a tricky thing, but a wonderful problem to have.
How do you maintain balance?
I tend to do everything to a level 10 until I drop. So balance is always a challenge – but I have found that being very organized (I mean labels on EVERYTHING – nerdy earthquake kit prepared type of organized) helps to make the day smoother, the sun more yellow, and medicine taste sweeter.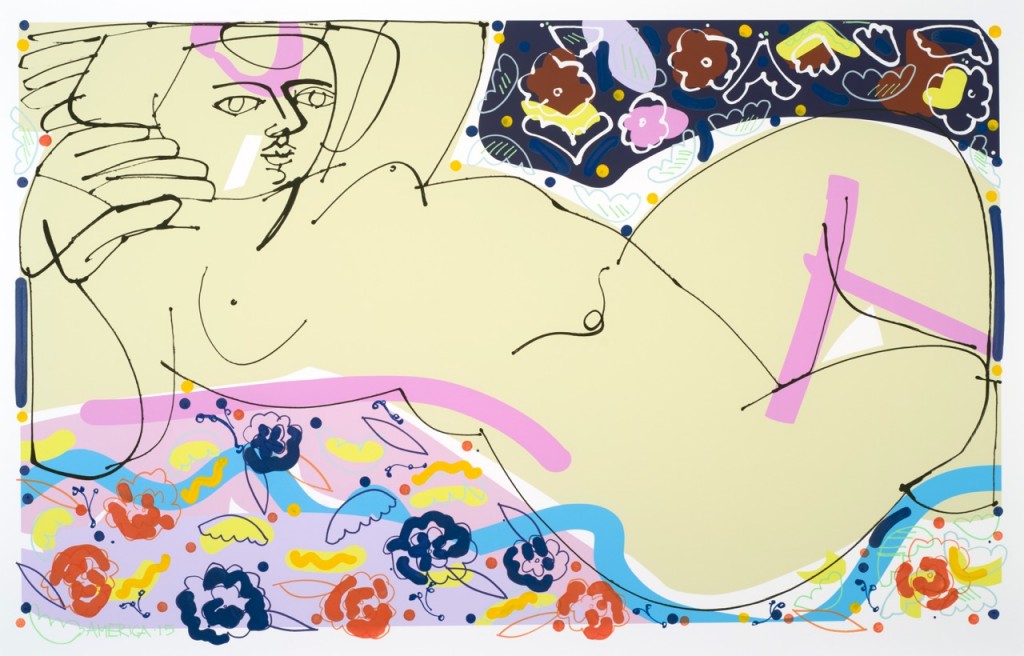 It's much easier when your environment supports your dream but to someone who is truly passionate about art but doesn't have the resources or network that you did, what advice would you give them to encourage them to stay the course?
To do just that – stay "the course!"
I have been a bartender, waitress, retailer, nanny, personal assistant, and dog walker – all at the same time – while painting and having art shows every chance I could. Was it hard? Sure. But was there a choice? No! I knew what I wanted to do, and what I needed to learn, and I was going to just figure it out. But I'm a practical pig – I didn't want to starve – so I worked as many jobs as I needed to foster my love of art which I didn't want to scrimp on.
You paint with such vivacity! What would you say are your favorite aspects of nature to channel when you create?
Thank you- I say action is my favorite thing- the constant savior to any deed, but for sure in art!
I am in love with the doing-ness of life. I learn and grow from the process of going through the steps of making and feeling, trying, messing up and doing it again.
I am a vigorous and passionate person who needs to grab hold of the canvas, of the paper, and mush them into ideas that floated around like moths only moments before.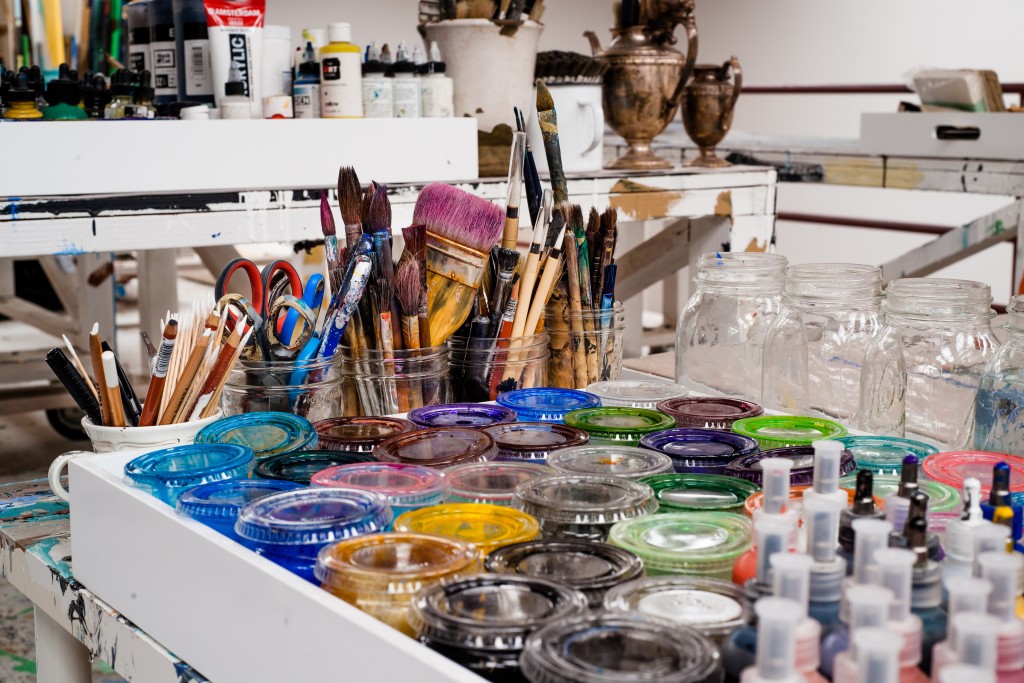 What is your ideal day?
Mondays, when no one is in the studio, I've gone out into the world and have seen faces and met people from the weekend. Mondays, I'm alone and can prepare for the week, I can work on my Sunday dream notions, and start getting messy.
I always think artists see the world, in every aspect, as a potential canvas and that comes to life in cooking. What is your favorite thing to cook?
I agree. When I'm most happy, I find myself cooking while I paint.
My latest successful dish was a Guinness steak potpie, with a pastry poppy seed braided crust I made for some friends – yum!
In a conversation with Picasso, Renoir, Matisse and Seurat, what 3 questions would you want to ask?
To all three:
1. What do you love?
2. What do you dream about doing?
3. What do you dream of not doing?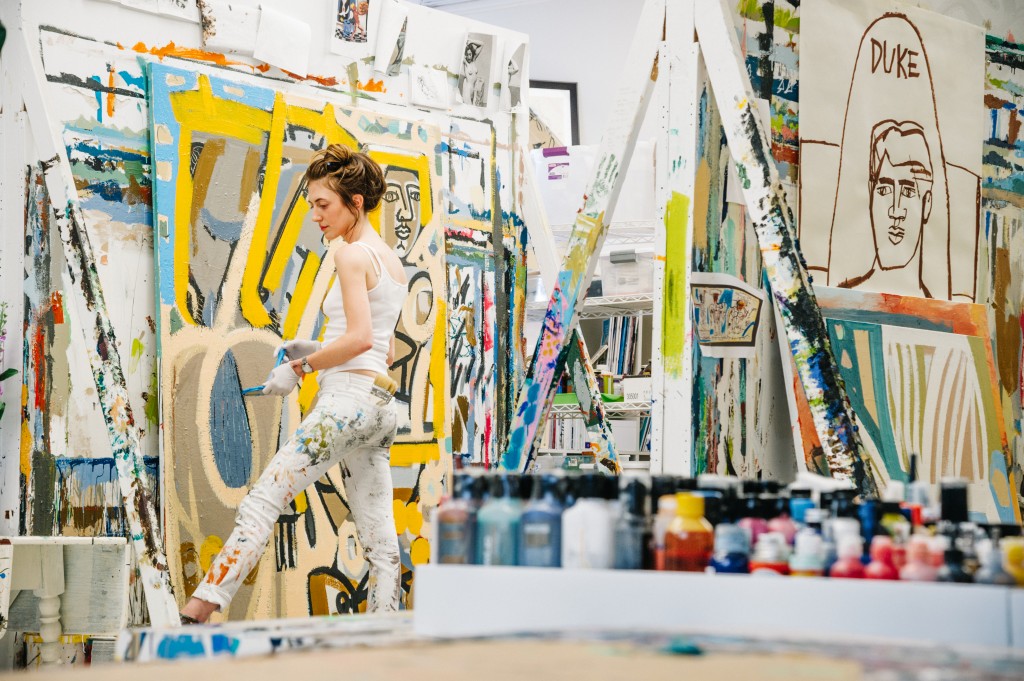 What is your guilty pleasure?
Buying audio books and disappearing into the different worlds that people invent.
What cities have you traveled to that really opened your eyes to the world?
Every town, city, place, has its wealth of visual inspirations.
I've been lucky, and have gotten to travel quite a bit, but there are many more places I look forward to going. As of now, I've seen most of our United States, France, Spain, Portugal, Italy, Hungary, Bali, India, Tahiti, and Japan.
This summer, I also will be going to Greece, and am super excited to sing some songs to Athena and Zeus.
Was it difficult to see your first painting sold? Meaning when you spend time creating something, so much of yourself is put into it. Ideally, we all want to see our art or work make it into the world but there is a sense of sadness once it's gone. When you sold your first piece, how did you feel?
The first time I sold a piece of my art it changed everything for me.
The process of making art was a personal obsession. It was something I did for myself, and the notion that something I did – made with my own hands – could be of value to someone else, changed my perspective. I remember whispering to the periwinkle day sky and saying, "Oh my, could I really do and be what I dream about and live by doing what I love?" It was a magical moment that I am eternally grateful for.
The art we make is a story – a visual language if you may. It is meant to leave you and be looked at by someone else. I feel that to hold on to a work is to stop the organic flow of what it is all about. For work to be sold, shared, and viewed, it is very cheerful stuff. It means the way I'm communicating is understandable and alive, and that inspires you to try new fresh things.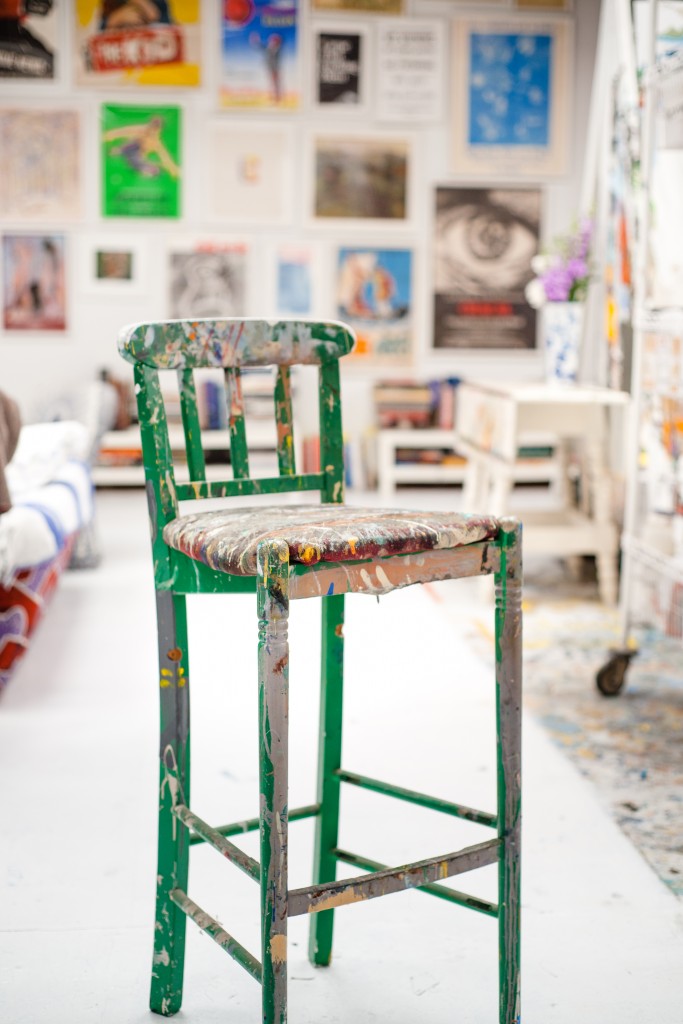 Something you'd love to do with your art that you haven't done yet.
I long to create a really large public sculpture work. My eyes would think of it as Thanksgiving and Christmas all in one – to see an enormous figure out of some impossibly heavy material seemingly delicately perched on a lawn or amongst huge buildings – that would be a big joy.
Best advice your mom ever gave you.
"Dream bigger than you could ever imagine and work harder than you think you could stand."
If you could visit any time in history, "when" would you go?
Today, and before the Spanish Inquisition in Florence, Italy.
Favorite flower.
The Orange Marigold.
Photography that inspires you?
If I remember correctly, in the early 1950's Irving Penn worked in London, Paris and New York and created one of my favorite photographic series of all time, "Small Trades". Over three years, Penn photographed over 200 full sized portraits of women and men in their working trade clothing – chimneysweepers, butchers, chair weavers.
I first saw this exhibition on accident at the Getty Museum in 2010, and it knocked my socks off. I remember jumping up and down in front of each print and saying "Oh, oh my! Oh yes – yes!"
The series shows such interest in and admiration for people, you end up falling not only in love with the work, but deeply in love with Penn the artist. It was the inspiration for a show I'm working on for next year about Los Angeles.
A song you could play over and over and over again.
Ooh that's tough – it's a toss up between three – for this week.
"Out on the weekend " by Neil Young
"Baby" by Donnie & Joe Emerson
And
"Here Comes the Sun" by Nina Simone
Aside from art, what sets your soul on fire?
Besides making art, what makes me croon with joy and excitement is meeting, regarding, observing and reveling in the company of people. There are really only two things in life – people and stuff – and it's not about the stuff.
I find people the most inspiring other part of this life. That's why I'm a figurative painter. People are my favorite landscape.
People are capable of creating such beauty, dreaming, and making moments, art, and life where there was nothing before. I'm never short of amazed and in a constant state of excitement at all the things I get to learn and discover in art, literature, science, and music.
What is the most impactful moment you've experienced so far as an artist?
I have not experienced it yet- so much to look forward to!
[separator type="thin"]
I have to thank you, America, for seeing the world with vision I understand. You are, much like the orange marigold, full of life and there is no doubt your art and your spirit will continue to enliven, inspire, and encourage creative abandon.
[separator type="thin"]
Support ART | Celebrate LACMA's 50th Year
[separator type="thin"]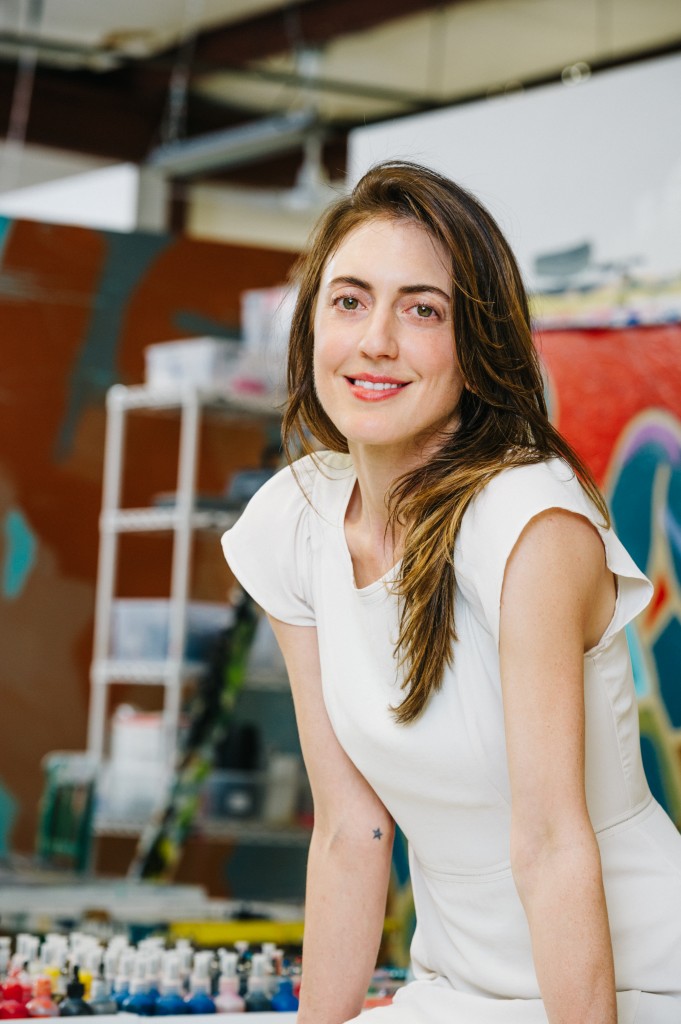 AMERICA MARTIN is an internationally represented Colombian-American fine artist based in Los Angeles. America is a painter and a sculptor. The magnetic pull of Martin's work is authentic, generated by both her ability to express a unique gesture that speaks to a universal truth (thus, we recognize it instantly) and her exceptional skill at rendering that truth via the human form. She pulls from the stylistic lessons of the classics and its derivations in indigenous subject matter, while redefining what it is to combine abstract and indigenous motifs.
Martin's art and personality encapsulates a sense of enthusiasm and hope. While born in the USA, the roots of America's Colombian heritage deeply penetrate her work. People are Martin's dominant subject. They are large in size, vivacious and accessible, and seem to burst out of the limits of each canvas or sculpture. Within this pulsating interplay of color, texture, line, and shapes, there is always America's signature expression that identifies each work as an America Martin.