Architect Stephen Conte and Studios C
Working on adaptive re-use projects are some of our favorite, because the added challenge of how to address an existing historical context comes into play with new standards and programming within the old space.  We've been fortunate to work on several amazing projects in this city and I think a particular project we would love to take on would be something that incorporates a mix of public space retail and community all in one.  We think there is a lot of room for re-thinking how retail and public space can be combined to create a less static commercial experience.

– Stephen Conte
[separator type="space"]
ABOUT STEPHEN
Stephen Conte is Co-Founder and Co-Lead Architect at StudiosC. NYC-based architecture company StudiosC believes in design-driven, mindful, and progressive architects who aim to make their mark by contributing to the growth and preservation of the city. The small but mighty team is comprised of 5 designers, 4 of whom are international women, and these guys are really knocking out impressive projects.
A New York native, Stephen founded STUDIOSC after working in the architecture and design industry since 2002. After graduating with a professional degree in Architecture from Pratt Institute, Stephen worked first as a designer on transportation architecture projects ranging from subway and train stations to the west side highway intrepid pedestrian bridge. After switching firms, Stephen became a senior project manager working on high end residential and commercial development throughout New York City specializing in adaptive re-use of existing warehouses and ground up development projects.
[separator type="thin"]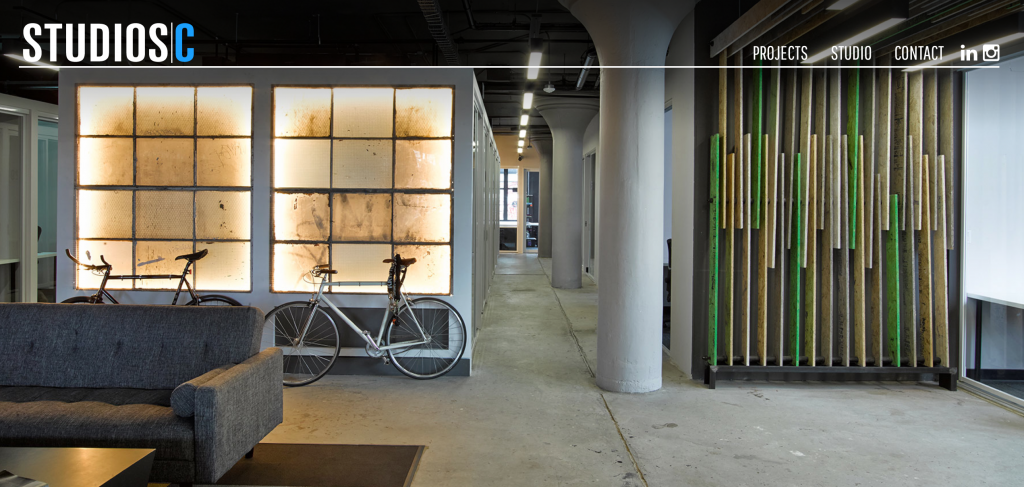 Brooklyn Desks is an extraordinarily executed project that has been warmly received in a city not lacking in cookie-cutter co-working spaces. Check it out here: www.brooklyndesks.com.
[separator type="thin"]
Two special near-completion projects include:
15 Jackson Street, whose exterior and interior was designed by StudiosC from the ground up. This is a high-visibility and high-end project near the BQE.
The information for 15 Jackson street is as follows:
Project: 15 Jackson Street | Location: Williamsburg, Brooklyn
Designers: STUDIOSC – both exterior & interior design
Renderings done by STUDIOSC, Photos Currently Unavailable
Anticipated completion date: Fall/Winter 2015.
Project Description: A design for a new 8-story high-end residence building situated along a triangulated block in East Williamsburg. The client wished to create an elegant design for this development. StudiosC designed a staggered brick facade that is contrasted with a vertical wood rain-screen, in a composition that slightly floats the main brick volume.  The windows playfully stagger up the facade to work with the brick detailing in a re-inventing of the cube, so to speak. The interiors coincide with the subtle complexities of the exterior to help tie the full experience together.
783 Knickerbocker is the old Alhambra Theatre, and an interior design project being marketed by Town Real Estate. StudiosC is the interior designer for the renovation and adaptive re-use project, and are working with an office called Joseph Frankl Associates. Joseph Frankl is in charge of the exterior renovation and overall project lead. However, the interior scope for this building is a major aspect, being that it is an existing, historic building. There's also an interior courtyard that StudiosC designed, so expect some great photos once available. All of the included renderings are 100% of the design execution.
Other notable completed projects include Brooklyn Night Bazaar (ask about Jacob Riis Beach), Lexington Greene, Copper Factory and 21 Monitor.
[separator type="thin"]
THE STUDIO

Educated and trained as architects and designers, STUDIOSC is a small creative driven team that works collaboratively on all of our commissions. Our focus is on ground up residential and commercial development, adaptive re-use, and extensive interior renovations amongst other design challenges that are brought our way.
We breathe new life to old buildings for our adaptive re-use projects, while respecting their context and character. We give a sense of scale and proportion to larger ground up developments, applying a rigid thought about how materials and light can affect the both the exterior experience and interior environments. We listen closely to our clients and push our creative limits on interior renovations, keeping within budgets and exceeding expectations. We are a client focused design studio.
[separator type="thin"]
Brought to you by BoConcept