Little Big H
Toddler Friendly Recipes for the Grown-Ups Who Dare to Cook For Them.
[dropcap letter="B"]eing a Lifestyle Magazine, I'm always searching for home cooks with unique recipes and while we don't traditionally post about kid-friendly recipes, when I came across Little Big H, I couldn't help myself! Meet Cristie, inspired by her son Harrison. With a slew of not only beautiful, but practical recipes suitable for little tiny people AND the grown ups raising them, I was genuinely delighted to find so many recipes I could make for my daughter and my partner in crime. Life – and food – is far too colorful to get bogged down with the same mundane requests for Mac N'Cheese, Hebrew Nationals and the godforsaken, Chicken Nuggets. It's high time we get creative for the most discerning palates: the little people we love and raise – (Who, let's be honest, are the harshest food critics in the entire world! Should you doubt this, spend 5 minutes with my 8 ½ year-old daughter. You'll come around …).
Below are two eloquently simple and wonderful recipes from Mother-of-one, Cristie. For more of her salivate-worthy creations, visit: www.LittleBigH.com
[separator type="thin"]
Berry Breakfast Parfait
Ingredients
A punnet of blueberries
A punnet of raspberries
A punnet of strawberries
Natural yoghurt
Toasted or natural muesli (We like toasted)
Maple syrup
Instructions
Add a few good dollops of yogurt per person to a bowl. Add a handful of raspberries and mash a little with your spoon. Set aside
Add Museli to the bottom of your glass or jar and top with a few blueberries, and strawberries, then the yoghurt mixture. Repeat steps finishing with the yoghurt on top. Garnish with fruit and drizzle with maple syrup
Notes
Fresh or frozen fruit would be suitable
For younger babies, add muesli to a blender and blend to a finer consistency
If you are not a natural yoghurt fan, add some maple syrup to the yoghurt mixture to sweeten it up or use your favourite flavoured yoghurt instead
[separator type="thin"]
Beef Skewers with Asian Marinade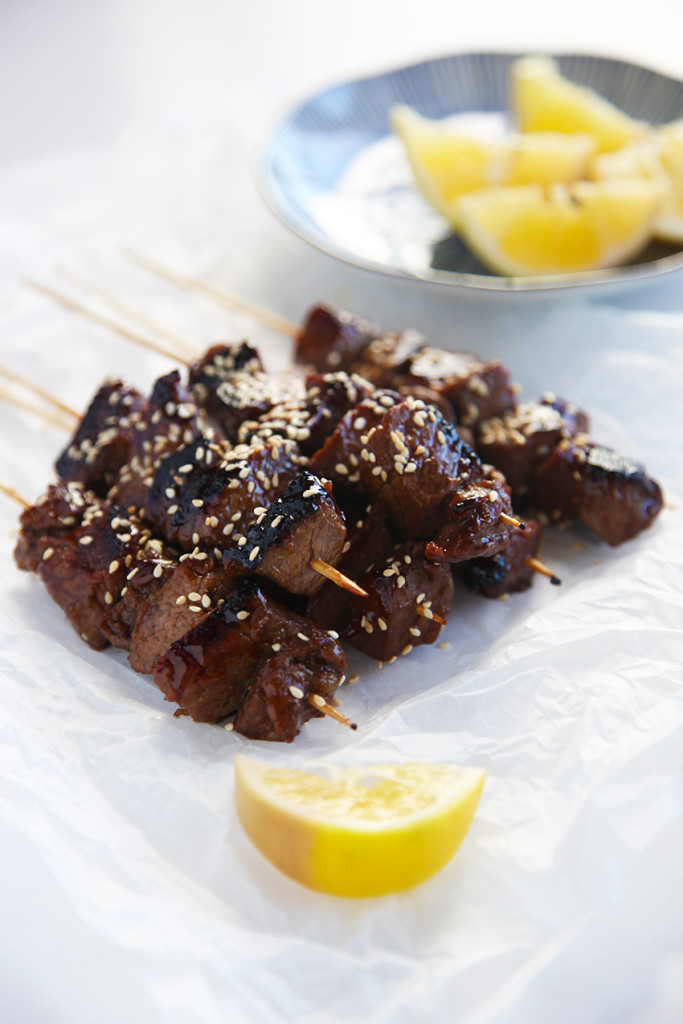 Ingredients
400g Beef eye fillet
sesame seeds
Lemon; cut into wedges to serve
6 skewers
For the marinade
2 tablespoons dry sherry
2 tablespoons kecap manin
2 tablespoons sugar
2 tablespoons minced ginger
3 garlic cloves, crushed
1 tablespoon oyster sauce
1 tablespoon soy sauce
2 teaspoons malt vinegar
1 teaspoon sesame oil
Instructions
Combine all the marinade ingredients in a bowl and mix to combine. Dice the beef into the toddler bite size pieces and add to the marinade. Marinade for a couple of hours minimum or preferable overnight in the refrigerator
Soak the skewers in water (this prevents them from burning). Skewer the beef and cook on a hot grill plate or BBQ until nicely charred and cooked through. They won't take very long, so keep an eye on them. Serve sprinkled with sesame seeds and lemon wedge
Makes 6 skewers
[separator type="thin"]
ABOUT LITTLE BIG H (in her words)
My name is Cristie and my son's name is Harrison (a.k.a Little Big H, Big H, Harry & H)!!!
I am a single mum living in Sydney, Australia.  I have a passion for cooking and since my little boy has come along that passion has turned into cooking nutritious baby food for him – and food that the whole family can enjoy.  I was inspired after reading 'French Kids eat Everything by Karen Le Billon' that my son will grow up to be an adventurous eater who appreciates a wide variety of nutritious food.
Admittedly when I was young I was a terribly eater.  My mums idea of cooking was very much meat and three vege.  It wasn't until much later that my tastes and appreciation for good food came about.  Regardless of the type of food we were brought up on, there were similarities to the way french children are raised – in regards to food. We were never allowed to snack throughout the day. We ate what the family ate – there were no separate kids meals and fast food/takeaway meals happened very rarely.  One major thing that was missing was the development of taste and a love for good food – this is what I hope to instil in H.
[separator type="thin"]
Looking for your next family car? Test Drive the new Kia Sedona