Hard Rock Cafe Serves Up Summer Burger Paired with Goose Island IPA
Goose Island Tropical Bacon Burger Makes Sizzling Debut at Hard Rock
[dropcap letter="E"]njoy the last week of International Burgers and an American Brew worth trying. I had a chance to visit
Hard Rock
in Universal Studios and tried a variety of the new burgers. While the meat of the burger isn't quite as good as I remember (I used to love their Kobe Burgers, they were huge and meaty!), the flavor profiles are interesting and expansive. My choice was the Honduras burger but I'm guessing the Tropical Bacon Burger is going to be good (
is anything bad with bacon?!
). Either way, as much as I don't typically post about "chains", this is a fun idea and in honor of local beers –
Goose Island IPA
– , I'd say enjoy an afternoon of #beer and #burgers while it lasts! #ATODBurgersBeer

ORLANDO, FLORIDA | Hard Rock Cafe is bringing the heat and extending its line of burger and beer pairings with a new Goose Island IPA duet, sure to become guests' favorite summer staple. Available at cafe locations across the nation beginning July 1 through August 31, 2015, Hard Rock Cafe's limited-time Goose Island Tropical Bacon Burger will be paired with Goose Island IPA, creating a one-of-kind dining experience that will have guests coming back for more.
Hard Rock Cafe's Goose Island Tropical Bacon Burger is a half-pound Certified Angus Beef® patty brushed with Goose Island IPA glaze and topped with chili spiced bacon, grilled pineapple, mango salsa, chipotle purée, arugula and Cheddar. The Goose Island IPA glaze featured on the new burger infuses hoppy notes throughout every bite, and the limited-edition burger will be served with Hard Rock's seasoned fries and a side of house-made Goose Island IPA barbecue sauce.
"Goose Island IPA served as the inspiration for our new burger, which brings a little kick to complement the craft beer's sweeter notes, and the bold flavors will have guests across the nation raising a glass to the dog days of summer," said Alex Merchan, Sr. Director, Marketing & Sales Cafes Worldwide of Hard Rock International. "This perfect pairing is reflective of Hard Rock's culinary innovation and dedication to serving guests a variety of unique burger and beverage options."
The new Goose Island IPA duet is an extension of Hard Rock's year-long line of burger and beer pairings, following the successful launch of the Rebel Legendary™ Burger earlier this year. Additional limited-edition burger and beer pairings will be released throughout 2015.
"Goose Island IPA has been a Chicago craft beer staple for more than twenty years, and we were confident that Hard Rock would create a delicious burger for our partnership," said Jesse Valenciana at Goose Island. "The new Goose Island Tropical Bacon Burger did not disappoint and perfectly enhances the flavor of our complex IPA."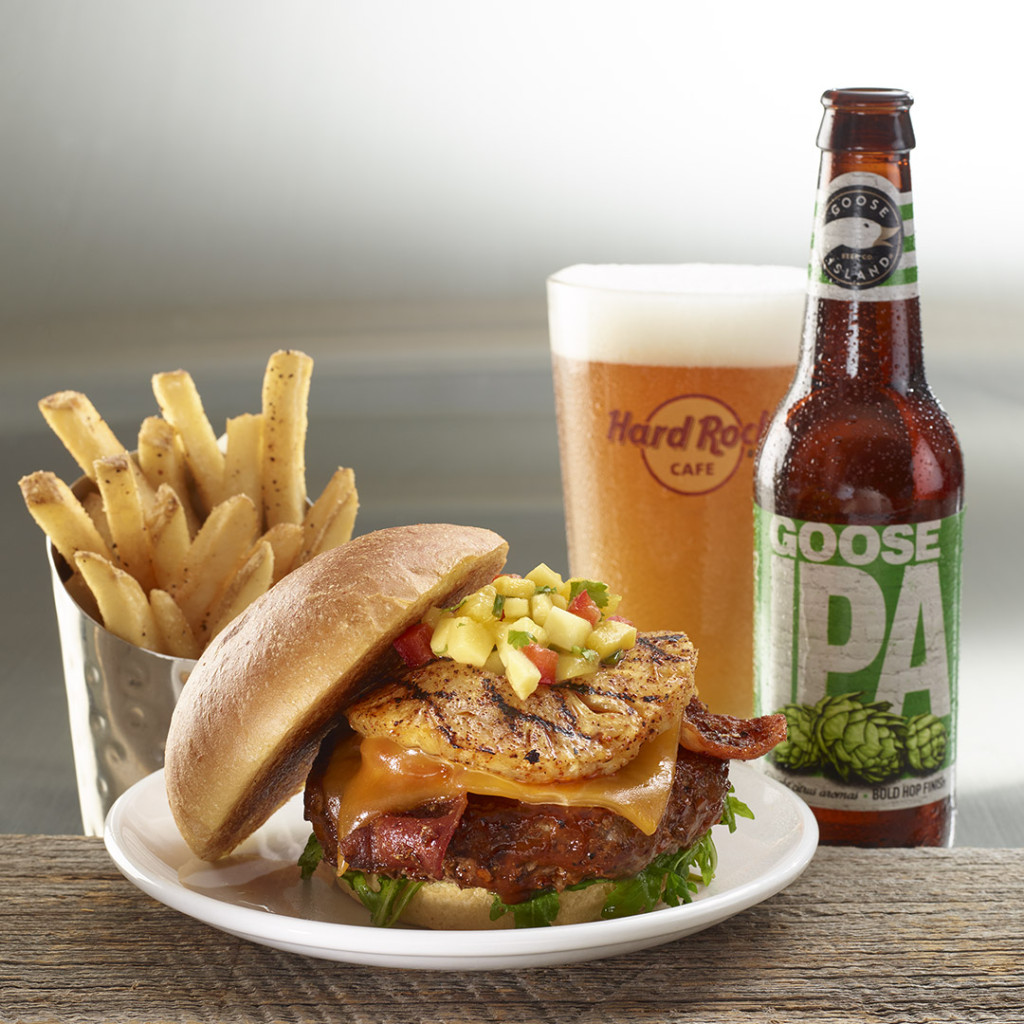 Hard Rock's Goose Island Tropical Bacon Burger and Goose Island IPA pairing is available at cafe locations nationwide through August 31, 2015. Guests can stop by Hard Rock Cafe to try out the latest items or visit www.hardrock.com for more information.
About Goose Island Beer Co.
Founded in Chicago in 1988, Goose Island is one of the most successful craft breweries in the Midwest and produces some of the most popular, and award winning, beers in the U.S. Since 1989, Goose Island beers have won a variety of awards at acclaimed beer events including the World Beer Championships, World Beer Cup, World Expo of Beer and the Great American Beer Festival.