The Jay Howell Effect
[dropcap letter="L"]ife can be a catapult of chaos. Sometimes it takes the geniuses of animation and illustration to take us far from reality and show us life from a different perspective.
Cartoonist Jay Howell
is among those who see the world in wild renderings with the relatable yet slightly awkward characters of his imagination. Howell is the man behind the animation of the hysterical and sardonic Belcher Family in
Bob's Burgers
and the strangely twisted children's show,
Sanjay and Craig
. His love for drawing cartoons began when Howell found cartoons as a child. It was a medium that made total sense to him.
I started drawing very early in life," he says.
"My mom bought me all these cool books called How to Draw 100 Freaks and How to Draw Cartoons. She bought me a ton of Garfield and Far Side books. That stuff really spoke to me." His career has evolved steadily, but it's his unrelenting happiness that exudes from the characters he draws, whether for the screen, a brand partnership, or restaurant murals that makes him such a unique cartoonist. Howell's style is easily recognizable by the lanky features and twisted yet oddly optimistic expressions of his characters, and his stylized approach to cartoons developed from self-awareness.
"Looking in the mirror is the best art supply on earth," Howell says. "I'm always making the same expression as the character I'm trying to draw. I'm an extremely happy person, like a cool sociopath. I put as much as possible into my work, and I'm happy it shows." His character studies began long before he knew what he'd be doing as a career, starting with Saturday morning cartoons. When he was growing up in the '80s, Howell looked forward to waking up early to watch The Smurfs, Snorks, Transformers, G.I. Joe, X Men, Jem, Batman, Plastic Man*, Wacky Races, and more. "All Saturday cartoons really," he says.
[columns_row width="half"] [column]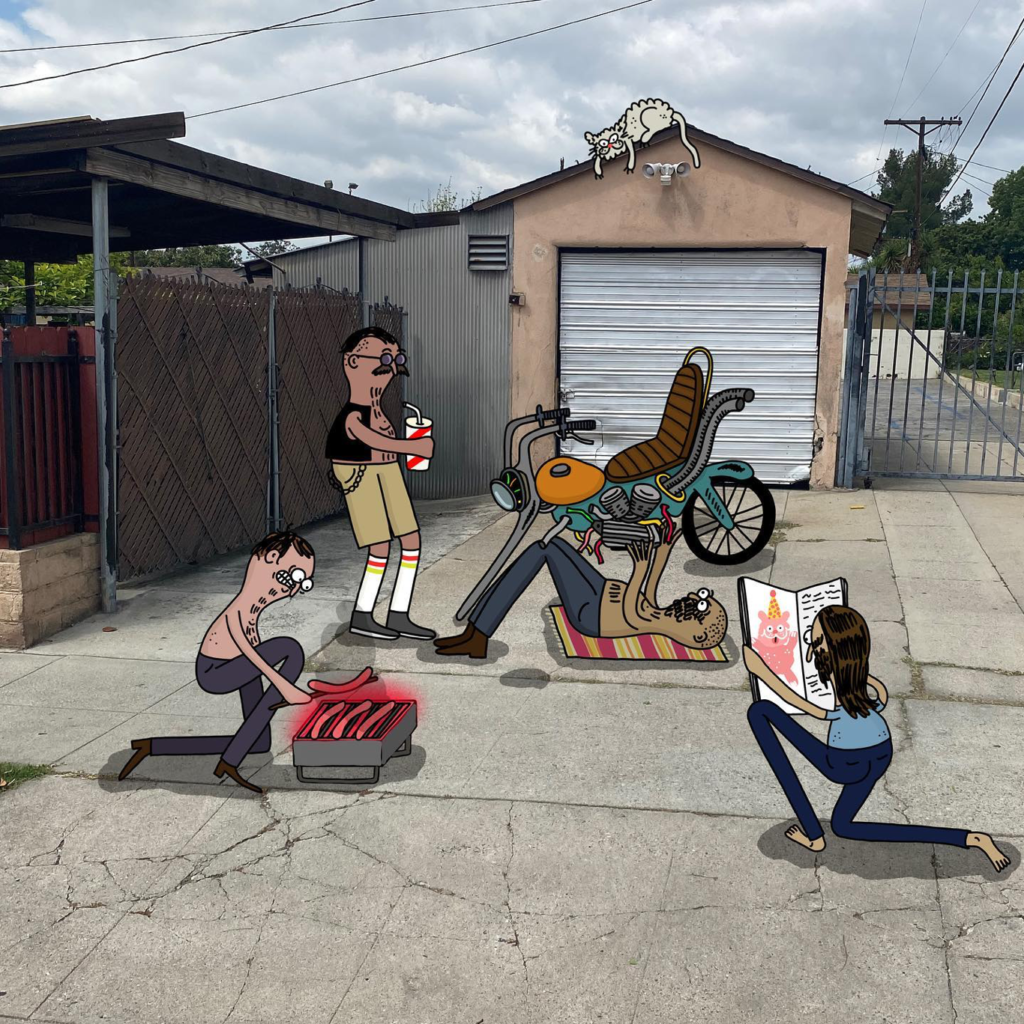 [/column] [column]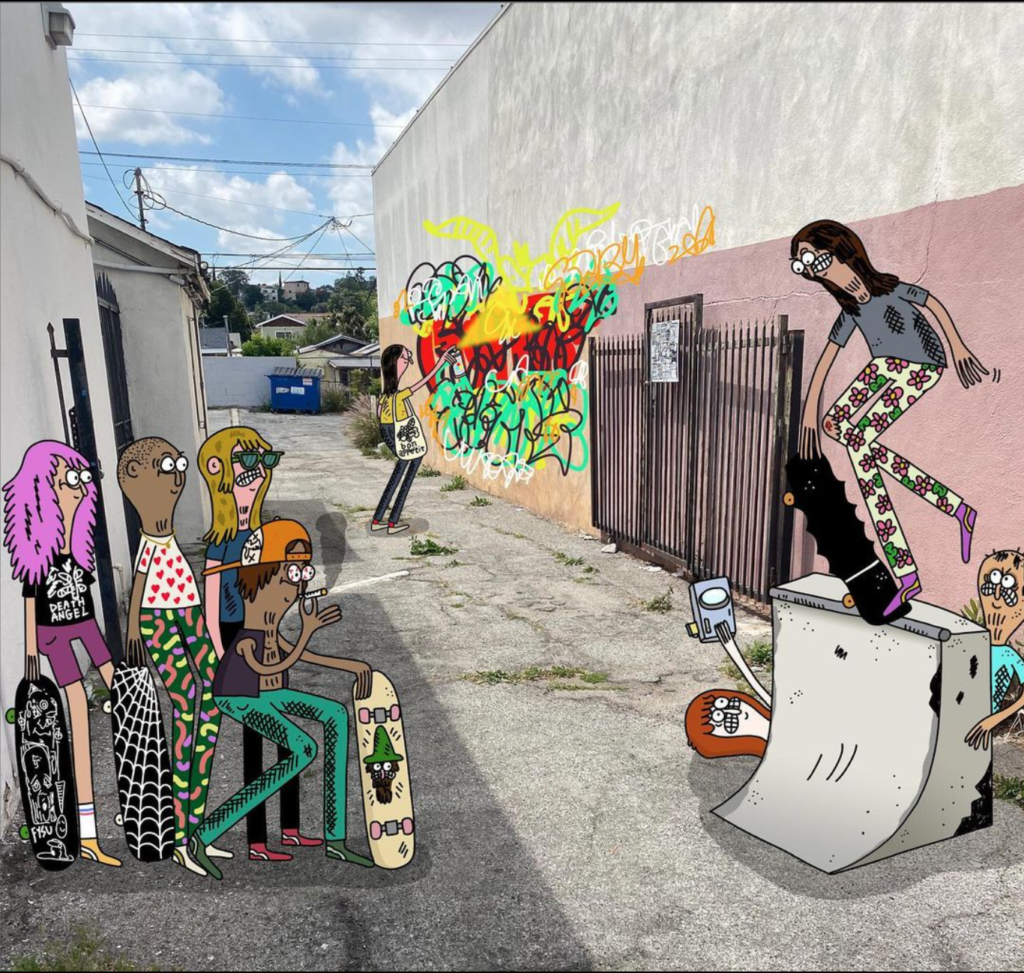 [/column] [/columns_row]
Howell was inspired by old-school cartoons and legendary cartoonists; the first animation that made him feel understood and curious was Pink Panther. "The colors and the animation still really get me," he says. "I'll watch them a few times a year, still." Those vibrant colors can be seen in Howell's animated series Bob's Burgers. What began as a silly idea in creator Loren Bouchard's mind came to life when he and Howell decided to work together on the show. "We started it, just Loren Bouchard and I, in San Francisco," Howell says. "It's really his show, I just drew it off of his brilliant vision." The odd and endearing Belcher family consists of Bob, his wife Linda, and their children Gene, Tina, and Louise.
Struggling to make the American Dream their reality, they run a burger joint as a family, even when they annoy each other—which is often. The series' stellar cast includes H. Jon Benjamin (also the voice of Sterling Archer on Archer), Dan Mintz, Eugene Mirman (also the voice of Cecil in Season Eight of Archer), John Roberts, and Kristen Schaal (costar of Last Man on Earth). "[Bouchard] taught me everything I needed to know about TV," Howell says.
The characters came out of weeks and months of crazy hard work. I'm still amazed it happened. It's one of my best moments."
Howell's unique style combines humor and joy with a tinge of twisted. He recalls the first live comedy routine he ever heard that rocked his world. "Easy. Neil Hamburger. He's always been crazier than everyone, and he continues to influence and inspire me." Hamburger is a fictional comedic character known as America's funny man—created by Gregg Turkington —whose anti-comedy style has been winning over audiences since 1992. Howell's element of comedy also came to life with children's show Sanjay and Craig. Created and developed by Jim Dirschberger, Andreas Trolf, and Howell, the show was meant to be fan zine but soon became a beloved Nickelodeon show that aired from 2013 to 2016. "It was a zine I made when I lived in Sacramento years and years ago," Howell says. "It was originally about a snake charmer and his buddy getting up to no good in their off hours. I rewrote it, and it became a kids' show. Wild stuff."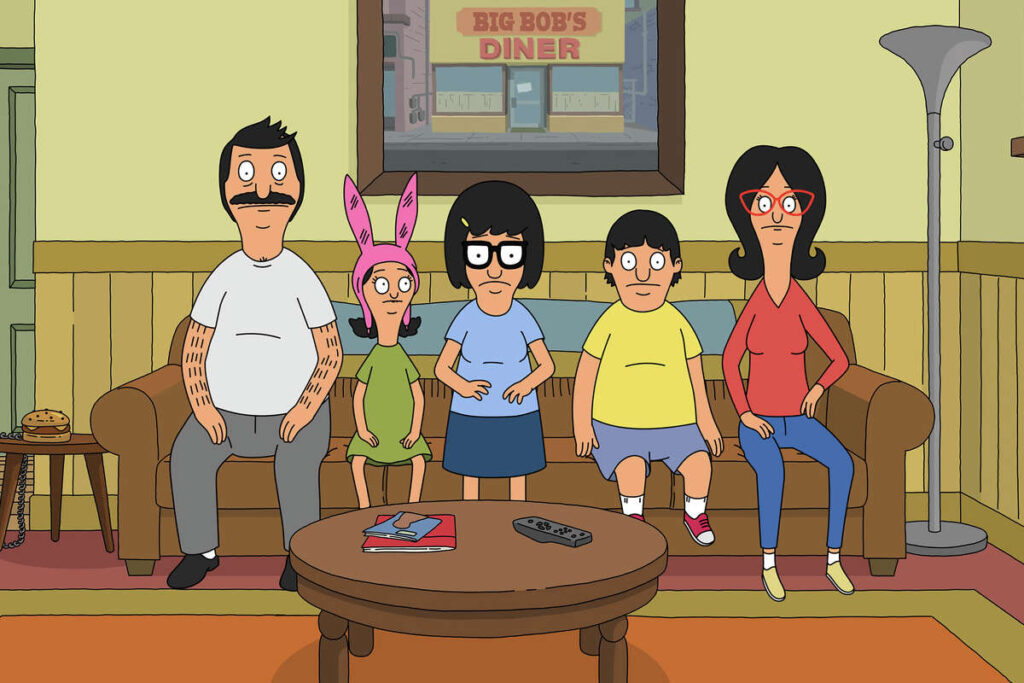 That kind of wild opportunity is the stuff his career has been made of. Influenced by so many before him, he recalls the wildly bizarre MAD magazine. "I just love Sergio Aragones more than anything." Aragones is a Hispanic cartoonist best known for his work in MAD, a magazine for people who gravitate toward the strange and unusual. In addition to an animated TV series and incredibly cool illustrations, Howell also does murals. At Birba, the restaurant in the Alcazar Palm Springs hotel, a mural distinguished with the characteristics Howell is known for, adorns the main wall near the bar and kitchen. The mural features a crowd with the visual nuances, gestures and bright colors that immediately cue his original work.
When asked what inspired the mural, Howell candidly says it is Alcazar's hotel and restaurant owner, Tara Lazar. "She has always been a huge supporter who has believed in me from the beginning," he says.
When you make a creative friendship connection like that, then the other stuff is easy. It's her fault it works so well."
And it does work. Howell's creations resonate with a universal crowd. The characters he imagines have this normalcy and exceptionalism that make his work so recognizable. He has a way of drawing characters we understand and can see bits of ourselves in, including the joy so evident in all of his creations— even the dark ones.
Check out The Bob's Burger film now playing in select theaters.
*If you haven't watched Plastic Man, do so immediately. He was legit one of the first cartoon superheroes of the DC Universe to use humor as part of his character.
[columns_row width="half"] [column]
[/column] [column]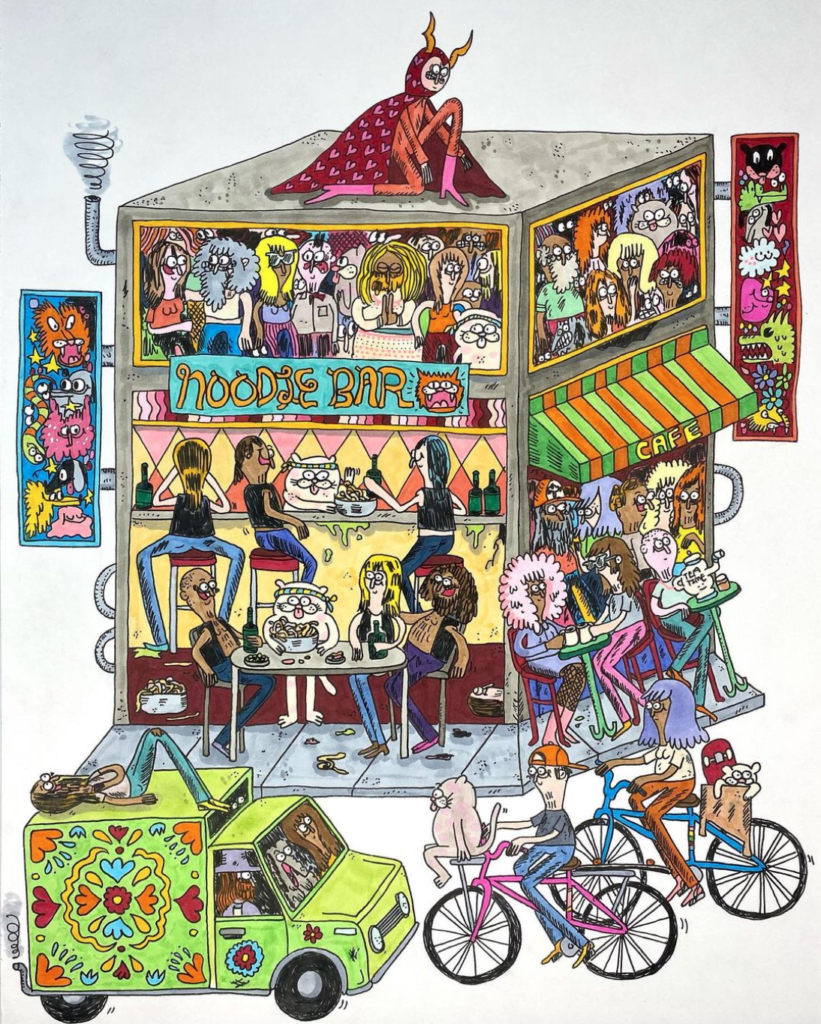 [/column] [/columns_row]
---
Rapid Fire Q + A with Jay Howell
 Q: You clarify that you are not an artist, but rather a cartoonist. Of all the great cartoonists over time, who would you call your top five? What would you want to talk to them about, if you could?
JAY: Matt Groening, Gary Larson, Jim Davis, Jack Kirby, and Tove Jansson. As famous as I could ever get, I would never care about me. I am an observer and a nobody. Maximum effort, ultimate humility. Fly on the wall, listening and then forgetting it all.
Q: What new projects are you working on?
JAY: A lot of stuff with Vans Shoes, Adult Swim, and making a ton of cool mistakes.
Q: If you could give an aspiring cartoonist some words of wisdom and insider nuggets, what would you say?
JAY: I used to be afraid I was not a good artist. Cartoonists don't have to be.
BOUNCING OFF THE WALLS WITH JAY HOWELL
Each week artist Jay Howell shares a new creative project. Grab some art supplies to learn how to make everything from scuptures to zines.
Jay Howell is a Los Angeles based illustrator, artist and cartoonist. He was exposed to the punk music early in life by his older sister and immediately developed a deep love for skateboarding and the D.I.Y. ethos it shared with the punk community. Early on, Jay began making his own self-published zines of art and drawing graphics for skateboards. Jay now lives and works in Los Angeles with his rescue dog, Street Dog. His unique style, irreverent humor, and funny characters are recognized internationally and have been exhibited around the world, from Subliminal Projects Gallery in Los Angeles to Colette in Paris.