'STEAMPUNK'D' HOSTED BY JEANNIE MAI
GSN'S NEW SKILL-BASED DESIGN COMPETITION SERIES
PREMIERED on the 19th | WATCH NEW EPISODES at 10:00 PM ET/PT
[dropcap letter="A"]New Series Takes Viewers Inside the Retro-Futuristic Aesthetic and Seeks to Find The Most Inventive Steampunk Designer In America. 
Host Jeannie Mai (center foreground)
, along with contestants (l-r): Niki Phillips, Morgan Olsen, Josh "JW" Kinsey, Edward Thayer, Tobias McCurry, James Neatherly, Ave Rose, Charles Mason, Karianne Gottschalk and Tayliss Forge.
GSN, the leader in game shows and competitive entertainment, announced today the premiere of its new original series, STEAMPUNK'D, hosted by Jeannie Mai ("The Real").  The eight-episode series, which seeks to discover the most talented and versatile steampunk designer in America, will debut on Wednesday, August 19 at 10:00 pm ET/PT (9pm Central) on GSN. It will move to its regular 9:00 pm ET/PT (8pm CT) time period beginning Wednesday, August 26.
Inspired by 19th century industrial steam-powered machinery, Steampunk is a retro-futuristic design movement seen in everything from fashion, to technology, to pop culture. In STEAMPUNK'D, the contestants (also known as "Makers") work in teams and compete in a series of pressure-filled challenges designed to test their unique abilities to transform ordinary objects and fashion into creative masterpieces. Each week one of the 10 Makers will be eliminated and the last one standing will take home the $100,000 grand prize.
[separator type="thin"]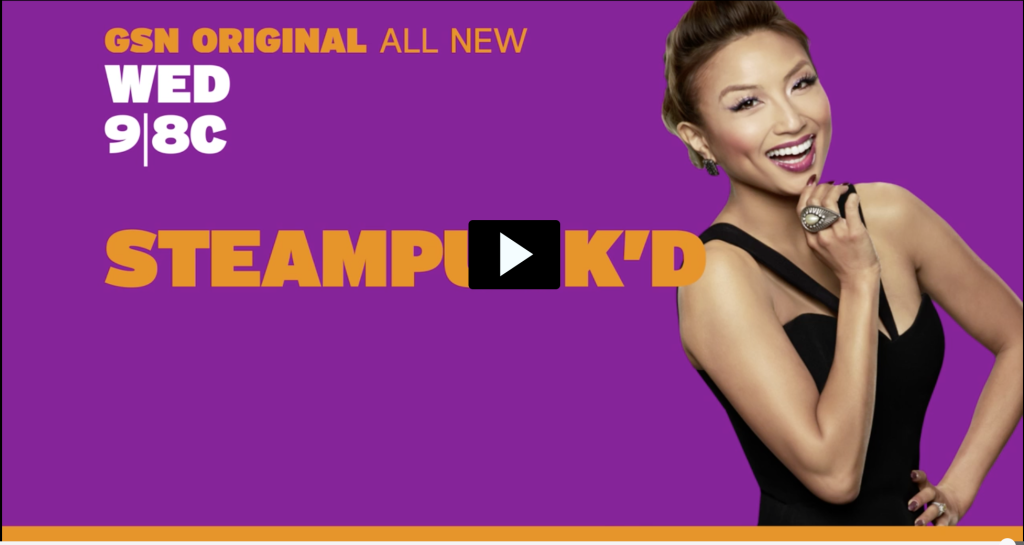 [button content="WATCH Episodes NOW" color="orange" text="purple" url="http://www.gsntv.com/videos/steampunkd/" openin="_blank"] [separator type="thin"]
As each project is completed, the Makers will unveil their work for the judges, including the leading authority on Steampunk, Thomas Willeford; Matt King, creator, writer and director of the series "The World of Steam," and Kate "Kato" Lambert, the British entrepreneur and founder of the world's first steampunk clothing company, Steampunk Couture.
The STEAMPUNK'D "Makers' are:
(NOTE: Each name is linked to high-res downloadable artwork):
STEAMPUNK'D is executive produced by Kimberly and John Ehrhard ("Hogan Knows Best," "Miami Social") of Pink Sneakers Productions and Jennifer J. Duncan.
About GSN
The leader in game show entertainment across multimedia, GSN presents original and classic game shows, competitive skill-based programming, as well as games via its 80-million subscriber television network, a dedicated GSN.TV website and through digital game sites. GSN's cross-platform content gives game lovers the opportunity to win cash and prizes, through GSN's popular TV game shows and GSN Games free casual games, mobile and social games, and skill-game tournaments. GSN's television network is distributed throughout the U.S., Caribbean and Canada by all major cable operators, satellite providers and telcos. GSN is owned by Sony Pictures Entertainment and DIRECTV. For further information, please visit GSNTV.com.
For additional information and photos, please go to http://corp.gsn.com
TWEET: @GSNTV Premieres New #Steampunk themed game show hosted by @JeannieMai Wed, Aug. 19 on @GSNTV 
[separator type="thick"]
Crazy Whale By Fabricio Lima
[button content="BUY Poster HERE" color="brown" text="white" url="http://" openin="_self"]