Louis Carreon and The Drip Factory
[dropcap letter="{ART}"] In the simplicity of it's definition, it is anything but, and if you're fortunate enough to come across artists who embody that total sense of abandon and are willing to bleed out for what they do? You've come across something rather extraordinary. That is precisely what
Louis Carreon
is to me. A man who, upon my first introduction wore his shades ever so coolly and his smile, as effortless and complex as the soul he inhabits. He oozes art – not because he's trying to but because it is in his entire genetic makeup. He exists to create and the world is far better for it. He is a deep human being, even when he doesn't want to be. He doesn't abandon his past mistakes or make excuses for anything. He lays it all out there, apologizes through his art, and continually invites you in.
To understand his work, you don't need a degree in art history or a plethora of untapped wealth. All you need is a willingness to expose your own truths and a playfulness to inhabit a bit of his. Using mediums of spray paint and paint, his pieces are unmistakable. His recent work, an ongoing series called, "FACES", first entangled me when it was adorning the cement walls lining the Mondrian. Since, I've found myself fully enthralled with his style, which is, without limitation.
I say without limitation not as an exaggeration but as pure truth. Louis is not someone who waits on time. If he needs to paint or create, he will. A prime example is his recent art project for Art Basel, Miami. Sent a private, beautiful 12-passenger jet commissioned for him to paint for Landmark aviation (that will later be sold for $125,000 with some proceeds going to Autism Speaks), he not only brought art for the show but is also doing a live painting series.
I will be painting for days and showing my paintings in a private hanger … If anyone wants to come down and help me or watch me paint this project hit me up and thanks for the support.
That's what sets him apart. Inviting the world to watch you create isn't standard practice for most artists but he always leaves his doors open and invites people out to be a part of his process; And I can tell you that his energy fills the room.
In addition to painting the jet, Louis also decided it was the opportune time to paint 10 exhibition pieces at the same time for The Drip Factory + STK Miami popup show: 10 paintings in 10 hours (in a killer popup space no less!) … in the Miami Opa Executive Airport Hangar. And each of the paintings? Faces and poems to his ex-girlfriends. While he painted, he posted videos of his progress on his Instagram account. Something so personal became the thing ART was always meant to be: an experience to be shared.
The genius of it is, he finished them all. Not that I'm at all surprised. The plane will serve as the VIP Lounge for anyone coming to visit the hangar.
Below is your invitation to join Louis in Miami and a look at the 9 of 10 completed pieces: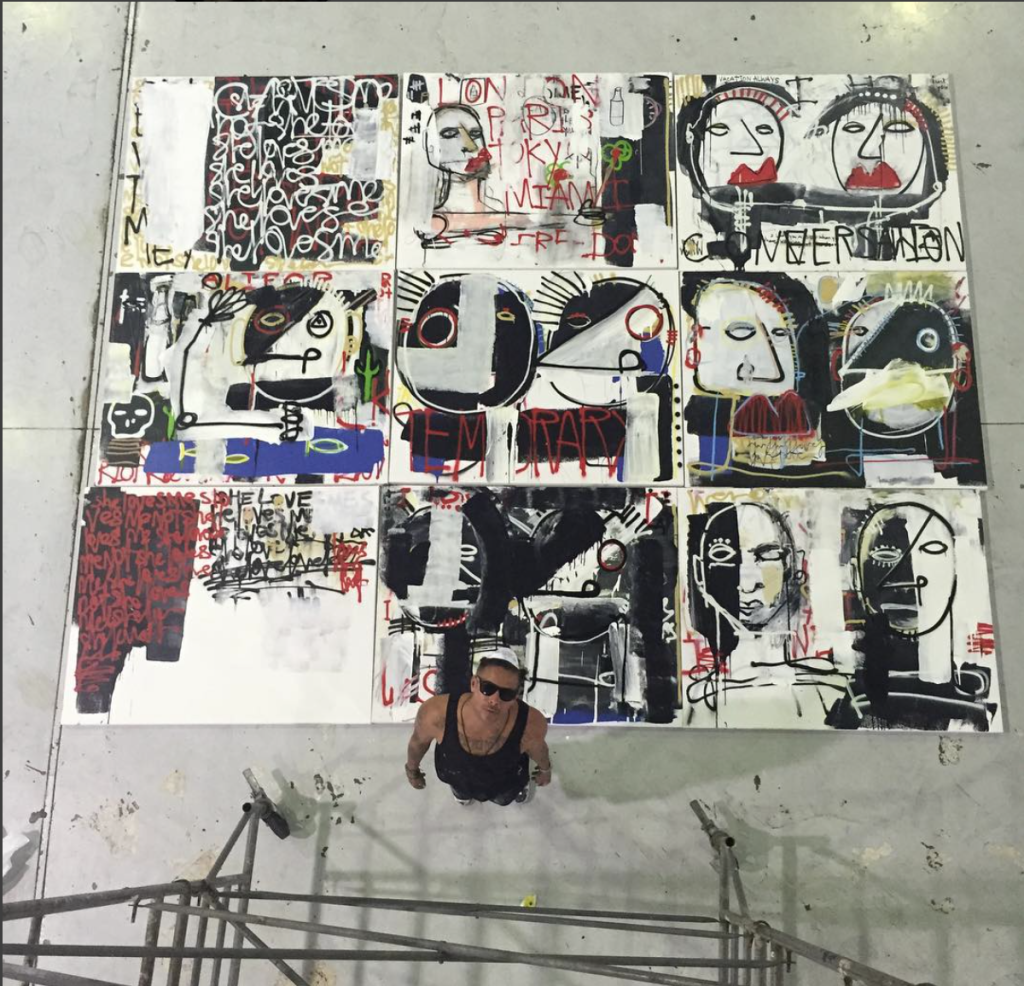 Now to invite you into the mind of an artist … a beautiful, open, painfully raw artist.
[separator type="thin"]
Name a piece of art you saw that enabled you to truly experience the art itself?
The art of survival and the art of people is what I appreciate therefore I find art in everything so there is no specific piece, that's my perspective.
What is something that scares the shit out of you with your art?
The only things I've ever been scared of are aging and dying but I'm not scared of those things anymore. I have no fear of my art.
As an artist, what do you want to leave in this world as your legacy?
It would be great to leave a legacy but I keep my focus on doing/being in the now. Someone else can decide if it's legacy worthy.
What do you hope to see happen with humanity in your lifetime?
I feel it's almost too late for humanity. I focus on my family and my friends and my art and myself. Hopefully that has a positive effect on the whole.
I know you have one particular painting you've done that you brought to the "Faces" exhibition that has sparked a plethora of interested buyers and yet you wouldn't sell it that night. What was it about that one piece that compelled you to embrace it rather than trust it to the hands of someone else?
Oh I did? Must have been a completely different person that night.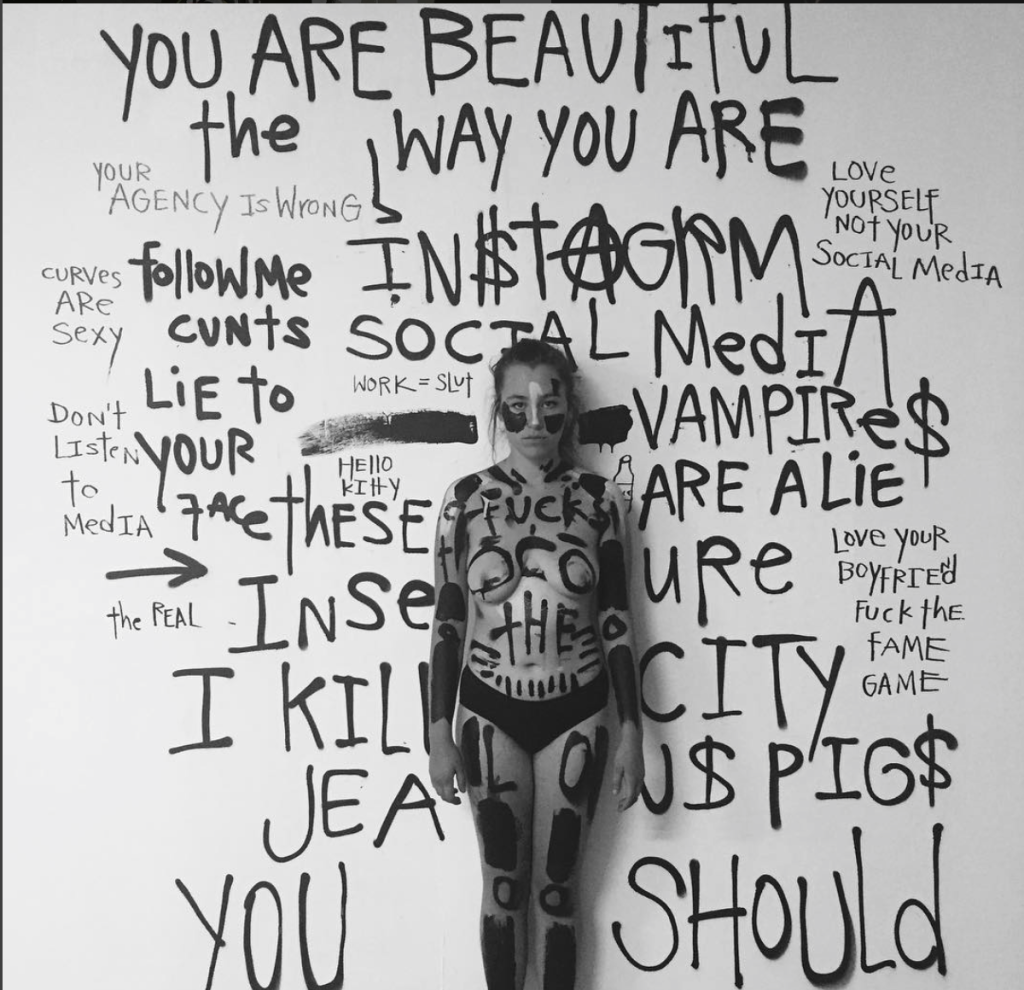 What is the catalyst behind your passion?
I got my GED in prison so I don't know what catalyst means so let me google it… pause pause… jk
To answer you, I use my past while painting the present to relate to art history as a voice of pop culture.
What is your great escape (outside of art)?
Surfing is a place where I find total peace. Being a SoCal native I grew up in the water and it's the other place besides painting where no one can touch me.
If you could think about a painting you've always wanted to do, but haven't, what is it?
The way my mind works I can't think of just one thing, I play whole movies in two seconds in my head. I think of a lot of things at all times. If you got something you want painted let me know.
(LC, I'd be happy with something you created, knowing how I write. You get it.)
If you were given access to any city in the world to paint a mural on, where would you paint?
I really don't know.
While you were in prison for substance abuse, you gave birth to the poet and emerged artist within. You have a collection of poetry you'll be releasing later this year. What compelled you to share that part of your journey with fans, new and existing?
Everything I've been through I like to put out for the people who support me. A true artist should be always breathing life, the poetry came from a dark place and I want people to read it. I'm sure there is someone out there that will understand my art after they read my poems.
What would be the soundtrack for your mood today?
Bob Marley, Grateful Dead and some nasty Hip Hop. That's how I roll.
Growing up, were you encouraged to be creative?
I've been very blessed to have the best open-minded parents of all time, they always push me to be me and taught me I can excel at anything I want to do. They have supported my abstract lifestyle for years.
What is your guilty pleasure?
The (G) rated answer would be donuts.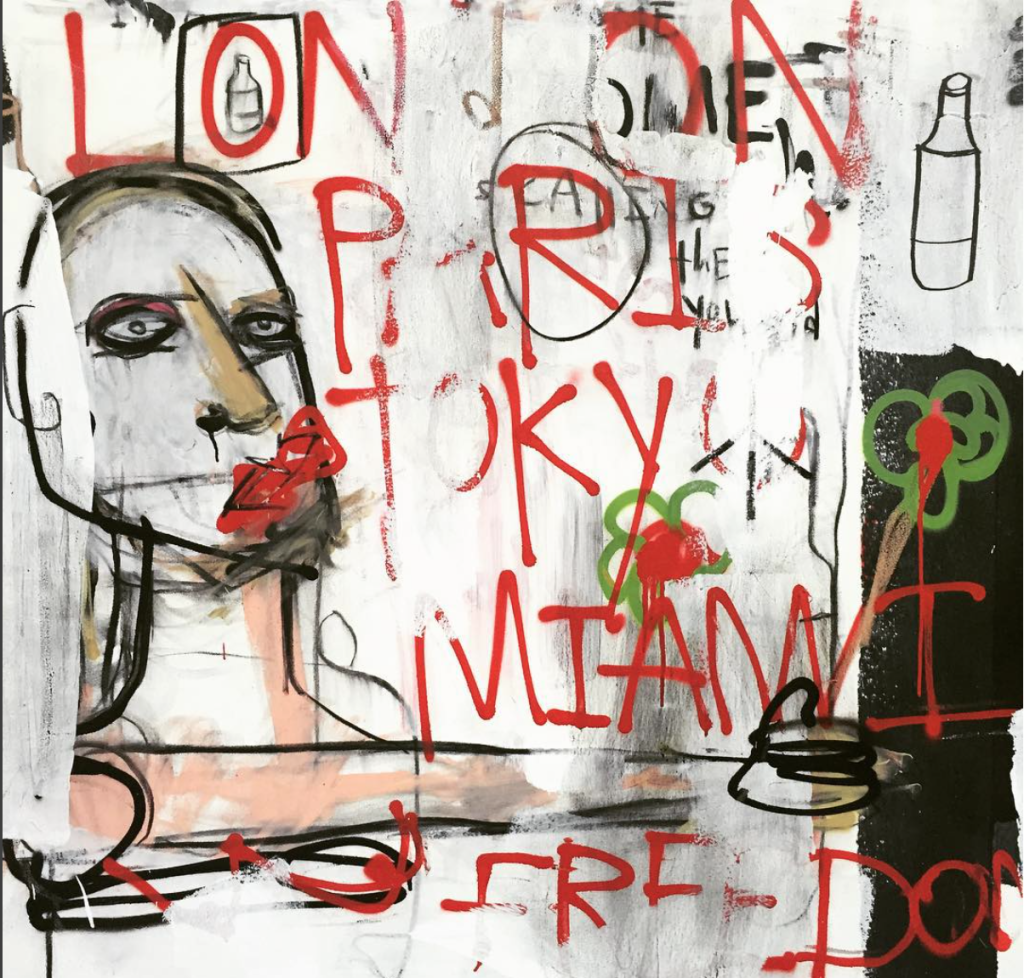 Are you a fan of movies? And if so, what 3 movies would you (or have you) watched over and over?
I won't be endorsing any movies at this time.
Coming from OC where life is very tailor-made (I lived there for 10 years), now that you're in LA, I imagine (like anyone who lives here) there is a love/loathe relationship with the city. What about LA inspires you (3 things if possible) and what 3 things do you think are discouraging?
My parents live in Seal Beach, I'm a gypsy and I grew up on grateful dead parking lots. People are the same everywhere and so is life. You wanna find the street you find the street, you wanna hang out with rich folks you hang out with rich folks. The difference is LA has parking meters.
Most alluring characteristic of a person?
On a Woman, face … On a Guy, I don't have any friends.
A moment you felt totally free …
The day I got out of prison I felt free, it was a great day.
(Insert ANY random thought you feel like here.)
If I didn't have someone helping me do this interview it never have been conducted. I don't really like answering questions, it limits me to a specific time. Ah you wouldn't understand. Jk
I know you specifically would understand. 
(I do.)
A word that captivates you.
I don't have a FAVORITE anything. I don't have a favorite color, or word or type of girl and I don't have word that captivates me. Judge me please he-he
You are in a room with 3 Artists, 3 Musicians, and 3 Philosophers (Dead or Alive): You can ask them just 2 questions. What would you ask and what Artists, Musicians and Philosophers are in the room?
Nine people two questions and one room, this is stressing me out … I need a latte?
[separator type="thin"]
There isn't a word even I could use to contain all that Louis Carreon is. He inspires the muses, welcomes the uncertainty, finds beauty in the abandon, and breathes in the air that envelops him in. He doesn't hide his darkness but instead allows it to drip out, whether on canvas or paper or spoken word and that is the only way, in my opinion, an artist is free.
His work is continually evolving and thankfully, his work is visible throughout various landscapes in Los Angeles. He has been commissioned to paint everything from hotels to vacant canvases to private planes (not many people can say that) and he is the marketing director for a hospitality group in LA. His art extends well past the present and will no doubt survive through the future. It is a privilege to know a man like him. To experience an uninhibited creativity. It is something more rare than you could imagine.
Thank you Louis for giving your time, your candor, and your unfiltered honesty.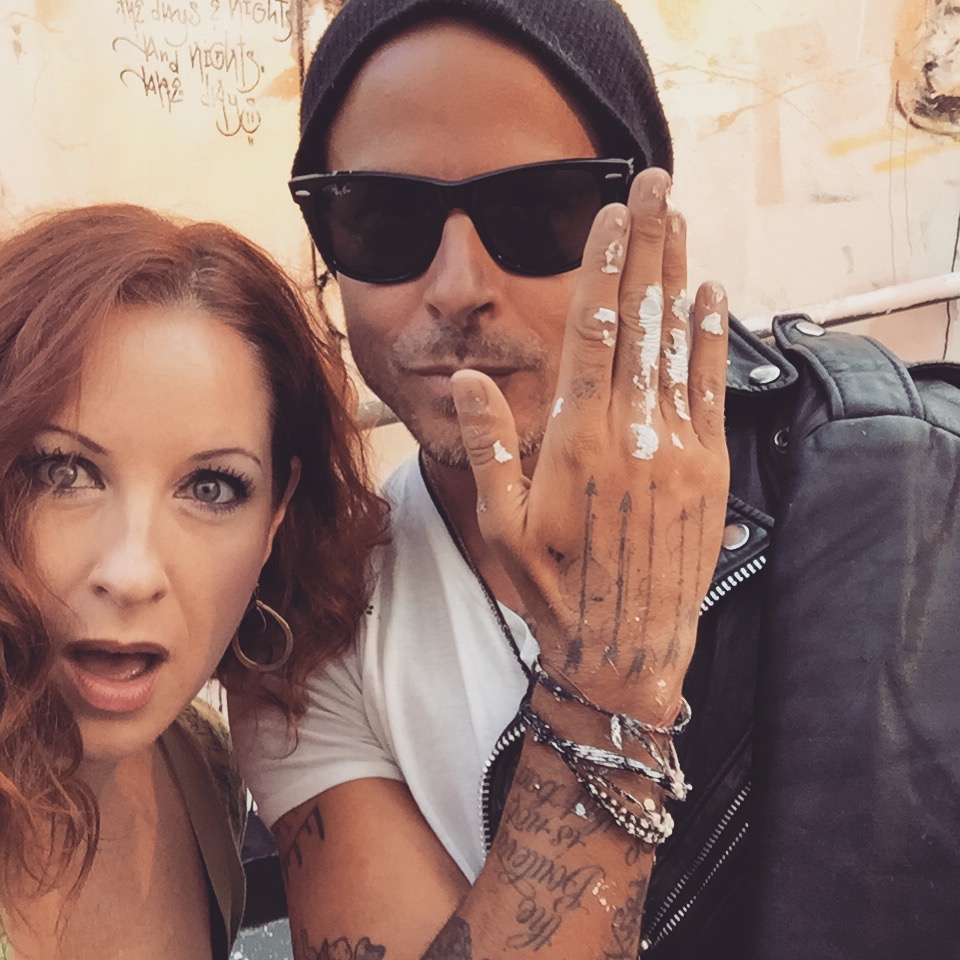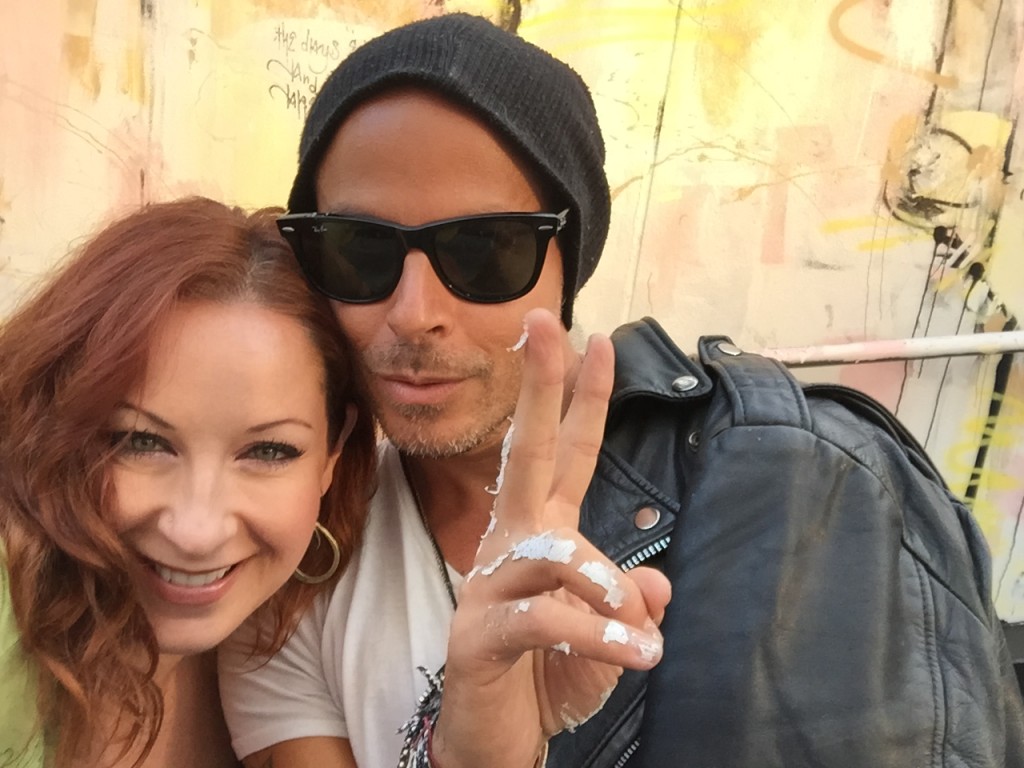 [separator type="thin"]
Art Basel Kick-Off at STK Miami with Contemporary Artist Louis Carreon
Tuesday, 12/01/2015 – 08:00 pm – 11:00 pm

STK Miami
2311 Collins Ave, 
Miami Beach, Florida 33140
Website 
Cost: Free
STK Miami and Contemporary Artist Louis Carreon present The Drip Factory Pop Up Gallery. Louis will be unveiling his new works created exclusively for STK Art Basel 2015.
Live Painting by Louis Carreon
Hosted Bar & Bites
Beats by DJ What
[separator type="thin"]
Artist.   Painter.   Photographer. 
by Louis Carreon

In Focus – Louis Carreon d3 from Matt Maloney on Vimeo.
I come from the world of graffiti and started painting in 1990.  I design and conceptually create unorthodox street campaigns to reach a target audience in a way that is organic. I am the marketing director of one of the coolest hospitality groups in Los Angeles.  I have lived and painted all over the world.   I collaborate with some of the largest brands,  paint for some of the greatest people and always keep my ear to the street and serve pop culture as an innovator.  I use my camera to take pictures of beauty in a simple form.
I am currently working on a coffee table book that will feature my Painting, Photos, Poems from prison, and Short Stories of my past.