#TuesdayTalks with Michael Chernow
On Life, Love, Hidden Treasures and Fatherhood
An inside look at the man behind FYI's New Show, "FOOD PORN".
[dropcap letter="M"]ichael Chernow may be one of the hottest new hosts on TV exploring the phenomena that is
food porn
, but he also happens to be a rather kind, loving and generous man. With a story that begins in New York when he and restaurant partner, Daniel Holzmsan were kids and came up with the big idea to own a restaurant everyone would want to eat at, immediately he catches your attention. From early on, Chernow was a big visionary. He could see the grand scope of an idea and from that point on decide it had to happen. Thankfully, for the rest of us, those big ideas materialized. As the host of the hit TV show,
#FoodPorn on the FYI Network
, the owner of two restaurant concepts, there's more to him that makes up his story like how he met his wife, Ford Model
Donna Hemmingsen
by swooping in while she was on a date with someone else, and his latest love of being a new father to their son, Finnley.
Michael Chernow has done everything from modeling to riding along with his dad on real life treasure hunts. The point is, he isn't your average guy. We reached out to him for a little insight into the man behind the camera and I'd like to personally thank Michael for the openness, adventure, and overall genuineness in his responses.
[separator type="thin"]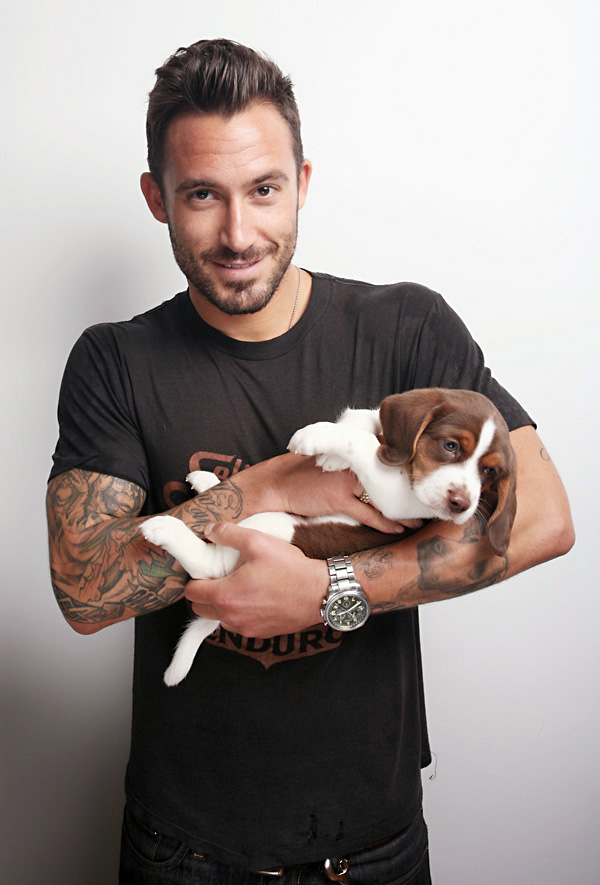 I read that Zeppelin is your go-to for dinner parties. If you had to pick between the albums: Zeppelin or Zeppelin II or Zeppelin III, which one is the one you couldn't go without?
Not a fair question. I love them all.
At 23, you gave up drinking, smoking, and drugs but once a week, you smoke a Cuban Cigar. Do you have a weekly ritual for "cigar time"?
Cigars! Oh I love my cigars, but that once a week has shifted to about once a month. I don't have a ritual for when I smoke, I just do it when I can. It is harder to smoke in NYC in the colder months because I hate smoking inside. I love nothing more than smoking a great cigar on a stoop somewhere in NYC. I typically smoke alone.
What would you say is one of your favorite things about your wife?
My wife is my rock. She is the greatest supporter, I would not be where I am today without her, that's for sure. One of my favorite things about my wife is a recent discovery. Donna is an incredible mother to our boy, Finnley. It was like she was born to do it. I am a lucky man.
Now that you have a baby boy (I think he's about 8 months old now?), what have been some of the best moments so far?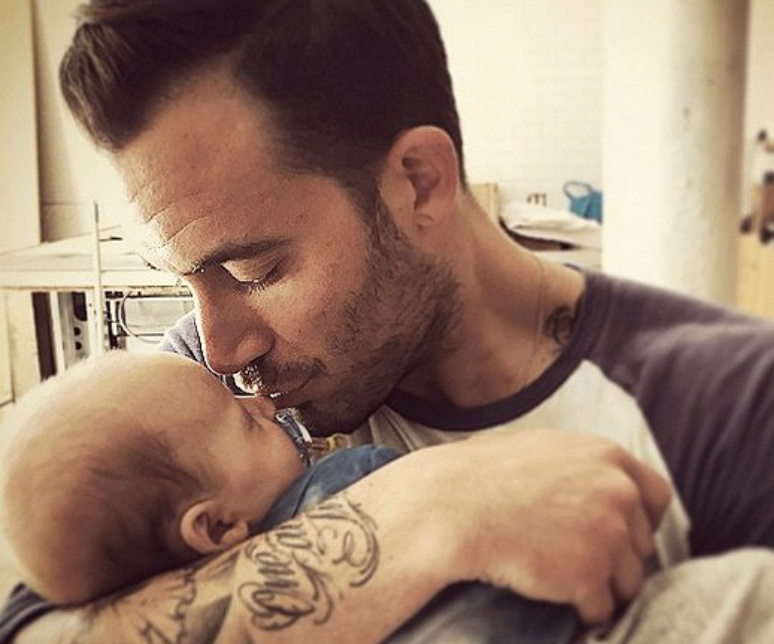 Finnley, our son, has been the greatest thing to happen to us. His, simply put, a miracle baby. Donna and I had a hard time getting pregnant. It took us a few years. When Finn was born, he was constricted by the umbilical cord and wasn't breathing, truly the scariest moment in my life. Within a minute or so after he was out, they were able to revive him. Once I heard the cry, I felt my heart, actually felt my heart. Crazy feeling.
He was put in the NICU for 24 hours. They had to thin his blood a bit as his red blood cell count was very high. This is what I mean when I say, miracle baby. Every single moment with Finn is amazing for me. He has been smiling since he was a few days old. For real, he's the cutest, sweetest, most happy kid and I don't just say that because he's mine. Ask anyone that's met him!
We stayed in Brooklyn untl we felt comfortable with having a baby and after about 10 days, then we escaped to our Upstate home for two weeks. We both shut off the computers and phones and enjoyed our new addition. A moment I will never forget is the first night upstate. I made a fire in the fireplace, put on some Crosby, Stills, and Nash and we both cuddled up with our boy. This was a special moment for me.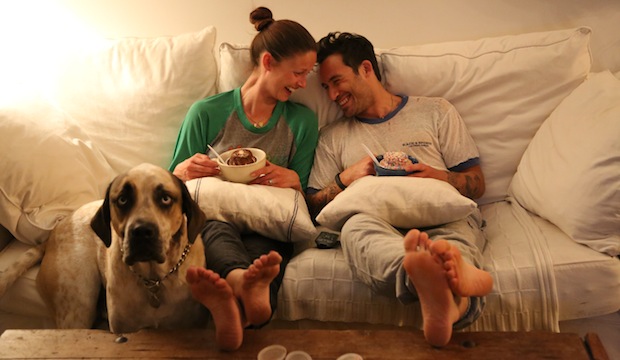 After everything I've read, I think one of the most endearing things about you is that you're always in search of random finds – and ones that don't cost a fortune. Is it the story of old things that intrigue you? The rare street finds?
My father was a flea market junkie. He used to drag me around to them with him when I was a kid. I hated it. When we were thinking of what the feeling of the "Meatball Shop" should be, what it should look like, I decided that old school New York – REAL old school like 1920's/1930's style – would offer authenticity and comfort.
I began driving to flea markets and huge antique shows. This is when I got the bug. I am definitely inspired by older things. Old things come with a story, kinda like people. It is more interesting talking to a 75 year-old about the "olden days" then talking with my friends about what happened last week. The street finds and flea market gems tell a story that inspire me to get creative.
Most interesting "treasure" you've found as you and your wife stumble upon unique pieces?
We always find incredible things. Our apartment and upstate home are filled with epic finds. One thing we both love is a handmade, big wooden trunk we found up in Brimfield. It has the year 1799 carved into it and an eagle with the American flag in the shape of a shield as it's body. The flag has 15 stars on it. It's a super cool piece that greets you as you walk into the house. It was a whopping $150!

You mention thinking of yourself as an artist as you design and take pictures around town. If you describe the way you see the world and its potential, what would you say?
For me, life is about how you respond to it. I have learned that I have control of nothing outside of my response to what goes on around me. That said, I can definitely influence my surroundings and choose the places and people I hang out with. I try not to analyze what is happening in the world today. I try to be the best Michael Chernow I can be everyday. There is a huge difference between reacting and responding. You react to a situation fast, without thinking. You respond, after some thought, even if for just a few minutes.
That small window we give ourselves is pricless. If more of us responded to situations, I believe we would be in a better place. The last thing I'll say is that culture is everything: In family, business, and in life. Life without culture is dead. I try to offer a bit of culture everyday through ritual, expression, and kindness.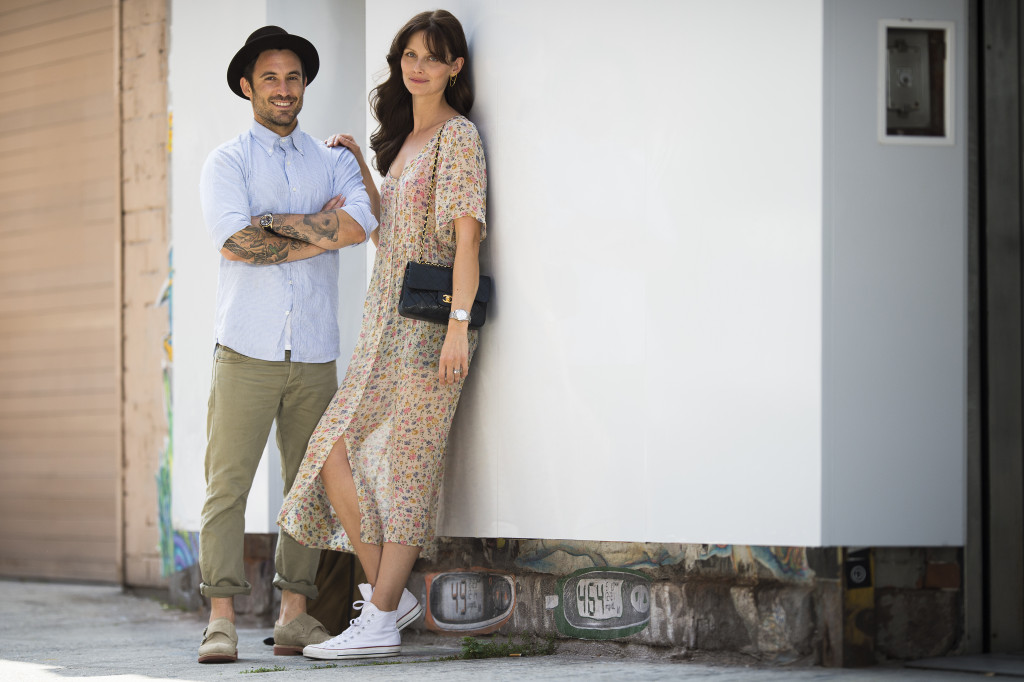 Best advice you've been given as: 1) A Chef, 2) A Husband, 3) A Dad, and 4)A TV Host?
I don't consider myself a chef. More of a food expert so with that said, "Cook food that you love; solely trying to impress the guest takes the heart and soul out of the dish".
Communicate like your life depends on it because it does. Do not hold onto anything and never go to bed angry at each other.
Make time for your kids because every moment counts. I have to say this to myself more often than I'd like to admit, but it is the one thing I know is true in the short time I've been a father.
Forget the camera, be yourself. They chose you for who you are. Oh yeah, and you can never give a segment too much energy. The more energy you give, the better the segment will be even if you feel like you are pushing it. The camera dumbs down energy more than you can imagine.
You can catch Michael Chernow on Food Porn on FYI, stop in to dine at The Meatball Shop or Seamore in New York, or maybe spot him, Donna and Finnley out searching for rare finds. Don't forget when you post photos of the sexiest, most phenomenal food you come across, use the hashtag #foodporn. Your gem photo of a culinary creation might just end up on Food Porn!
My favorite and latest find: Vanessa Lianne Jewelry
You can catch my interview with Designer, Vanessa Lianne next month in ATOD Magazine.