Christian Siriano #RockTheDots
A Fashion Event For the Ages.
cover photo courtesy of Disney. Gallery photos by Dawn Garcia.
[dropcap letter="A"]nyone who is a fan of
Disney
knows
MinnieMouse
has rocked her polka dot style and we were invited to get a preview of the brand new dress created for her by Fashion Designer,
Christian 
Siriano
. As we arrived at the popup gallery located in Downtown Los Angeles, to our right was a red carpet dressed with polka dots and the phrase
#RockTheDots
. The space was decorated with celebrity photos donning their favorite Disney apparel whether Mickey + Minnie Mouse ears or polka dots, and it was clear from
Madonna
to
Naomi Campbell
that Minnie has had an impact on everyone.
After a glimpse at the gallery, it was time to meet Minne and Christian and get a look at the fabulous new attire he'd designed.
Minnie was dressed in a delicate pink dress with white bows adorned with perfectly placed Swarovski crystals. I love the extra details Christian adds to this collection. Growing up, he was a huge fan of Disney as most designers are. Inspired by the fantasy world, he was drawn to the styles and fashion of Disney Princesses with their ornate gowns, detailed fabrics and beautiful lines. In fact as a kid growing up, he decided one year to be six different Princesses and would come back in between trick or treating to change into a new costume!
"I love that my mother totally let me do it! It was hilarious, I was like 5 years old but, looked fabulous!"
His favorite has always been Belle saying she was beautiful and smart but he also adored Princess Jasmine because she was the first one to wear a two-piece: a crop top and pants ensemble! Even at a young age, he saw the world through a fashion lens.
"With the new Disney movies set in live action, I love the fashion. I think it's so interesting because it's so iconic and the clothes play such an important role!"
He talked a bit about Minnie's style and said one day it would be very cool to see Minnie rock something in printed polka dot and lace. All in all, Christian Soriano has the most playful approach to fashion with the respect for the gorgeous fabrics to choose from, the elegant lines that gravitate towards vintage, and an openness to explore the wonderment of bringing together fantasy, sophistication, and undeniable style. I sat down with him with him to learn more about the man behind the designs …
[separator type="thin"] [columns_row width="half"] [column]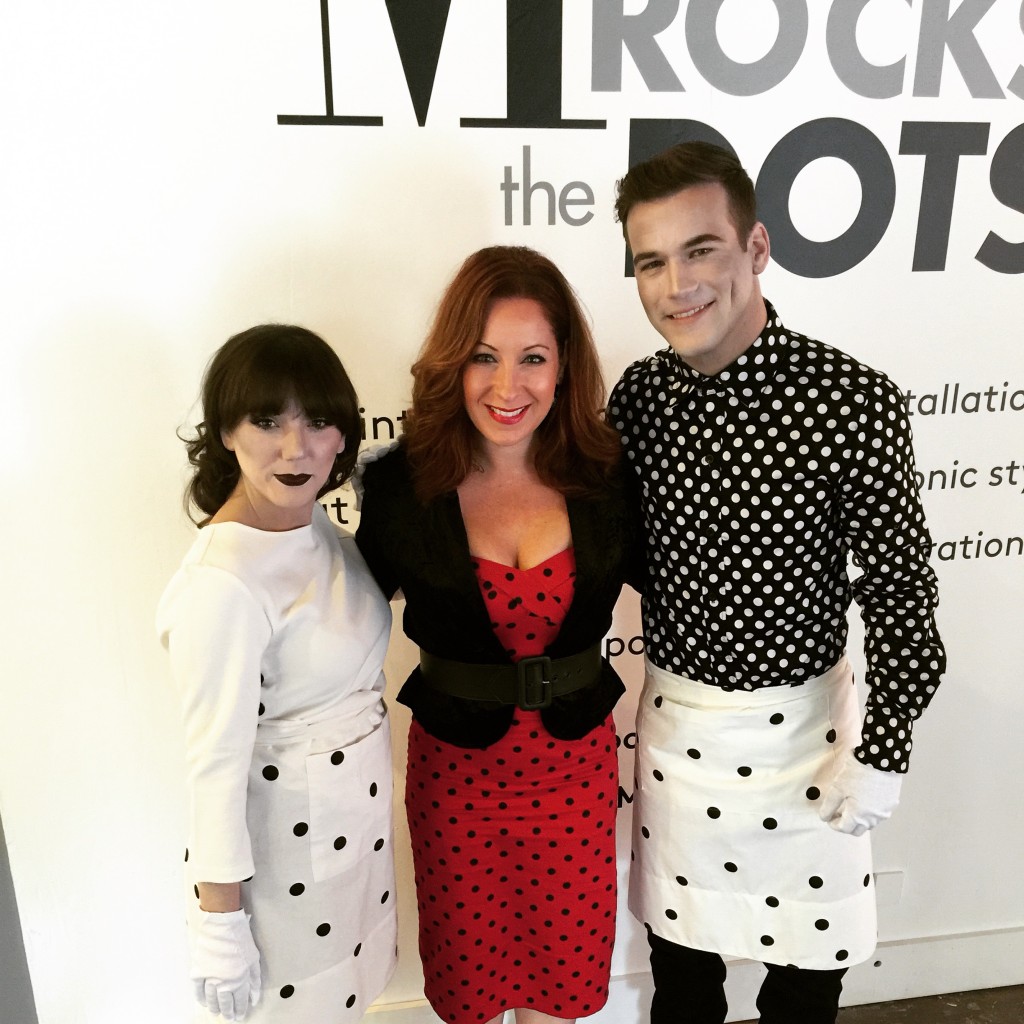 [/column] [column]
[/column] [/columns_row]
First of all how did you come to partner with Disney on this project, #RocktheDots?
Disney just reached out and asked if I would ever want to make something for Minnie and who wouldn't! I worked with them last year – I did a custom piece for the Pirate Fairy film so hopefully, I'm in their rolodex!
I love that you used Swarovski crystals as the "dots". From concept to implementation, how long did it take you?
I worked on it over a couple of months. It was inspired by a dress I was doing for my Pre-Fall collection and then we chatted with Disney, after talking, we felt because her iconic dress was already polka dot, we all wanted to modernize it. So that's why it's not a polka dot fabric, we did it with the adornment which was more fun and makes it kind of cool. They just wanted a fun party dress and that was that.
I love that it goes with your current collection!
I really wanted it to fit in kind of with what I have been creating for my clients and stores and what they would want to wear. Minnie is just as great!
What would you say you relate to most about Minnie?
I think for me, Minnie makes you feel good. What she's wearing, what she's feeling, what she's doing and that's kind of fun for fashion. That's what fashion is supposed to make you feel like. I love that she appeals to everyone. Whether you're 3 or whether you're 80, I think you have a piece of Minnie in your wardrobe or in your life.
When asked what the most fashionable way to wear polka dots is, he took a deep breath and said there are TWO ways:
I'm really into going for it. Like full on polka dot dress, I don't even care if your shoes are covered in it. I'm either into really just doing it completely or –
I'm really into the subtlety of having it on your t-shirt and wearing it with something cute like jeans and a leather jacket. I like the two extremes.
I think polka dots is a great fabrication and print that has become iconic in and of itself.
If you could pair polka dots with another style, what would be another texture you'd pair it with?
Oh gosh, let me think about that one. I'm definitely into the basic black and white polka dots but I also love when it's multi-colored and textured. That's a new way to wear it which is nice to see. 
Do you have a favorite color? In life, in polka dots, on clothes?
You'll probably hate my answer but I don't have a favorite color. One season I'll love a color and then use it, but by the next season, I'm sick of it and ready for something different. In polka dots though, I really like a black and white polka dot. 
Does any color make you particularly happy?
All colors do! In the office, with my team, they go with it because I'll be in love with one color like mustard and then decide I love lime green. I think colors in general are a beautiful thing! 
If you were given an opportunity to design a line for a Disney movie that hasn't yet been made into a real live action film, what movie would you love to design for?
They're creating so many films being made now. I would really be into doing The Little Mermaid because I think it would be so cool, I'd be into a Beauty & the Beast remake but I think Aladdin would be a really beautiful, gorgeous film to recreate. Imagine the castle, the rug, the tapestries, the turbans, the clothes! It would so much fun to modernize that in some way.
Is there a quote that really inspired you?
No, honestly. That's really not my style. I'm a person who just goes with it. I create something and just do it and hope it works out in the end and if it does, great, and if it doesn't, oh well. 
Best bit of advice you've been given?
I actually get really horrible advice so I never really listen to it much. I follow my instincts and strive to make really beautiful lines that people want to wear. The funny thing is no one has had this experience or career I've had. Everything has happened so fast and so different from another designer so I just find what works for me but trust me, I've had some real weird advice. 
I think sticking with my own thing has allowed me to have opportunities like this one. 
We agree! Christian couldn't have been kinder or more transparent and it was refreshing, inspiring, and clear why his visions will continue to grace fashionistas for decades to come. Minnie's #RockTheDot campaign has inspired all sorts of designers and you can find Minnie-inspired lines in some of your favorite stores and even at Sephora with an inspired makeup collection! And I'm sure, somewhere down the line one of Christian Siriano's lines will show a hint of Minnie (and we look forward to it!).
You can peruse his current line and get a glimpse at what's to come at:
[separator type="thin"]