BoConcept Brings Design To You
More than just concept design, the Adelaide is my new favorite addition!
BoConcept | 434 N La Brea Ave. | Los Angeles, CA 90036
[dropcap letter="F"]urniture is one of the more personal aspects of home décor. Personally, I'm a sucker for gorgeous, modern design with touches of vintage lines and classic textures.
BoConcept
is a store that appeals to the most discerning aspects of my personality. With the recent addition of personal designers at your service, BoConcept is raising the bar in service, design, and experience. Highly educated and skilled interior designers in-store can schedule time to come to your home, free of charge, to assess your space and find the best pieces to fit your home, style, and overall vision. For anyone with the expectation of translating their vision into reality, that is something you strive for.
Recently, we went into the BoConcept store on Fairfax to meet with Interior Designer, Judy Kater to construct our very own Adelaide chair. With a slew of design options available from fabrics to functionality to the legs themselves, the experience was one to cheer about. First off, as we enter, it's near impossible not to be lured in by the sleek lines and beckoning pieces. With sofas that are not simply modular but easy-to-clean and comfortable, or coffee tables that transform into a game table, additional seating options or that big family dinner you're eager to host, everywhere you look, something catches your eye. Whether you are into muted tones or stark whites reminiscent of vintage pieces, I adore this store.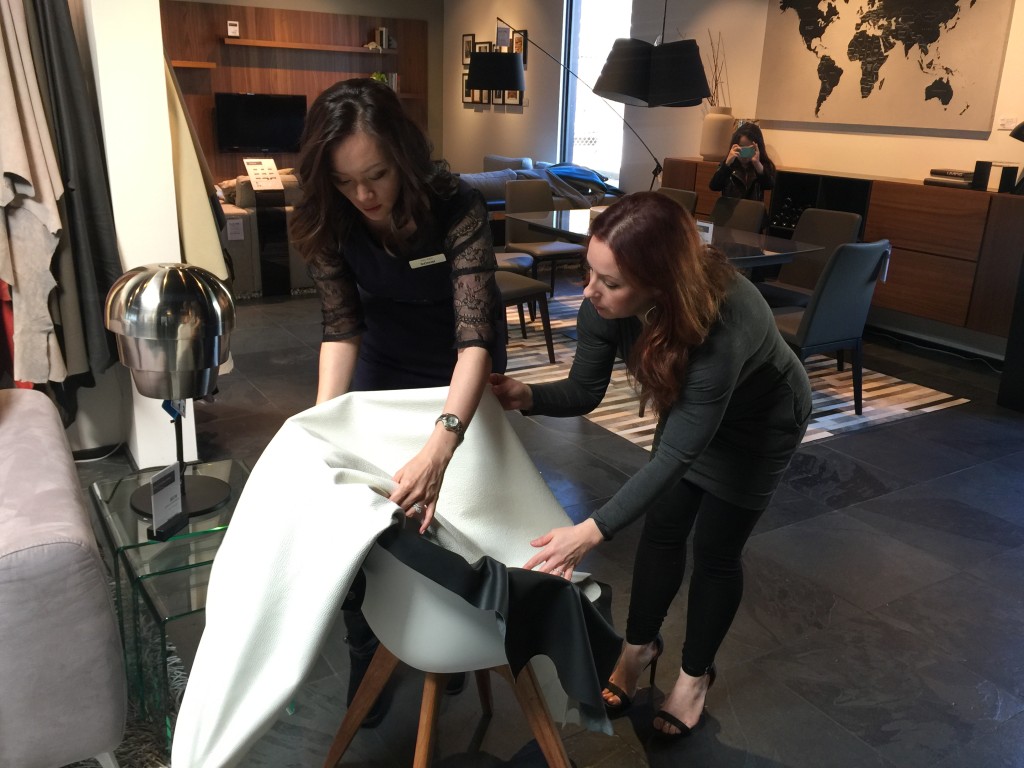 Judy came over and said hello and I'm confident I've never had a design conversation with a more savvy gal. Having recently welcomed her child into her world, we took a moment to bond over motherhood and then we naturally progressed into discussing the importance of beautiful and functional design. With a degree in Interior Design, Judy walked me, my daughter and partner through the store aptly prepared to educate us on the design choices behind BoConcept, the versatility of fabrics and the intention of each factored line. When we came to sitting down and designing our very own Adelaide chair, Judy was so eloquent and helpful!!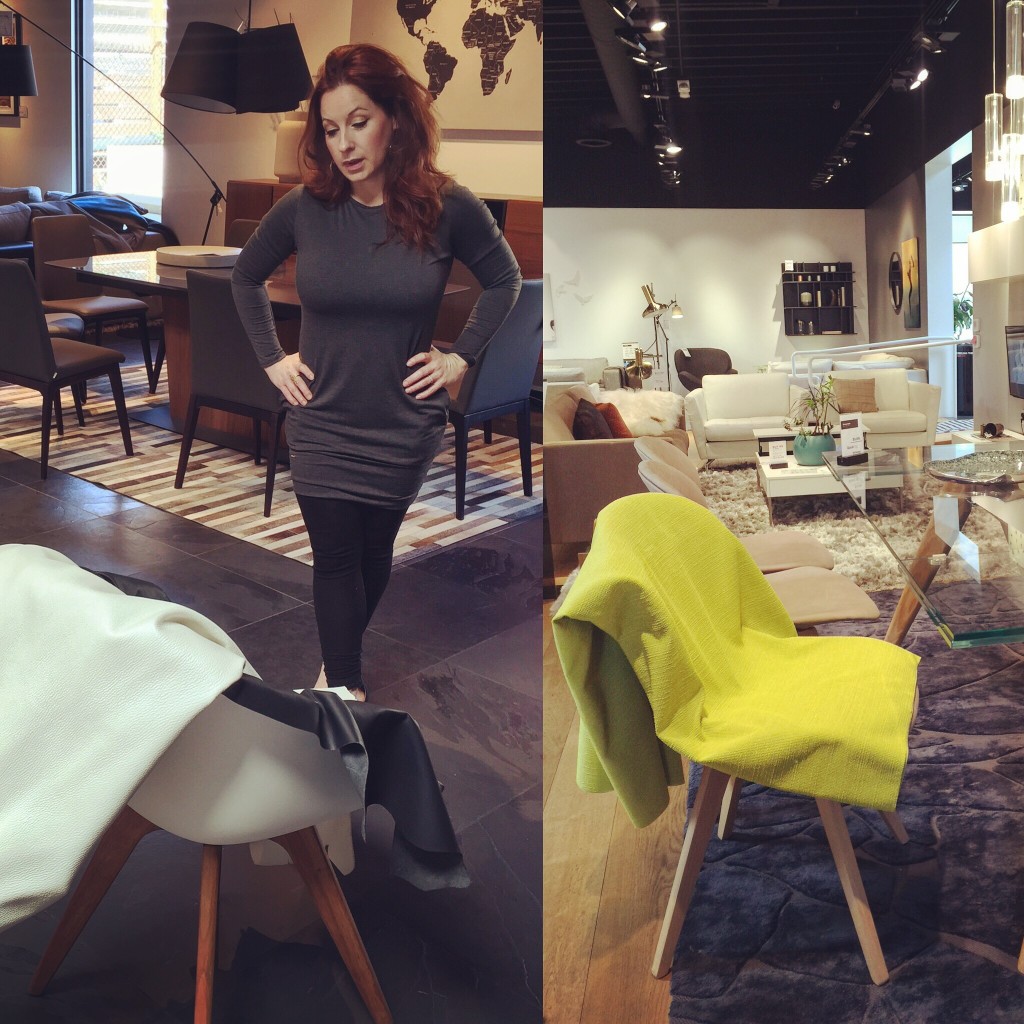 So here are a few things you should know about the Adelaide chair:
Option 1 – Arms or no Arms. (I opt for arms.)
Option 2 – Fabric or no fabric. (I chose half fabric.)
Option 3 – Legs that are wood or metal. (I went with eucalyptus.)
Option 4 – Wheels or no wheels. (I decided no wheels.)
It's available to customize in BoConcept's more than 100 leathers and fabrics, comes with or without armrest and with many different legs.
Below is a mockup of what the chair will look like (though the legs I chose will be darker, providing more contrast).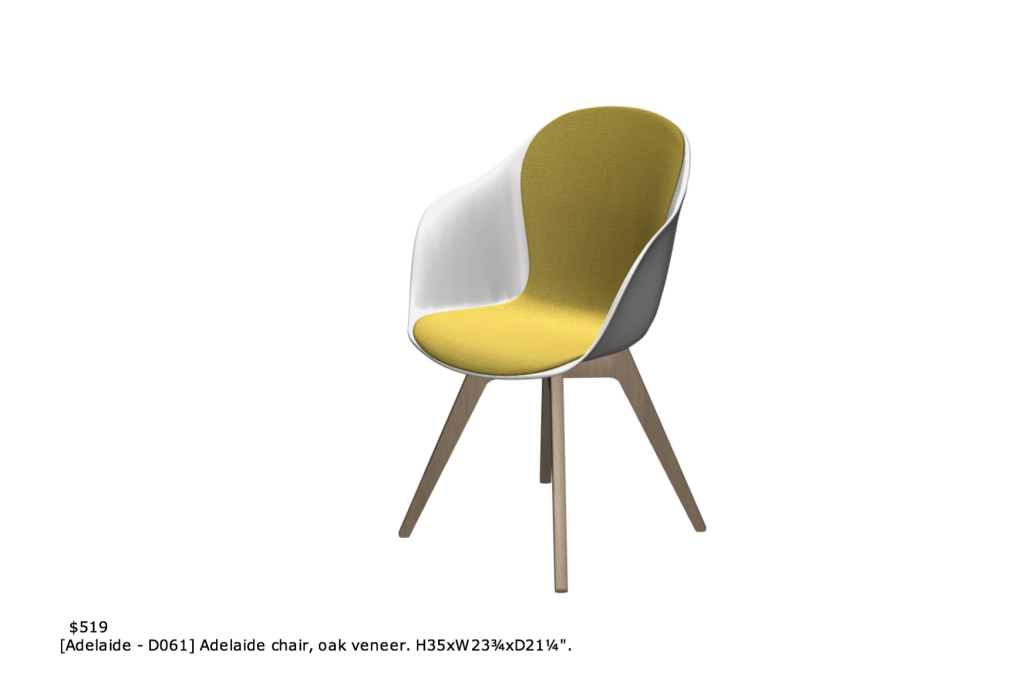 In addition to the chair, I was also given this fab grey vase! It's from BoConcept's Essentials collection that consist of classic accessories that don't go out of style.
This experience was enlightening and exciting! Not only do I have a spectacular new original piece being crafted to my specifications, I have a piece of furniture that is a statement piece in and of itself. With the bright contrast of the limoncello yellow, the stark white of the body of the chair, and the sleek eucalyptus legs, I can't wait for this to be in my house!
These are the things that truly separate BoConcept from other design stores. Their stores around the country and the world can boast innovation, efficiency, longevity, timelessness, affordability, and above all, quality. I'm already planning my next trip so I can work with Judy again to find the rest of the pieces to complete the look I'm going for. Knowing I can utilize her expertise and ability to take my living space and craft it specifically to fit the furniture and decor I want not only gives me peace of mind, it's something to look forward to!
To book your design appointment, visit the BoConcept nearest you.
The film above starring Mads Mikelson is just one more reason I love this store. They don't see anything as ordinary. EVERYTHING has potential! 
[separator type="thin"]
BoConcept is the brand name of Denmark's most global retail furniture chain with more than 250 stores in 60 countries around the world.
Passion at our core
Passion and persistence are what move the people behind the BoConcept brand, whether they are designing a wall unit, leading a team, or managing a store. Our common mission is to make modern design furniture available to the urban-minded customer.
Our furniture and accessories
We offer customized, coordinated and affordable design furniture and accessories. Customized because our products can be fitted to the needs and dreams of our customers. Coordinated because we take a holistic approach in the development and design of our product range. Design because we are a design company with our own designers. Affordable because we want to spoil our customers by giving them great value.
Our Stores and Studios
Visit one of our Brand Stores, Inspiration Stores or Studios around the world and get professional advice about your home interior. At BoConcept, we are passionate about what we sell and take pride in achieving the best results for our customers. We have skilled interior consultants who care about furniture and urban design as much as you do. Their design and product knowledge can help you make the best choices for your home.
Our first BoConcept Brand Store opened in Paris in 1993. All BoConcept Brand Stores are situated at high traffic locations while BoConcept Inspiration Stores are smaller stores located in easy-to-reach central locations. Studios, inside other furniture stores, are located in most of the countries in which we are represented.