Woodford Reserve: Women & Bourbon
It seems Women Love Bourbon!
photos courtesy of Woodford Reserve
[dropcap letter="I"]nvited to attend a
Women and Bourbon
tasting at the
Palihouse in West Hollywood
hosted by
Woodford Reserve
, I joined a thirsty group of women and brought along my lovely friend, Stephanie Kordan (aka
The Sensual Foodie
) to partake in this Southern spirit. There to learn about the history of bourbon, the growing trend of women drinking it, and gain insight to Woodford Reserve from the experts themselves, it was the perfect interlude to the week. As I enter into the posh boutique hotel, the LA
cool
is ever apparent. Chic decor that boasts design blends of vintage with contemporary, bohemian and sophisticated, it's no wonder this place is always packed! It's LA the way it should be.
Descending down the stairs into the room where Woodford Reserve awaits, I make my way to the gorgeous outdoor patio where New York Mixologist, Pamela Wiznitzer is creating her take on an Old Fashioned. First of all, she is stunning in her two piece black ensemble that accentuates her curves and killer arms (yes, I think we all had arm envy that night) but even more than that? The girl is a rockstar – and incredibly sweet! She makes cocktails approachable and not at all intimidating. Mixing up her own concoction using Woodford bourbon as the base, let's just say this drink was made with the attention to detail we should all expect. This was a well balanced cocktail.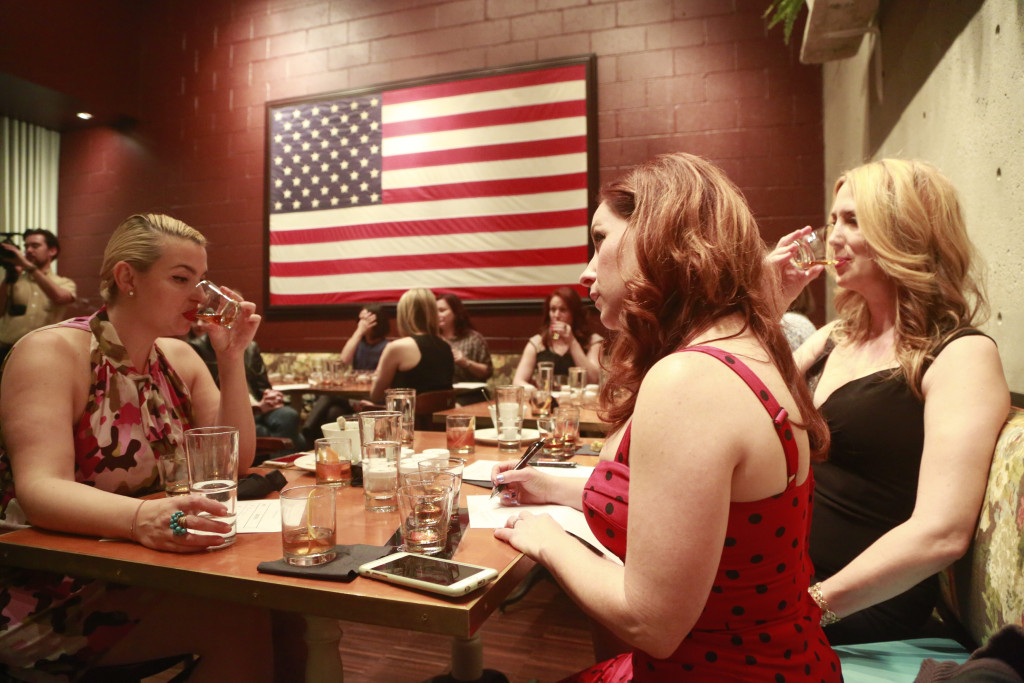 Now to get to the bourbon: First off, I was surprised to learn that women are the fast growing bourbon drinkers around. Perhaps we were inspired by watching that infamous scene from Breakfast at Tiffany's or maybe we just tapped into our inner beast and decided things like Bourbon, Whiskey, and Scotch weren't just for men. (And they aren't.) It also must be said that scientific studies have shown that women have far more complex palates than men and can taste more of the subtleties that exist in what they drink or eat. Perhaps that's another reason spirit companies are finding the ladies flocking to their brands.
As the evening gets on its way, a tasting ensues. Tasting a range of 3 spirits from the Woodford profile, each of us are given a plate consisting of the following: Aged Parmesan Cheese, a Toasted Hazelnut, a Dried Cranberry, an Orange Wedge, a high-grade Dark Chocolate, and a small scoop of Sorghum Syrup. Each ingredient is meant to offer a totally different experience with every sip of the Woodford Reserve Distiller's Select Bourbons. And they do. I was pleasantly surprised to find such a breadth of flavor profiles extending far beyond the first sips.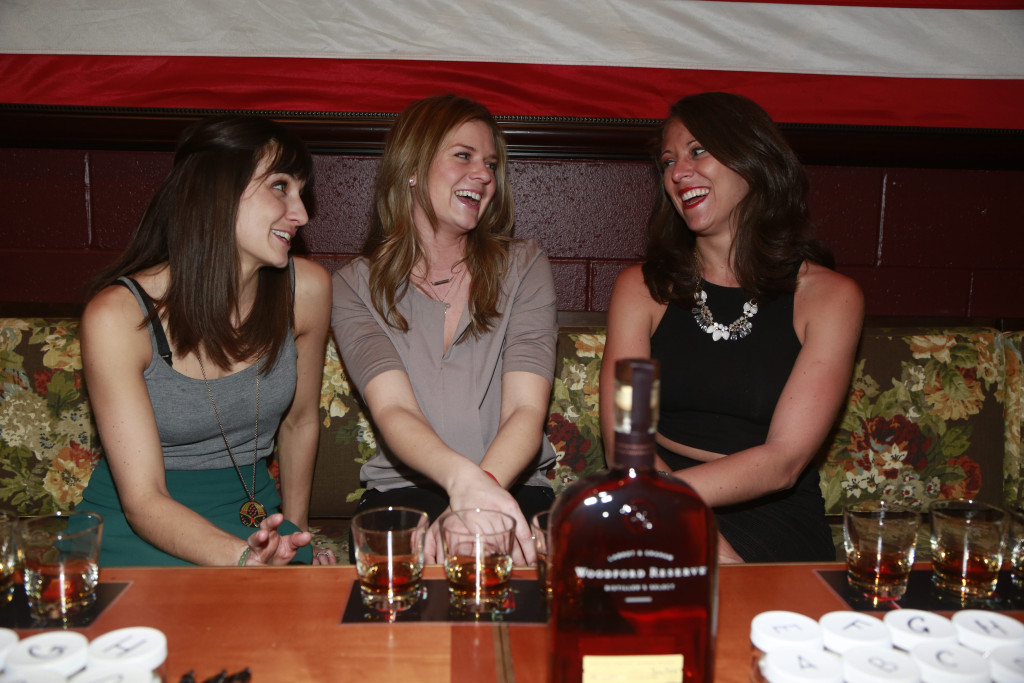 While we also had the pleasure of doing a "smell" test (which I definitely want to do again), it was the experience of learning just how to sip and allow the natural components of bourbon to really entice your taste buds and excite you that made an impact on me.
The tasting was a lot of fun and being in the company of the three women hosting us was what really took it to the next level: Woodford Reserve Master Taster Elizabeth O'Neil, a true innovator paving the way for females in the industry, "How-To Hostess" Brittany Gilbert, giving us the 411 on America's spirit. And of course, we learned how to mix LA-inspired cocktails with NYC-based bartender, Pam Wiznitzer.
The video above is of Pam teaching me how to make a Brown Derby and I must say, that might have been the most fun!! Her patience in teaching the art of cocktail mixing mirrors her passion for what she does. The evening was a huge success and being in the company of so many savvy women was a bonus.
Now I'm hoping that the next Woodford adventure means I'll be at the distillery in Kentucky to experience this beaut firsthand! Thanks to the Woodford crew and Pam for treating us to a wonderful intro to bourbon.
[separator type="thin"]
Woodford Reserve isn't manufactured, it's crafted in small batches. This artisanal process allows them to craft using all five sources of bourbon flavor giving it its distinct taste and crisp, clean finish.
Learn more about the brand and doing a tasting yourself!
[separator type="thin"]
2016 KENTUCKY DERBY® BOTTLE
Celebrate Kentucky Derby® 142 in style with the 2016 limited edition bottling of Woodford Reserve bourbon, featuring artwork designed by artist Thomas Allen Pauly. Check with your local retailer for availability as supplies are limited.
[separator type="thin"]