The Springs LA
a mecca of well-being
photos ©by Vincent Madero
[dropcap letter="T"]he
Springs LA
can best be described as an earthy, industrial mecca of clean eating, unique wines, yoga and a spirit of overall well-being. Situated in the heart of Downtown Los Angeles,
the Springs
invites you to elevate your expectations, tap into your inner vegetarian and welcome an exciting array of cuisine created by Chef Jasmine Shomida. No matter how you slice it, this vegan/vegetarian eatery is one I am thankful to have come across. Before we delve into the specifics of a well designed culinary experience, we had the pleasure of sitting down with Chef Jasmine. We got to know her a bit better as well as learn what inspired the creation of the menu.
608 Mateo Street, Los Angeles, CA 90021 | M-Sun 9am-4pm | Golden Hour M-Fri 4-8pm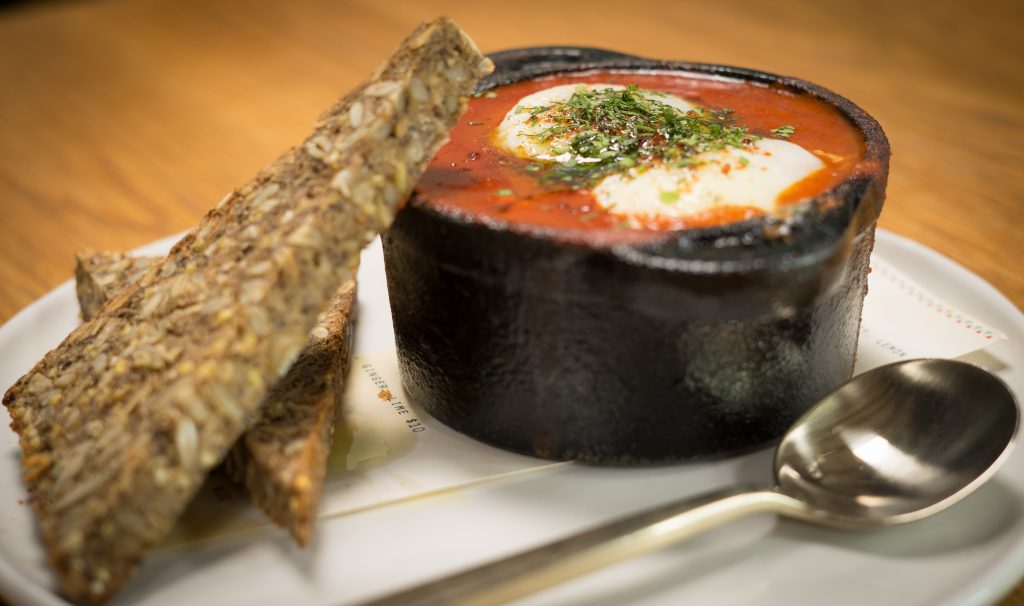 What inspired you to do the baked eggs for the Shakshuka dish? 
When I first moved to New York I lived in the East Village around the corner from a restaurant called "El Mogador." This became my favorite brunch spot and I almost always ordered the 'Middle Eastern Eggs.' I loved piercing the egg with warm bread and swirling the rich yolk into the piquant sauce. It's a dish altogether exotic in flavor and comforting in texture and temperature.
Are there any ingredients you really love playing with in the kitchen?
Star Anise, Hijiki, Burdock, Tumeric, Ume Boshi, Lemon Verbena, Kinome, Smoke, Pandan. Haha, must sound like some kind of witchy brew!
What is the most challenging dish on the menu to create?
I conceived the menu at the Springs to be simple, inviting, ingredient forward, accessible and vibrant. Each dish is thoughtful and based in solid technique yet not at all overcomplicated. I plan on doing a cooking series soon to teach home cooks how to elevate simple ingredients into inspired restaurant worthy dishes. 
How would describe the story behind the cuisine at the Springs? 
A New York Chef comes home to California returning to her plant based roots and putting her spin on it …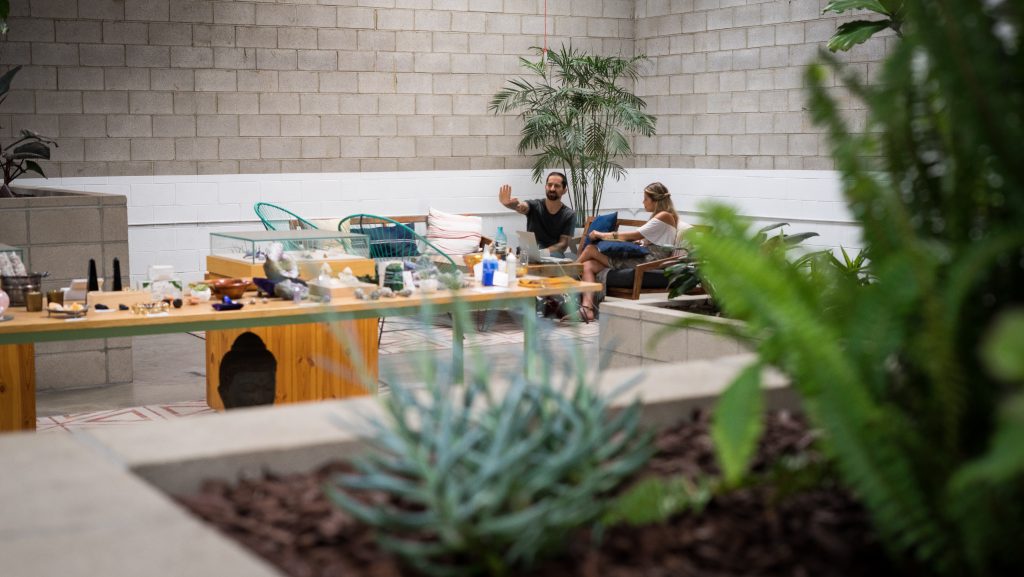 What is your guilty pleasure?
Ben & Jerry's 'Phish Food.' I have a voracious sweet tooth in general.
If you could go explore any place in the world in terms of food, where would you go?
Japan! I would love to study kaiseki cuisine. I imagine growing and tending to my own vegetable garden and learning to cultivate, harvest and prepare what I grow in harmony with the seasons.
Chef Shimoda is not only a sweetheart, she sees vegetarian ingredients not merely as a landscape on which to create but a means to a total sense of well-being.
---
So, let's talk about what we ate … and drank.
We started our meal going straight for something fierce: fresh pressed juice and a smoothie. Our picks? The Forager + Scout's Honor.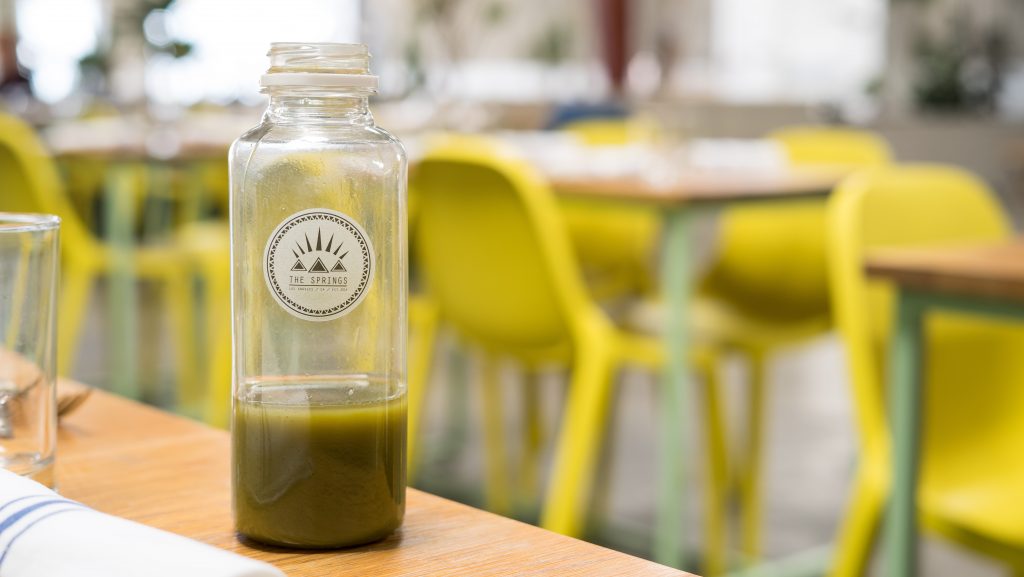 Forager
apple, fennel, cucumber, basil, cilantro, parsley, dill, lemon, lime
I would drink this at the start of every day. It really does taste like you went out apple picking only to find yourself having taken a turn that landed you in a plentiful herb garden. No herb takes over another and the lemon, lime and apple balance it all out.
Scout's Honor
strawberry, pineapple, banana, almond milk, lucuma, vanilla
Smooth, well balanced, and devilishly good enough to forget it's actually good for you!
And now … we EAT!
Heirloom Tomato Toast
jalapeño cream cheese, fresh herbs, olive oil, seed bread
Who knew tomato toast could taste this damn good?! I don't know if it was the jalapeño cream cheese made out of cashew or the homemade gluten free toast chef prepares daily but from the traces of basil to fennel sprig and the plum ripe tomatoes? This was better than I expected.

Egg Face
scrambled eggs, mushroom bacon, basil, spring onion, foccacia
You know how sometimes you read something on the menu and think, "fake bacon is not bacon"? Well, turns out it might not be bacon but it sure is crispy and bursting with meat-like flavor! I know Chef Shimoda says the menu is meant to be uncomplicated but the mushroom bacon is downright sinful. Seriously. This egg dish makes a frittata or quiche look like a quitter …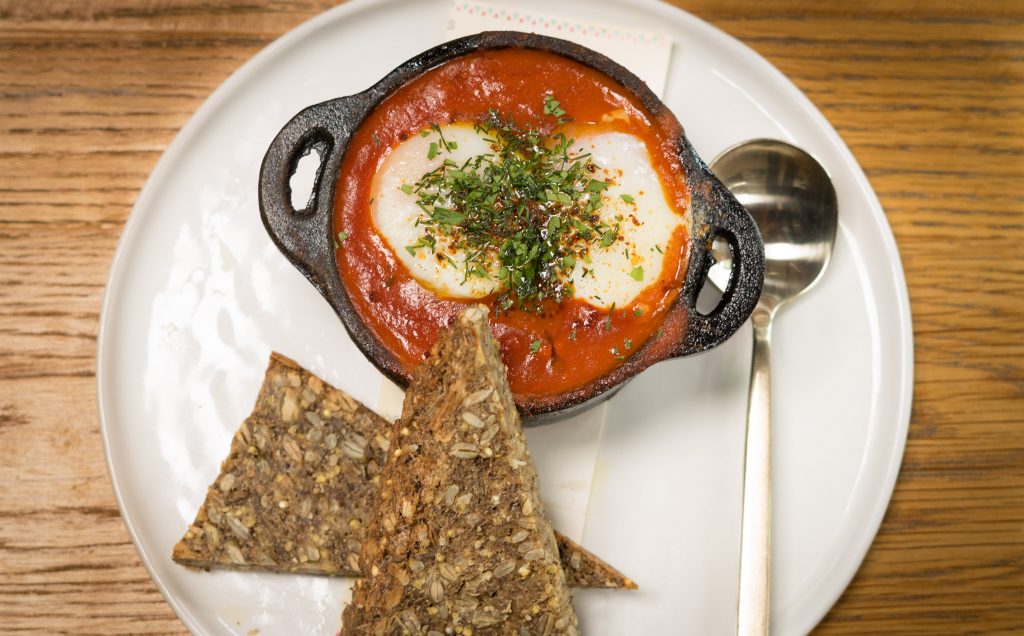 Shakshuka
stewed tomato pepper sauce, herbs, gluten free nut bread, baked eggs, summer squash, cashew cheese
This is a dish that really does take you to a colorful stop somewhere in the Mediterranean where herbs and spices lure you in and taste wins you over. The base of this tomato pepper sauce is heavenly but it's the perfectly cooked eggs – cared for over hours and hours of careful temperature monitoring – that send this Shakshuka soaring. Again I must mention Chef's in-house gluten free toast because it is a whole grain, undeniable exquisite piece of toast. Every grain, every addition is composed flawlessly. (I'm hoping she starts selling it!)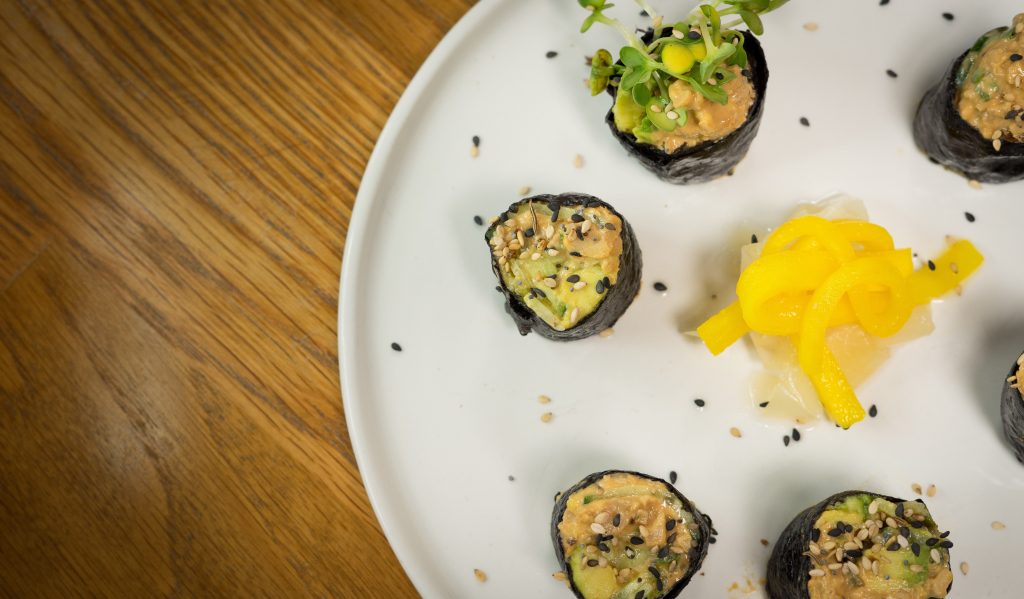 Shimoda Roll
tempeh, cucumber, avocado, mizen, radish sprouts, spicy mayo, nori wrapper
Tempeh is, much like tofu, a tasteless vegan creation. However when prepared well, it begins to mirror the flavors of the ingredients it's created with and this clever vegan sushi roll was good. In fact, strangely enough, it had traces of seafood elements by way of the seaweed so I'm tempted to say true pescetarians may find themselves quite drawn to this. Keep in mind, unlike the photo where chef prepared this for 3 guests to share, it usually comes as a hand roll.
Summer Roll
asparagus, thai basil, caramelized onions, scallion mayo, romaine, pickled jalapeños, fondue, seaweed roll
YES YES YES! For anyone who finds themselves sweet on veggies, this summer roll is everything you hope it to be. The rice paper encasing everything from asparagus to pickled jalapeños makes this one of those treats you could happily eat on the regular. Pair that with her homemade "fondue" and your healthy lifestyle and conscious eating will be forever grateful.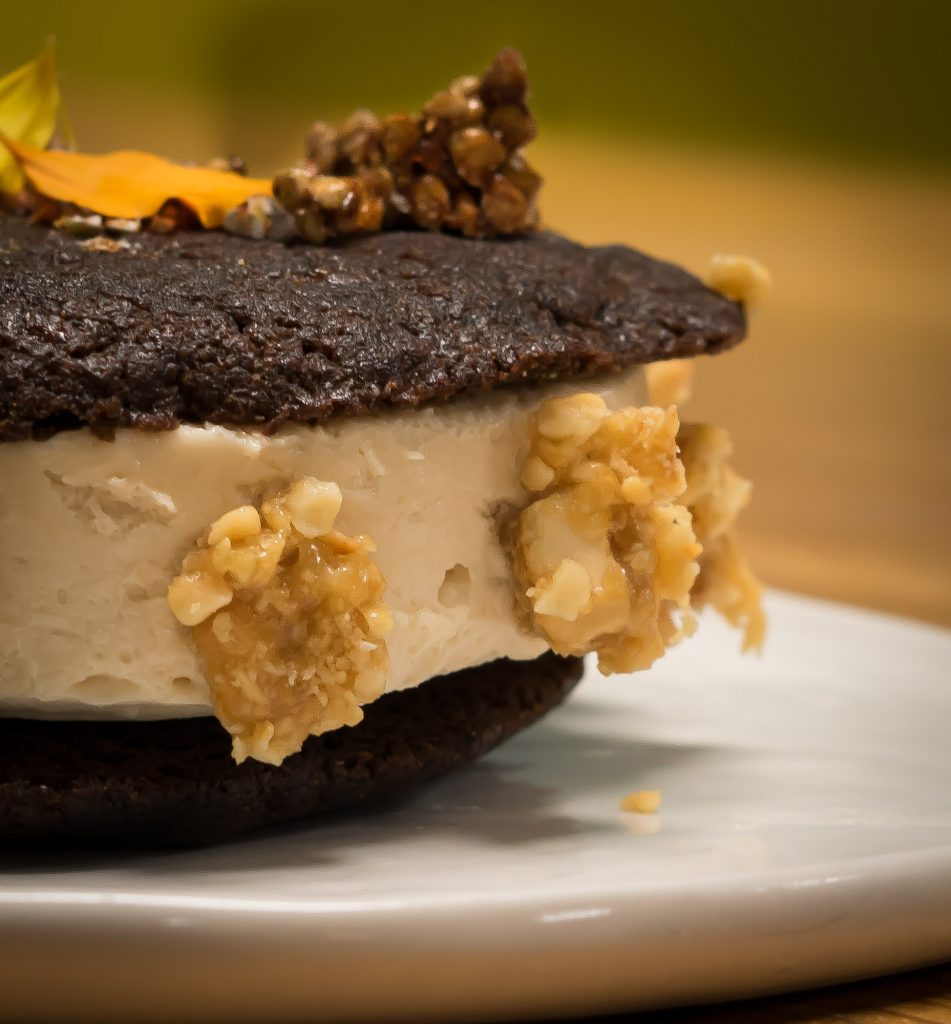 Salted Caramel Ice Cream Sandwich
This is as good as it looks. Every single bite. Forget your run-of-the-mill ice cream sandwich. This wins. Hands down. From the dreamy candied pecans to the salted caramel "ice cream" (made of cashew) will have even those vegan naysayers become a believer.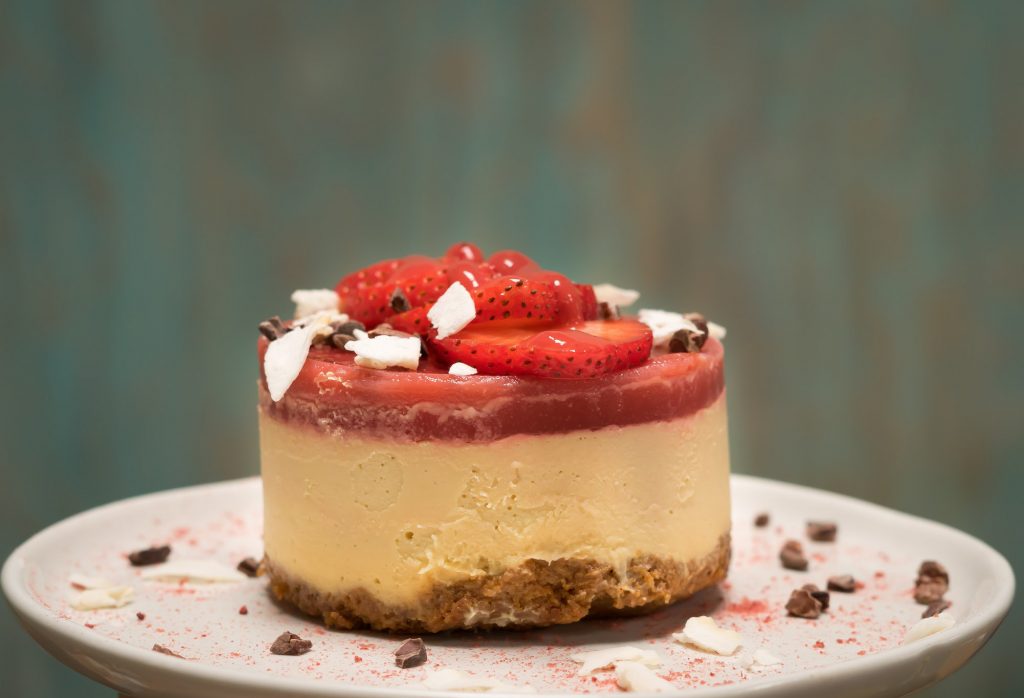 Passionfruit Strawberry Cheesecake w Pecan Crust
Not a huge cheesecake fan, this still rivaled any other cheesecake I've tasted. I preferred the blend of passionfruit and strawberry to contradict the overt richness of a traditional cheesecake. I think for me, while this wasn't my favorite, I'd still say the pecan crust and chunks of chocolate really seal the deal.
Matcha Green Sorbet | Cashew cream base
I saved the best for last. This matcha green tea sorbet tastes like mousse with more creamy texture and balance than any other I've tasted. Granted, it's fully vegan and that would normally make me cringe before diving in but not this time. The color alone is so vibrant and endearing, the minute you press the spoon into it, it's as if your mouth knows what's about to happen and it anticipates the taste. This is terrific! There's no other way to say it.
The cuisine at The Springs isn't your regular, boring vegetarian eatery trying too hard to mask the absence of meat. In fact, it's seamless presentation of elevated cuisine rivals some of LA's most notable restaurants. What Shimoda has done is put tenderness and heart back into vegetarian fare. I brought along two carnivores when we ate here and they didn't leave a trace of food on their plates. That is a testament to the generosity of flavor that takes center stage of every plate we had.
Next time I visit, I'm definitely going for the Avocado Toast and pretty much anything Chef Jasmine chooses. She is beautiful inside and out and her cuisine represents a true affinity for making natural ingredients as exquisite as they can possibly be.
The Springs not only offers a palatable menu, it also has a host of freshly pressed juices, coffees and espresso, plus biodynamic and organic wines (available during the Golden Hour Monday thru Friday, 4-8pm)!