#theATOD5 Gourmet Mexican Food
Los Angeles stops to get your fix
Restaurants Serving up Exquisite Mexican Fare
[dropcap letter="M"]exican food is most every Angeleno's favorite. Spoiled by an influx of Mexican fare ranging from coastal to mountainous to rural to bordering regions, we are a city fortunate enough to have some of the most palatable Mexican food anywhere in the world. With those that emigrated to California from Mexico came extraordinary culture, rich flavors, authentic spices and produce, stories of travel, struggle, passion and most importantly, familial tradition.
Growing up in a mixed family of Mexican, Spanish and Welsh ancestry, my palate was always hungry for bigger, bolder, luxurious cuisine that took me to a place that allowed me to understand the depths of my roots. Thankfully, Los Angeles has been genuinely blessed by chefs and skilled cooks that brought those roots with them. Whether Aztec, Maya, Inca, Olmec, Spanish or South American influence, the breadth of flavors that come from Mexico have a story a story to tell that unfolds every time you take a bite.
Mexican cuisine is gourmet in every sense of the word whether you are feasting on a street taco or you are dining on a Oaxacan delicacy. The point is, your tastebuds find themselves abundant in a provocation that embraces culinary curiosities without ever taking your deep sense of taste and sensuality for granted.
Below are 5 Mexican Restaurants + Eateries in Los Angeles that take you on a journey a bit above the street taco experience. they are by no means overly fancy but they do elevate traditional dishes in a way that appeal to your need for something more.
There are hundreds of options to choose from in this city – and this is only part one of many – so for those of you hungry for Mexican food? We promise … your hunger will be answered. Over and over, gently and intense, like a good love scene in a telenovela.

10717 Riverside Dr. | Toulca Lake, CA. 91602 | DINNER ONLY M-Sun
Named after a rattlesnake, Cascabel is only dangerous because you want to eat there every day! Located inconspicuously behind a dental office on Riverside Drive in Toluca Lake, this Spanish adobe house-turned-restaurant serves Spanish fare with Latin America and Riviera influence. This gem of a restaurant has cuisine that is downright sexy and a cocktail program that incites your thirst. It's my neighborhood favorite.
Our absolute must-eats are: Charred Pineapple Guacamole, Fried Mole Potatoes, Brussels Sprouts Tacos, Vegetable Enchiladas, Short Rib Mole and just about every creation behind the bar.
Alex Eusebio was born in Madrid, Spain, spent much of his childhood in the Dominican Republic and eventually found his way to New York city. There is flair and passion for Latin cuisine had an immediate impact on Nuevo Latino cuisine working alongside such notable chefs as Alex Garcia of Celle Ocho and James beard Award winner Douglas Rodriguez.
Looking for the next culinary chapter in his life, Alex moved to Los Angeles to oversee several restaurant projects – among them Mojitos, EIGHT-18 and Restaurant 15. Alex made his national TV debut on the hit BRAVO reality series "Top Chef" as a season 5 contestant. Immediately after the show Alex and wife Sara opened their first restaurant Sweetsalt (our local staple). Now a staple and crowd favorite in Toluca Lake, CA, the gourmet cafe & bakery has helped put the Toluca Lake neighborhood on the culinary map. Most recently the Eusebios have expanded their restaurant holdings to include the newly opened Cascabel which features Eusebio's hallmark Nuevo Latino cuisine.
---
BS Taqueria | Downtown Los Angeles
 514 W 7th St. | Los Angeles, CA 90014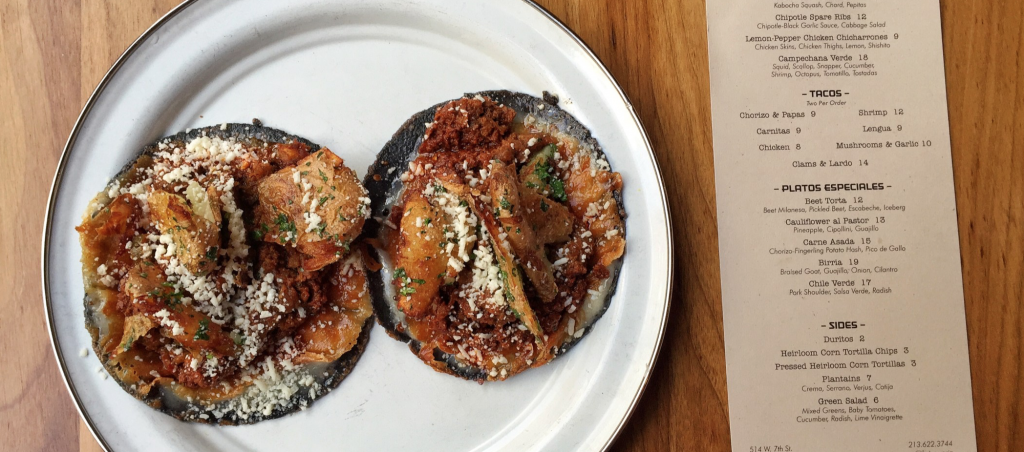 While I love Broken Spanish, it's B.S. Taqueria that really stole my appetite. The bright and airy approach to the food Chef Ray Garcia serves is anything but dull. It's Mexican done in such a way that every bite reminds you of the Mexican Coast with a playful array of spices and textures and something traditional. And? You can taste the love and passion so often associated with Mexican and Spanish cuisine.
Our absolute must-eats are: Chorizo & Papas Tacos, Mole' (any time they include this, ORDER IT!), Lemon-Pepper Chicken Chicharrones, Spinach Enchiladas, Fresa Verano, and Churros
The fare is authentically inauthentic, representing a city of migrant-rich flavors through the lens of a native. The Taqueria provides the ideal backdrop for chef Ray Garcia's rift on convention, a casual, counter service environment for lunch, and bustling full service dinner. Snacks, referred to as Bolsas, such as the Lemon-Pepper Chicken Chicharrones and "Rice and Beans" are perfect to share with the group, but the headliner remains the taco. House favorites include the bologna with escabeche and the clams and lardo. For dinner, also expect family-style nightly specials like the Snapper Veracruz, a deep-fried whole fish presentation. 
---
El Carmen | Mid-Wilshire
8138 W. 3rd Street | Los Angeles, CA 90048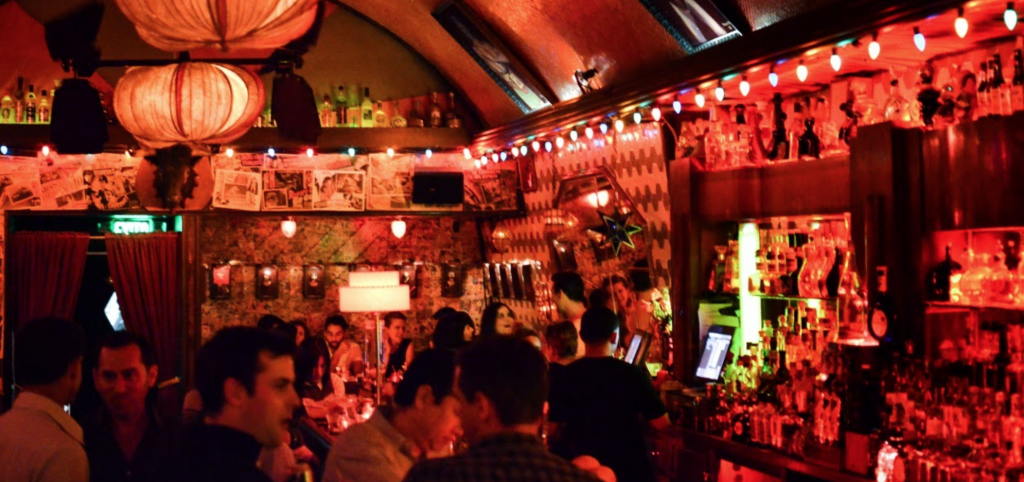 When you think of a bar that's incognito with an ambiance that eludes the norm, El Carmen is where you want to go. Serving some of the best tacos in town, this is a place where the bites are just as cool as the bar itself. Their "hora de fiesta" is a feasting deal you can't pass up offering 2 gourmet tacos and 2 papas served with rice and beans for $6! (That's a WHOLE lot of food for $6!) We prefer making this stop during Hora de Fiesta, grabbing a spot at the bar and diving in to their unbelievable array of Mezcals. Be adventurous with your libations but we like the Mexito, Cucumber MintMargarita and the sampling of their tequilas.
Our absolute must-eats are: Chilaquiles, Pastor Tacos and Pastel Mexicano
---

---
 3413 Cahuenga Blvd. West | Los Angeles, California 90068
Mercado is a restaurant that has a boutique feel, Day of the Dead vibe and an open air ambiance that lets in natural light and invites you in through the smells wafting in from the kitchen. You can come in at Happy Hour for tamales, tacos, choriqueso and some tasty cocktails or enjoy a dinner that will appeal to everyone's appetite including vegetarians! I love their house made seasonal tamales. Ingredients plucked from the local Farmers Market, the sauces and the light batter soothe your need for something hearty without weighing your stomach down. Take some time to check out the art displayed throughout the restaurant as well – each piece has a story.
Our absolute must-eats are: Farmers' Market Chile Relleno, Cahuenga Cucumber Salad, Rajas Poblanas and Choriqueso.
Restaurateur Jesse Gomez and chef partner Jose Acevedo introduce their third Mercado location on Cahuenga Boulevard just south of Universal Studios. Mercado Hollywood is part of a classic and contemporary Mexican dining collection of restaurant concepts that includes El Arco Iris in Highland Park and Yxta Cocina Mexicana in Downtown LA.
---
118 West 4th Street | Los Angeles, CA 90013

Bar Ama situates itself at the epicenter of the Arts District in Downtown. Having become known for its incredible food and wait list, the first time we went, we had some hesitation: will it live up to the hype? The answer is yes! While the cocktails may not quite be as incredible as the cuisine, the menu crafted by Chef Centeno is one that tastes of history, innovation and endearment. Rather than a boring ole happy hour, they raise the bar with their "Super Nacho Hour" Monday-Sunday giving you a reason to tackle nachos with abandon, however it's their vegan cashew poblano "queso" that won me over. With cuisine that ranges from vegetarian delights to meat lovers gluttony, they definitely have you covered.
Our absolute must-eats are: Slow Roasted Pork Belly, Cauliflower & Cilantro Pesto, Ama's Enchiladas and our staple every time, Vegan Cashew Poblano Queso
Fideo and borracho beans with cilantro and pork belly simmering on the stove, the spicy warmth of menudo every Christmas and New Year's, egg salad with a fried egg between a butter toasted bolillo, and puffy tacos stuffed with lengua carnitas and crushed avocado and doused with pequin chile vinegar salsa. These are just some of the dishes that have inspired me – the food that I was nurtured with by the women who raised me. Bar Ama' is my interpretation of their Tex-Mex.
– Chef Josef Centeno