Grand Sheraton Hacienda del Mar Los Cabos
A resort fit for your visual desires.
photos by Dawn Garcia
[dropcap letter="W"]ith a name like
Grand Sheraton Los Cabos Hacienda del Mar
, one has some expectation that the grandioseness of a place is going to materialize the minute you arrive. Grand Sheraton in Cabo San Lucas does precisely that.
Grand Sheraton | Corredor Turistico KM 10 | 23450 Los Cabos, MX-BCS, Mexico
[columns_row width="third"] [column]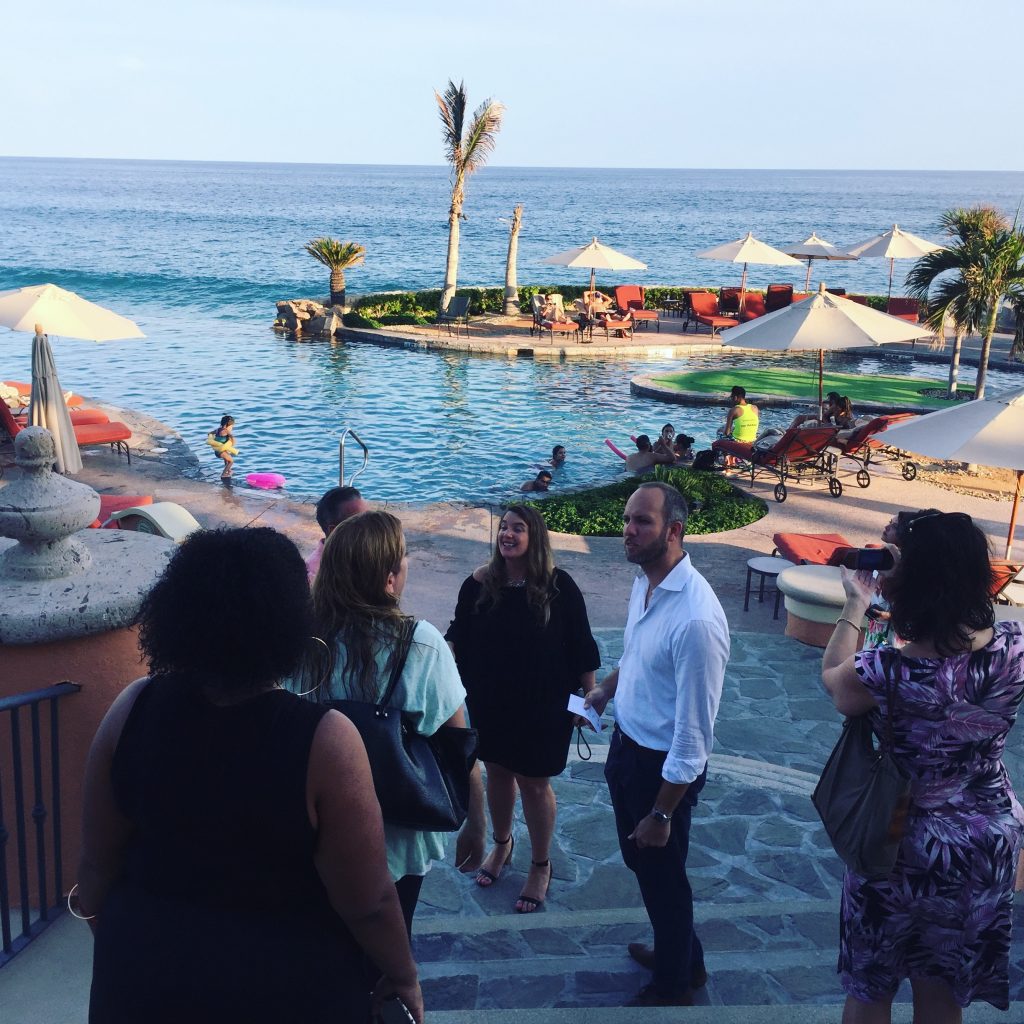 [/column] [column]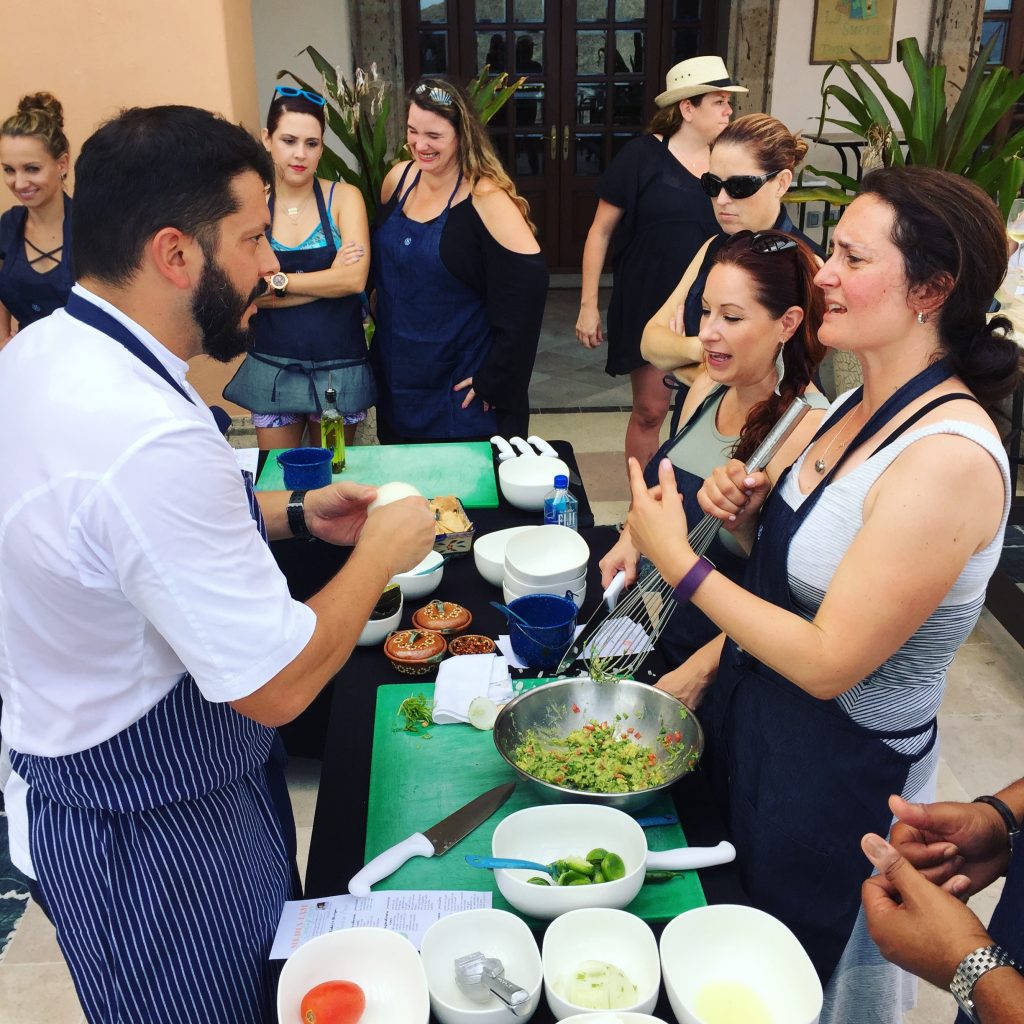 [/column] [column]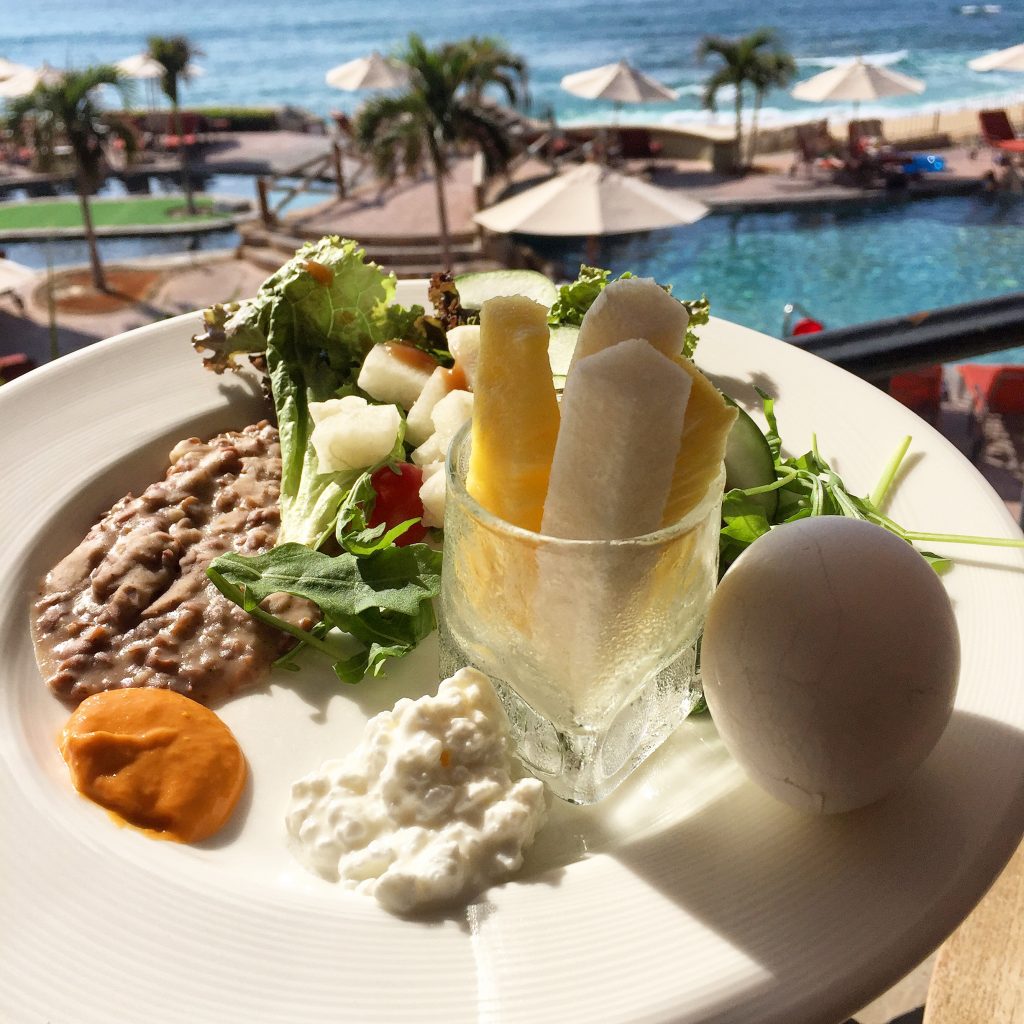 [/column] [/columns_row]
As a woman of Mexican and Spanish heritage, traveling to both Mexico and Spain are high on the list of exploration. I've been to Spain. In fact, I named my daughter after a city there, but while I've been to Ensenada/Baja, the true version of myself never has considered those more than a California extension. Mexico is so much more than that. Cabo is only the tip of the iceberg but that said? Cabo surely is the most exquisite introduction into the heritage, tradition, luxury, and serenity I have longed for.
As I exited the airport, my driver picked me up and the drive began. The drive was beautiful with lush landscapes of mountains, ocean, and a plentiful amount of new architecture lining the highway. Upon arrival at Hacienda del Mar, the sweltering heat was slightly relentless so once the doors opened into the resort lobby? A swoosh of air conditioning took hold as did a rather extensive collection of art, shark teeth (it's pretty cool!), life size pillar candles, beautiful terra cotta accents, clay rich tiles, and furniture that tells the story of a rich, design-centric history.
The hotel itself recently underwent renovations and the design is so well executed. A property surrounded by a plant indigenous to the area – the cactus – when you really pay close attention, you'll notice that in every building, every space, there are cactus' somewhere around you. Whether stamped into the tile or placed strategically within the on-site spa, it's a reminder that the Grand Sheraton believes in the little things.
[columns_row width="third"] [column]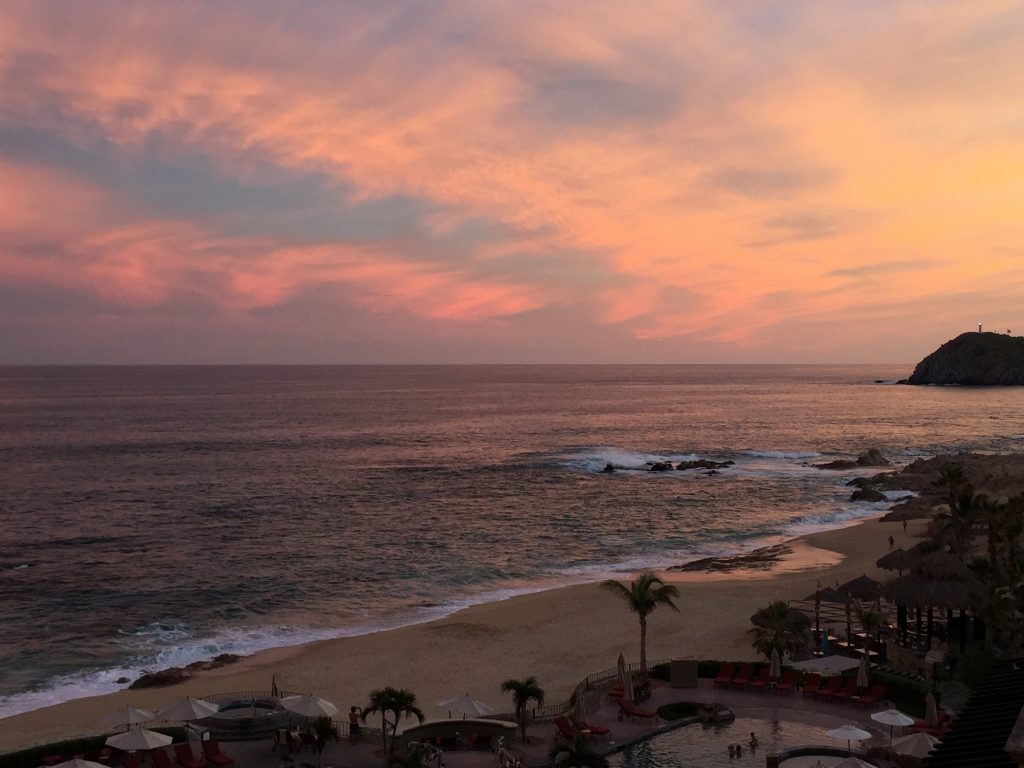 [/column] [column]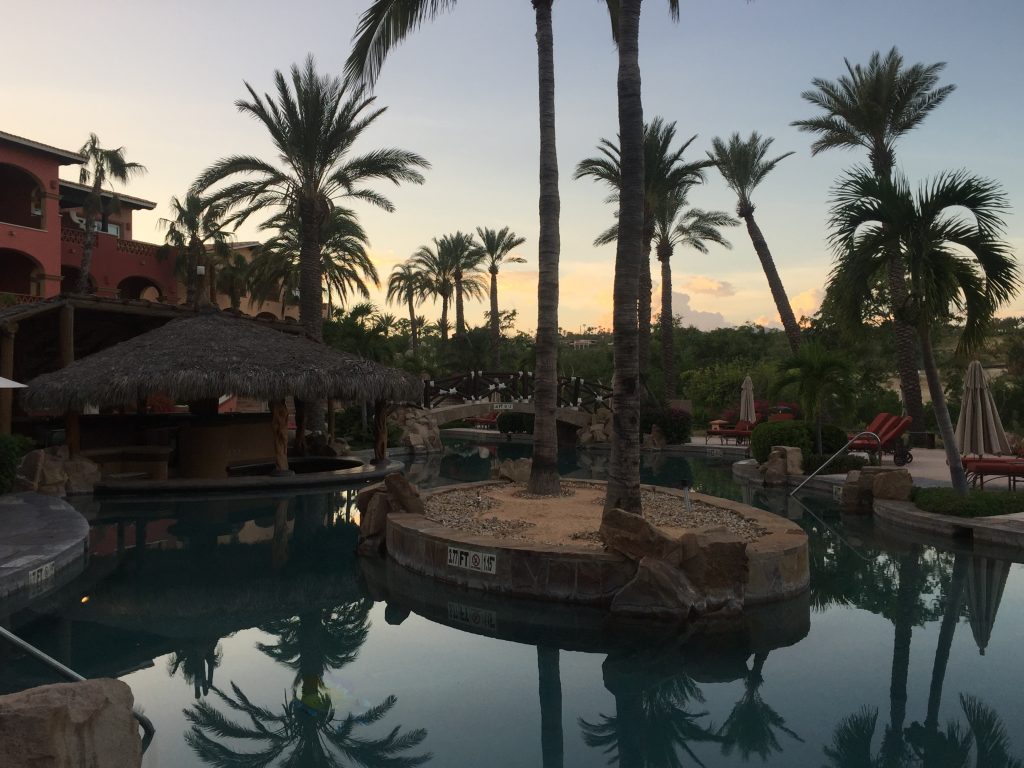 [/column] [column]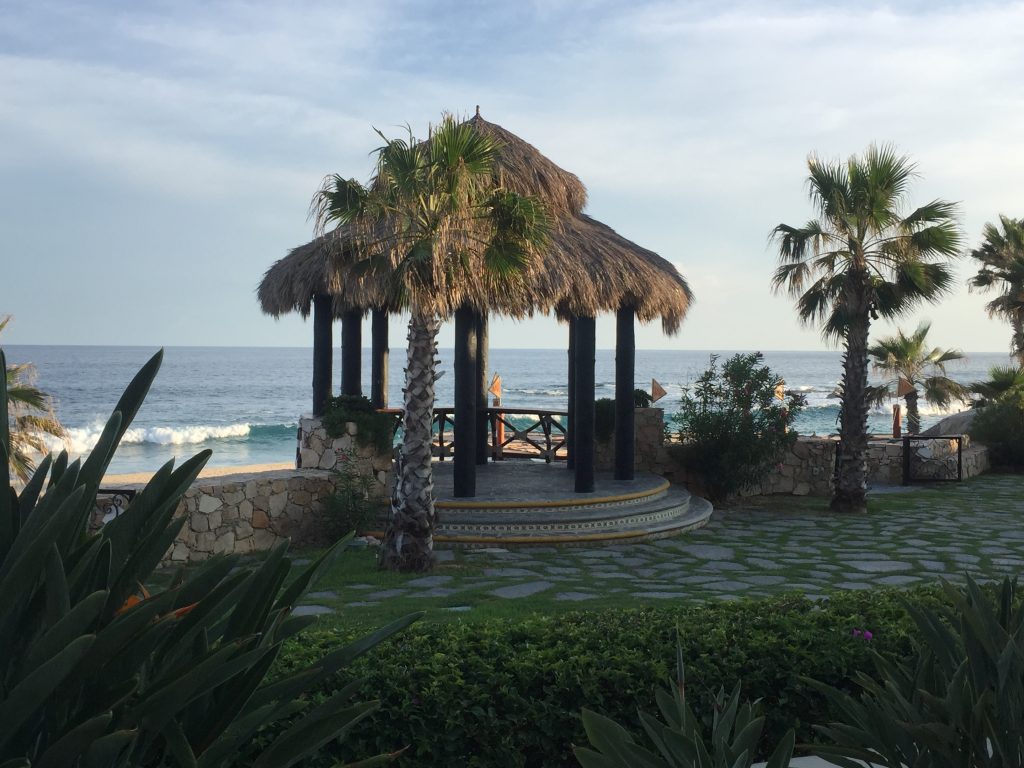 [/column] [/columns_row]
From their rooms to villas, incredible breakfast spread at Tomatoes, to the courtyard dinner full of streamed lighting, butchery, hand chosen produce, seafood stations, salad fixings, dessert that would invite your inner child, gorgeous nachos (and I mean it) at Las Sirenas, tequila tastings at Bar La Suerte, and gourmet dining at De Cortez Grill – your every hungry desire will be met with pure satisfaction.
[columns_row width="third"] [column]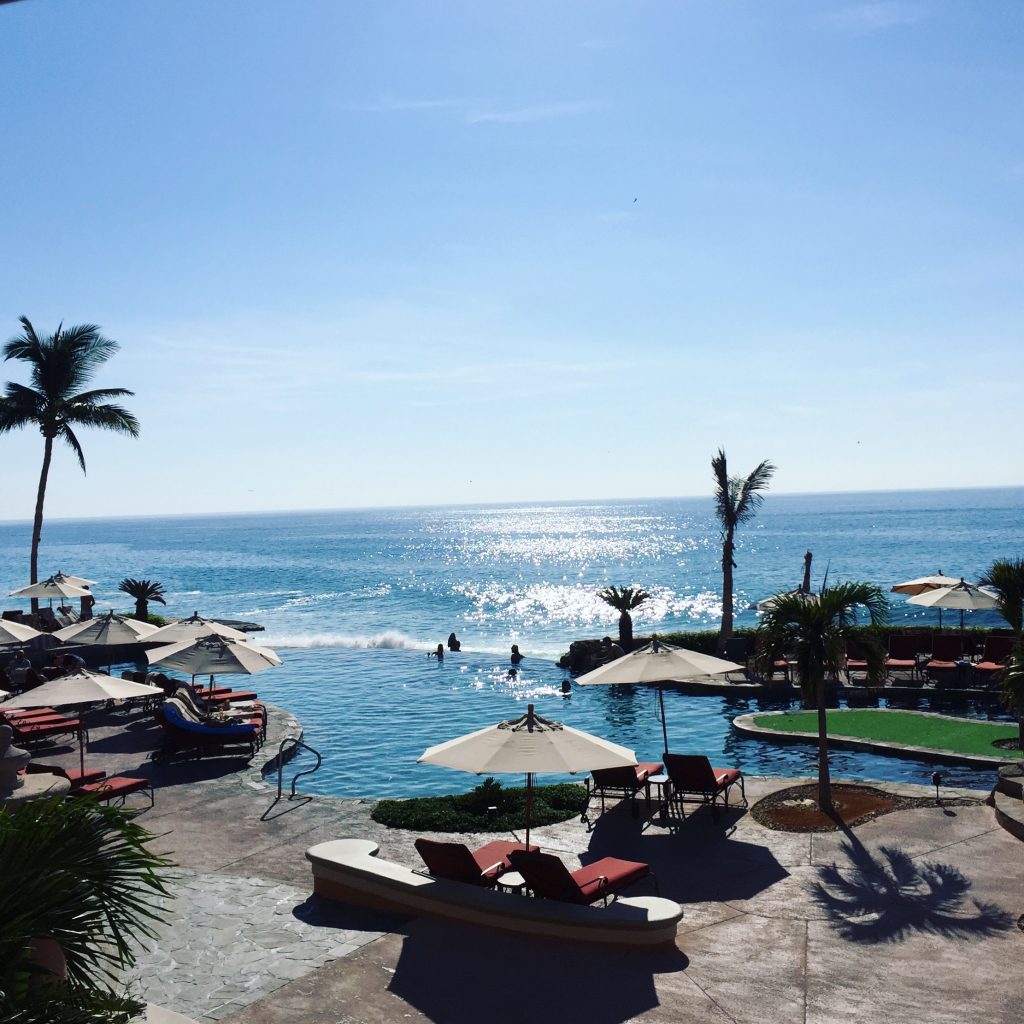 [/column] [column]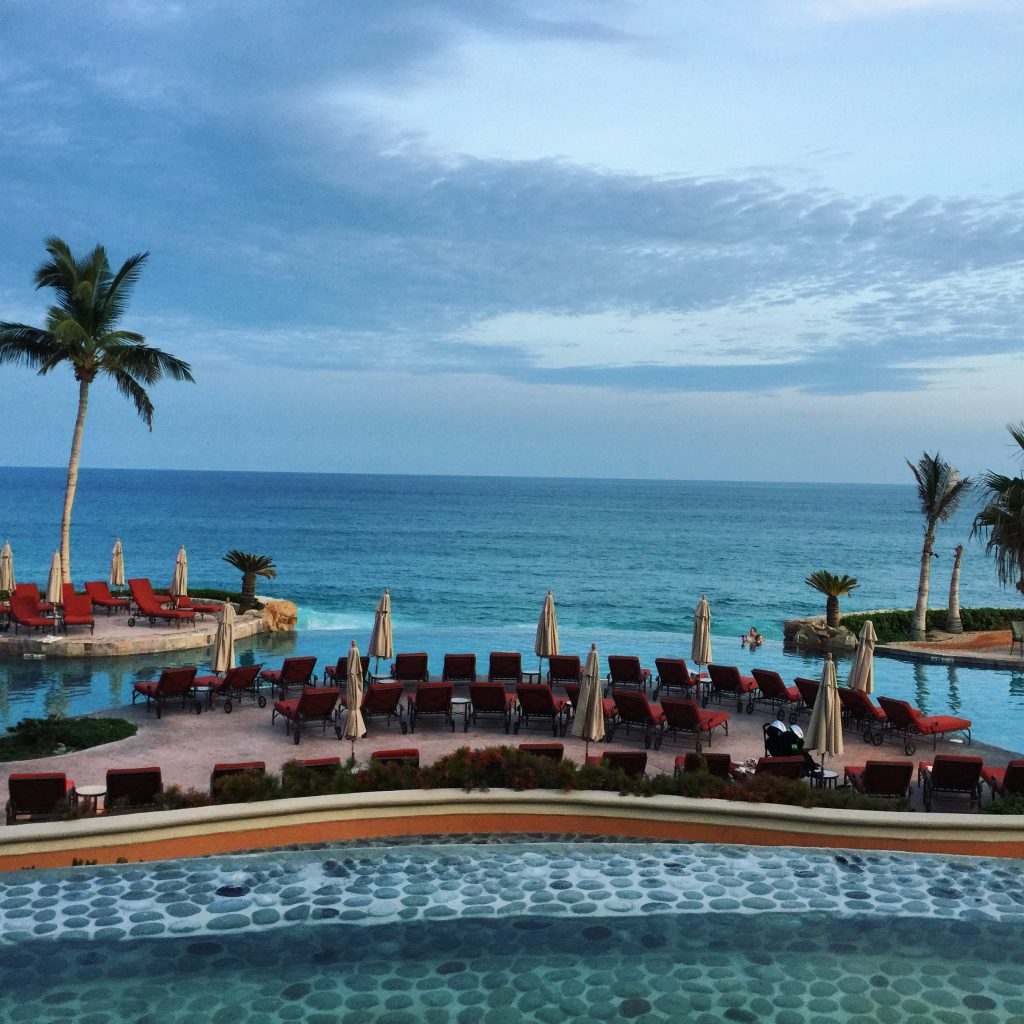 [/column] [column]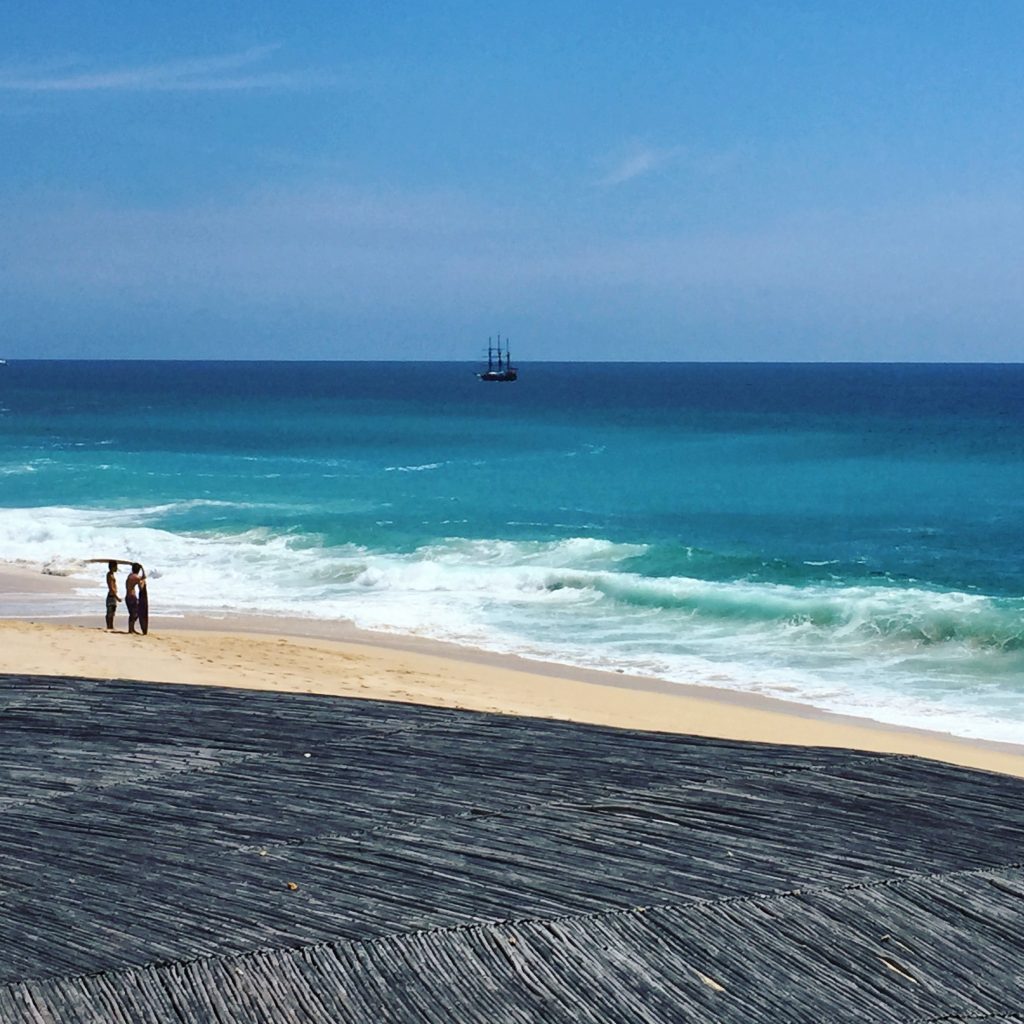 [/column] [/columns_row]
The villas are beautifully designed with firehouse staircases, full kitchens, huge balconies overlooking the crystal blue oceans but even the regular rooms are full of accents and comforts that ooze luxury. My bed was SO comfortable, the shower was tiled with bright blues, and my view? The ocean waves crashing against the grainy, sandy shore and the infinity pool adjacent. Needless to say, this is definitely going to be my go-to when I come to Cabo. It is ideal for escapes alone, with friends, family, you name it.
So under the amazing direction of Rick Iriarte, a group of us were treated to an experience we won't ever forget. From our very first dinner to the bonfire on the sand the final evening, Grand Sheraton Hacienda del Mar is somewhere you need to go.
[columns_row width="half"] [column]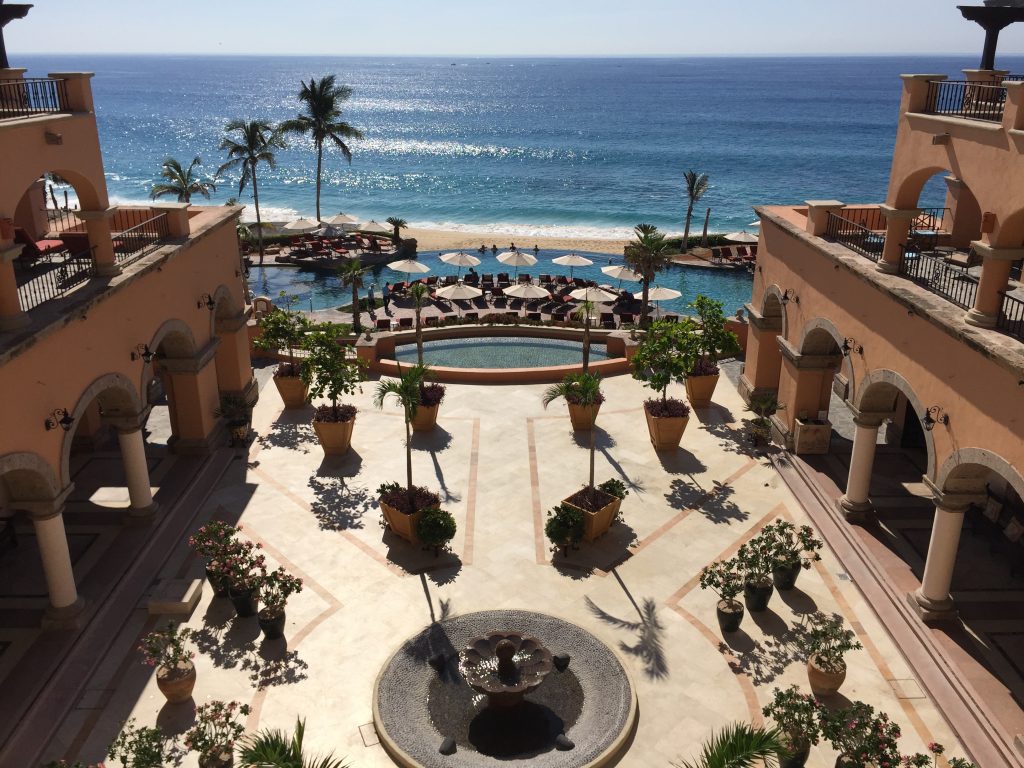 [/column] [column]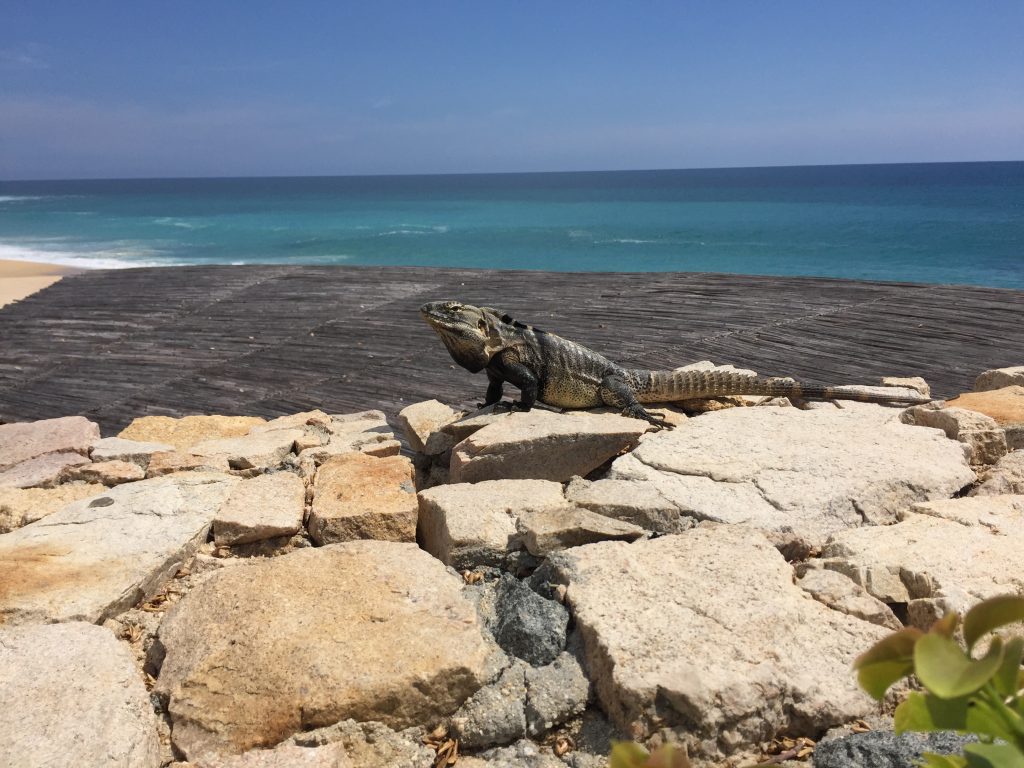 [/column] [/columns_row]
---
DINING OVERVIEW
Breakfast at Tomatoes
The layout for breakfast is EVERYTHING! Traditional Mexican cuisine but done with all of the thoughtfulness every foodie longs for, fresh fruits, omelets, cappuccinos, champagne, an entire station devoted to bread (oh I'm serious), fresh pressed juices (my favorite was the GREEN), meat stations, everything you need for a morning salad – you name it? They have it.
When you get your food, in spite of the thick humidity, sitting outside was my favorite way to start the day. As far as your eyes can scan, blue oceans, white caps, and sometimes … a pirate ship! A real one!
[columns_row width="third"] [column]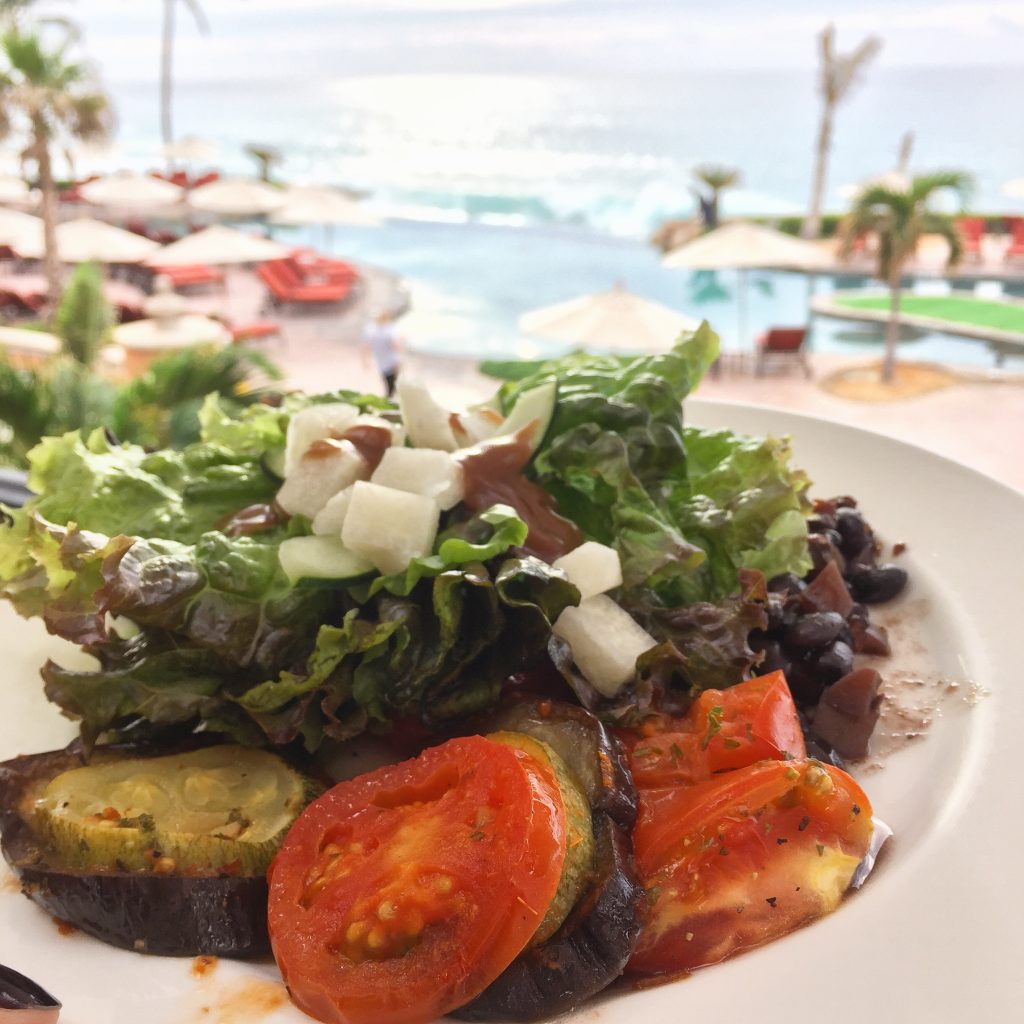 [/column] [column]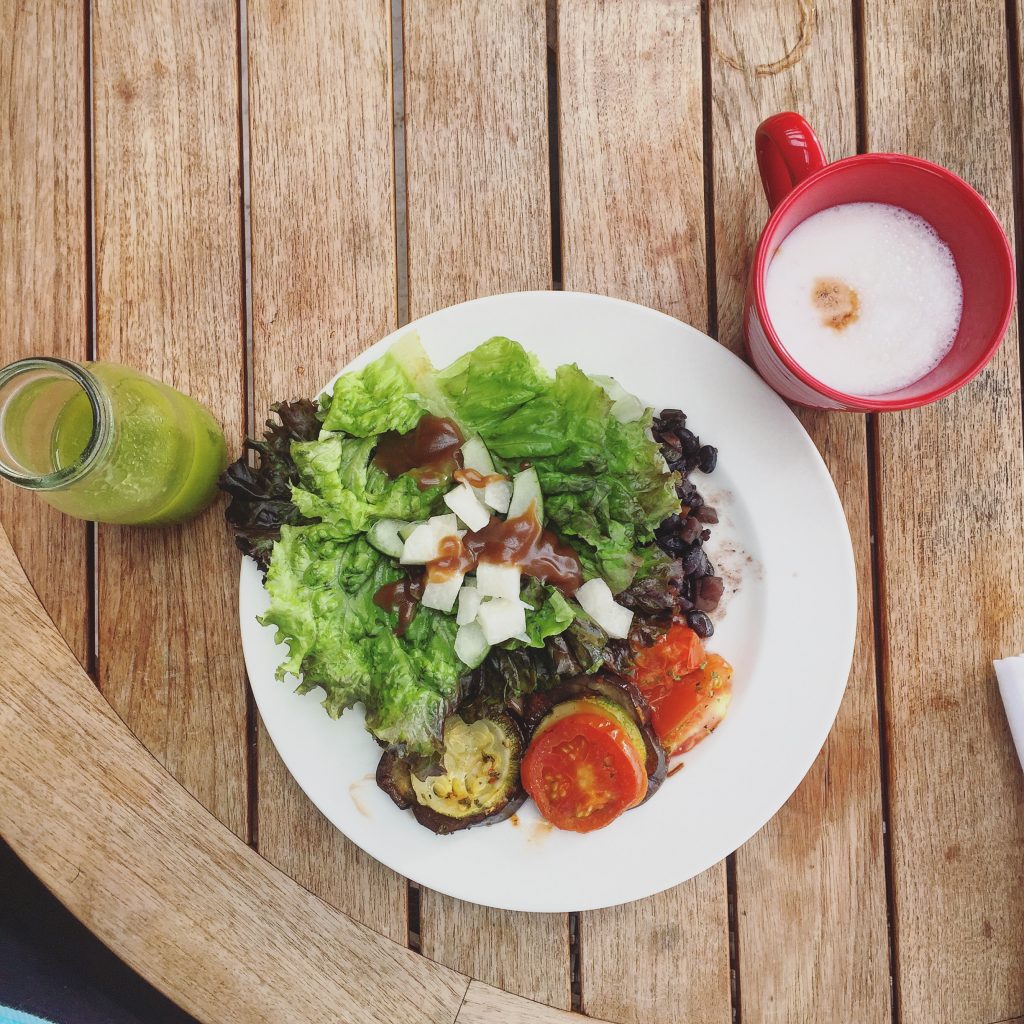 [/column] [column]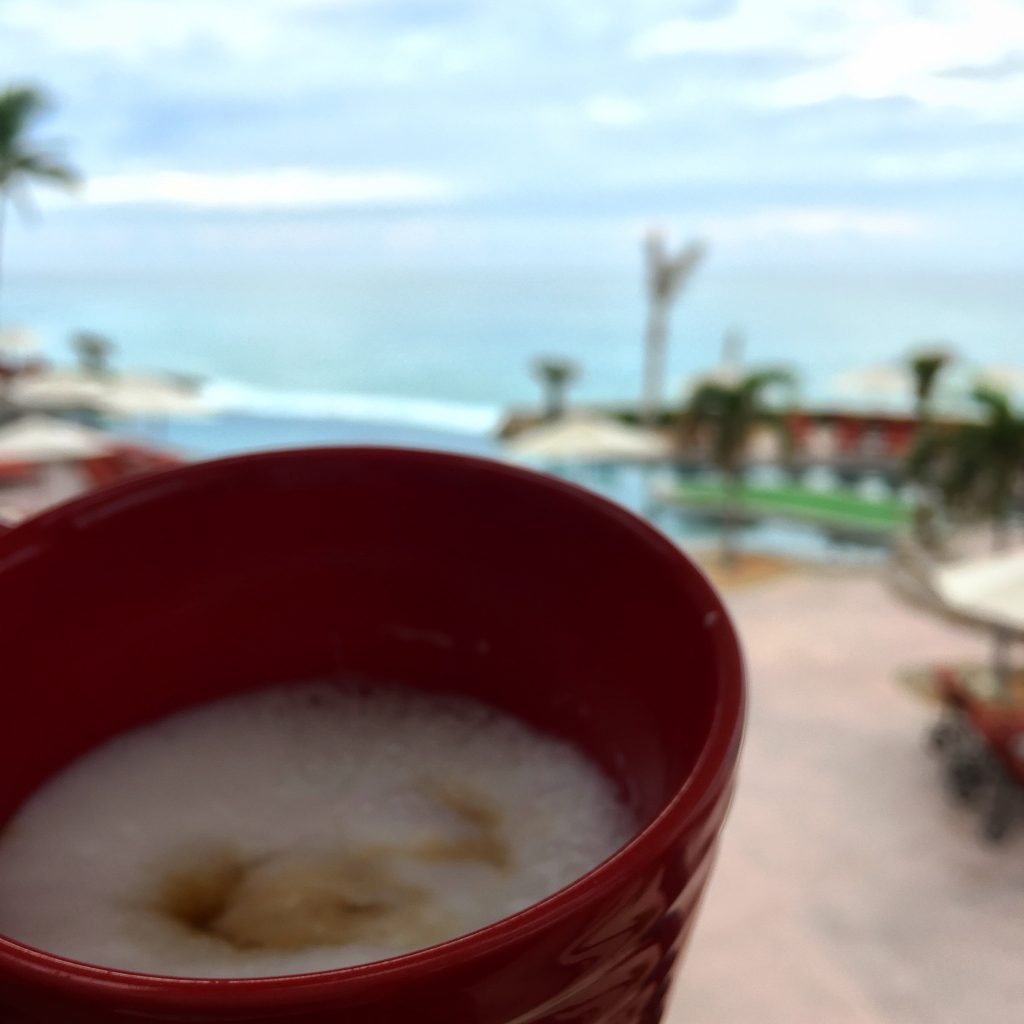 [/column] [/columns_row]
---
Courtyard Dinner + Music + Wine
The very first night, the courtyard was transformed into something dreamy. A long table was dressed with crimson accents, lanterns, lights were streamed above, tables were set up all around and fresh stations were now lining the parameter where only hours before, planters sat.
We were treated to something I'll never forget: in various carts – carts mind you that were made of iron accents and industrial charm – were fresh meats, produce, desserts as far as the eye could see, salads with vibrant ingredients, seafood grilling  on an open skillet with choices of squid, scallops, shrimp, and more and there was one station for the butcher as chickens, beef, pork and sausages hung from the dangling chain hooks cooking over the open pit below.
The smells overtaking through the air was like something the pied piper would use to draw you in. Needless to say, the first dinner was the most memorable launch into what would be a phenomenal four days.
[columns_row width="third"] [column]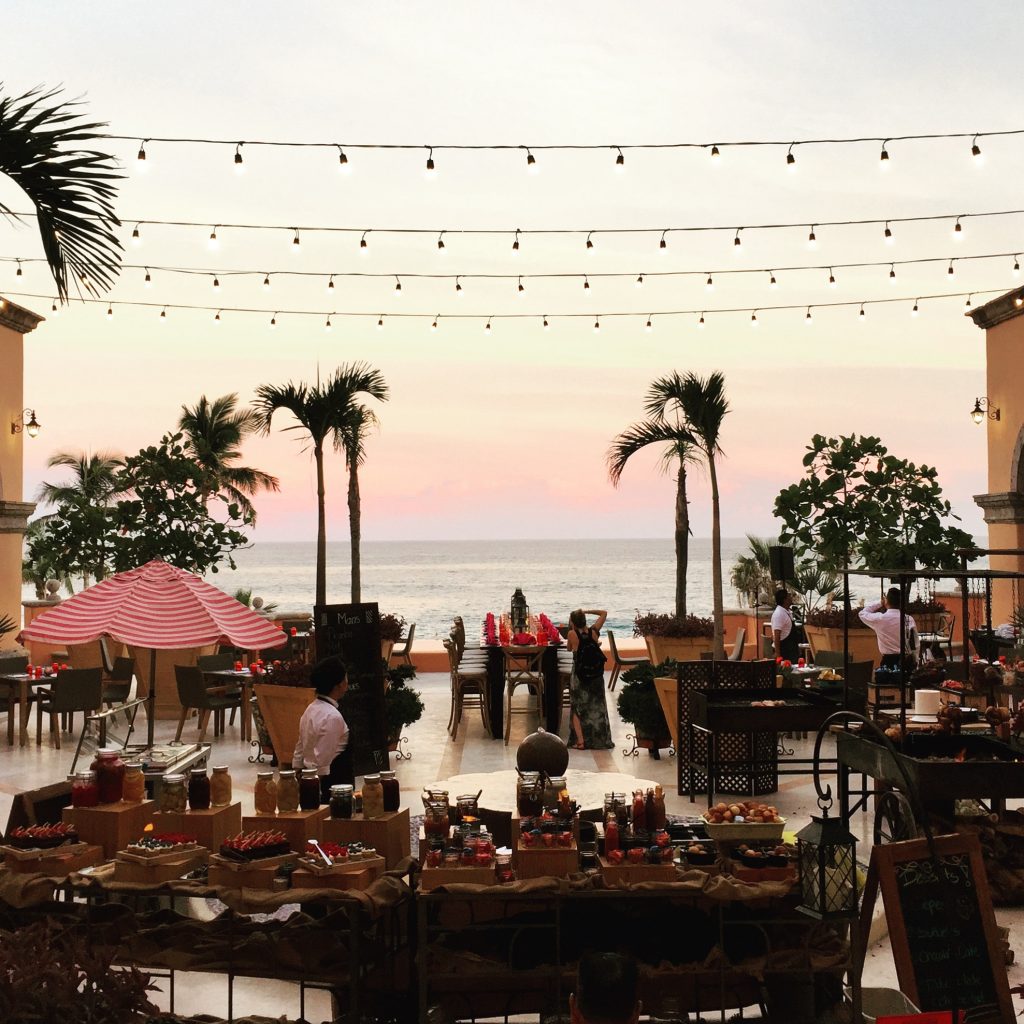 [/column] [column]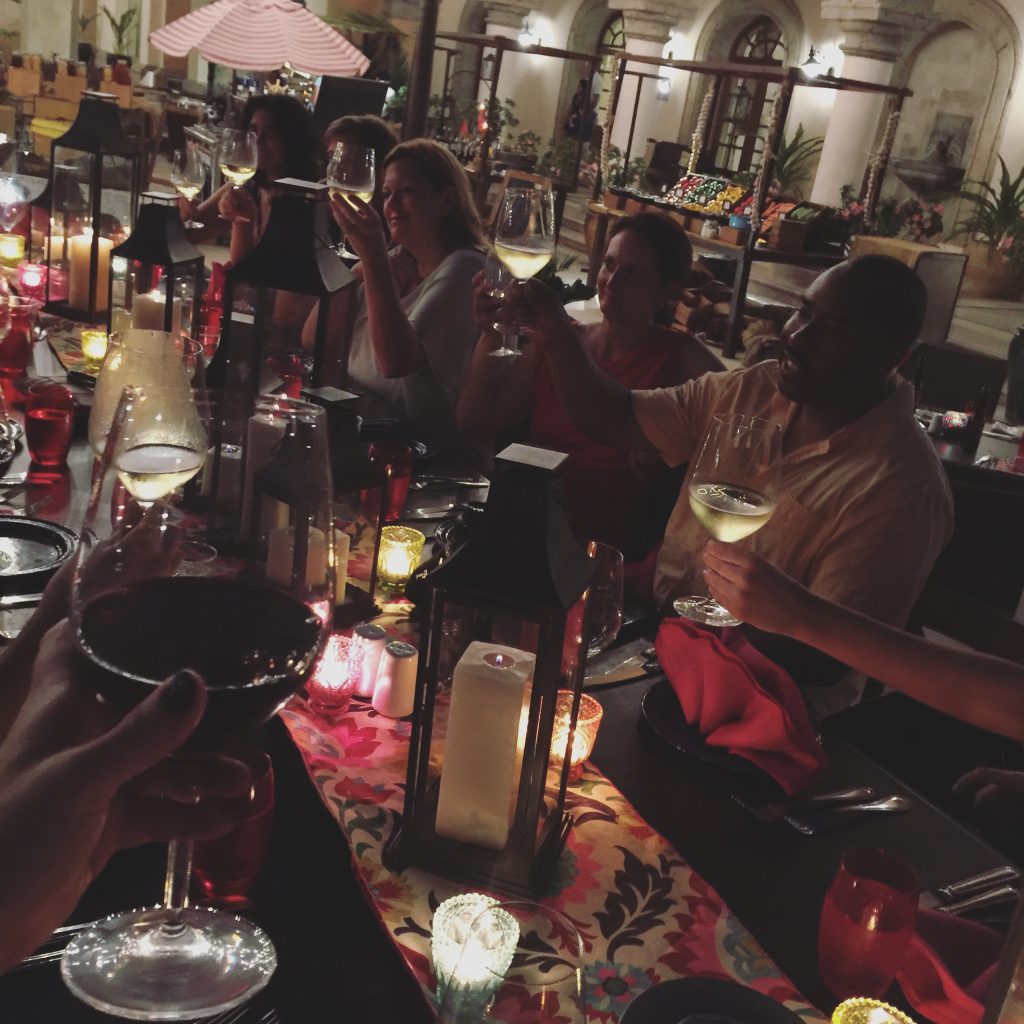 [/column] [column]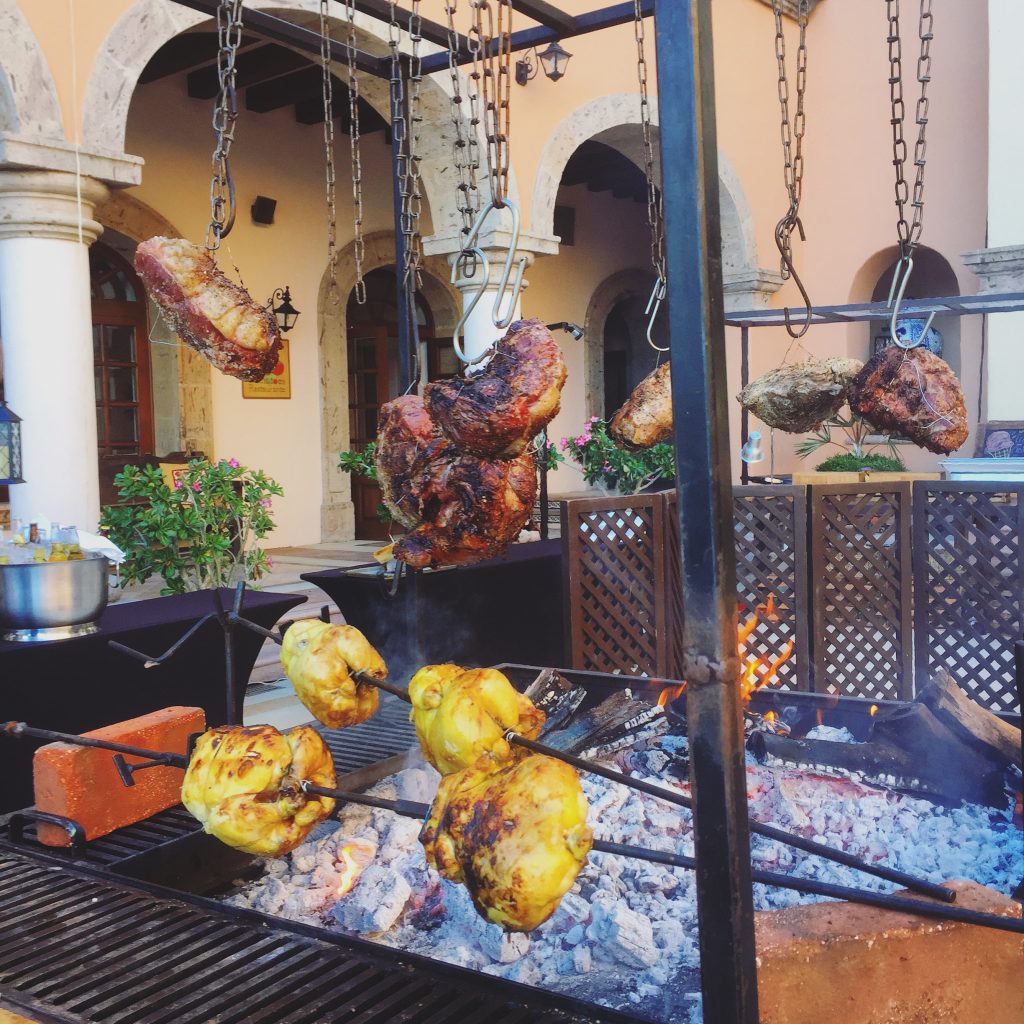 [/column] [/columns_row]
---
Nachos + Cocktails in the Hut | Las Sirenas
Much like the name, this peculiar and sexy little bar hut is something that lures you in for sure! Especially while swimming in the infinity pool right beside it. I visited Las Sirenas during my breaks from the sunshine to order water, perfectly made jalapeño basil margaritas, and my absolute must: steak nachos. I have NEVER (and I do mean never) had nachos that were so flawless. I should preface this by saying my guilty pleasure is nachos so it's my gauge for just how great any restaurant is and these take the cake!
The steak was juicy, not dry, well seasoned and spread throughout the dish rather than just one huge chunk on top. The chips were fresh, salsa packing a punch, and the guacamole tasted like the avocados were just taken from the tree. Everything about this little outdoor restaurant is wonderful.
[columns_row width="third"] [column]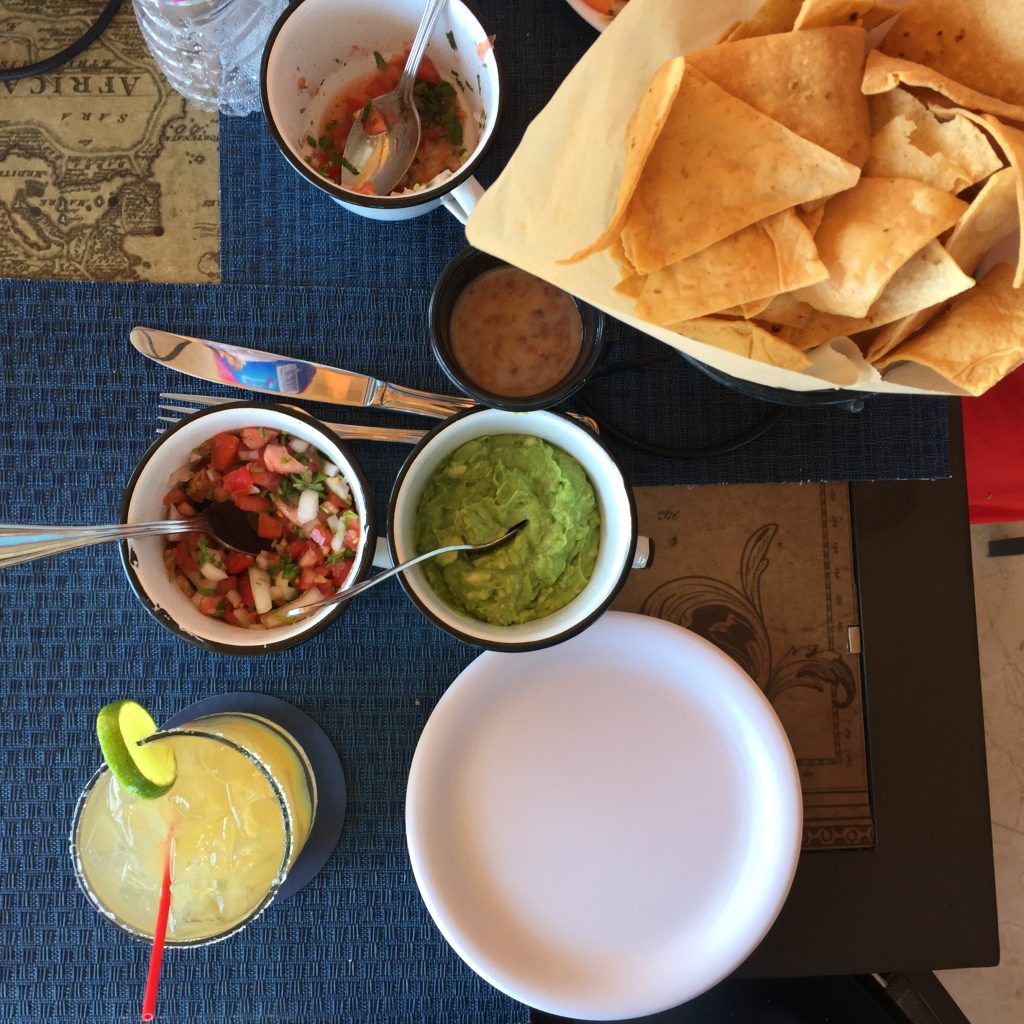 [/column] [column]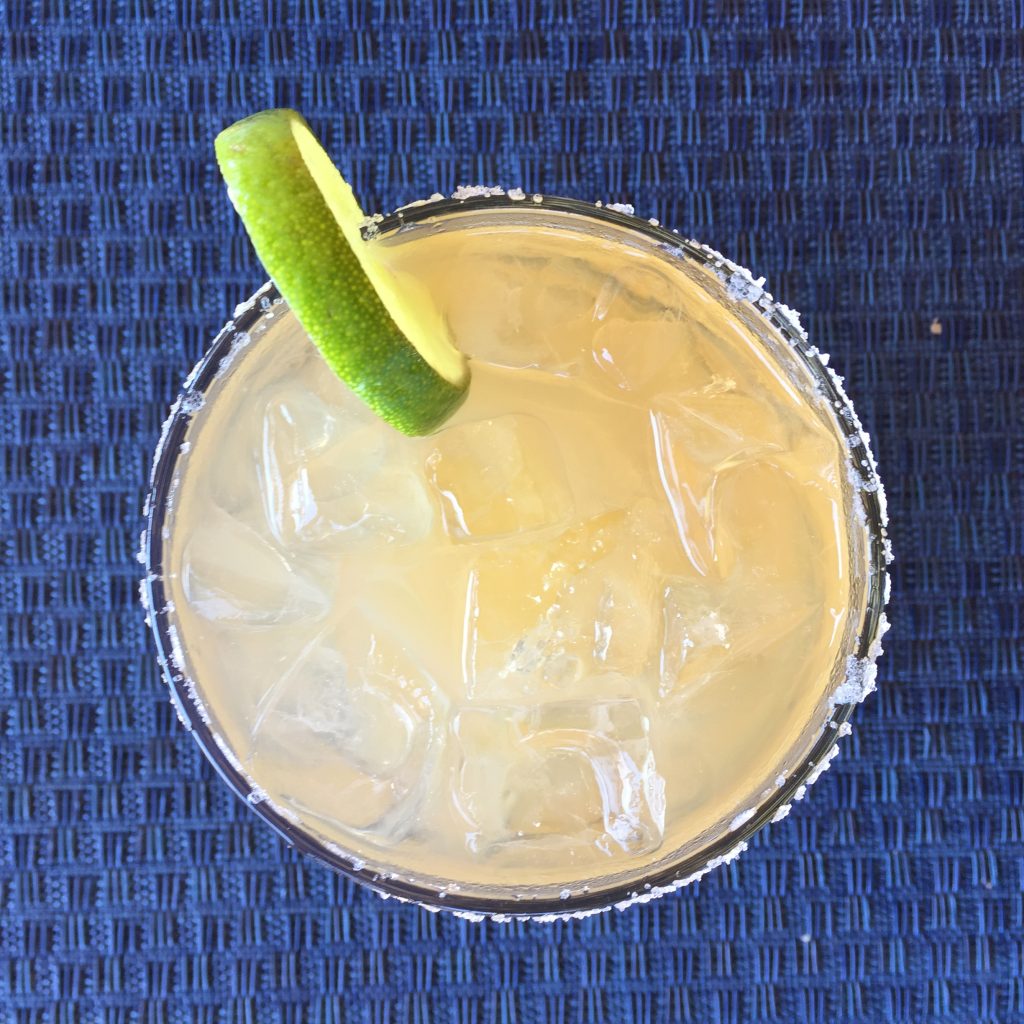 [/column] [column]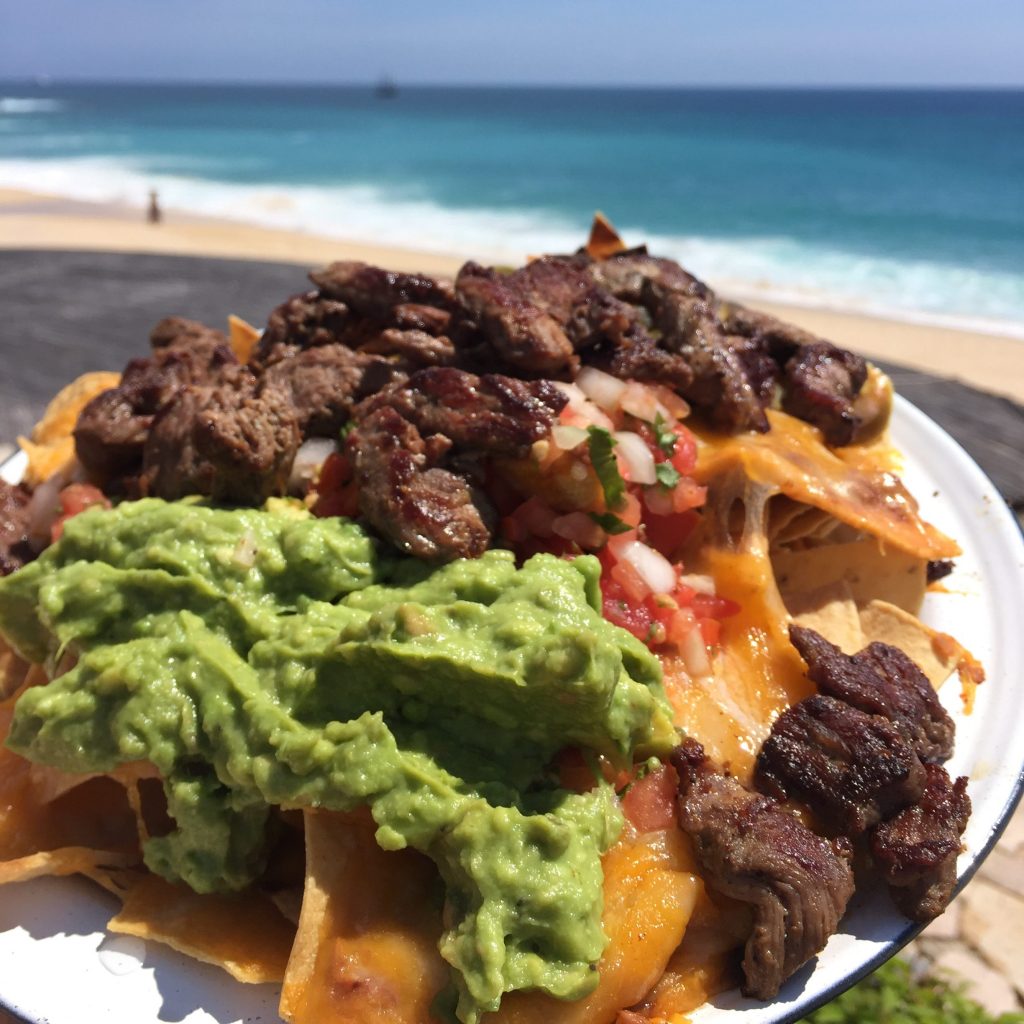 [/column] [/columns_row]
---
DINNER | De Cortez Grill and Restaurant
Chef Manuel De Luca prepares a feast to say the very least! Invited to dine at his restaurant, it was an absolute treat. Every dish was a beautifully put together experience of flavor from the selection of breads we begin with to the pea tendrils atop the scallops to the gorgeous cut of steak and the final bites of dessert. It was orchestrated much like a symphony of flavor, all strategically placed together with a lovely finish.
[columns_row width="third"] [column]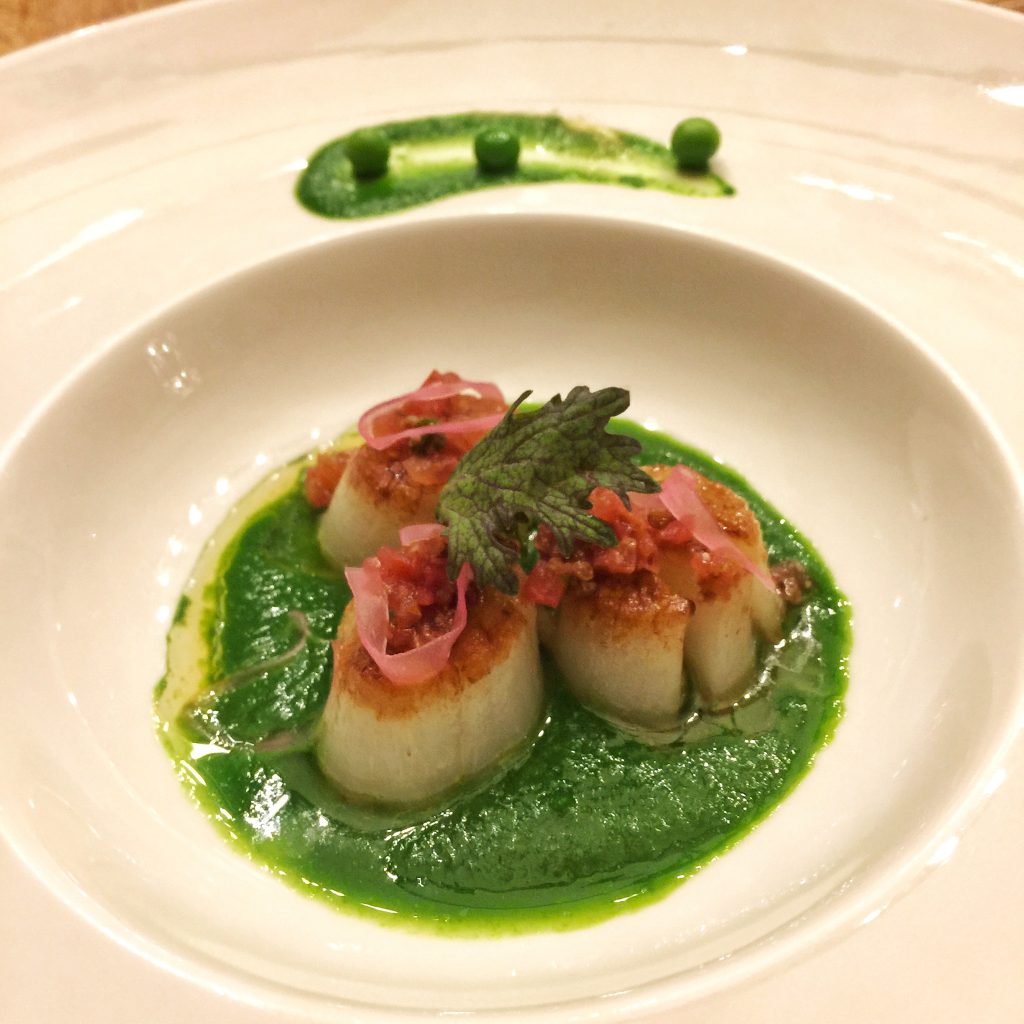 [/column] [column]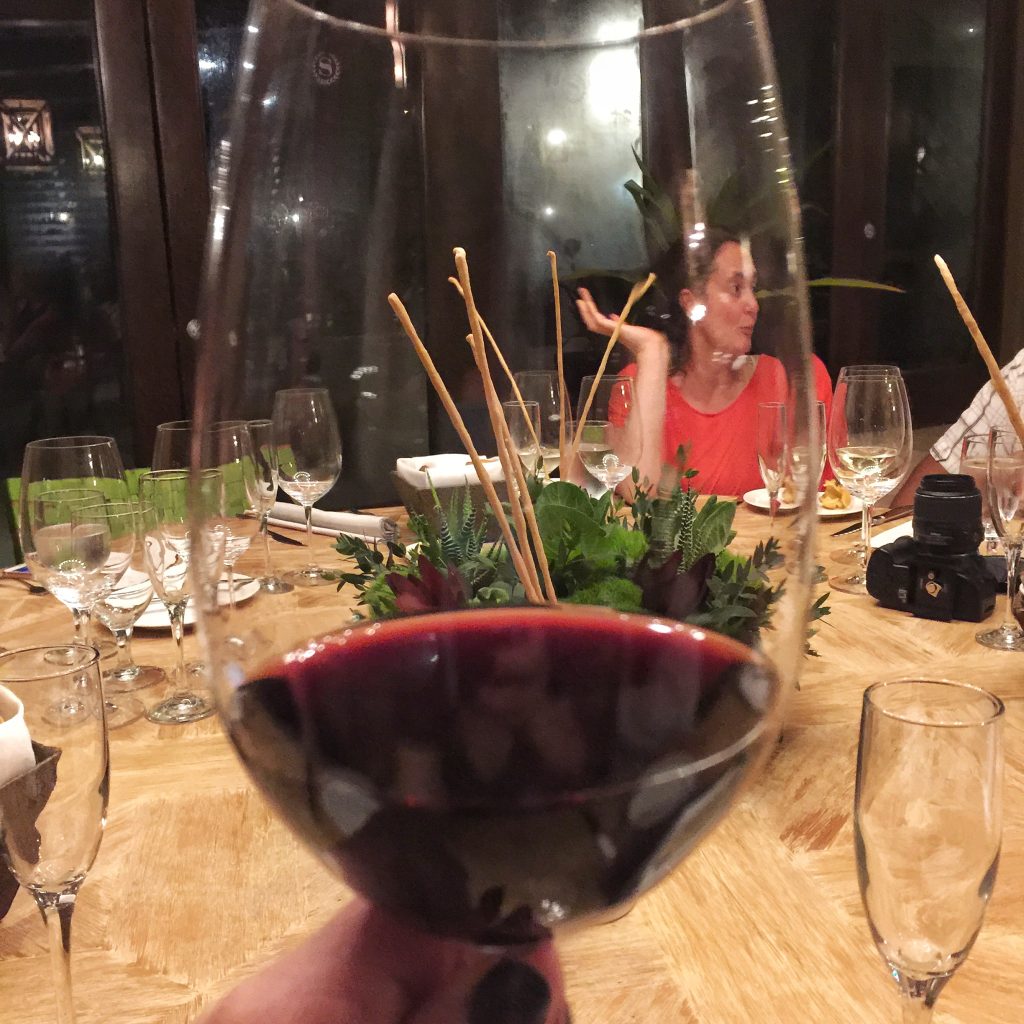 [/column] [column]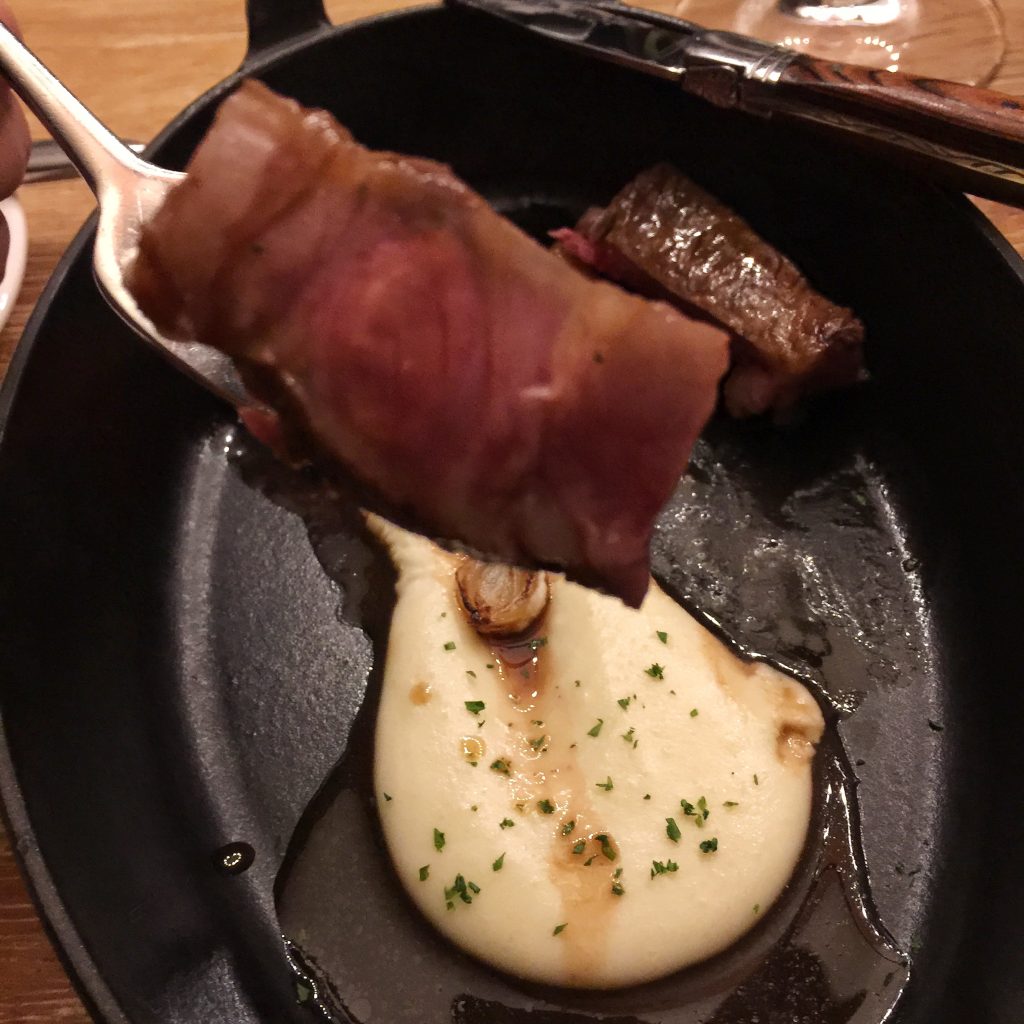 [/column] [/columns_row]
My favorite, and most unexpected, was the seared clar lion scallops with peas. The peas were done in a purée as well as poached and the notes that ran through every bit of that dish were both earthy and savory. The NY steak was cooked at the precise temperature of medium rare but it was the garlic confit that gently situated itself into every bite that made this burst on the palate. Compliments to the chef who not only gave us an education in cooking earlier that same day – teaching us how to make Mexican pizza and proper cutting techniques – but who took the care and passion to every plate we were offered that evening.
[columns_row width="half"] [column]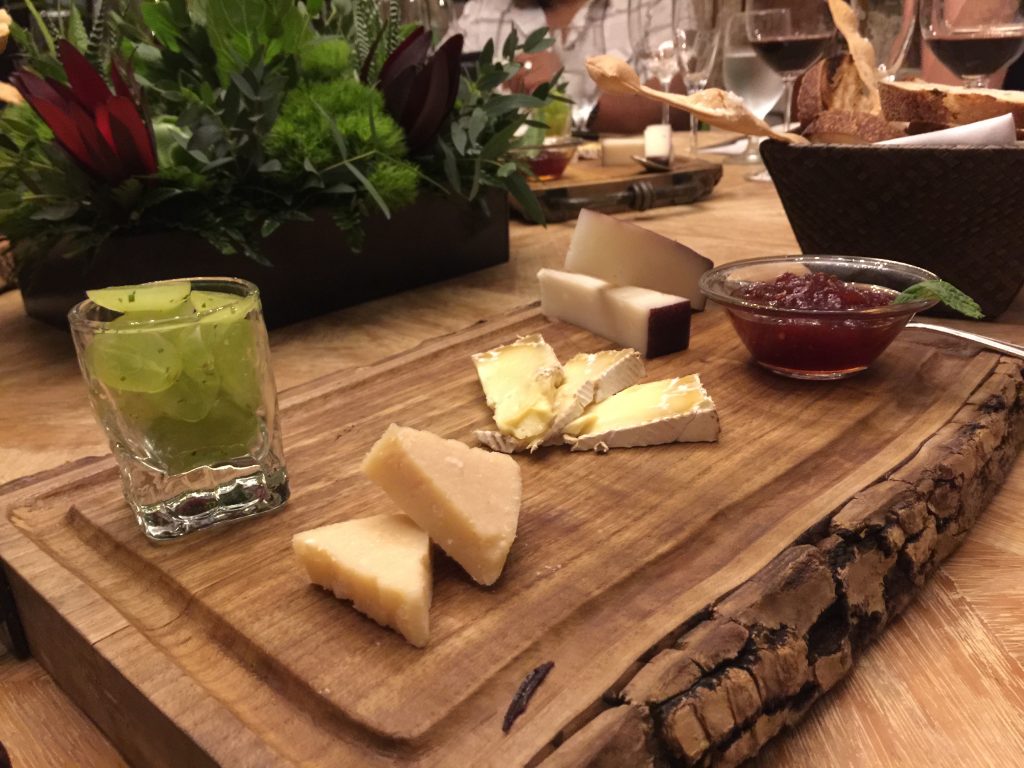 [/column] [column]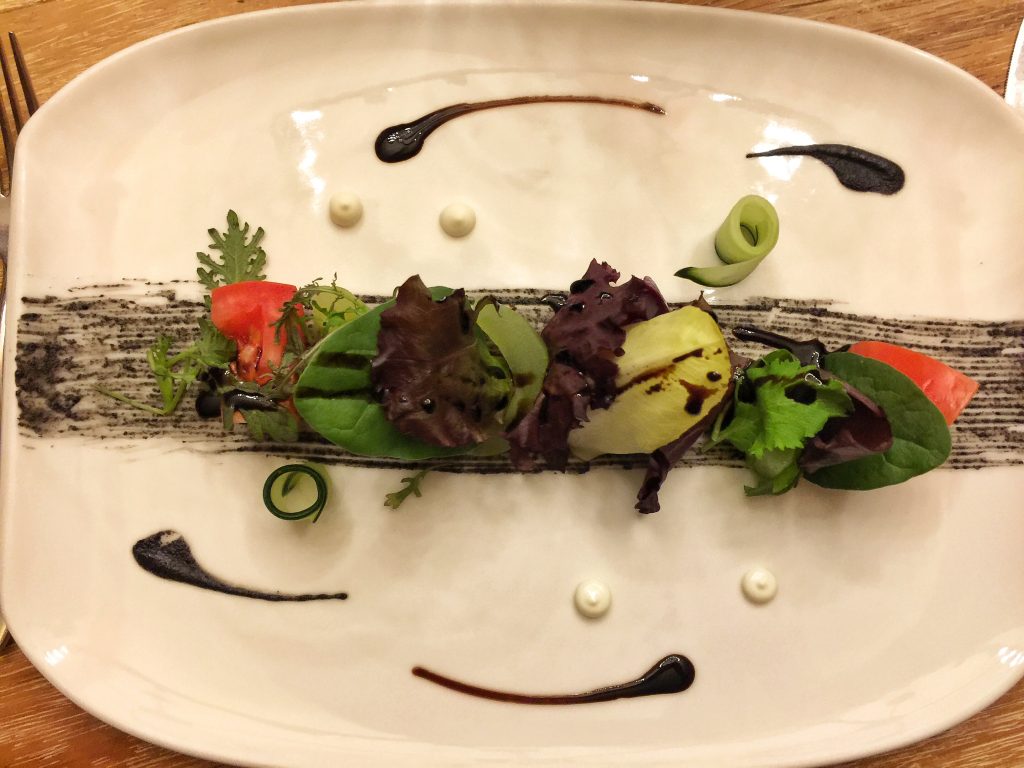 [/column] [/columns_row]
The MENU
Organic leaf with cucumbers, heirloom tomatoes, radishes, red beets, goat cheese, aged balsamic + hibiscus bloom
Seared clar lion scallops with peas and green leaves with tomato and coriander vinaigrette
New York Steak served with garlic confit, inion, mashed potato and beef juice reduction
Tray of cheese accompanied by leavened + gluten free bread, chutney, grapes and nuts
Chocolate textures for dessert.
---
The Spa + S'Mores
[columns_row width="half"] [column]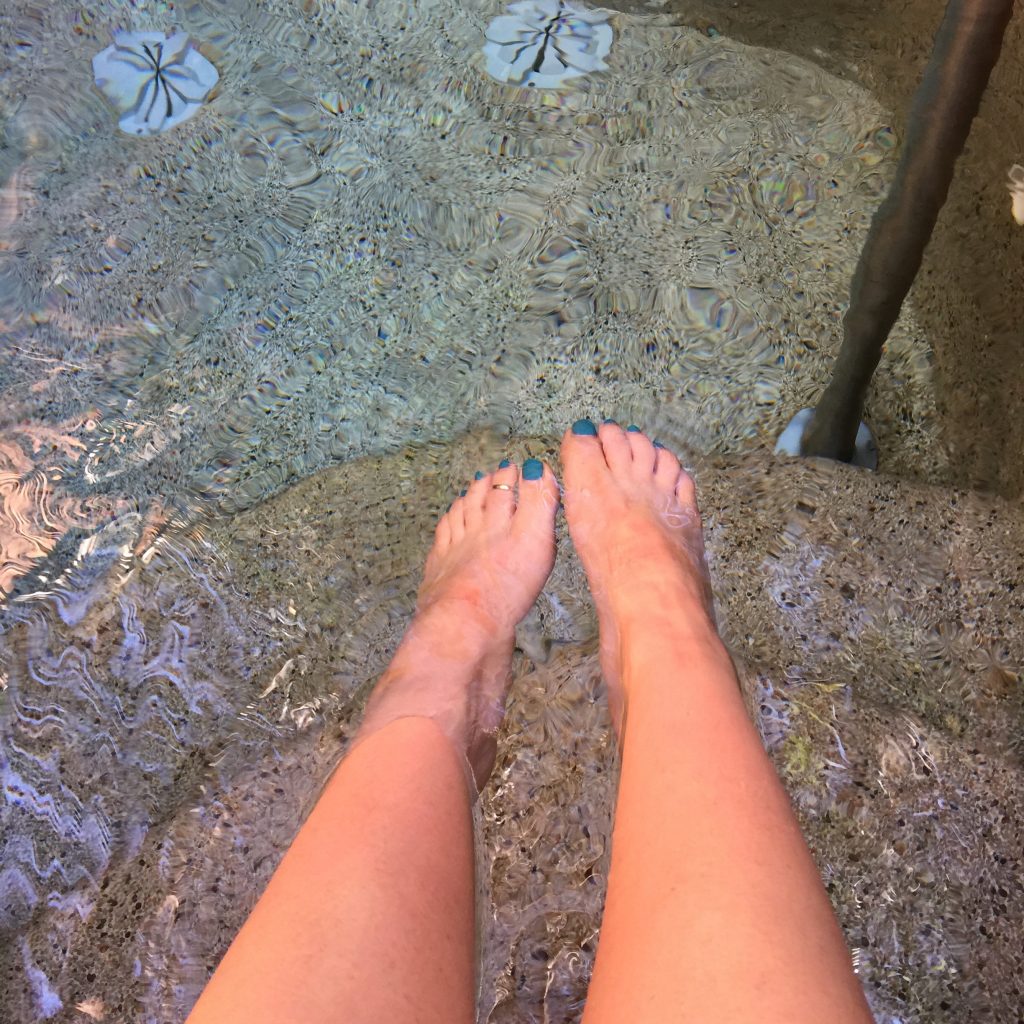 [/column] [column]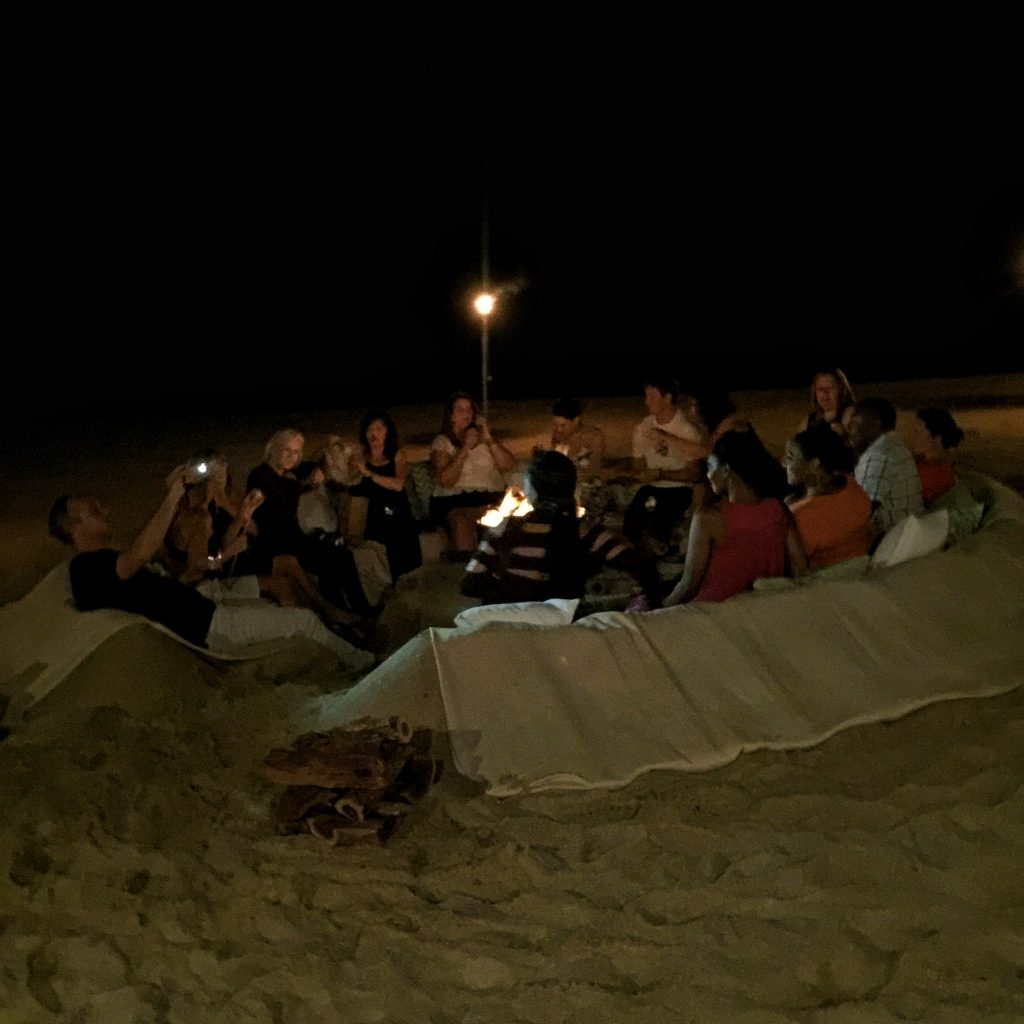 [/column] [/columns_row]
The Cactus Spa is where I had the best massage of my life. My masseur, Isabel, was true magic. Between the aromatherapy wafting in the air and her hands melting away every ounce of stress my body was clinging to, it was bliss. The spa services offered are remarkable – and well priced.
After the massage, I headed into the quiet lounge and then outside where three jacuzzi tubs awaited. Between very hot to a cool 56°F, our bodies were taken on a calming journey. I loved the icy bath! It immediately rid my body of any swelling or salt intake. There was also infused water and teas for us should we need to hydrate.
[columns_row width="half"] [column]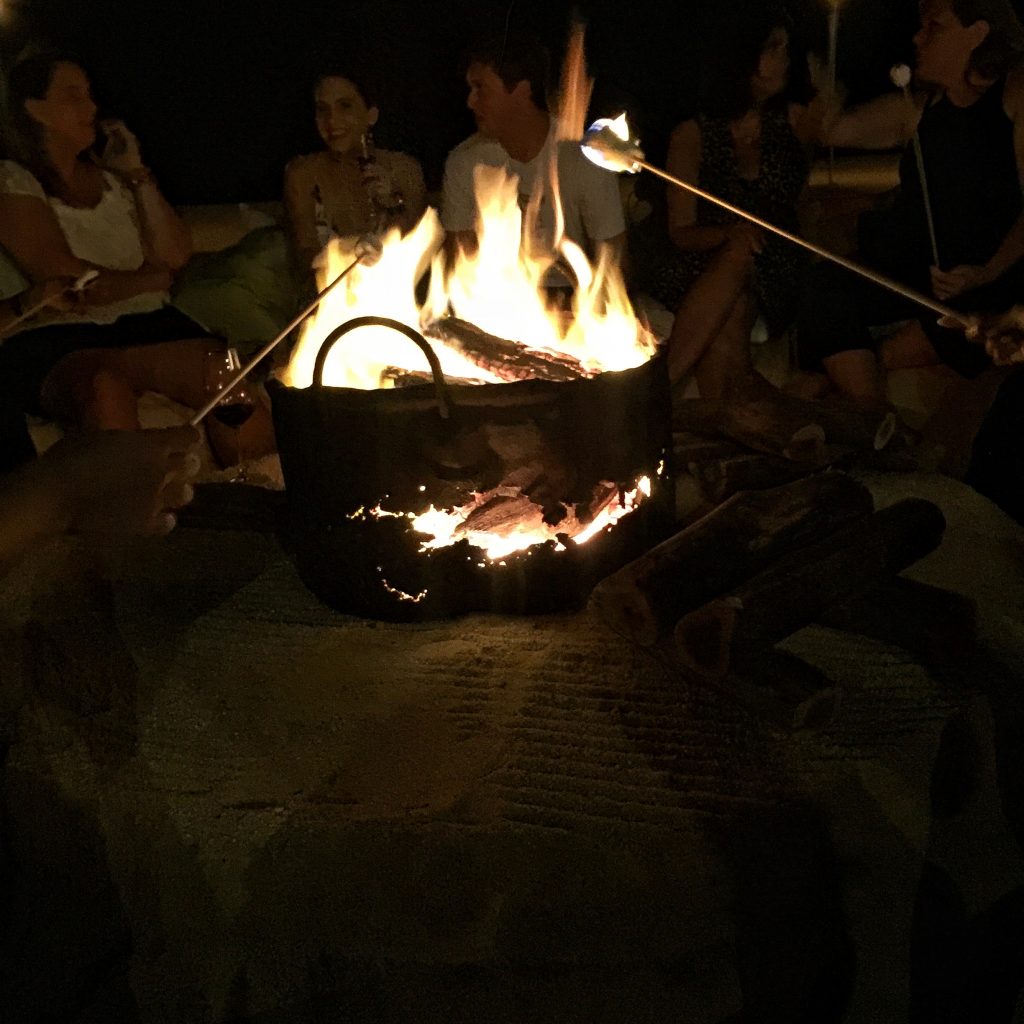 [/column] [column]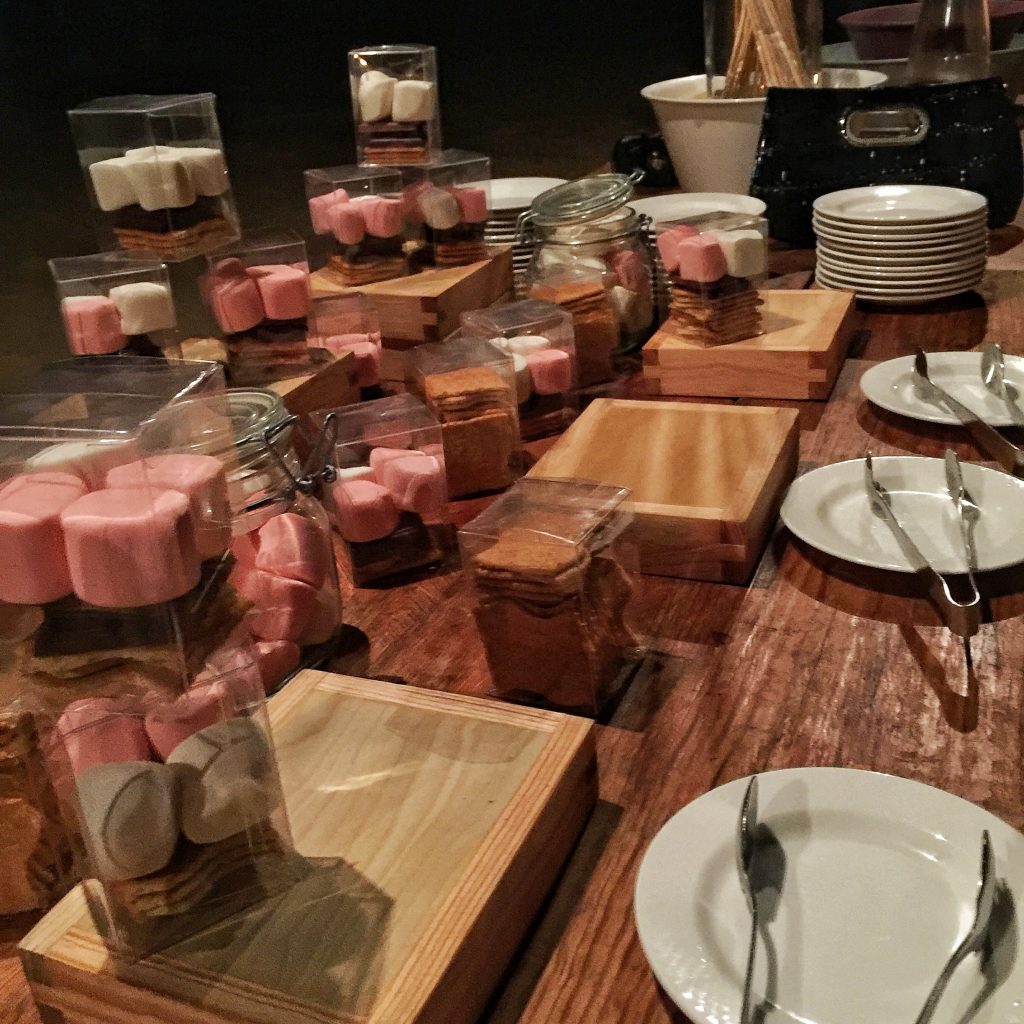 [/column] [/columns_row]
In addition to the sublime spa and insatiable fare, we spent our final evening at a bonfire in the sand, seated on seats designed by the grains beneath us and we had a s'mores spread that would make every food savant happy. As the waves crashed just past us, the smell of marshmallows sandwiched between chocolate and graham cracker was a befitting end to a sensational four days.
All in all, this hotel was everything I'd hoped for in a vacation away from everything. We can't wait to return! As an aside, note that one of the most beautiful golf courses ever is on this property so for those who love a good 18-hole round, this Jack Nicklaus-designed course ensures that every shot is nothing short of majestic thanks to the views!
To book a reservation at Hacienda del Mar, visit them online.
For more on my trips to this gorgeous country, visit "I Dream of Mexico …"