Southside With You
a love story for the ages …
[dropcap letter="W"]hile some wanted to say there is a political strategy to the film,
Southside With You
, they would be wrong. This is a film that is both beautiful visually and beautiful in content. First time writer/director
Richard Tanne
takes viewers on a journey one afternoon in Chicago during the summer of 1989. The film portrays the story of a single date that became the springboard for a love affair the world has since been in adoration of ever since it came to light between between Barack Obama (
Parker Sawyers
) and Michelle Robinson (
Tika Sumpter
).
With a careful balance between showcasing the early stages of one of our greatest orators' career and the sweetness of a relationship based on one of substance, this film cleverly avoids our present political situation and instead focuses on the bond created between two truly incredible people. Sure, those two people happen to be an American President and First Lady but it's smart, engaging, sweet, empowering and important. Having met as first year lawyers, the film manages to capture the reality of the challenges  any new law graduate has like when we see Obama's car with a rusted out interior when he picks up Michelle for their date. Beginning by experiencing one of Chicago's most exquisite museums, the Art Institute of Chicago, these two find themselves taken in by history, expression and a witty course of conversation.

Set during a time in history when change was all around, voices were sounding, political division was present and the need for inspiration was eminent, Southside With You does an exceptional job of leaving political affiliations by the wayside so we can focus on the story at hand: two highly intelligent, socially passionate lawyers falling in love. It is woven together seamlessly from the scene in the Southside church that shows how well-spoken Obama is (and was since the beginning) and the value of listening to the people in your community. In that scene, we see him inspiring hope – and giving Michelle an opportunity to see Barack in his element. As the story progresses, it's captivating and so intriguing. Watching two people the world has come to know, respect, and love (at least most of us) share something as sweet as a first kiss they have after getting Baskin Robbins ice cream, it just drives home the certainty that these are two people that are in every way, approachable or real.
Political party aside, Tanne created a tale that exemplifies the rarity of the Obama's love story and does so in such a way, you don't take all they've accomplished for granted. This is a poignant glimpse inside two well respected public and political figures before the world knew who they were. This is genuinely acted, thoughtfully written and wonderfully executed. Kudos to Tanne. I think this makes us fall in love with Barack and Michelle all over again …
Now available on BluRay and DVD, this is definitely date night material. It's also a beautiful way to honor the final year of the two presidential terms by the Obama's.
---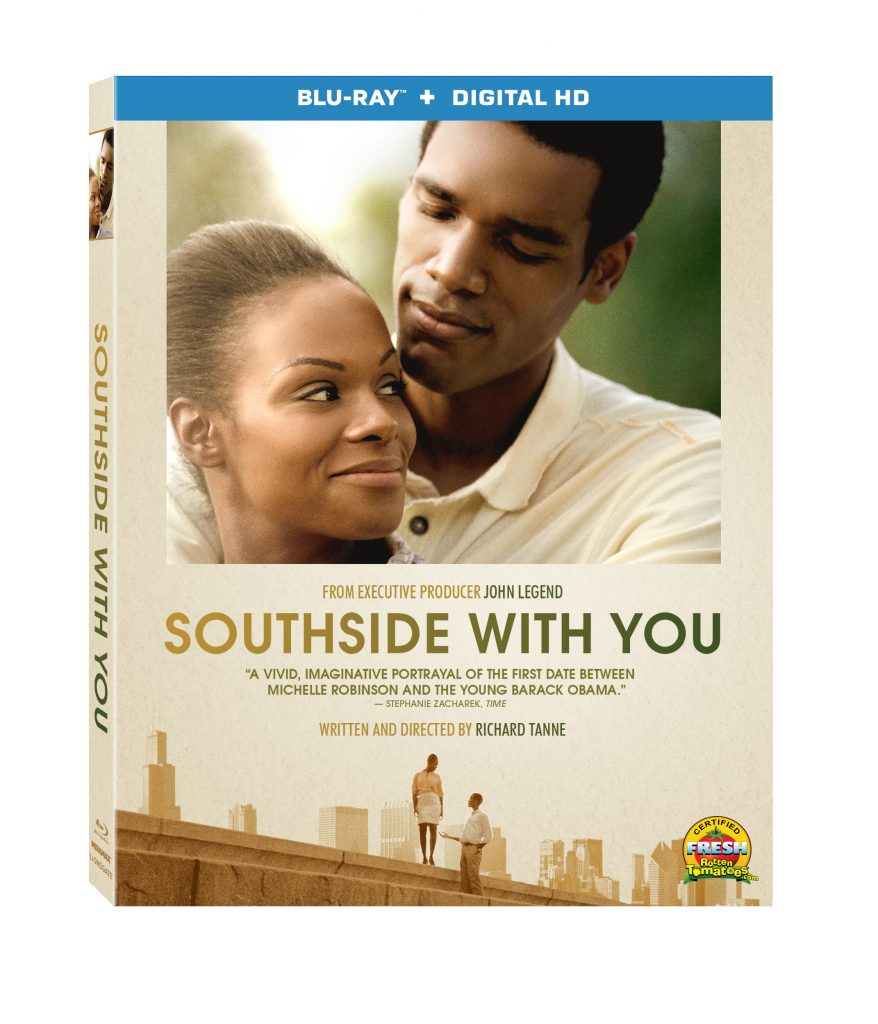 Inspired by President Barack Obama's first "date" with the First Lady, the touching and inspirational romance, Southside with Youarrives on Digital HD November 29 and on Blu-ray (plus Digital HD), DVD and On Demand December 13 from Lionsgate and MIRAMAX®. Tika Sumpter (Ride Along franchise) and Parker Sawyers (Zero Dark Thirty) "are terrifically cast as younger versions of Michelle and Barack Obama" (Variety) in this moving look at the very beginnings of the couple we now know as the President and First Lady of the United States. From executive producer John Legend (Academy Award® winner for Best Original Song, Selma, 2015) and written and directed by Richard Tanne, this "beautiful tribute to enduring love" (RogerEbert.com) received the Rotten Tomatoes Certified Fresh rating, and was nominated for the Grand Jury Prize at the 2016 Sundance Film Festival.
On a summer's day in 1989, a law associate named Barack Obama used all his charms to woo attorney Michelle Robinson. Southside with You brings that magical encounter to life as it follows Barack and Michelle on a day-long date that takes them from an art exhibit to a screening of Do the Right Thing to an unforgettable first kiss.
The Blu-ray and DVD releases both include commentary with writer/director Richard Tanne and original art and animations from the film's pre-production. Southside with You will be available on Blu-ray and DVD for $24.99 and $19.98, respectively.
BLU-RAY/DVD/ DIGITAL HD SPECIAL FEATURES
Commentary with Writer/Director Richard Tanne
Original Art and Animations