Sitting Down with Chef Ryan Rondeno
Easily One of the Best Chefs I Know
All Photos ©ATOD Magazine, Tram Tran
[dropcap letter="T"]he first thing you should know about
Ryan Rondeno
is he's one of the best and sweetest chefs there are. His cuisine can be rivaled by award winners and Michelin star holders – his portions are generous and his culinary style is meritorious! Born in Metairie, Louisiana, Ryan began an auspicious culinary upbringing surrounded by great southern cooks, including his grandfather who was a local legendary chef. He began his career at 16 working as a New Orleans prep cook, where his love for Cajun-Creole cuisine began. After graduating high school, he attended
The Chef John Culinary Institute
in Thibodaux, Louisiana. While in school, he worked under the late Chef Jamie Shannon of
Commander's Palace
, who instilled the importance of restaurant service, and Chef Anne Kearney of Peristyle, who focused on detail and perfection. These two chefs helped Rondeno build a strong foundation what can easily be described as culinary art with explosive flavor and refined technique.
When you watch Chef Rondeno prepare his dishes, it is much like watching a cross between an artist constructing his masterpiece and a conductor composing a piece of music that will brighten the world. In other words, it is breathtaking to be able to witness. He cooks with a smile on his face (every time) and whether he decides to formulate a cylinder of fresh octopus that looks like modern art or craft his own pistachio bread (that will blow your mind!), there is a delicacy and elegance to everything he does.
[columns_row width="half"] [column]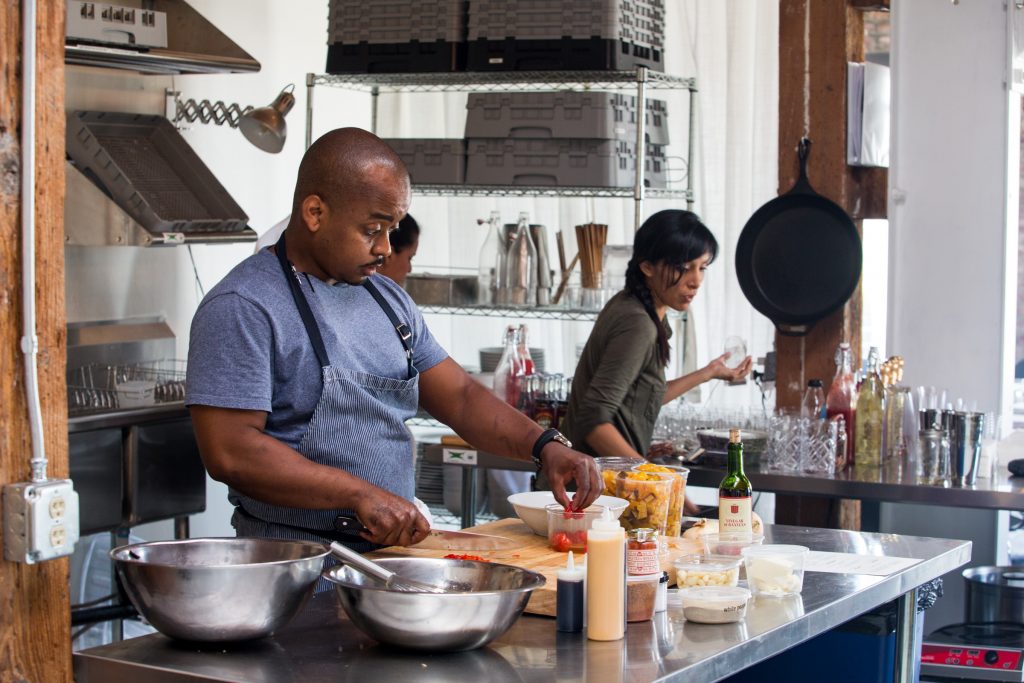 [/column] [column]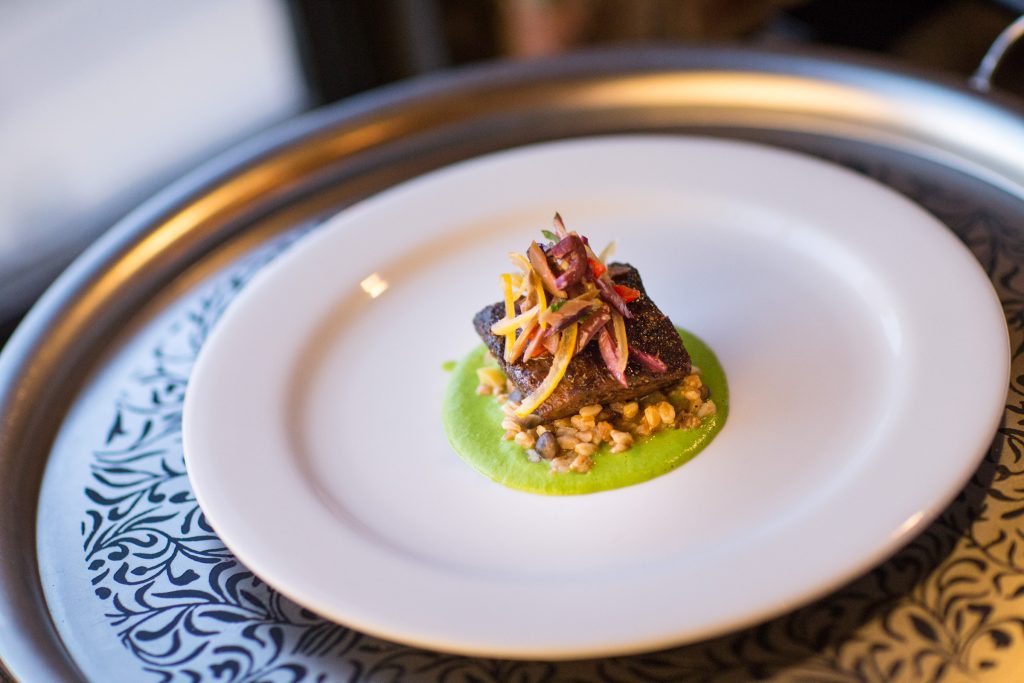 [/column] [/columns_row]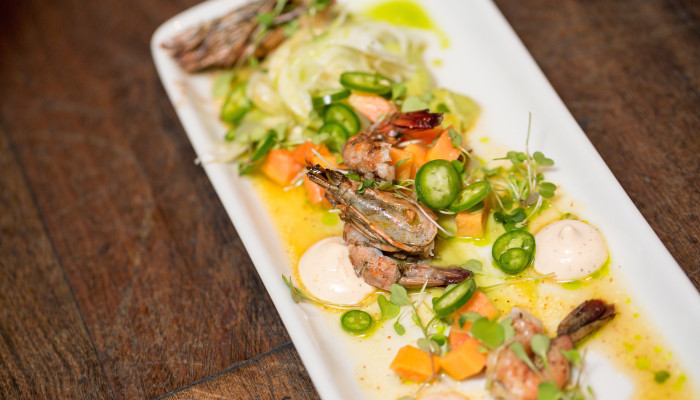 Not only is Ryan someone whose joy is contagious to be around, he also happens to be the partner and executive chef of our dinner series, White Lies And Alibis. Ryan's love for bringing people together over exceptional cuisine is something so beautifully apparent, he really does raise the bar in both cuisine and hospitality on the whole. The most intriguing part of who he is – is how humble he is.
It's been three years since I've had the pleasure of working alongside Ryan on our dinner series and every time we sit down to come up with a menu, I pass the baton with total confidence. Somehow he can make anything better! Pristine attention to detail is one of the most accurate ways of relating the cuisine Ryan imagines. With minimal parameters he can take a simple idea and turn it into something to dream of in your food porn memory bank. And I mean that  …
Now with a cookbook coming and the launch of his brand new cajun spices, it is my distinguished honor to share my interview with Chef Ryan Rondeno. In truth, you'll be hard pressed to find another chef that cooks with more love, heart and range of taste and flavor.
[columns_row width="half"] [column]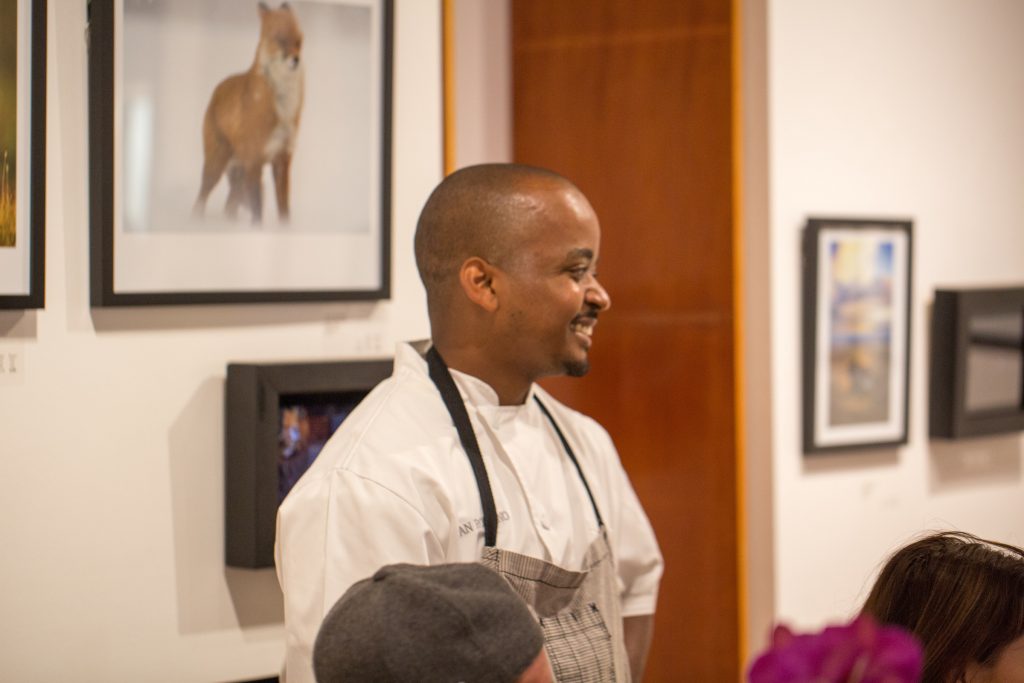 [/column] [column]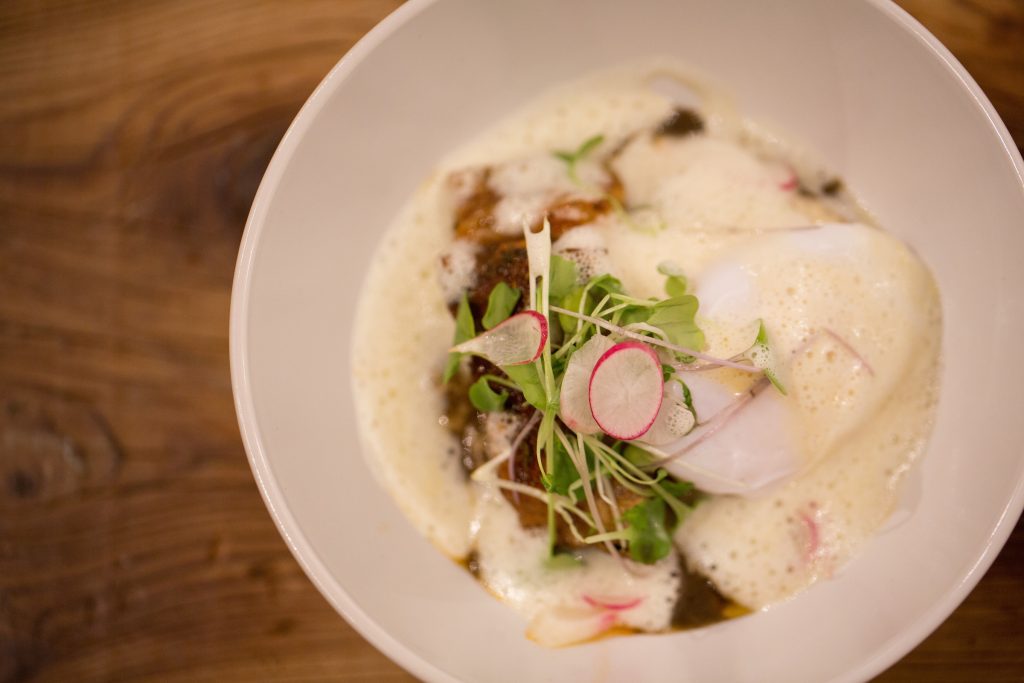 [/column] [/columns_row]
When you were a kid, what was the first meal you tasted that stirred the inner chef?
Growing up in Louisiana, seafood was a staple. Gumbos, crawfish boils, frog legs, alligator were some items that enticed the palate. I would say my grandfather's seafood gumbo was the first dish to really enhance my palate.
What do you think is the greatest misconception about NOLA cuisine?
The greatest misconception about NOLA cuisine is that everything is spicy and fried.
If you were given $2500 right now to go out and buy any ingredients you want for an intimate dinner, what would you get?
So many directions to go with this one. Osetra caviar, diver scallops, Merino Lamb, veal cheeks, kampachi, and white truffle.
[columns_row width="half"] [column]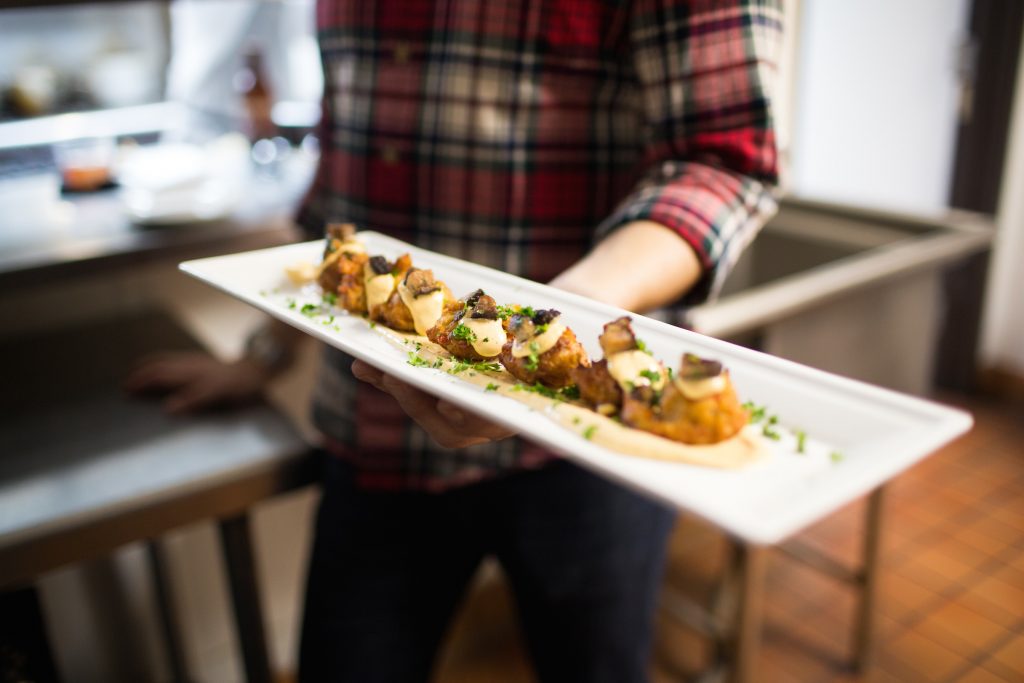 [/column] [column]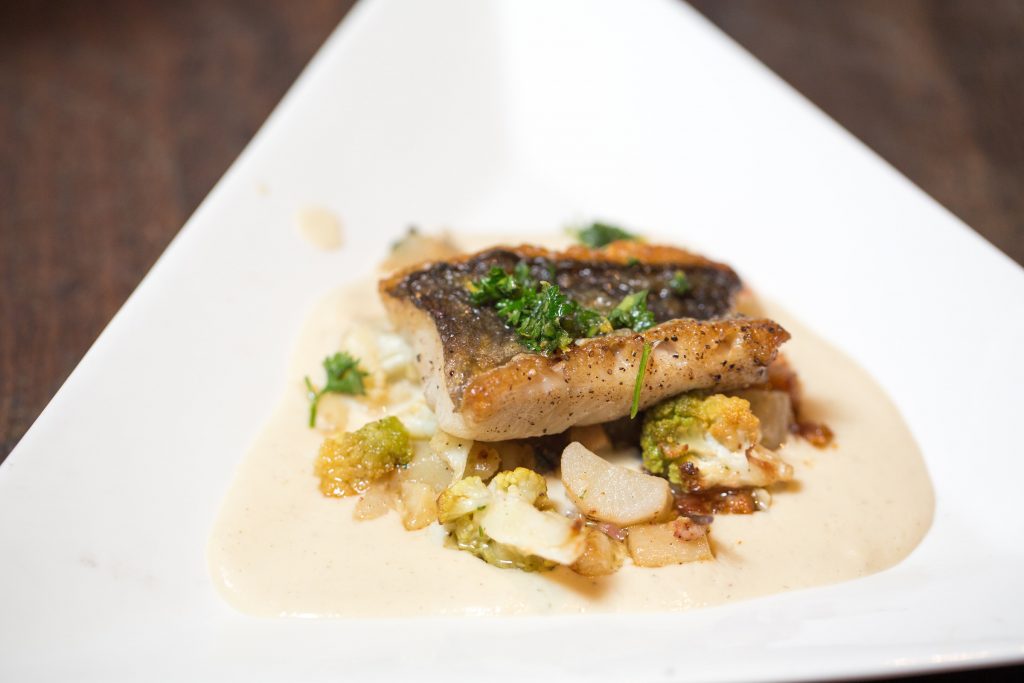 [/column] [/columns_row]
What have been some of the most surprising dishes you've pushed yourself to create?
During our second popup, the ridgeback shrimp, uni, and pickled papaya dish has been a favorite of mine. I've also love the white chocolate, Brie cheese ice cream, and peach dessert also.
What place have you traveled that had one of the more profound impacts on you?
​Spain is the place that has had a great impact on me.
If you could cook alongside any three of today's chefs, who would want to cook with? And why?
So unfair for this question. There are so many chefs I'd love to cook with.  Marc Forgione, Curtis Duffy, Dominique Crenn, and Massimo Bottura are to name a few.
You have an impressive collection of cookbooks in your private collection. Are there any you refer to on the regular?
Yes. It's a very useful library in my home. I love referring to Daniel (Daniel Boulud), Bachour Chocolate (Antonio Bachour), Forgione (Marc Forgione), Tru (Rick Tramonto), Tyler Florence, and John Besh to name a few.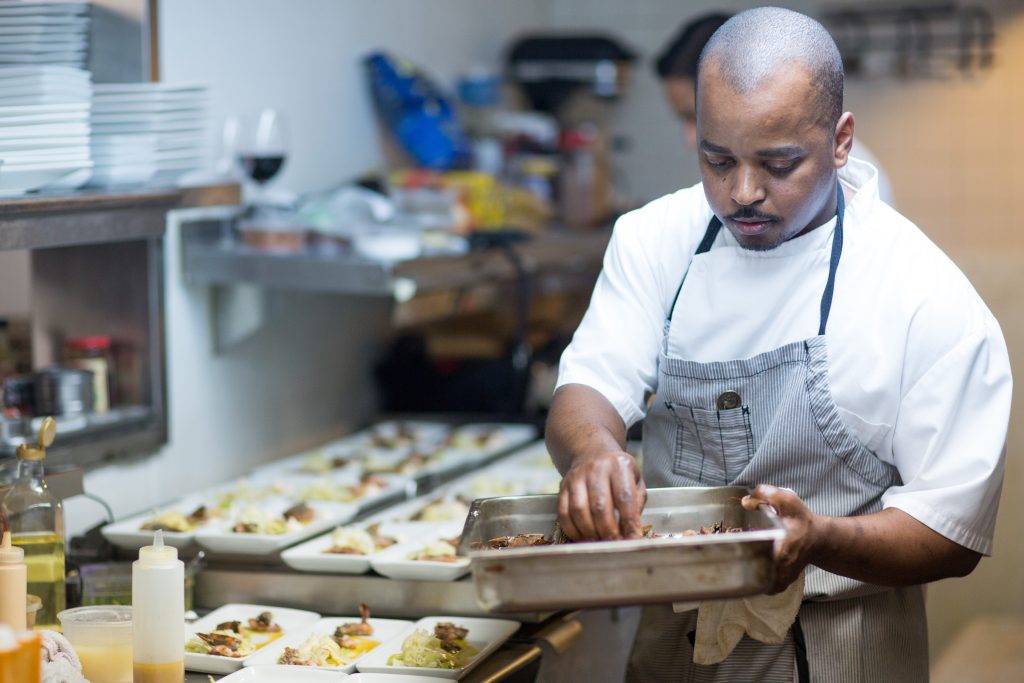 ​What are your top 5 must-have ingredients to utilize?
Bentons or Bill-E's bacon, crawfish, Foie gras, Bone-in Wagyu Beef, and andouille sausage.
What inspires you?
The ability to be creative is my joy. True inspiration comes from collaborating with peers alike. We are reaching the same goal and our focus to create beautiful food is the end result.
What is your guilty pleasure?
Burgers, banana pudding ice cream, and Kettle potato chips arrive in my kitchen during my downtime.
You recently launched your own line of rubs and spices. How did that come together and what would you want readers to know about them?
The spice rubs were created in my kitchen during the summer of 2015. After numerous amounts of testing with events and parties, I received great feedback. I've always wanted my own seasonings (especially Creole seasoning) to use for my own dishes. Why not use it on my food just like other chefs around the world? I've always asked myself that question. So, that's how these things came about. My Spice Collection is comprised of three awesome blends. Nola Creole Rub, Ancho-Chile BBQ Rub, and the Citrus Herb rub. Whether, you're cooking for friends, family, or tailgating, the blends will give you a rewarding experience. The blends are great with chicken, pork, seafood, lamb, and vegetables. An ebook is also in development to compliment some ways to use the rubs.
[columns_row width="half"] [column]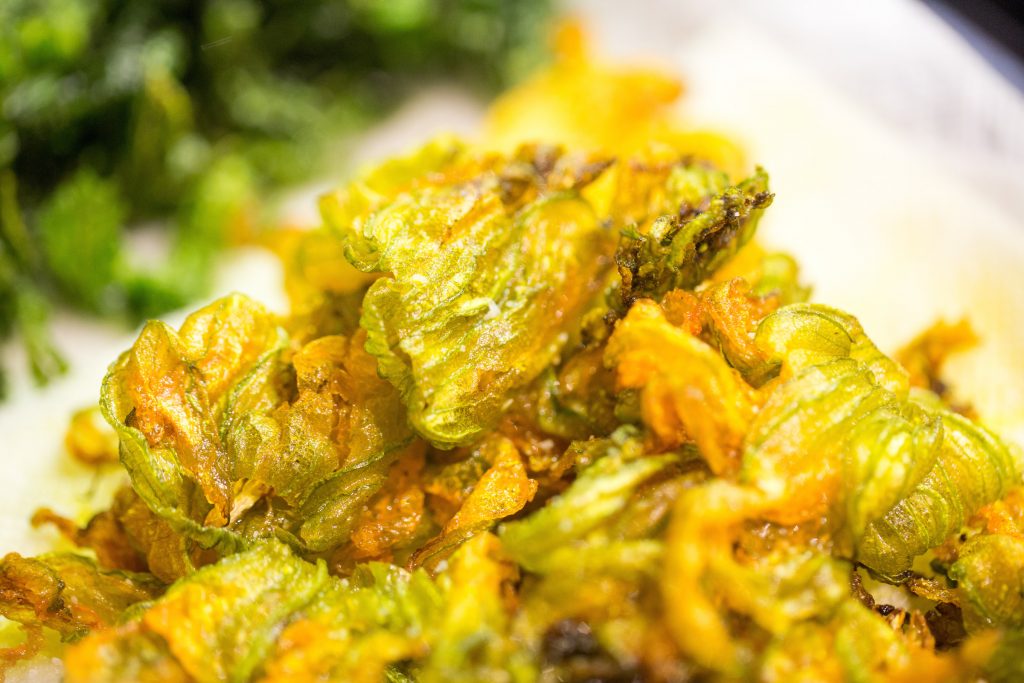 [/column] [column]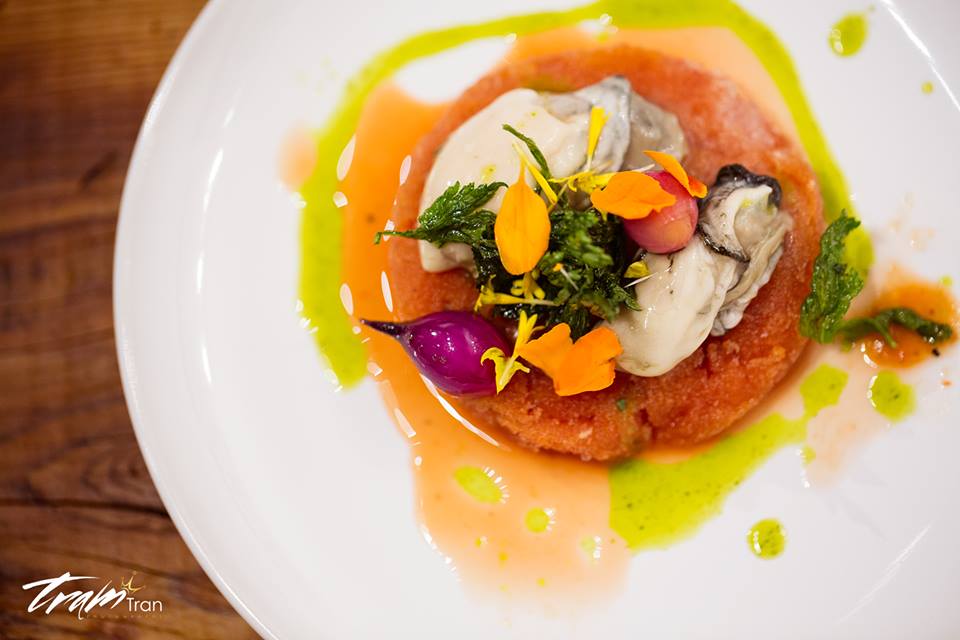 [/column] [/columns_row]
What has been the best advice you've been given as a chef? And what was the most outlandish?
The best advice a chef has given me was to cook every meal like it's your last. It's allowed me to raise the levels of passion of flavor in each dish presented. Today, I apply the same advice to my cooking career.
 The most outlandish advice was very early in my career. I was working at Commanders Palace, an institutional empire. Being my first fine dining job, I'm nervous and didn't know what to expect. I think I'm doing a great job, but the sous chef didn't think so. "Watching you cut is putting me to sleep" were his exact words. Let's just say I didn't have that problem from that day forward.
If you could map out the ideal path for yourself as a chef, what would that look like?
To map out an ideal path for myself, I'd increase the chances to developing more products in the future. I'd love to write a cookbook highlighting my style of cooking. The ultimate goal is opening a restaurant.
We've had the pleasure of creating a dining series together. What theme would you want to do for our next one?
We've done beautiful dinners together! I can agree that each one gets better!  We've done Californian cuisine and  contemporary Creole cuisine. Although you've received snippets of my creole flare with each one, I'd love to do a Peruvian and French Fusion dinner.
What is an ingredient you've never used that you are eager to get your hands on?
The ingredient that I'm eager to get my hands on is mangalitsa pork. Once popular in the mid-1800s, now is back in seasonal form. A Hungarian pig that's described to be full of fat and flavor. Who wouldn't want that?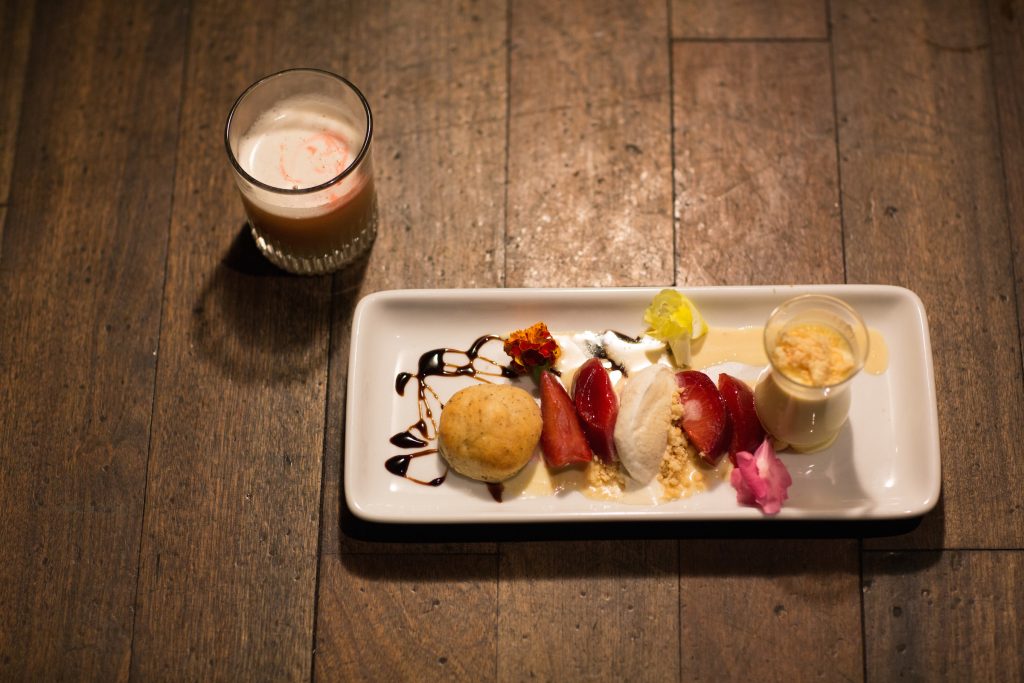 What motivates you?
My motivation comes from my father. In 2009, losing him in a tragic accident really changed the way and why I cooked. In our world, we have the choice to make our parents proud. As I move forward in life, he's been the force the drives me to be greater in life.
Your most recent dining experience?
​My most recent dining experience was at Rustic Canyon.  I was seeking a late night dinner after catering a holiday party. Chef Jeremy Fox's creations were phenomenal. Because I didn't want to go too deep into a full dinner, appetizers were suffice that evening. I'd definitely recommend the steak tartar!
Something no one knows about you.
​I'm an avid sports fan. Basketball and football are two that rank high on my list.
If you were a character in a film, who would you want to play you?
​If I were in a film, I'd love to see Denzel Washington play my character. It would be The Training Day Denzel! It would definitely be a comedy/drama film.
What do you love about New Orleans?
I love everything about New Orleans because it will always be home.  The southern hospitality, food, culture, and music brings a sense of joy to the city. Everyone has an uniqueness about them which makes the city so special. The food will always have the ability to speak for itself. So much flavor and flare will entice you to come back for more!
Chef Ryan Rondeno is cooking up something divine all around the world, with a base in both Los Angeles and New Orleans and you can learn all about how to book time with him: HERE.
In the interim, I just want to say thank you to Chef for his vision, his kindness, his friendship and for being a truly wonderful human being. Stay tuned as we plan the next White Lies + Alibis dinner in a brand new city …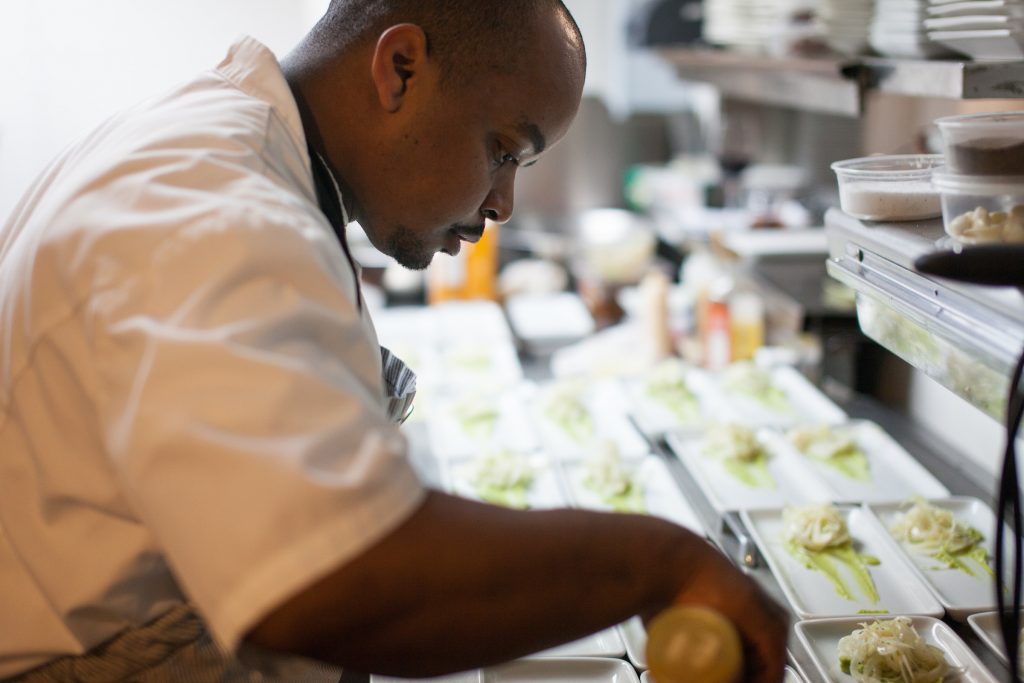 [separator type="thin"]
Chef Ryan Rondeno has a passion for French, Italian and Regional American Cuisine. Daily he introduces his clients to new cuisine with his focus on local, sustainable cuisine with a strong emphasis on bold flavors. Chef Rondeno continues to revamp his own style of cooking with the love of New Orleans cuisine and fresh California flavors.
Born in Metairie, Louisiana, Ryan Rondeno began a fortunate culinary upbringing surrounded by great southern cooks, including his grandfather who was a local legendary chef. He began his career at 16 working as a New Orleans prep cook, where his love for Cajun-Creole cuisine began. After graduating high school, he attended The Chef John Culinary Institute in Thibodaux, Louisiana. While in school, he working under the late Chef Jamie Shannon of Commander's Palace, who instilled the importance of restaurant service, and Chef Anne Kearney of Peristyle, who focused on detail and perfection. These two chefs helped Rondeno build a strong foundation of southern cooking and superb technique.
After obtaining a college degree, he worked with chefs Emeril Lagasse, Anton Schulte, Mathais Wolf, Sue Zemenick, and Gerard Maras to enrich his culinary repertoire. Rondeno established culinary techniques in French, Italian, Southern, Cajun-Creole, and farm-to-table cuisines under remarkable chef-teachers and mentors. The opposing schools of stark simplicity and grand detail expanded Rondeno's culinary range, allowing him to strike a balance to develop his own gastronomic flare.
When Hurricane Katrina forced thousands to evacuate their homes in New Orleans, Rondeno relocated to Atlanta in 2005. It was there he rejoined the Emeril Lagasse Corporation as a saucier, butcher, and sous chef under Chef Michael Blydenstein. As he continued to hone his skills, Rondeno moved to New York where he became Executive Chef at a Southern style seasonal restaurant.
In 2008, Chef Rondeno relocated to Los Angeles, and is currently a personal to celebrity clients. His culinary focus is on the use of grass-fed organic meats and locally-grown organic produce, with an emphasis on creating bold flavors. As his cooking continues to evolve toward clean eating and the use of sustainable products, Chef Rondeno continues his work as a chef for his celebrity clientele, including the catering for gala dinners and large-scale culinary events.
In 2014, Chef Rondeno started Rondeno Culinary Designs. Chef Rondeno focuses on creating crafty and elegant bites for his clientele. I have found the perfect mix of combining New Orleans cuisine and fresh California flavors.
In 2016, he developed the Ryan Rondeno Spice Collection (Nola Creole Rub, Citrus Herb Rub, and Ancho-Chili BBQ Rub). His focus was to help cooks enhance the flavor of the dishes.