Plant, Food & Wine by Matthew Kenney
Sustainablility, In-House Garden, Subway Tiles and Zeppelin.
All Photos by Dawn Garcia | iPhone 6Plus
[separator type="space"] [dropcap letter="V"]egan, vegetarian, and prepared with thoughtfulness. As I walked in through what used to be AXE on Abbott Kinney, the decor is modern and clean with crisp, clean colors and beautiful floors leading us out to the open patio. A patio designed with a sophisticated sustainable model in mind, it is a beautiful and welcoming space. From tables made of rich woods to concrete corners lined with heather gray cushions, even the trees have a purpose. First thing's first, looking over Chef Kenney's chosen wines is  a must. With a name like, "Plant, Food & Wine" I admittedly was curious to see what wines he carried. As I scan the wine list, I'm pleasantly surprised at the global range available from California wines to South African blends. It's a rather impressive representation of the breadth of variety of flavor profiles.
I taste the 2014 Montepulciano de Abruzzo, La Quecia (Abruzzo, Italy) and the 2009 Querus Crianza Vina Enebro (Murcia, Spain). They both had memorable notes and while the Querus Crianza was the bold, blackberry-forward wine that won me over (and I will most certainly try again), I chose the Montepulciano – easy red – as to not compete with the multitude of flavors that would no doubt be the star of today's lunch.
While we wait for our first course, I look around at the layout. I'm thankful to see the space reinvigorated as I wasn't a huge fan of AXE. At Plant, Food & Wine, there isn't an underutilized space anywhere. It's a zen haven amidst a colorful feast of nature, wine (by way of the wine room), drought resistant-style landscaping, the vegetable and herb garden, and the stairway leading to the Culinary Institute above the restaurant kitchen.
That said, Los Angeles is plentiful with restaurants to discover, including an onslaught of the latest health trend whether it be matcha, juicing, gluten-free, or clean eating. I have to be honest and say I'm a carnivore at heart but I do eat vegetarian most days of the week. As someone with a wheat allergy and a palate designed for flavor profiles that surprise and excite, intentionally eating vegan can be a challenge. At Matthew Kenney's Plant, Food & Wine, I am asked to put my preconceived ideas behind me and delve into a new culinary adventure. Below is my critique of each dish.
P F & W | 1009 Abbot Kinney Blvd. | Venice CA.
[separator type="thin"]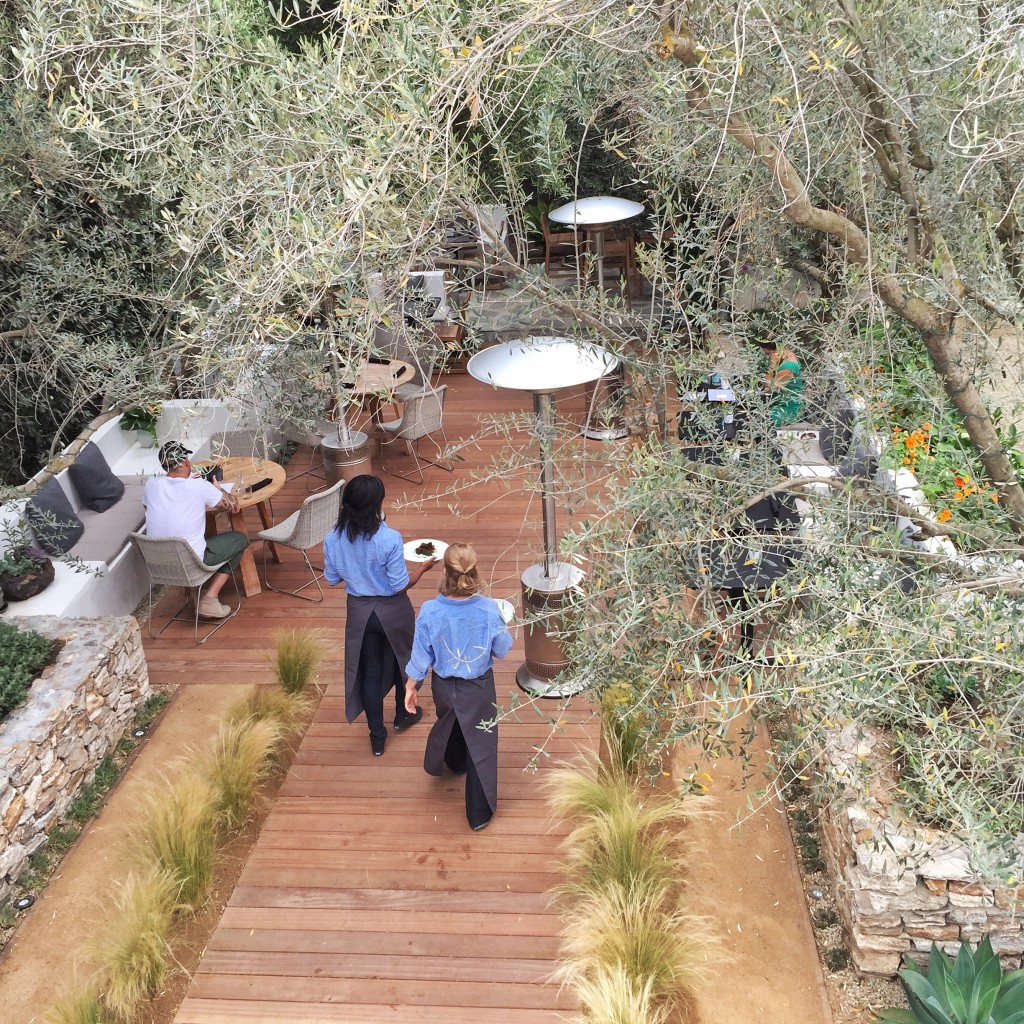 MIXED OLIVES | (Citrus elements, pistachio)
Olives were fresh but it was the grapefruit that added an element of surprise.
RADISHES | Macadamia butter, sea beans, mixed herbs
On a warm summer day in June, this was utterly refreshing. The radishes were perfect and it was the sea beans atop the macadamia butter that added a much needed salt and texture.
CHEESE |  (Served with pickles, mustard seeds, fennel crackers)
Mixed Herb: Thyme, parsley, cashew-macadamia
White Truffle: cashew-macadamia
Smoked Cheddar: cashew-macadamia
Mixed Peppercorn: cashew
This particular dish is something that requires a little getting used to if you aren't a devoted vegan, however the white truffle and mixed peppercorn were on point. As someone who absolutely loves a good cheddar, the Smoked Cheddar had a bit too much of a texture to distinguish itself as a "cheese" but it was interesting in flavor. The most standout one of the four was, in my opinion, the mixed herb. Not "mimicking" any particular cheese, it was able to stand on its own as a flavorful ode to fromage. 
HASS AVOCADO | Watermelon radish, sun dried olives, sprouts, tahini
Oh I'm not sure there is enough time to say all of the pluses about this salad. It is, without a doubt, the most refreshing salad I have EVER had. So good in fact, I ordered a second one to take home. The culmination of flavors married happily throughout makes this something of genius. What the chefs and Matthew Kenney have done is find the most wonderful elements in vegetable pairings and pieced them together like a match made in heaven. Every bite had the presence of a palate pleaser and nothing was lacking in my opinion. 
SPROUTED FARRO RISOTTO | Watercress, summer peas, radishes
This farro risotto was beautiful in presentation with bright hues of green and punches of magenta with the radish. The dish was well balanced though could have done with a punch of citrus. 
ZUCCHINI TAGLIATELLE | Early season sweet corn, capers, sunflower seed romesco
I wanted this to be so delectable but alas, this was a bit too bland for me. Sometimes, a little pop of "heat" can change dull into delightful and this one was a dish that would have fared far better were there to have been more "flavor". Lacking that saltiness that really emphasizes the zucchini, even the corn seemed to get a bit lost in the overall composition of the dish. 
CHLORELLA OLIVE OIL CAKE | Fig gelato, chocolate fennel seed
A surprise. Who would have thought an olive oil cake could supplement a sweet decadent cake and yet -. This olive cake was moist and full of flavor and the chlorella leant a refreshing undertone. The creme de la creme of this particular dessert was the chocolate fennel seed bark. SO scrumptious and interesting!
ICE CEAM TRIO | Kaffir Leaf Lemongrass, Coconut Ginger, Carrot Lime Leaf
"Ice cream" by its very definition creates a distinction of a creamy texture so my tastebuds were awaiting precisely that. Again, this is where being someone who eats everything and isn't a vegan comes out. This was more like a gelato in texture with the exception of the aftertaste. Each one has it's own defining characteristics but my favorite was the Coconut Ginger. This was sensational! A happy zing with a very well infused flavor of carrot. Second for me was the Kaffir Leaf Lemongrass. While the texture was a bit more "chalky", it had a sophistication that gave it a worthy note. The carrot lime leaf didn't quite have the essence it needed to stand out. Each one was unique.
The fiNish: MAKE OUT Juice
[separator type="thin"]
Overall, I think Matthew Kenney has created a bright and interesting vegan menu that invites even carnivores and pescetarians alike an opportunity to explore and indulge. My only critique is that while I understand the need not to "mask" the natural flavors of the foods, a couple of dishes could use a bump in flavor. I love that nature provides us with such an array of citrus and spices to really magnify taste, I think it's advantageous to utilize more of what nature provides. I'd like to see a bit more of that "color" added to a few of the dishes. Sometimes I believe when creating a diet restricted menu such as a Vegan focus, taste becomes secondary to composition. I'd encourage a bit more playfulness with chiles and citrus. Still, I'd go back 10 times more just for that Hass Avocado Salad!
Thanks you to the staff and chefs for a beautifully constructed lunch in an equally gorgeous space. I look forward to coming in once the Wine Room is complete and the wine tastings and pairings become available.
[separator type="thin"]
Intense Culinary Workshops
For those of you in Los Angeles looking for a one-of-a-kind culinary course, I highly recommend giving Matthew Kenney's Culinary Workshops a go. Below is the schedule for July + August.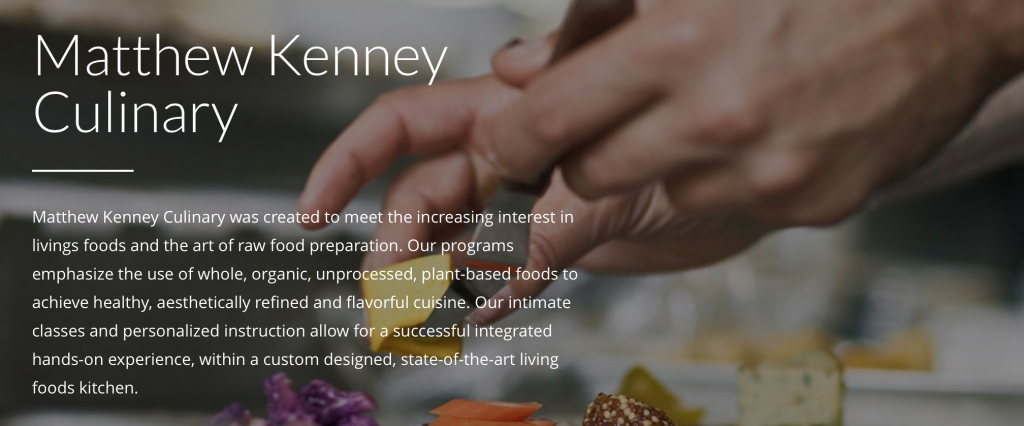 JULY
July 11th: Art of Raw Chocolate, 11-4pm – $275
July 18th: Everyday Raw Detox, 11-4pm – $250
July 25th & 26th: Raw Chocolate, Cheeses and Desserts – $600
AUGUST
August 1st: Art of Raw Chocolate, 11-4pm $275
August 8th: Dinner & Demo, 6-8pm – $85
August 15th: Essentials of Raw Cuisine, 11-4pm – $250
August 16th: Advanced Raw Cuisine, 11-4pm – $225
August 22nd: Raw Food for Kids, 11-2pm – $185
August 23rd: Knife Skills & Sushi, 11-4pm – $250
August 29th: Entertaining in the Raw, 11-4pm – $250
[separator type="thin"]
PRESS RELEASE
LOS ANGELES, May 28, 2015 – Plant Food and Wine, the flagship restaurant of culinary health and wellness lifestyle brand Matthew Kenney Cuisine, opens in Venice Thursday, June 4. The restaurant introduces vibrant and nutritious plant-based cuisine rooted in Southern Californian ingredients to a westside community rich in impeccable culinary experiences.
"Our goal is to create a space where we can share our expertise of the most nutritious and absolutely beautiful cuisine with locals and visitors," says Founder Matthew Kenney. "We are thrilled to bring this culinary evolution to life with Plant Food and Wine."
Winegard's commitment to seasonal, high quality ingredients is captured in Plant Food and Wine's edible flour and herb garden that guides a la carte plates in addition to the nine course Market Inspired Tasting Menu ($75). A globally curated, organic and biodynamic varietal wine list complements the seasonally crafted menu. Plant Food and Wine serves lunch and dinner daily, brunch is offered Saturday and Sunday beginning at 10am.
[separator type="space"]
About Matthew Kenney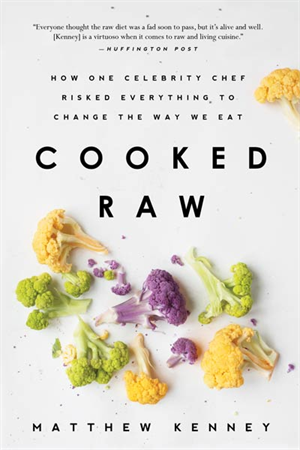 Matthew Kenney is the world's leading raw food chef, the writer of several best-selling cookbooks, a culinary educator, speaker, and an entrepreneur specializing in the plant-based lifestyle. He has authored 12 cookbooks, including his memoir Cooked Raw: How One Celebrity Chef Risked Everything to Change the Way We Eat, released in January, 2015. Kenney has been honored with a James Beard Foundation Rising Star Chef nomination and was named Food and Wine Magazine's 1994 Best New Chef. Kenny and his partners opened Pure Food and Wine in New York City in 2004 with a new emphasis on raw, organic and fresh ingredients. Pure Food and Wine has been featured twice in New York Magazine's "Top 100 Restaurants" and 5 times in Forbes Magazine's list of "All Star New York Eateries."
Kenney's success lies within his innate understanding of seasonal and local ingredients, his classical training and extensive travel background. His application of contemporary methods and techniques along with a firm commitment to innovative recipes and food aesthetics is leading the raw food industry to the mainstream. Kenney is involved in raw food and plant- based projects around the world, and travels extensively to forward his mission to show others that food can be delicious and vibrant, while still healthful.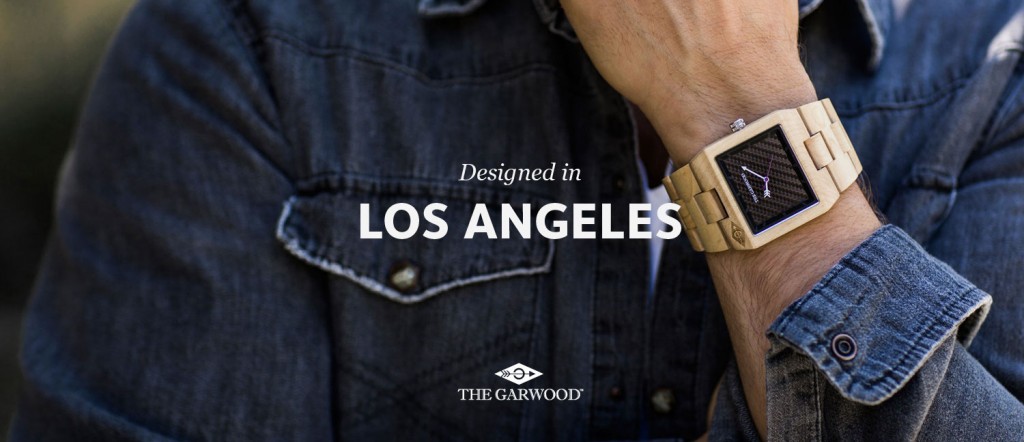 About Matthew Kenney Cuisine
Founded in 2009 Matthew Kenney Cuisine is an integrated, California-based lifestyle company, providing consumers with innovative, high-quality products and services in the culinary arts, health and wellness industries. The company is comprised of education, hospitality, media, products and services business sectors, each striving to change the way the world makes its food choices. The foundation of the company's work is the use of innovative techniques and creative thinking to prepare minimally processed, beautiful and nutritious plant-based cuisine. Aligned with a world rapidly embracing the need for a healthier diet and an increase in plant- based food consumption, Matthew Kenney Cuisine is crafting the future of food®.
The Matthew Kenney Culinary Academy is the world's first state licensed raw food educational center. The Academy receives students from around the globe and offers onsite courses in Venice, CA, Belfast, Maine, Hua Hin, Thailand (summer, 2015) and Miami, FL (fall, 2015) in addition to online instruction.
Matthew Kenney Cuisine owns and operates multiple plant-based restaurants in the US including: The Gothic (Belfast, ME) MAKE OUT (Culver City, CA) and forthcoming White Lotus (Miami, FL). More information is available online: MatthewKenneyCuisine.com
[separator type="thin"]
PLANT-BASED CAFE MAKE OUT GROWS WITH PARTNERSHIP FOR NEW LOCATIONS
LOS ANGELES, June 22, 2015- MAKE OUT, the new fast casual plant-based cafe of renowned Chef Matthew Kenney, interim CEO Antony Besso and Director of Creative Operations Michel Francoeur, announced a partnership with international financier Pierre Bastid to open several more locations around Southern California over the next five years.
"I profoundly believe in the future of plant-based cuisine and the need to make it more available, says Bastid. "MAKE OUT brings fast casual vegan food to a new level, I'm thrilled to enter this partnership and grow MAKE OUT's presence in Southern California."
MAKE OUT's flagship location launched in downtown Culver City in May to provide accessible, carefully crafted juices and nutritious food to the health conscious consumer on the go. The everyday plant food cafe is vegan, gluten and dairy free. The restaurant leverages Kenney's deep culinary expertise to provide the plant-based cuisine in an accessible and affordable format. "This collaboration allows us to share our commitment to delicious and nutritious plant-based food with so many more people" says Kenney. "We strive to bring innovative products, services and cuisine in everything that we do; this partnership is a perfect extension of that mission."
"This partnership will allow us to achieve our vision of becoming the leader in the plant-based category" says Besso. "We look forward to introducing MAKE OUT to an entire new audience of health conscious consumers seeking refreshed, nutritious and delicious cuisine over the next five years."
MAKE OUT Is located at 9426 Washington Blvd in Culver City, CA. More information can be found online at makeouteveryday.com.