Life Is a Recipe
An Intricate Look At A Woman On A Mission To Simply Nurture The World
[dropcap letter="T"]he term,
"Life Is A Recipe"
alone incites question. Life
is in fact
a recipe and while the definition of just how that recipe plays out for us personally is often ever-changing, the premise of something so mindful, so simple is something we ought to celebrate. That is exactly what Sonia Soni is doing. A homecook in her own right, Sonia has created a brand that requires us to take stock in the beauty around us and immerse ourselves into the intentional world we wish to create. Invited to her private home in Bel Air for an intimate dinner launching the official brand, "Life Is A Recipe", the moment you meet Sonia Soni, you're intrigued. Beautiful and statuesque, a mother of three girls, she is living luxuriously and intentionally. We wanted to share her story with you and encourage you to find your own life recipe for happiness, truth, love, passion and adventure.
As for the dinner launch, as the evening unfolded, a group of strangers came together to talk about life, love, loss, passion and listen to a little random piano playing while we feasted on food and shared our souls. It was a perfect LA evening, especially as we strolled outside in her backyard with grand trees adorned with lanterns, a fresh garden full of fresh produce and herbs, and the crisp night air enveloped itself around us.
[separator type="thin"]
What is your first memory of food being a source of love? Not the story we've read online but a very specific meal that to this day represents love for you?
Believe it or not when I was really little, I had an aversion to food. Sometimes families can be over-loving and caring. My family always worried that I was not eating properly because of my tiny frame. As most Indian families do, they would push all this wonderful food on me. Mealtimes became a cumbersome experience for me that I did not look forward to.
Strangely as time went on, I saw how my brother and cousins were always enjoying what they ate, and my family began to back away from all of the force-feeding. I started to relish in the different types of foods and flavors. It was like the light had come to me. I was surrounded by food, cooking and a lot of loving kitchen time with my very large family. If you can imagine a matriarch grandmother fussing with her daughter-in-laws and grandchildren, delegating to make sure that her family would have a spectacular meal every day of the week. It was a production.
I loved to participate in any way that I could whether it be taking little pieces of dough from my grandmother and emulating her with a little rolling pin creating little amoeba like shaped roti (which are Indian flat bread that are eaten with many little side dishes). I would enjoy listening to all the grownup talk while I helped her peel potatoes. Sometimes my cousins and I would just gather around her as she told us stories of her youth, which were so fascinating.
There would be flour everywhere and that did not deter anyone from discouraging me to be creative. Being encouraged in this way, somehow subconsciously, translated to me that preparing food for someone was a very loving act.
But my most precious moments in the kitchen were with my father. My family only cooked Indian food. My dad was so creative he loved to use different ingredients and make fusion foods. The lessons with him in the kitchen were about learning about different cultures. It was more than just eating or making food. It was about learning, and I was very curious. My father used to make something called a kati kebab. It was created with leftover chicken curry, a fresh Paranta (a layered Indian flat bread), an egg, cilantro, onions and a squeeze of lime. He would make it for brunch on the weekends. Watching him take all the different ingredients, passionately assembling this chicken roll, listening to the sizzle of the pan while he crisped it, brings me back in the kitchen with him, even though he's no longer with us. The memory of the smell and the taste of the kati roll, bring him alive in my life in that moment. It's incredible how food can bring back memories.
[separator type="thin"] [columns_row width="half"] [column]
[button content="BUY" color="orange" text="white" url="http://lifeisarecipe.com/product/garam-masala/" openin="_blank"][/column] [column]
[button content="BUY" color="orange" text="white" url="http://lifeisarecipe.com/product/tikka-masala-kit/" openin="_blank"][/column] [/columns_row] [separator type="thin"]
What ingredient is always in your kitchen?
I have vertical garden towers with vegetables on my back patio that have many live ingredients. I use them to be creative in the kitchen; herbs, tomatoes, different lettuces, spinach.  Along with that, my fridge is always stocked with eggs. But the spice that I always have on hand is Garam masala.  Last year, I had the amazing opportunity of creating my own private blend of Garam and Tikka Masalas. If I have those three (vegetables, eggs, and Garam masala), I can recreate an endless variety of dishes.
With three daughters, what is your favorite meal of the day to make with them and what's their favorite dish?
I love breakfast. But the kids just love it when I concoct things with leftovers. They're always excited and curious to see what I come up with. One of their favorite dishes is when I make them spaghetti and meat sauce, sprinkle a little cheese, add in some spinach and make little crispy Panini sandwich.
Each one of my daughters has such a unique personality. When they're sitting at the kitchen table, I watch my little one, who is so alive and eager for the day. My eldest daughter although in a rush, always sits for breakfast. My middle daughter, on the quieter side, composed, takes it all in.  I love how by the time they finish eating breakfast there's love in the kitchen, and smiles on their faces, and they're ready to begin their day in a positive way. Even though we don't realize it, whether breakfast or dinner, family mealtime is so valuable.  It grounds and centers us, and it's an important forum of sharing and discovery. I hope by practicing this every day that they can take this practice of family morning time on into their own lives as a way to bring their families together.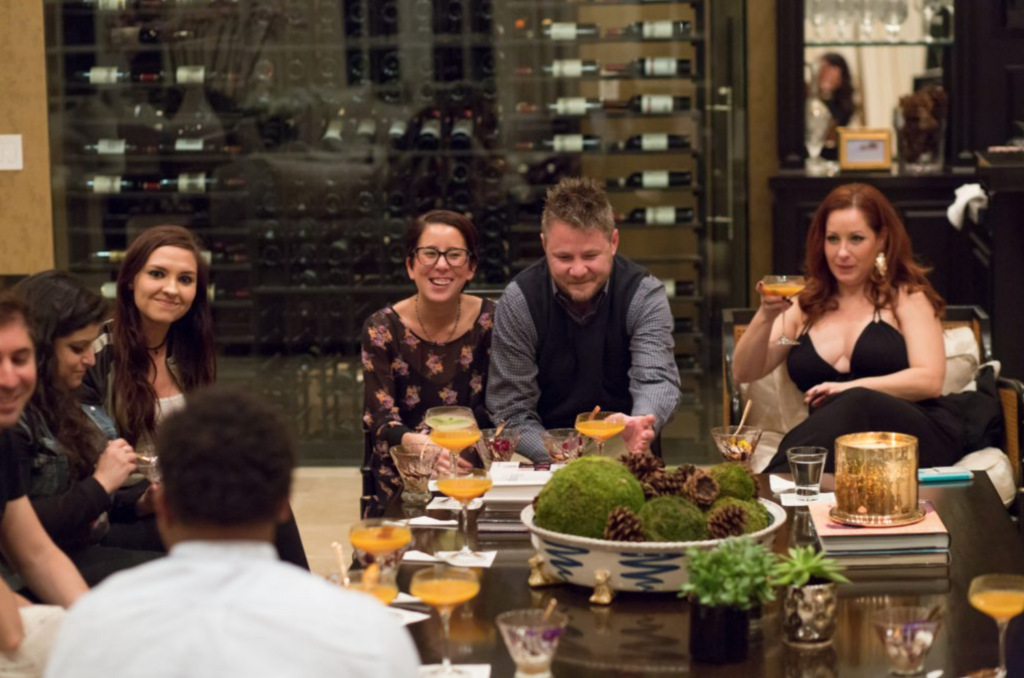 What smell reminds you of India?
When I'm making my spice blends, the symphony of aromas – the turmeric, cumin, cloves, cardamom – it all reminds me of India.  Sometimes that nostalgia all comes together in the kitchen when I'm experimenting, but the memories were definitely vivid when we were in the spice factory creating my line of spices. Those and every other vibrant scent you could imagine fills that place.
Growing up in Canada, did you have a tradition you adopted that you still implement in your life?
Because we grew up eating a lot of Indian food at home it was a treat to go out and experience different foods from different cultures. One of the things we loved doing with family and friends was frequent a teppanyaki restaurant. It was always so much fun. We looked forward to a party atmosphere. Growing up as kids, we were always so excited for the weekend to come. Now, here in California, in Los Angeles, we still do that with the kids. Whether it be Japanese BBQ, Korean BBQ, Yakitoriya, Shabu Shabu, or teppanyaki, we continue this tradition with the kids. When I visit my family in Montreal, my kids get to experience it with their cousin and extended family. There's something about actively being evolved in one's meal and the togetherness that just spells out love.
Where would you travel to if you could go anywhere you haven't been to really submerse yourself in their culture to learn more about love and food?
I would love to submerse myself in Japanese culture and learn more about the foods. I think over here there are so many fun places in Los Angeles that I frequent. Small hole in the wall restaurants that have incredible Japanese food, some that are invitation only. I'm so intrigued by Japanese food, the taste, the presentation. You can taste how each ingredient was lovingly picked.
What is your greatest inspiration?
Creation would have to be my greatest inspiration. I'm humbled by nature and food is nature. Nature is so intricately designed. We could look at the simplest ingredient, like an apple. It grows from a tiny seed, and becomes this beautiful fruit, each with different flavors, textures, and colors. It looks so beautiful, it seems so simple, and we often take things like that for granted.  I have a tree in my backyard that's a hybrid of a pear and apple tree mixed together. The fruit tastes delicious. But the process of nature and growth is awe-inspiring.
If you could summarize your message in one sentence, what would it be?
Our culture is in a crazy place right now, so my message would be this reminder: life is like a recipe – full of excitement, passion, balancing, mixing, patience, creativity, and sharing love – so be mindful of what you're making and try to create a new masterpiece everyday.
ABOUT SONIA SONI
Being a superhero is no easy task. But many of us have done just that. We have built careers, families, and communities, all while juggling the incredible responsibilities and expectations thrown upon us. We do it and we survive, but there's often a cost — the real "us" may never get the opportunity to flourish.
I'm Sonia, and like you I am now driven to live the life meant for me. After years of putting my life on hold, I decided to take the leap into purpose and possibility. I've been an entrepreneur, a cook, and a mother…but I'm also alot more. I'm an explorer, an artist, and a dreamer — and you are too. My purpose is to be your muse as you discover your path.
This site is designed to share tips, tools and resources that will aid you in creating the lifestyle you really want. The food recipes will help you to create meals and memories that last a lifetime. But the life recipes will help you to find the ideas that lead to your unique well-being, your unique fulfillement and your unique success.
Whether it's a weekly "Double Recipe" or one of our Life Recipe programs, I invite you to join us and get all of the things we want to share with you. I can't wait to see what we'll create together.
[separator type="thin"] [wdi_feed id="1″]
SaveSave