PACIFIC STANDARD TIME: LA/LA 
BEGINS WITH HUNDREDS OF THEMATICALLY LINKED EXHIBITIONS AND PROGRAMS DESTINED TO REWRITE ART HISTORY
Today we had the honor of attending the official Launch of PST LA/LA celebrating the beauty and profound importance of Latin America and Latin Americans in Los Angeles and the beauty of it is the celebration comes by way of art! Art truly is healing source of humanity. It is our transparency, our truth, a voice of a world starving for unity and awareness. Pacific Standard Time LA/LA is changing the way history is written and we are proud to be a part of that story. Run by a Latina woman, ATOD Magazine represents one small facet of the creative world but this initiative in Los Angeles? It's actually changing the world one beautiful creative exhibition at a time! 
[separator type="thin"]
Inaugural Weekend Includes a Launch Party at L.A.'s Grand Park on September 14, and Free Admission to More than 50 Museums on September 17 Sponsored by Bank of America
More than $16 Million in Grants from the Getty Foundation Support the Largest Initiative Ever to Focus on Latin American and Latino Art, Bringing New Art to Diverse Audiences and Creating a Legacy of Groundbreaking Scholarship

Los Angeles, CA, September 12, 2017 – After five years of planning supported by more than $16 million in grants from the Getty Foundation, Pacific Standard Time: LA/LA will begin on Thursday, September 14, 2017 at more than 70 cultural institutions throughout Southern California. The unprecedented collaboration will offer hundreds of exhibitions, programs and events about Latin American and Latino art over four months, at institutions ranging from small community-based cultural organizations to the region's largest museums. Participating organizations, many working with partners in Latin America, are spread from San Diego to Santa Barbara and from Los Angeles to Palm Springs.
Jim Cuno, President and CEO of the J. Paul Getty Trust, said, "Pacific Standard Time: LA/LA reflects both the rich past and the vital present of Latin American and Latino art. Its exhibitions, programs and events speak to our lives today just as much as they speak for our cultural memories—which is why this inaugural weekend is a great civic festival, in addition to being an artistic feast. After years of working together to realize this initiative, the Getty and its partner institutions are thrilled at last to welcome the world to Pacific Standard Time: LA/LA."
Events that will mark the opening of Pacific Standard Time: LA/LA include:
A free launch party for the public at downtown L.A.'s Grand Park on September 14, from noon until 10 pm. Performances organized by The Music Center's Grand Park team will include the Afro-Cuban and Brazilian music and dance troupe Ori; DJ Cee Brown and Aponte with their fusion of salsa, hip-hop, reggaeton, soul and jazz; and Quantic Live, embodying L.A.'s role as the crossroads of Latino, electronic and Global Dance music. A pop-up activity and social space and the PST: LA/LA Mobile will offer the public an opportunity to learn more about the vast array of exhibitions and programs from museums, performing arts organizations, and other participating organizations across Southern California, and local food trucks and a themed bar will keep the party going.
Free admission on Sunday, September 17 at more than 50 participating museums, with the initiative's presenting sponsor, Bank of America, inviting everyone to be its guest
And a celebratory concert at the Hollywood Bowl on Sunday, September 17, at 6:00 pm funded by the Getty Foundation. Performers will include the leader of Mexico City's alt-rock scene, Café Tacvba; Chilean songstress Mon Laferte; and L.A.'s own Grammy®-award-winning La Santa Cecilia.
According to Deborah Marrow, director of the Getty Foundation, "The Getty Foundation is proud to have funded the majority of the exhibitions, publications, and related public programs, as well as the performance art festival and K-12 education programs that are all part of Pacific Standard Time: LA/LA. We have great admiration for the work of our grantees and partners all across Southern California and the international teams they have worked with. Thanks to their work over the past several years, we will all be able to learn so much more about Latino and Latin American art."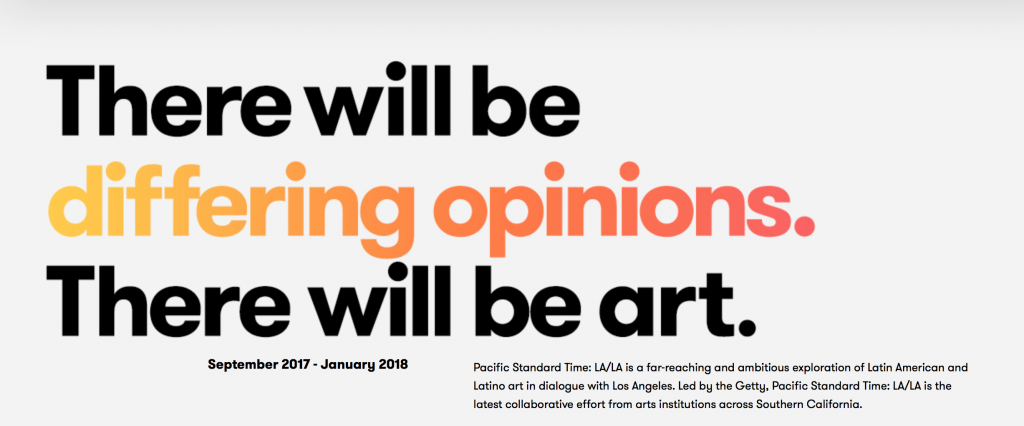 Visual Art Exhibitions
Pacific Standard Time: LA/LA emphasizes modern and contemporary visual art, with select exhibitions about the ancient and pre-modern worlds providing context. Tightly focused single-artist exhibitions, such as the Vincent Price Art Museum's presentation of Los Angeles-based photographer Laura Aguilar and the University Art Galleries at UC Irvine's Aztlán to Magulandia: The Journey of Chicano Artist Gilbert "Magu" Luján, mingle with broad thematic and historical surveys. Examples of the latter include the Laguna Art Museum's exhibition about the amalgam of Mexican and U.S. culture in California during the 19th and early 20th centuries; a show at the Palm Springs Art Museum on South American kinetic art of the 1960s; and the Hammer Museum's wide-ranging Radical Women: Latin American Art, 1960-1985.
Other surveys include Golden Kingdoms: Luxury and Legacy in the Ancient Americas at the J. Paul Getty Museum; Memories of Underdevelopment, a collaboration between the Museum of Contemporary Art San Diego, Museo Jumex in Mexico City and the Museo de Arte de Lima; Axé Bahia: The Power of Art in an Afro-Brazilian Metropolis at the Fowler Museum at UCLA; and Found in Translation: Design in California and Mexico, 1915-1985 at LACMA (Los Angeles County Museum of Art). A complete list of visual art exhibitions, with descriptions and images, is available at www.pacificstandardtime.org.
Getty grants for Pacific Standard Time: LA/LA exhibitions have helped to fund substantial new research, in some cases involving multiple trips by scholars to as many as a dozen countries. As a result, visitors will see a multitude of artworks that are on public view for the first time, or that have benefited from significant conservation work or revelatory scientific analysis. The research is also yielding more than sixty exhibition catalogues, with newly unearthed documentation and comprehensive illustrations.
More than a dozen Pacific Standard Time: LA/LA exhibitions will travel throughout the United States and Latin America, further extending the initiative's reach. In New York, the Getty Museum's Golden Kingdoms: Luxury and Legacy in the Ancient Americas will be on view at The Metropolitan Museum of Art, and the Hammer's Radical Women: Latin American Art, 1965-1980 will travel to the Brooklyn Museum, in 2018. Other exhibitions will be shown in Mexico City; Lima, Peru; Puebla, Mexico; Buenos Aires, Argentina; Miami, FL; Houston, TX; Albuquerque, NM; Chicago, IL; and Phoenix, AZ.
Performing Arts and Public Programs
Pacific Standard Time: LA/LA will also go outside the walls of museums. Partner institutions including the LA Phil, The Music Center and the University of Southern California's Annenberg School for Communication and Journalism are presenting concerts, performances and events at a variety of indoor and outdoor spaces throughout Los Angeles and the region, including Grand Park, the Hollywood Bowl, The Music Center's Dorothy Chandler Pavilion and Walt Disney Concert Hall. Grants from the Getty Foundation have also made these performances possible.
In October, the LA Phil will produce a ten-day festival titled CDMX: Music from Mexico Citythat will open a window onto Mexico City's vibrant music scene. Concerts will include three orchestral programs led by Gustavo Dudamel and world premiere commissions by established and up-and-coming composers such as Felipe Waller and Diana Syrse. The Music Center will present Cuba: Antes, Ahora / Cuba: Then, Now, a four-day exploration of traditional and contemporary Cuban music and dance, including performances in the Dorothy Chandler Pavilion by Cuban-based Malpaso Dance Company and more. USC Annenbergwill present Musical Interventions, a series of public events that will create a multi-part "musical exhibition" in collaboration with various Pacific Standard Time: LA/LA partner institutions, illuminating the musical networks among Los Angeles and various Latin American communities and cultures. Events include a performance of new music by Chicano Batman in LACMA'S exhibition Playing with Fire: Paintings by Carlos Almaraz; a genre-bending roster of Los Angeles Latinx vocalists and musicians reimagining the songs of Peruvian singer Yma Sumac inspired by the Hammer Museum exhibition Radical Women: Latin American Art 1960-1985; and a tribute to the classic Spanish-language variety shows held at downtown movie palaces, at the Palace Theater.
Performance Art
REDCAT (Roy and Edna Disney/CalArts Theater) is organizing a performance art festival,Pacific Standard Time Festival: Live Art LA/LA, to be presented January 11 through 21, 2018, with the support of a grant from the Getty Foundation. The wide-ranging international festival features performance art, actions, happenings, and events with more than 30 different programs –including many works that confront urgent political and social issues at a crucial time in history. Artists from more than 15 countries will use everything from forklifts and marching bands to motorcycles and construction vehicles to create projects presented in partnership with a dozen different organizations, including museums, cultural centers, artist collectives, and others. Details will be announced at a later date.
Education Programs
Pacific Standard Time: LA/LA is complemented by a robust group of education programs. Getty grants to the LA Promise Fund and the Los Angeles Unified School District (LAUSD) are enabling the creation of education programs for schools throughout Los Angeles city and county over a nine-month period, from spring 2017 through winter 2018, including professional development for teachers and field trips to Pacific Standard Time: LA/LA exhibitions. Overseen by LA Promise Fund in collaboration with LAUSD's Arts Education Branch, these programs will include participation in Pacific Standard Time: LA/LA by the district's most underserved schools.
All education programs are shaped by a committee that includes representatives from the leading museums participating in Pacific Standard Time: LA/LA, LAUSD, the Los Angeles Public Library, and the LA Promise Fund.

Support for Pacific Standard Time:
Pacific Standard Time is an initiative of the Getty. The presenting sponsor is Bank of America.
"We're proud to be part of this exciting project, which is going to help people better understand the extraordinary contributions of Latin American and Latino artists to the culture and consciousness of the Southland," said Janet Lamkin, California State President for Bank of America. "In addition, as we learned from our engagement with the first Pacific Standard Time in 2011, which brought more than $280 million to the region and created nearly 2,500 jobs, a cultural undertaking of this size and scope is going to provide a tremendous boost to the Southern California economy."
Lead Sponsors
Pacific Standard Time: LA/LA Leadership Council, California Community Foundation, Design Miami, The James Irvine Foundation, Los Angeles Tourism & Convention Board, Montage Beverly Hills, The Ralph M. Parsons Foundation, Sony Pictures Entertainment Inc., South Coast Plaza, Terra Foundation for American Art
Additional Support Provided By
Accenture, GRoW @ Annenberg, The Herb Alpert Foundation, Mr. and Mrs. James Ukropina, The Rose Hills Foundation, Weingart Foundation
Media Partners
Jezebel/Fusion, Los Angeles magazine
Participants in Pacific Standard Time: LA/LA include: 
18th Street Arts Center
Academy of Motion Picture Arts and Sciences
American Museum of Ceramic Art (AMOCA)
Angels Gate Cultural Center
Annenberg Space for Photography
Armory Center for the Arts
Art, Design & Architecture Museum, UCSB
Autry Museum of the American West
The Broad
California African American Museum
California Historical Society
CSU Channel Islands
CSU Northridge Art Galleries
Chapman University
Chinese American Museum
Community Arts Workshop
Craft & Folk Art Museum
Craft in America
dA Center for the Arts
ESMoA
Fowler Museum at UCLA
The Geffen Contemporary at MOCA
The Getty Center
Hammer Museum
Hollywood Bowl
The Huntington Library, Art Collections and Botanical Gardens
ICA LA (Institute of Contemporary Art, Los Angeles)
Japanese American National Museum
LA Plaza de Cultura y Artes
LACE (Los Angeles Contemporary Exhibitions)
LACMA (Los Angeles County Museum of Art)
Laguna Art Museum
LAND (Los Angeles Nomadic Division)
Long Beach University Art Museum CSU
LAXART
Los Angeles Central Library
Los Angeles Filmforum
Los Angeles Municipal Art Gallery
LA Phil
The Luckman Fine Arts Complex at CSU LA
MAK Center for Art and Architecture
Marciano Art Foundation
MOCA (The Museum of Contemporary Art, Los Angeles)
MOCA Pacific Design Center
Museum of Latin American Art (MOLAA)
Millard Sheets Art Center
Mingei International Museum
The Mistake Room
Museum of Contemporary Art, San Diego
Museum of Contemporary Art Santa Barbara
Museum of Photographic Arts
The Music Center
Muzeo Museum and Cultural Center
Oceanside Museum of Art
ONE Gallery, West Hollywood
Otis College of Art and Design, Ben Maltz Gallery
Palm Springs Art Museum
Palm Springs Art Museum Architecture and Design Center
Pasadena Museum of California Art (PMCA)
Pitzer College Art Galleries
Pomona College Museum of Art
REDCAT/CalArts
Riverside Art Museum
San Diego Museum of Art
Santa Barbara Historical Museum
Santa Barbara Museum of Art
Scripps College, Ruth Chandler Williamson Gallery
Segerstrom Center for the Arts
Self Help Graphics & Art
Skirball Cultural Center
Sunnylands Center & Gardens
Torrance Art Museum
University Art Galleries, UC Irvine
University Galleries, University of San Diego
UCLA Chicano Studies Research Center
UCLA Film & Television Archive
USC Annenberg School for Communication and Journalism
USC Fisher Museum
USC Pacific Asia Museum
UCR ARTSblock
University Art Museum, CSU Long Beach
Vincent Price Art Museum
Westmont Ridley–Tree Museum of Art
Find Us Online:
pacificstandardtime.org
Instagram and Twitter: @PSTinLA
Facebook: @pacificstandardtime
SaveSave