Examining humanity through the emotional creations on display in the "A Moment to Breathe" exhibition that conveys the importance of the Black African American artisan
[dropcap letter="A"]rt and design have been the voice of many since the dawn of time, and as history strives to right the horrid wrongs of social and racial injustice, it's up to the creatives, visionaries, innovators, and artists to utilize the power of their voice—and their work—to implement actionable change that's good for humanity.
This month in the district of Columbus Circle in Brooklyn, New York, the Museum of Art and Design (MAD) is welcoming artist and designer Mia Wright Ross for a display of emotion and healing through her use of installation of "A Moment to Breathe". Ross will be doing a live performance combining leather tapestries, performance, film, and the rhythmic beats of a sewing machine needle. The connection between the strength and durability of her fabric juxtaposed with the delicate fragility of a needle and thread, weaves together the bonds and catastrophic dissection of humanity through luxury craft and artisanship; her work becoming the path leading viewers through meditative healing and into catharsis.
A Moment to Breathe examines the healing process as it relates to grief—familial, ancestral, and global—and the instinctual commitment of a craftsperson to create through sorrowful experiences.
[separator type="thin"]
A Moment to Breathe. Tell me about that title, the process of how it came to be, its significance or connection to racial injustice, and what this exhibition on the whole means to you.
MWR:  The origin of the title comes from my assessment of the use of black leather in my work. This body of work began when I started to reflect on my work in the design industry over the past 10 years—looking at the products I had produced, the narratives that were created through my aesthetic, and assessing the memories that arose through the introspection. From there, I decided to examine the black leather cord which had become the signature detail of my company MWR Collection.
Through my examination, I removed the cord from the bags of MWR Collection and allowed them to tell a story of their own in this new sculptural work. With this I realized I had to define "Black" in the context of my work as well. So the full title of this series is "Black Is A Pause. A Moment To Breathe". I am reidentifying the process of healing with Black.
In general society, black is defined as "devoid of…" or "in the absence of…" but this work came as a PA– USE for me. Allowing me to recollect, dissect, and connect to the full and true reasons as to why I create—to heal.
How many pieces have you created for this particular installation? What is their connection from one to another?
MWR: This installation is a collage of 3 pieces: 2 large scale tapestries and 1 short film. The tapestries, entitled "To Have & To Hold" and "Untitled (TyiemLyeen)", are my first large-scale works. Ranging from 6 to 10 feet in height, they are a reflection of my grief healing practice in physical form through the crafting of leather. In addition, the short film—in collaboration with Akeema-Zane and Starnilas Oge—overlaps the tapestries with a lense inside this leather crafting process of making in meditation, memory, and healing.
[columns_row width="half"] [column]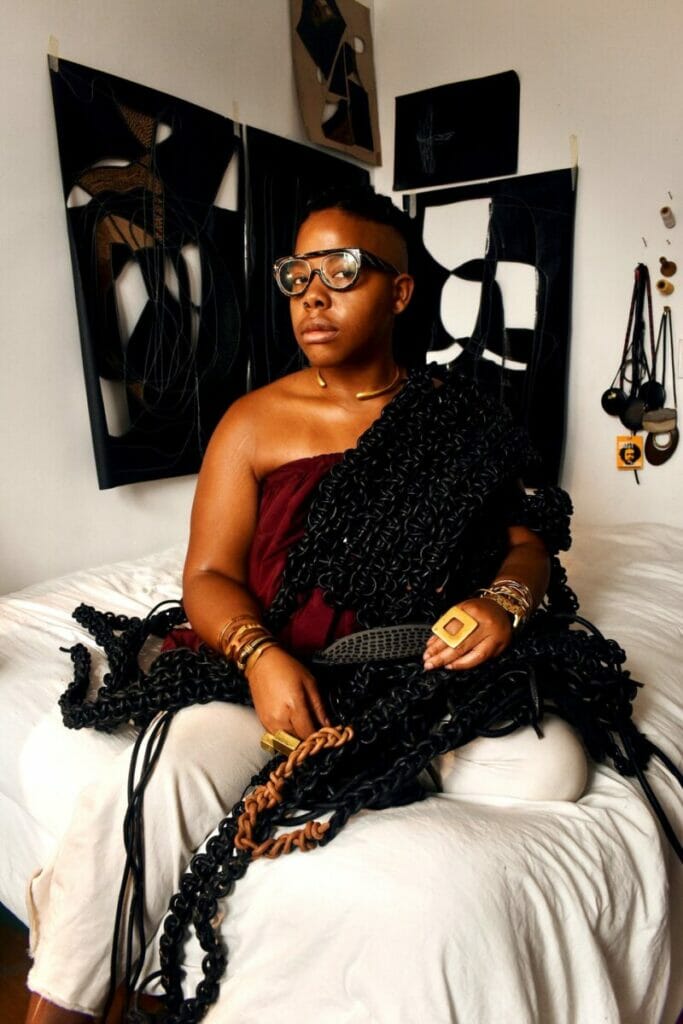 [/column] [column]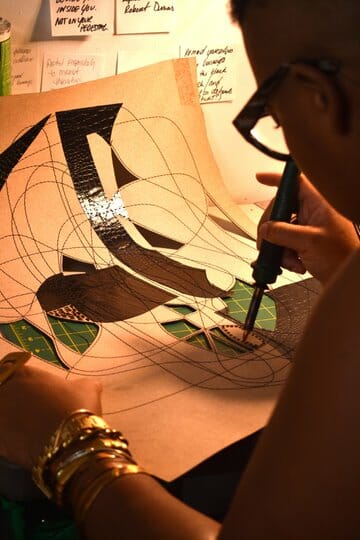 [/column] [/columns_row]
What led you to working with leather?
MWR: I have always loved leather, since my youth. I'm attracted to the scent and the textures of it. It wasn't until I studied with Howard Davis, at Parsons School of Design, that I realized it was a medium that I could utilize in my design aesthetic. In Davis' classroom, I learned the foundation of the material and from there I never stopped exploring its possibilities.
When did you first learn to sew?
MWR: I have been sewing since high school. I was initially taught by a dear family friend, Ms. Gracie. But in 2003, I was accepted to a specialty art program, The Center for The Arts, at my local high school in Richmond, Virginia. As a little girl, I always wanted to be a fashion designer so during the summer of my Junior-Senior high school year, I asked my mother to buy a sewing machine.
She purchased a small machine from Walmart and bought me a few Vogue patterns to explore the skill. I instantly fell in love with the process. From there, I took sheets from my great-grandmother's linen closet, painted textures on them, and began using them to create draped dresses. I had no idea what I was doing but the skill called for me.
In this exhibition, you will be sewing live to show the process. The line in the press release: "As she creates representations of grief's weight felt through personal and collective consciousnesses" really resonated. What is that weight for you?
MWR: The weight is the amount of joy and sorrow that consistently occurs simultaneously. Grief is heavy because it is the evaluation of life in transition—the love, the memory, and the loss. We all experience the weight of grief all the time but never allow ourselves to assess how much of it we are carrying. Especially in this past year, we have all endured personal and collective grief on the world's stage—from BLM protests, COVID-19 deaths, the coup d'état attempt, current acts of hate violence within the Trans and BIPOC communities, and personal struggles. We are all enduring a lot.
I hope this exhibition allows the viewers to reflect on the weight of our experiences personal and collective, and how we are still laboring and healing through them every day. Grief is not to be shyed away from but something that can be reflected on, and birth something that is beautiful, intimate, and full of healing memory.
If you hit a creative lull, how do get reinvigorated? What inspires you daily?
MWR: I am always looking for problems to solve. So, usually if I am looking for inspiration I first look for a space that may need improvement. I may think about ways to carry less as I walk to the train or how to improve my back support from the type of bag I am wearing. From these thoughts, I'll start assessing how to solve the issue in various ways.  As a designer, I believe our duty is to evolve the experience of that which we create for.
When I need a break from the problem solving tasks of being a designer (which happens quite often … lol), I usually just sew. I will get on my sewing machine, take a piece of any material and meditate with my machine. With this process, I usually recite my Artisan Mantra, which is heard at the introduction of the film in the exhibition.  This process of mediation allows me to free myself of needing to produce more (which is usually the catalyst for the creative lull). Reminds me to create just for the sake of myself and my healing. Oh, and I sleep.
[separator type="thin"] [columns_row width="third"] [column]
[/column] [column]
[/column] [column]
[/column] [/columns_row] [separator type="thin"]
Do you remember growing up and realizing you wanted to express yourself through design? At around what age was that, and did anything in particular ignite that spark?
MWR: I had a family member that gave me the art bug. His name was Jeffrey Hieskill. He was my older cousin and lived with us for a short time. He was an extremely talented artist and would draw beautiful portraits and designs on anything he could find—from loose leaf paper to cardboard boxes.  He would draw the outline of the sketch and I would color them in. Jeff is my biggest inspiration. He sadly passed when I was seven years old and through his transition of life, I committed myself to practice art as a form of healing.
In your work as an adjunct professor teaching design, what student creations have been the most fascinating?
MWR: I have been most amazed by my student's level of innovation and utility during the pandemic.  At the beginning of quarantine, I was in the middle of teaching a semester at Parsons and all my students had to return home. I still taught my footwear construction class with little preparedness for a digital transition and minimal supplies. But the most fascinating aspect of the semester was watching my students push their visions to come to life.
It was so refreshing to see young designers commit to their own visions, not just for a grade, but because they actually cared about what they were creating. I had students make full pairs of shoes from their homes, involving their families, local suppliers, and any resource they could find.
What message would you like to give to young people (all genders she/he/they) curious to explore their passion for design?
Be the biggest nerd about design. There are so many avenues in design to be explored, from toy design to shoe design. Don't limit yourself, learn about as much as you can and FIND YOURSELF in it.
[separator type="thin"]
MAD, New York
Exhibition | Now thru April 11, 2021
Two of the artist's monumental leather tapestries and a large sewing machine will be on view alongside film produced with collaborators Akeema-Zane and Starnilas Oge. At select times, the artist will be present on stage working at the sewing machine, giving audiences an immediate experience of the artist's journey as she creates representations of grief's weight felt through personal and collective consciousness.
To ensure safe social-distancing, up to ten persons may view the installation at a time. A Moment to Breathe is on view Fridays through Sundays from March 26–April 11, and the artist will activate the installation on April 2 and 9 from 6–7 pm.
About the Artist
The Museum's ninth Artist Fellow, Mia Wright-Ross is a leather artisan, designer, educator, and entrepreneur. Born and raised in Richmond, Virginia, Wright-Ross studied art from the early stages of her youth and continued her exploration through her studies at Parsons School of Design.
The artist's leather cording techniques appear as a signature motif across her luxury lifestyle brand, MWR Collection, and represent her design philosophy that each material is essential to the unity and completion of the purpose of each work. Wright-Ross's handmade bespoke collection includes footwear, accessories, home goods, and furniture. She has also been a leading designer for several contemporary designer brands, including Calvin Klein, 3.1 Phillip Lim, Saks 5th Avenue, and Tibi. At Tibi, she was the Senior Footwear & Accessories Designer and oversaw all design and development in Italy and Brazil for four years.
During her fellowship at MAD, Wright-Ross expanded her research of crafting through new iterations of leatherwork, including leather sculptures, tapestries, film documentation, and installations. A Moment to Breathe is the culmination of Wright-Ross's year-long residency.
Presently, she is an Adjunct Professor at Parsons/The New School of Design and the leading footwear and accessories design consultant for multiple brands. Her design client list includes J. Cole, Solange, Robert Glasper, Carmelo Anthony, Jimmy Butler, Mary J Blige, and her work has been featured in American Craft Magazine, WGSN, Footwear News, Harper's Bazaar, Ebony Magazine, and Vogue. She received a BFA in Fashion Design from Parsons/ The New School of Design and has trained at the Ecco Tannery Holland and Arsutoria Institute in Milan.
A Moment to Breathe is organized by Marissa Passi, manager of Artist Studios and docent programs.
The Artist Studios program is supported by the New York City Department of Cultural Affairs in partnership with the City Council and The Pollock-Krasner Foundation, Inc. Principal support for the MAD Artist Fellowship is provided by Marcia Docter.