I would build my world which while I lived, would be in agreement with all the worlds. The day, or the hour, or the minute that I lived would be mine and everyone else's – my madness would not be an escape from 'reality'." – Frida Kahlo
Saying the word Riviera evokes a feeling of being somewhere exotic where life's stressors melt away and a little luxury and relaxation goes a long way. Stretching 200 miles of pristine México pacific coastline, sprinkled with seaside towns and pueblos amid lush mountains canopied with green, natural sanctuaries, golden sand, palm leaves swaying in the breeze is Riviera Nayarit. A steadily growing luxury destination, there is a surge of hotels, resorts, and gastronomy making this region one to journey to. While I haven't yet visited to confirm all of this romantic tranquility, I did meet with their Tourism director to gain a bit of insight into the newest hotspot along the México coast. What I learned about the growth of Riviera Nayarit just awakened my inner Latina and made me long to explore its coastline and region.
[separator type="thin"]
Imanta Resorts
Celebrating the beauty of balancing luxury and nature in perfect harmony, Imanta is a resort committed to sustainable living. This resort nourishes the imagination, creating a sense of belonging. Here in Punta de Mita, the jungle meets the ocean as the whitecaps brush against the sandy shore. Punta de Mita is at the northern end of Banderas Bay, the largest bay in Latin America, in surroundings that exude a breathtaking seascapes and landscapes that have been virtually unchanged since humans first discovered them.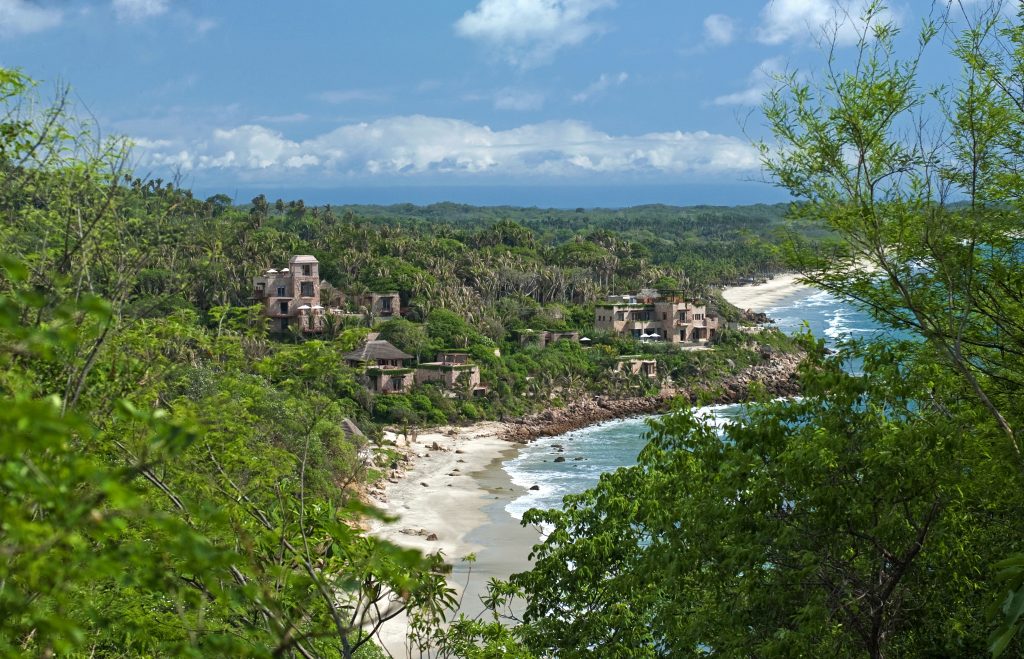 In Imanta, they pride themselves on the farm-to-table culinary experiences ensuring products are local (100km radius), organic, and of the highest quality, keeping in line with Relais & Châteaux philosophy of providing an experience in every meal. There are two restaurants on site with a Chef that prepares menus using locally sourced ingredients, all grown on neighboring farms and exotic orchards.
Tzamaika is a casual beach located under Imanta's beautiful beach palapa. Open for breakfast, lunch and dinner (winter months only), they serve locally sourced seafood, authentic Mexican dishes, incredible salads, wood fire pizzas, grilled meats, agua frescas, and playful cocktails utilizing local fruits. You can dine on their private pavilions.
El Observatorio is an elegant rooftop bar on the Observatory's terrace with stunning 360-degree views of our Jungle Reserve & Pacific Ocean. Guests can request to have dinner here. You can order tapas and cocktails on this intimate terrace.
Architecture | Design – "Architecturally inspired by the magnificent beauty of the Pacific coastline and the rich cultural heritage of the area, Imanta Punta de Mita provides guests a superb measure of luxury in an unparalleled natural setting. Casas and Casonas all offer stunning ocean and jungle views as well as private swimming pools and outdoor living areas. Fresh organic gourmet cuisine, extraordinary service and a wide range of customized experiences make this resort a one-of-a-kind destination that will surpass the expectations of our guests," says Visit México. That statement outlines the mission of all of the resort's visual infrastructure.
[separator type="thin"] [columns_row width="third"] [column]
[/column] [column]
[/column] [column]
[/column] [/columns_row] [separator type="thin"]
Why it's so appealing. | They've Got BLISS On The Menu
Imanta Punta de Mita encompasses 250 acres of lush tropical vegetation and a magnificent two-mile stretch of coastline. Visually grand, it casts a large spatial net and yet still gives off an intimate feeling, making it one of the world's most exclusive retreats. Contiguous to the Sierra de Vallejo, a 1.65 million-acre natural preserve, Imanta Punta de Mita is uniquely situated at the confluence of mountains, jungle, ocean, beach, cliffs, canyons and wildlife to offer a landscape rich in biodiversity. With environmentalism at the forefront of their sustainable vision, the region won't budge on quality and the result is magical.
As part of their commitment, the "Imanta stone" found in the region, is used to make  organic materials including wood and grasses for construction and design. Imanta also uses energy efficient, resource savvy from the recycled and treated water systems in their gardens to the "green" roofs helping to maintain ideal temperatures in our suites year-round.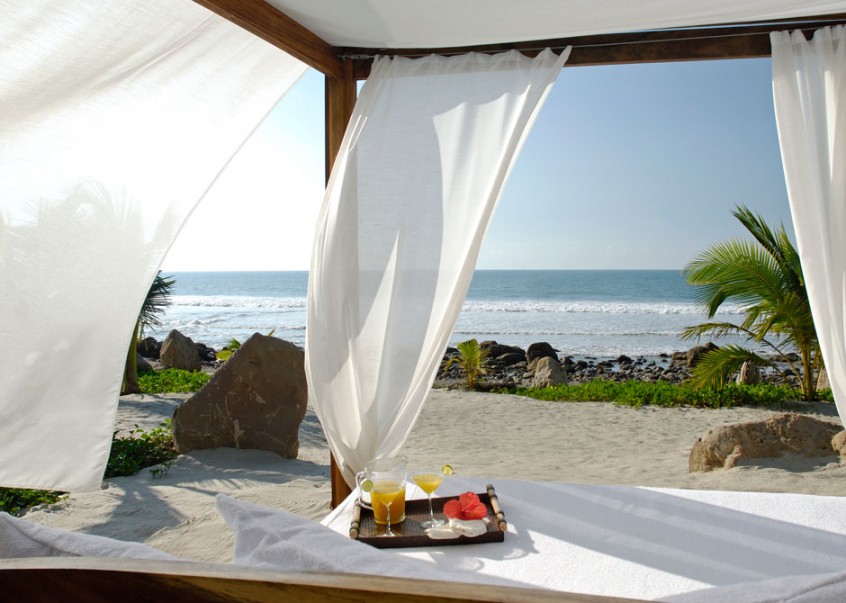 Locally sourced building materials | ESCAPE
Imanta's impressive stone buildings rise from a hill overlooking the sea that seem like they've been there for centuries. The spacious, luxuriously appointed Casas and Casonas share infinite views of the Pacific Ocean and, depending on where you're situated, will face the emerald green jungle and mountains. Two casonas and ten casas are wonderfully private with first-class amenities and personalized service. Most casas have heat-controlled private pools, transcending the imagination.
Getting there.
Imanta is within 45-minutes from Puerto Vallarta International Airport, is closer to the   Sierra de Vallejo national biosphere reserve—keeping the beauty of the region alive and well. Imanta is a place of harmony, with fragments of Tropical Jungle and sprawling, undistrubed wilderness.
[separator type="thin"]
Mar al Cielo Eco Retreat
Mar al Cielo is a private oceanfront retreat on 11 acres of beachfront jungle paradise in Lo de Marcos, Nayarit, Mexico. This private retreat for two is ideal for travelers seeking an enchanting vacation experience, intimate interaction with nature, and unsurpassed serene beauty all while in wonderful comfort.
Built in harmony with nature, the hotel's private accommodations feature one bed, one bath and a fully equipped kitchen with a BBQ grill. Taking advantage of the incredible views surrounding the property, all accomodations at Mar al Cielo have an open living room and terrace and a semi-covered bathroom and kitchen. Some amenities include a private chef, binoculars, nature guides and spa services.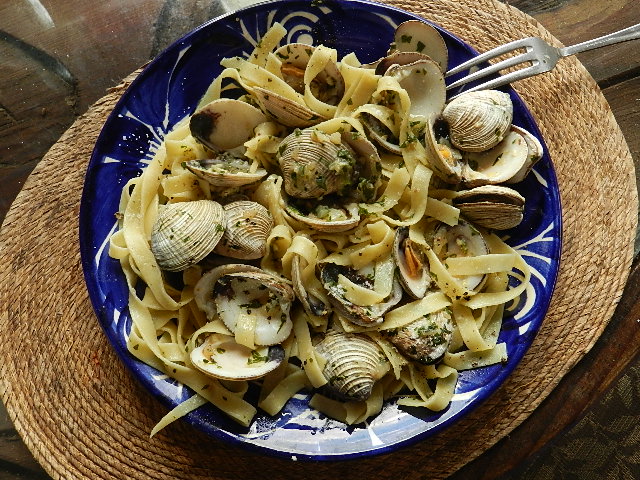 Mar al Cielo offers specially prepared "Early Bird" breakfasts, mid morning brunches, seaside snacks and sunset dinners in a delicious traditional Mexican & Mexican fusion style cuisine made from fresh local ingredients. Guests have their own private kitchen as well as a kitchenette at the Palapa Lounge. Visitors can also opt for "Jungle Room Service" with delicious dinners delivered right to guests' doors from any restaurant in the vicinity.
Birding & Brunching: At Mar al Cielo, guests can connect with the beauty of nature and enjoy some of Western Mexico's most amazing bird species, such as orange-breasted buntings, lilac-crowned parrots and russet-crowned motmots, all of which are seen within the retreat. The Oceanfront Palapa Lounge offers an exclusive brunch menu to enjoy while bird-watching.
Things to do.
Whale watching: Privileged to be situated along the migration route and calving region of the great humpback whales, Mar al Cielo offers some of the best whale watching opportunities along the Mexíco coast, making it one of those great bucket list-worthy to-do's.
Jungle Trails: When you're here, you can explore over 2 km of groomed jungle trails at Mar al Cielo and enjoy wildlife, birds, butterflies & amazing views.
Beaches: By following the private jungle path for about five minutes, you will come upon a serene, secluded beach called Mar al Cielo. It has incredible surf and is a fab spot to jump in and swim.
[separator type="thin"]
Hotel Cielo Rojo 
In the heart of cobblestoned San Pancho lies the charming Hotel Cielo Rojo. Within walking distance to the beach, Hotel Cielo Rojo is simply elegant with style and design that exudes warm and eclectic décor, serves exquisite organic cuisine, and makes sure you have personalized attention from their incredible staff. The hotel truly embodies the spirit and kindness of a small Mexican town.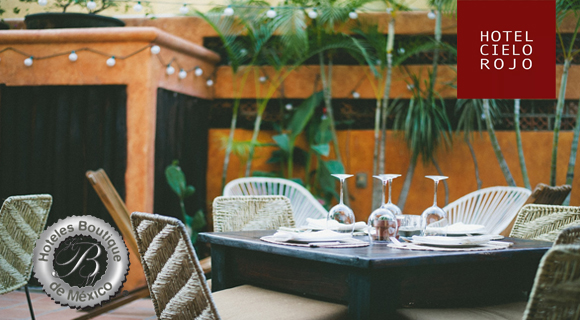 San Pancho is a small traditional beach town located on Mexico's West coast thirty miles North of Puerto Vallarta. With a population of 1000 people, San Pancho is where you go for a little outdoor adventuring from hiking, jungle walks, horseback riding, or fishing
The restaurant at the hotel serves cuisine that exemplifies the coastal region paying tribute to seafood and the produce indigenous to the area, offering healthy vibrant options. The bar features a unique collection of artisanal tequila, wine, and cocktails served in its eclectic garden patio.
Where to go.
Beaches: The beach, including Las Cuevas and Playa de Los Muertos, is only three blocks from the Hotel Cielo Rojo. The beach is superb for surfing, boogie boarding, swimming, or where to go when you just feel like taking a leisurely stroll.
[separator type="thin"]
W Punta de Mita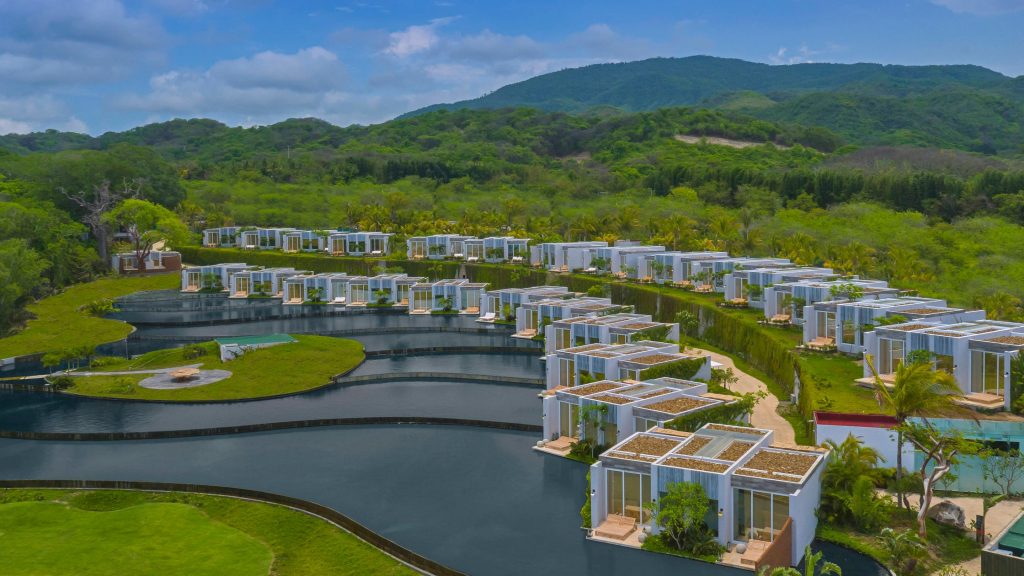 The beachfront hotel in Punta de Mita is perched on one of Riviera Nayarit's most beautiful Pacific Coast beaches. "Featuring Huichol inspired cutting edge design, W Hotel Punta Mita opens the door to exclusive insider experiences, creating memories that linger long after your stay," according to their website. The hotel has various retreats like a secluded Wonderful Jungle escape to the Extreme Wow ocean view escapes. Whether you enjoy beachfront dining, an eclectic blend of design and nature, or listening to the sound of local beats, the W Punta de Mita is unique of other properties.
Set on a peninsula along the Bahia de Banderas coast and blessed with six miles of virgin Pacific coast beaches, Punta de Mita offers great golfing options in an atmosphere surrounded by green hills and marine nature.
Culinary breadth.
Punta de Mita is home to some of Mexico's most fabulous restaurants. Among them is  Spice Market at the W Hotel. The restaurant is overseen by Mexican chef Ismael González and takes inspiration from the sensual Southeast Asian street food that French master chef Jean-Georges Vongerichten discovered in his travels. This is fusion at its most delightful with chef serving anything from chicken samosas with cilantro-infused yogurt to halibut cha ca la Vong, or a vinegar-infused pork Vindaloo.
Spice Market – A casually exotic setting that reflects the tropical region. Influenced by the street food that Chef Jean-Georges Vongerichten enjoyed in Southeast Asia, light shareable dishes are complemented by handcrafted cocktails.
Chevicheria – Known for signature ceviche and craft beers served from a converted 1950s Chevrolet 3800 truck, this bar is an invitation to a good time. Pair cocktails with local seafood and sandy beaches, it's one you won't want to miss.
Venazu – Authentic, delectable Mexican cuisine inspired by street food; Unpretentious, great views, and even more spectacular bites.
For every foodie with a palate for gastronomy.
SAYULITA is a surfer's paradise on the southern Riviera Nayarit coast that is reminiscent of California's Manhattan Beach. With a bohemian vibe, art galleries lining the cobblestone streets, and a sense of total relaxation and ease, it's where visitors want to be. Among the horseback riding and the beautiful terrain, Sayulita is known for it's culinary scene. An informal dining environment, there are taquerias, seafood shacks, and more. 
One of Sayulita's top choices for dining is El Itacate, a fabulous taqueria, known for its savory and authentic Mexican options, cooked in front of guests. El Itacate's menu board also has vegan choices to make everyone happy.
Seafood lovers should head straight to Tierra Viva for locally caught fish, delicious seafood soups, homemade molés and grilled meats. The area is no stranger to modern dining preferences and has a hearty selection of vegan, vegetarian and gluten-free options.
Punta de Mita is also home to Riviera Nayarit's only AAA Five-Diamond Award dining experience, the Carolina Restaurant at St. Regis Punta Mita Resort, offering modern Mexican cuisine in an enchanting, breezy setting overseen by award-winning chef Jesús Durón.
[columns_row width="half"] [column]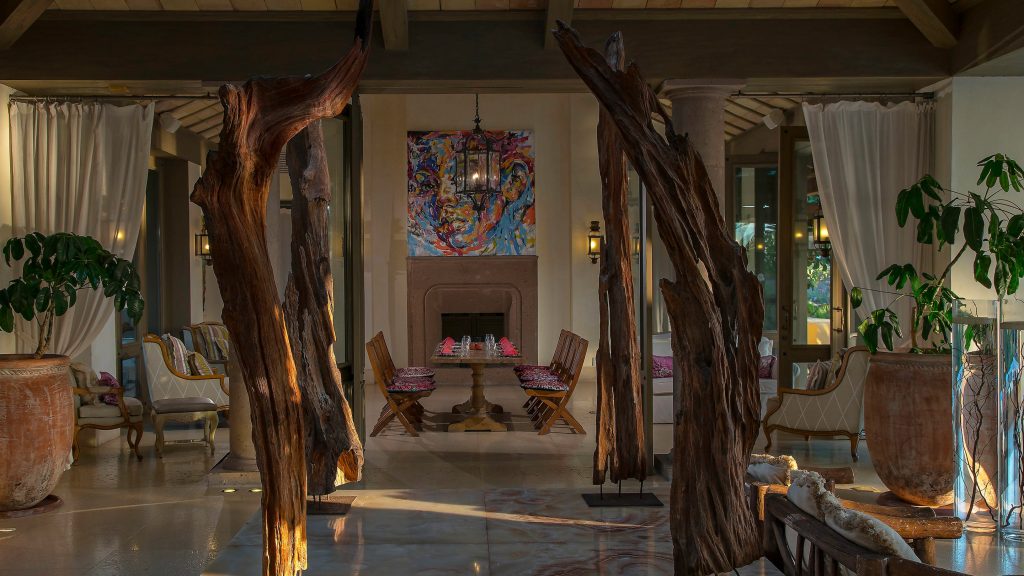 [/column] [column]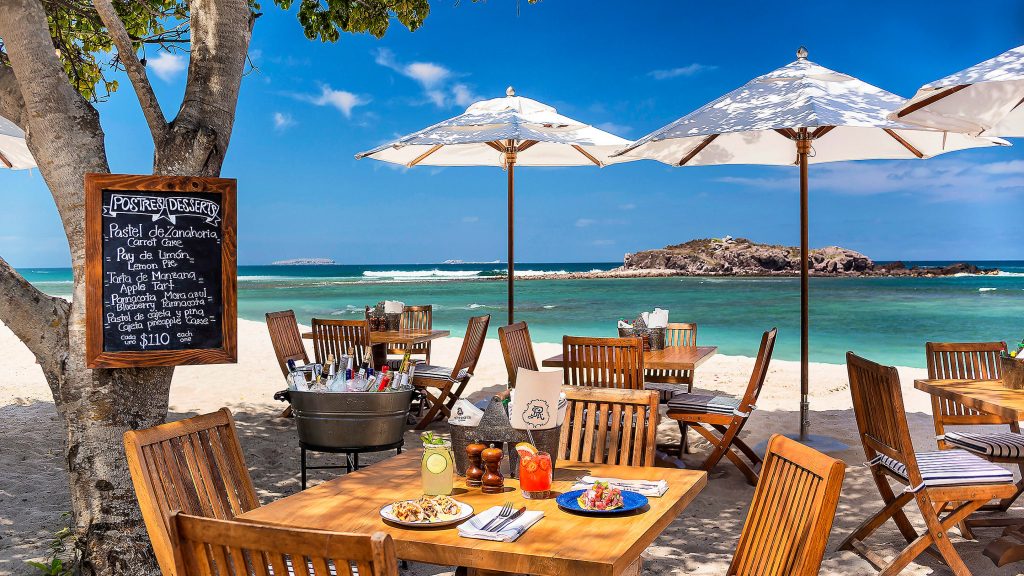 [/column] [/columns_row]
NUEVO VALLARTA & FLAMINGOS is where families flock to for beach fun that is set along the Bahia de Banderas coast. A culturally and naturally diverse resort town, it is a  destination bejeweled with first class hotels and world class golf courses. Fun, informal and experimental cuisine are among the options in Nuevo Vallarta.
El Barracuda. The unassuming wooden eatery is located next to a marina directly in front of the Villa Varadero and Sea Garden. With a menu that leans heavily on fresh sea fare, the intimate bistro promises to leave diners fully satiated after feasting on delectable tacos, inspired ceviches, aguachiles, tostadas and more, all perfectly paired with specialty cocktails, draft beers and fine wines.
At Nick-San Restaurant, at Marival Residences & World Spa, the talents of Angel Carbajal and Niikura Masayuki create piquant Mexican-Japanese fusion signature dishes combining tastes from both countries along with other surprising influences.
El Delfin, spearheaded by famed celebrity chef, Betty Vázquez, who also serves a official culinary ambassador in Riviera Nayarit. Vázquez is also the driving force the country's leading restaurants specializing in authentic Nayarit fare coupled with distinct colonial flavors. Vázquez boasts a robust career spanning nearly four decades where she has championed the regions inimitable gastronomy. 
[separator type="thin"]
Riviera Nayarit seems to be one of México's new culinary and design coastal love stories. With so much beauty, architecture, nature, beaches, history, culture, and gastronomy to explore, it seems this should be the next stop on our journey. Here is to hopefully exploring the gourmand-savvy, design-centric, environmentally exquisite region first-hand and sharing it with each of you very soon.