[title maintitle="IndigNation" subtitle="What Happens When People Get Fed Up"]
In today's insane political climate, navigating through the incredibly difficult and baffling terrain is like intentionally walking around for miles with spikes digging into your heels. It's that painful, so when Los Angeles producers and sisters, Marian and Melissa Harkness announced the launch of their new web series, IndigNation—a show about three spectacularly different characters fed up with America that decide ditch the U.S. to create their own new nation—we got a little curious.
With six episodes available and now streaming on YouTube, here's what you can expect:
A six-episode series all made up of short, bite-sized episodes (around or under 3 minutes each).

Chaos ensues as the three characters: ex-political aide played by Philip Casale, a wacky humanitarian played by Lyssa Mandel and a rich housewife played by Melissa Harkness all have drastically different ideas on how to run their new nation.

The three struggle to find common ground on the most basic of nation-building tasks: choosing a name, designing a flag, writing a constitution, creating a slogan and electing a president.

The trio's chemistry and comedic timing make for a brilliant series about a new nation's struggle that makes the American political scene look laughable in comparison.
While I wish I could say it was a stark contrast to how a lot of Americans are feeling these days, instead let's just say it's a lighter way to process the news that pours out of the White House like a puss-filled sore.
You can watch the latest episode below.

[separator type="thin"]
On a more serious note, VOTE! This midterm election is one of the most historically significant elections in our history. Every vote counts and in order to have balance of power, we must utilize our right to vote. It is a privilege but it is our DUTY.
[separator type="thin"] [columns_row width="third"] [column]
[/column] [column]
[/column] [column]
[/column] [/columns_row] [separator type="thin"]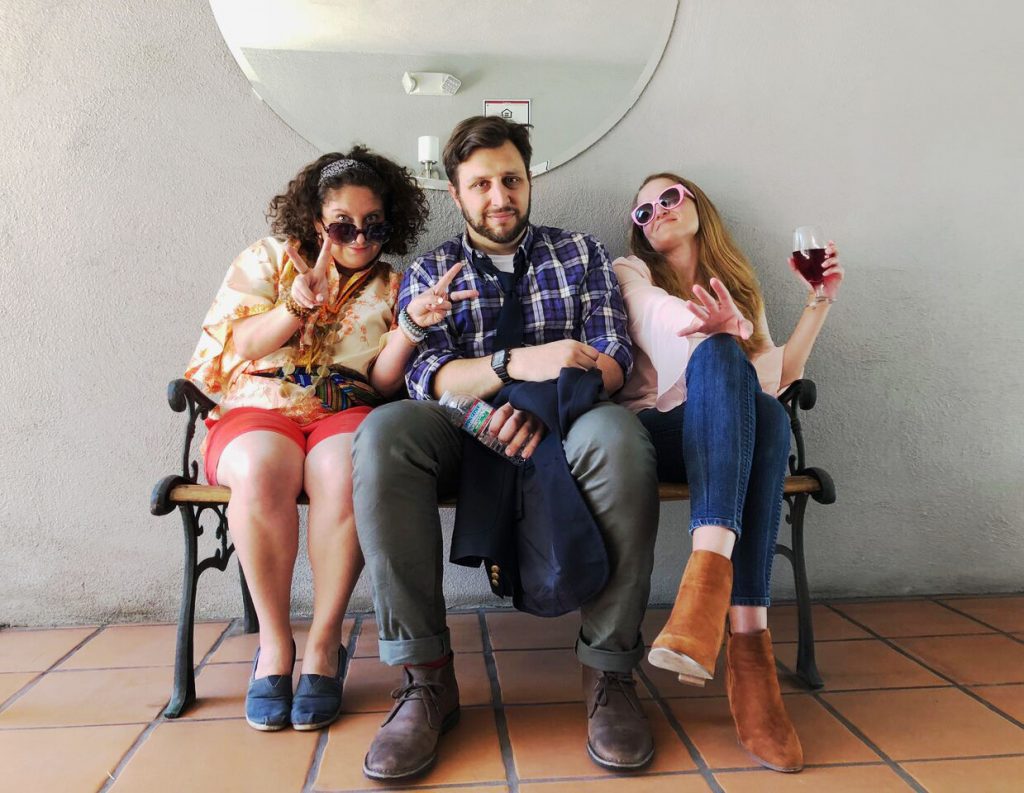 Philip Casale is an actor, writer, comedian, and filmmaker. He began his foray into comedy 10 years ago when his friend and mentor heard that he owned a spandex Batsuit, thus forming the award-winning New York City sketch team Foolhardy Manor. From then, Phil made a name for himself on the scene not just as a comedian but as a singer, songwriter, and makeup artist in his ongoing stage show and web series Welcome to Hell w/ Vincent Welles, wherein he plays Warren Talbot — werewolf bandleader. Other credits include his one-man show Detective Jack Fiction and Other Folks Who Don't Exist No More, the award-winning web series You Only Die Once, guest spots on The Kevin McDonald Kevin McDonald Show, as well as hosting It's the Dean Martin Holiday Show! as, you guessed it, Dean Martin. Phil can also be heard as co-host of The Bitch Seat and as West Coast Correspondent for The Trilogy Podcast.
Marian Harkness holds an M.A. in advertising from the University of Texas at Austin and worked as a copywriter for several years before switching to commercial production. She is now Head of Production at Hungry Man, a commercial production company with offices around the world. In her spare time, she likes to develop and produce content with her sister, Melissa – specifically films and series that stay with viewers long after the screen goes dark.
Melissa Harkness is an actor and writer living in Los Angeles. She has a BFA in Theatre Performance and an MFA in Playwriting and Screenwriting from University of California, Riverside. She has written, staged, and performed in several plays while living in Los Angeles, including her thesis play The Cannibal King for the Hollywood Fringe Festival and Open which had a run at the Working Stage in West Hollywood. She has produced a number of short films as well, including Rolling Romance, which won Best In Show at Indie Fest, and Dial M for Morons, which is still in editing and will enter the festival circuit in 2019.
Lyssa Mandel is an actor, comedian and, writer.. She is the host and producer of the critically acclaimed podcast The Bitch Seat, a comedy/therapy talk show about the universal vulnerability of childhood. The show celebrates over four years at venues on both coasts, including The PIT, Union Hall, (le) poisson rouge, the Nerdist Showroom at Meltdown Comics, and has been featured on This American Life. As an actor, Lyssa has appeared in High Maintenance, the award-winning web series You Only Die Once and multiple international commercials as the token chubby-but-charming chick, which she owns with pride. Lyssa's comedy showcases the smorgasbord of mental health delights that plague her in the hopes you'll realize you're not the only one. Credits include the Women in Comedy Festival and Stand Up 360 at Broadway Comedy Club. She's performed at The Comedy Store, The Creek and the Cave, New York Comedy Club, Greenwich Village Comedy Club, UCB, as well as indie venues in NY and LA.