[title maintitle="Art Can Save the World" subtitle="find the human thread"]
As we welcome in a new year—one we hope is abundant in positivity and truth—art seems to be the most tangible form of our humanity. No matter where you are in the world, we encourage you to explore art galleries and museums every chance you get. Whether you are drawn to contemporary art or fine art or somewhere in between, embody the very essence of all we are as a species and celebrate the variation of thought and visual nuances brought to life in sculptures, photographs, paintings, and more. We can find the common thread among us when we allow ourselves to be exposed to it. We learn about other cultures speaking a universal language that only art is able to convey, and through those creative vulnerabilities, gain a new understanding of what makes our differences so beautiful and unifying.
Here in Los Angeles, we have a culmination of over a hundred museums and galleries and each one has something magnificent to offer but this issue, we're focused on a few life changing exhibitions you have to take time to explore in the new year.
[separator type="thick"]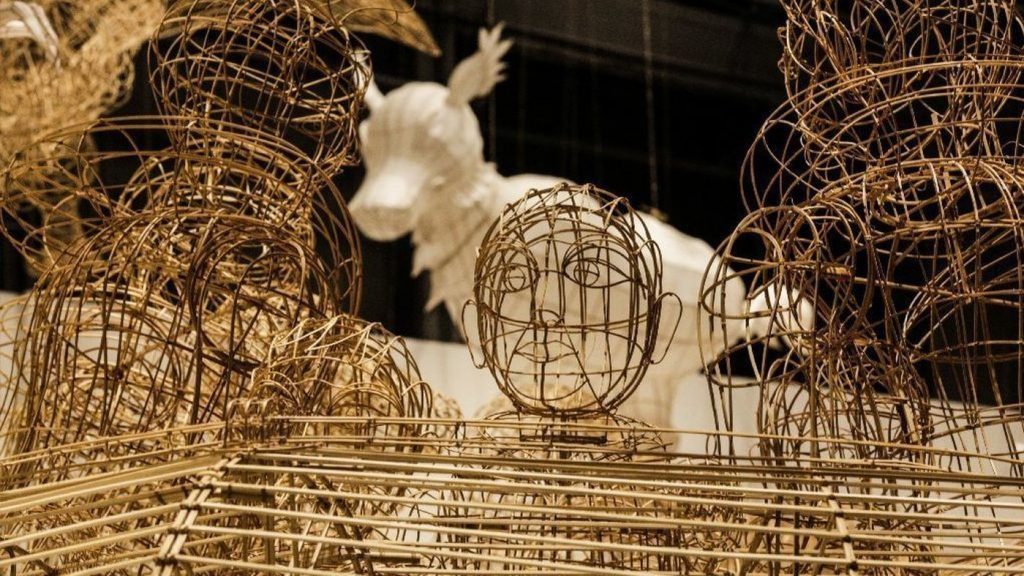 1. Ai Weiwei | Life Cycle
MARCIANO ART FOUNDATION | On view now through March 3rd
The Marciano Art Foundation in Central Los Angeles is a contemporary art hub for socially imperative exhibitions. This month is no exception. Beijing-born, Berlin-living artist Ai Weiwei is featuring his work, Life Cycle, taking viewers through a sculptural response to the growing refugee crisis around the world. Weiwei's beautifully delicate work is juxtaposed with strong, fibrous materials, inviting viewers to experience art in a highly immersive format. Black Box,the first commentative piece Weiwei did in 2015, is an inflatable sculpture made of black PVC rubber representing boats emigrating to Europe. Made from bamboo using traditional Chinese kite-making techniques, Life Cycleis a follow-up to Black Box,a piece with raw, exposed materials that begs the question of permanence and humanity. Sculptures dangle above and are situated all around the bulk of the museum space. From the thought-provoking Sunflower Seedsexhibit dispersing millions of porcelain sunflower seeds, to the Chinese zodiac symbols represented in the aerial pieces, this deeply impressive installation evokes sentiments of feeling lost and displaced in a sea of political chaos.
4357 Wilshire Boulevard| Los Angeles
(Excerpt published in Sensi Magazine by Dawn Garcia)
[separator type="thin"]
2. Vivian Maier | Living Color
KP PROJECTS GALLERY | On view now through January 26th
Vivian Maier is a photographer whose work spans generations posing that of historic and social relevance. Her images speak to us in such a way that our entire self—our emotional and intellectual being—must pose the question of the American identity. Through curated works carefully selected, KP PROJECTS proudly presents a posthumous exhibition of the works of Vivian Maier. Featuring a selection entitled "Living Color", purveyors, novices, viewers, and those with a deep appreciation for the power of imagery are treated to rare prints from her Lifetime Maloof collection as well as chromogenic color prints and gelatin silver prints.
Many of the images exhibited were discovered after her death. She had an astounding collection of over 100,000 negatives that began when Maier first picked up a camera and began to fall in love with capturing life behind the lens. The negatives date back to 1947 and go on through the 1990s. The work showcases the life and often ephemeral moments she experienced in while living and working in urban Chicago and New York as a nanny. We get powerful glimpses into the destitute, the urban uprising as seen in developments and architecture, the every day lives of pedestrians, all while she gives a peek into the heart of American identity. The simplicity of living and the complexity of social diversity captions American life as one less than ideal and yet somehow a signifier of the most honest truths still prevalent in modern society making her one of the most influential photographers of the 20th Century.
:: NEW GALLERY LOCATION :: 633 North La Brea Ave. | LA CA 90036
[separator type="thin"]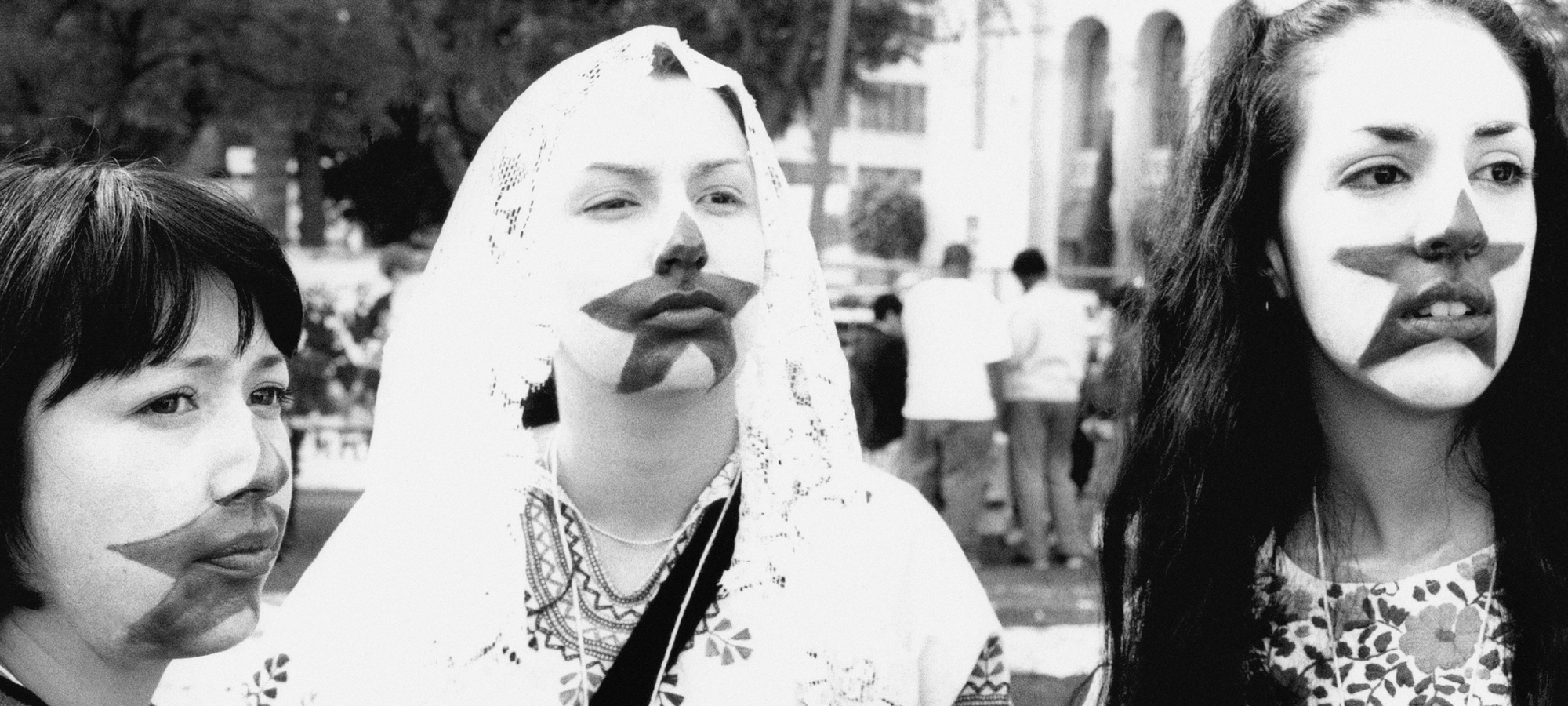 3. Regeneración | Three Generations of Revolutionary Ideology
VINCENT PRICE M– USEUM | On view now through February 16th
"Regeneración: Three Generations of Revolutionary Ideology at the Vincent Price Museum of Art examines the transnational exchange and circulation of revolutionary and activist ideas through which political protest intersected with experimental artistic practices across generations, and between the U.S. and Mexico."
Centered around three occurrances of political and cultural production, this exhibition channels the ideology and interconnectedness between them. In 1900-1918, the term regeneración appeared in a Los Angeles based newspaper started by Meixcan anarchists, the Flores Magón brothers, then again in a political and cultural journal aptly titled Regeneración in the 1970s, acting as a collaborative site for the avant-garde Chicano group called Asco. The name appeared once again when an experimental space in Highland Park named itself Regeneración during the 1990s.
These three instances led to political and transitional reform polarizing the resistance linking Mexico and the United States all deriving from a site in Los Angeles. Creative forms and outward revolutions presented themselves through journals, print media, performance art, films, poetry, art, and even satirical cartoons that spanned a century. Through the convergence of art and politics, a community of outspoken activists was born and the Latino communities of Los Angeles are a proud representation of those movements. While Southern California's history continues to resurface and we learn more and more about the prolific influence of Latin Americans and Chicanos, this exhibition explores the subtleties of merging cultures, political unrest, artistic movements, anarchy, and the importance of understanding, valuing, and appreciating the intersection of Mexico and California.
Regeneración: Three Generations of Revolutionary Ideology will be accompanied by a powerful public program series, including art and music performances, film screenings, a symposium, and art workshops for families, in addition to a gallery sound booth for online radio station programming and conducting oral histories.
1301 Avenida Cesar Chavez | Monterey Park, CA 91754
[separator type="thin"]

4. One Day at a Time | Kahlil Joseph's Fly Paper
MOCA Grand Avenue | On view through March 11th 
One Day at a Time: Kahlil Joseph's Fly Paper is a companion exhibition to One Day at a Time: Manny Farber and Termite Art, this presentation at the MOCA Pacific Design Center features Joseph's recent film Fly Paper (2017) including a painting by Manny Farber from the Grand Avenue exhibition. Using the example of the termite mode, a single soldier or a swarm working to infest and breakthrough an object of permanence, Kahlil Joseph uses a comparison to the impact of contemporary art through the power of imagery. His narrative is displayed through various videos strung together to pose the idea that life is meant to be taken one day at a time.  
250 South Grand Avenue | Los Angeles
[separator type="thin"]

5. Sally Mann | A Thousand Crossings
The Getty Museum | Now through February 10th 
When you walk into the Getty's exhibit, Sally Man: A Thousand Crossings, the beautifully haunting images she's captured from those shot over a period of nearly a decade from 1985-1994 of her husband and children, or her interpretation of history in the South's Civil War, or her series of introspection, they will have a profound effect on you. The Getty has thoughtfully curated Mann's photographs and life's work into one of the first and largest traveling exhibitions exploring how she examines mortality, love, passion, nature, and family.
Many of these pictures are intimate, some are fictions and some are fantastic, but most are of ordinary things every mother has seen.
—Sally Mann, 1992
Mann's career notates a somewhat sorrowful glimmer of the American identity, while still giving way to a rather fantastical world full of wonder through a collection of memories, childhood play, mishap, and tenderness. One such collection comes from her book, Immediate Family, posing questions of parenting, privacy, and the often awkward interconnectedness of private versus public lives.
1200 Getty Center Drive | Los Angeles
[separator type="thin"]
Art is something to be experienced in a museum, but we've put together three art books to add to your collection.
[columns_row width="half"] [column]

[/column] [column]
[/column] [/columns_row]