[title maintitle="Carmel-By-The-Sea" subtitle="History and Hofsas"]
[dropcap letter="W"]hen you arrive in city of
Carmel
, you see straight away that this is a place of history. In many ways, it seems like the kind of Christmas village that only exists in fairy tales. Carmel-by-the-Sea  has stayed true to its humble beginnings (dating back to the 1770s), and as you stroll through town you'll begin to wonder how it is a town designed with no physical street addresses has become such a tourist destination. Visited by tens of thousands of guests every year, Carmel is an unspoiled beachside city that has lured literary giants, ignites creativity, a dose of luxury, wonderful locals, interesting wines, and is among the places you have to visit in California.
The street signs are painted pieces of wood with the street names spelled out and if you ask for directions, you'll end up with a "on the corner of Eighth Street near the building with an orange trim" —and they won't be kidding! It is a place where magic still seems alive, where Clint Eastwood was once the Mayor, where high heels require a permit, and simplicity, in spite of the obvious wealth, isn't overshadowed. And then there are the hotels; among which is one that has been a fixture of the community since the 1940s.
[columns_row width="half"] [column]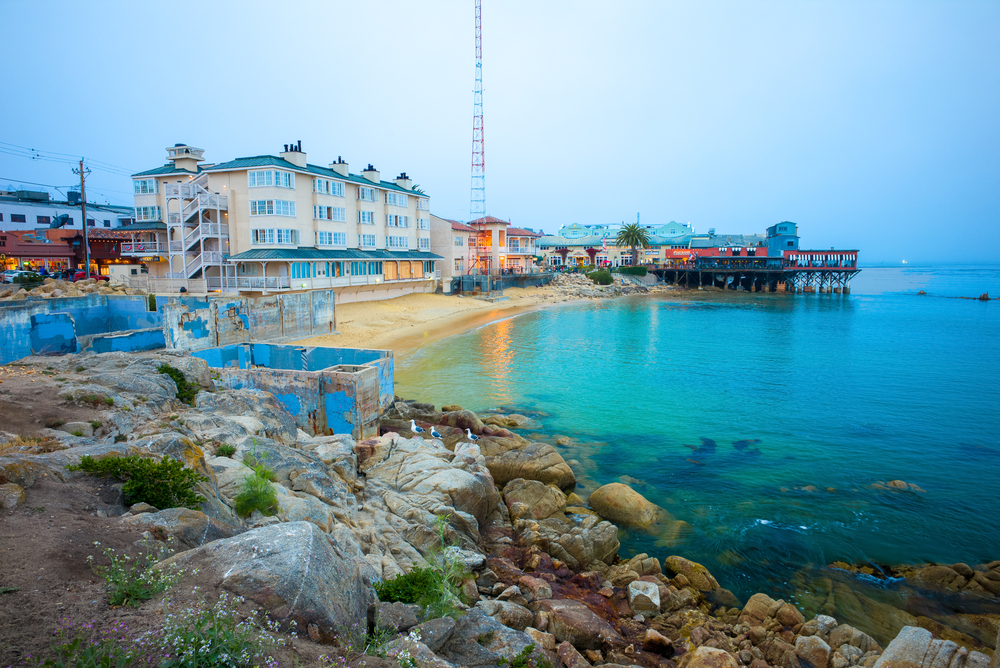 [/column] [column]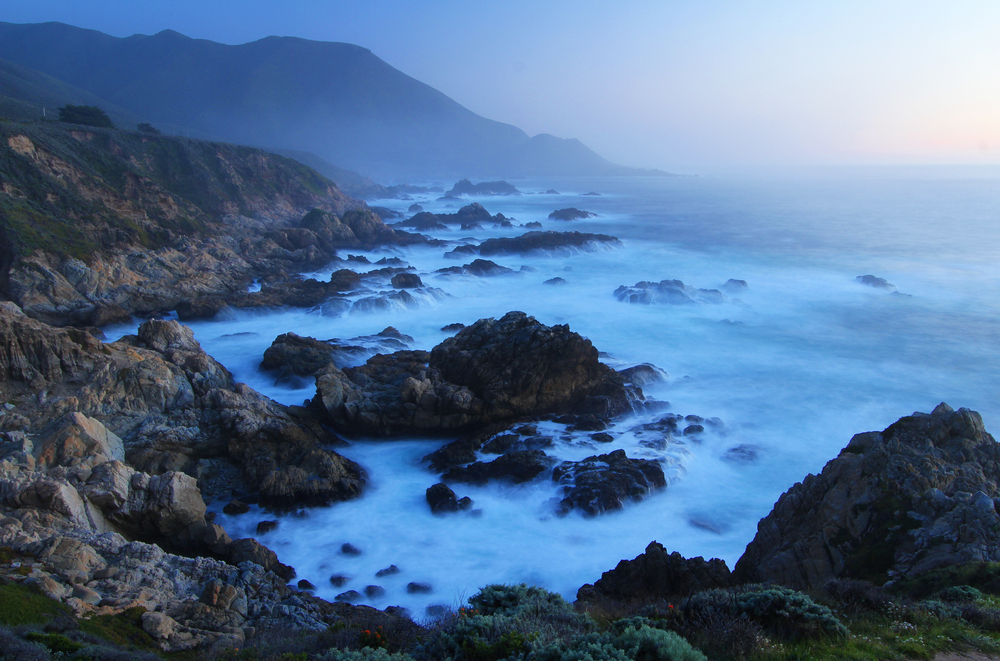 [/column] [/columns_row]
In the 1940s, Donna and Fred Hofsas came from Los Angeles to Carmel and bought a few cottages in town, living in one and renting the other three out. Called the Hofsas House, by 1975 they did some remodeling and extended the four-bedroom hotel by adding additional rooms, a swimming pool, private fireplaces, balconies, wet bars, mini kitchens (no stoves), and today they offer free wifi. The hotel may not be as updated and current as some of the others in the area, but the nostalgia of being a fixture in the area for 70 years and the Bavarian theme makes it a fun place to bring your kids or escape for a little old school romance. The exterior of the hotel is hard to miss! Bright pink salmon canvases the entire hotel with original art by Maxine Albro. Albro was heavily influenced by his mentor, Paul O'Higgins who was Diego Rivera's assistant. Commissioned in 1957 by Donna Hofsas, the hotel has remained in the vision of the Hofsas' family and is now run by Donna's daughter Carrie and her son.
In Carmel for a quick mother/daughter getaway, my daughter and I thoroughly enjoyed wandering the town, especially at night. We found ourselves in art galleries, stopping at the local grocery store to pick up snacks, went into the Schied tasting room where they poured wines for me and water for her! We had an opportunity to dine at some of the region's lovely little restaurants, and each night, our favorite thing was settling in with the fire burning, books in hand, and pj's on. She drank apple cider while I enjoyed some California wine. The room we stayed in is a mountain facing room with a full wet bar, TV, antique wardrobe, antique desk with vanity, and an old wood burning fireplace. When I first saw the room, it reminded me of something my grandmother would have liked and while it may not be the modern luxury I'm used to, it has a charm and warmth that makes it rather timely for us to stay here, having just recently lost my grandmother.
The hospitality here isn't overdone and makes it a bit more homely and easy. That said, they have a list of guest offerings from wine to golfing that appeal to every whim.
[accordion] [item title="Wine"]Monterey Wine + Lula's Chocolates $25
Monterey Wine + Cheese Pairing $30
Campagne + Cheese Pairing with Hofsas engraved flutes $50
Carmel Wine by the Sea Passport $100[/item] [item title="Spa + Golf"]Cinq Mondes Spa for a massage or facial.
Four different golf courses are found along this gorgeous stretch of California coast with rounds starting at $75[/item] [item title="Special Packages"]Monterey Bay Aquarium discount for guests.
Get Artsy Package – Carmel has 80 galleries within walking distance of the hotel and if you mention Hofsas House Get Artsy package at the hotel, you'll book and a stay in Room 47 where artist Maxime Albro painted, and mention code HHArt, you'll be treated to a bottle of wine and cheese upon arrival. The hotel can also arrange for an art walk tour including a chance to encounter an artist while working for $25 per person.[/item] [/accordion] [title maintitle="Time to Grab A Bite" subtitle="Eateries"]
Carmel and the Monterey area is brimming with lots of places to grab coffee, a quick bite, fresh seafood, brunch, lunch dinner—casual and high-end—as well as having some of the more exquisite views around. In two days, we got a glimpse of what was available and can't wait to return to explore more.
Hyatt Carmel Highlands Inn – Along Highway 1 you'll find one of Hyatt's most magnificent properties. Carmel Highlands Inn literally rests on the cliffside just across from the bluest points of the Monterey Peninsula and Pacific Coast. Coming in to the California Market for breakfast, the cuisine is everything I love: clean, organic, farm fresh, thoughtful, and packed with flavor. Ordering the açai bowl with granola, strawberry, raspberry, blueberry, banana, and coconut; and the pecan cinnamon French toast topped with candied pecans, blackberry and strawberry with a side of applewood smoked bacon, every bite was divinity. The açai bowl was beautiful in presentation and I could taste that the açai is prepared fresh on site. The French toast was gluttony with a side of love. The care put into the presentation and the abundance of taste in the French taste made us fans.
Beach House at Lovers Point Waterfront  – Lovers Point has been where secret kisses and romance has blossomed for over 100 years. One of the more enchanting locations along the Monterey Bay, Lovers Point has the kind of views that provoke a little je ne sais quoi. Arriving just in time for the sunset hour, the restaurant is full of happy patrons. The staff is wonderful. Leo is the hostess with more joy in her smile than most people you'll come across, and Gio, our server was so attentive in spite of being slammed. We dined outside where it's perfectly warmed with outdoor heaters and a gorgeous view. Ordering the flash-fried calamari, the fire and ice salad, grilled filet mignon, and a bacon cheeseburger, the meal was total comfort food with a kick of upscale but not overpriced.
Coffee Shops | Carmel Valley Coffee, Tree House Café, Carmel Belle
Wine Tasting Rooms | Albatross Ridge, Windy Oaks Tasting Room, Wrath Vines, Scheid Tasting Room, Blair Wines, Dawn's Dream Winery, Parsonage Winery Tasting Room
[title maintitle="Monterey Bay Aquarium" subtitle="Something You Cannot Miss"]

[separator type="thin"]
Carmel-by-the-Sea is the kind of city that illuminates the soul and when you need a quick getaway, it's exactly where you should go.
Photos below ©by Dawn + Barcelona Garcia