[title maintitle="Hold Your Horses" subtitle="This is a Must-Stay"]
Paso Robles may be one of the fastest growing cities in California and as it develops and makes room for the influx of tourism, it's a city with a steady feel of luxury without pretension, and a community with all the fixins' of a neighborhood family. With over 40+ hotels and bed and breakfasts, and another three to four coming to downtown by 2020 (adding 500 more rooms within a mile of the city center), travelers aren't at a shortage of choices and styles.
Among the sea of options is Hotel Cheval. Named as one of Conde Naste's travel picks, I had to see for myself what all the fuss was about. Turns out, the hotel lives up to its reputation. Situated in the heart of the downtown square, Hotel Cheval is unassuming and undeniably cozy. As you enter in you're greeted by a friendly staff, a small area for boutique jewelry that includes bone-made necklaces, there is a warm fire burning, coffees and teas at-the-ready, and design accents like handwoven rugs.
The hotel is known for its horse-themed overtones and it does have an air of regality and showmanship. Light beige, earth tones, and rich brown wood blanket the hotel as iron accents and pieces of the past are sprinkled throughout the property. After being checked in, I am shown to my room. I'm staying in the Hanover. Named for the prize winning horse from 1884-1889, he was a champion thoroughbred that was easy going and often misunderstood as a bit of a lazy horse. Having won all three of the races he ran—The Hopeful, the Stapling Stakes, and the July—he won seventeen straight events leading up to the championship races.
In other words, Hanover was a rather cool, down-to-earth champion with the refinement required to be a thoroughbred. Inside the spacious room with high beam ceilings, guests have free wifi, an LCD flat screen, an aptly titled "supremely comfortable" Cal-king bed with 400-thread count bedding, and warm down comforters. My room also had a large outdoor patio, but it was the art in the room that made a statement. Contemporary black and white photography adorned my room which leant to the experience of casual luxury.
Cover photo by Mezencev | Photos by Dawn Garcia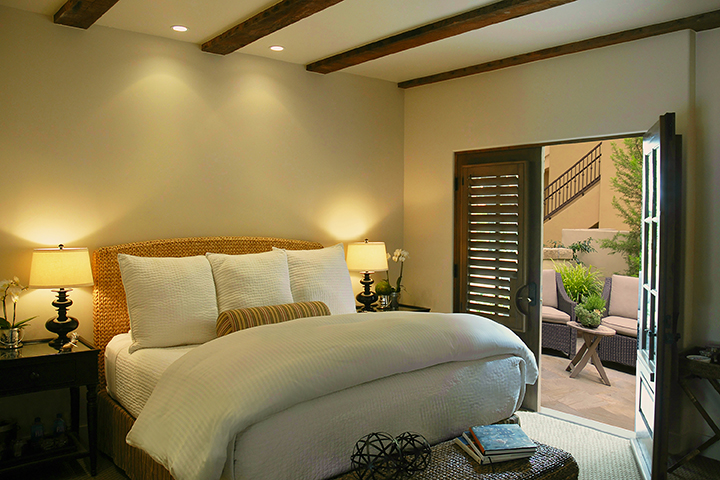 Once settled in, I take a look around the property and take stroll into the library. Appealing to those with a sweet tooth and an appreciation for literature, you're greeted with a candy station and well-stocked bookcases. Large oversized glass jars house copious amounts of M&M's, Hot Tamales, and more candy choices that are there for the taking with bags happily provided. As I scooped Hot Tamales into a small paper bag, I noticed all of the glorious accents around the room. From fine-made leather saddles to an old 1930s telephone suspended in air, this room also has a fireplace, large leather chairs and sofas, and it's certainly a wonderful refuge to write in, read in, or enjoy a quiet chat and glass of local wine.
Each morning guests enter into the Pony Club for a wonderful spread of coffees, breads, local jams, meats, cheeses, and honey, and hot breakfast which usually consists of eggs, bacon or sausage, and potatoes. For the healthier diners, there is fresh juice (orange or green), nonfat Greek yogurt, and a wealth of fresh berries and fruits to choose from. In the evening the Pony Club also doubles as a place guests can come to do a wine flight of wines from the Central coast or venture into Europe with a rather impressive selection of European wines. The bar itself has equestrian details like the French zinc-topped, horseshoe-shaped bar, as well as black and white photos and one large and darling (and rather comical) painting of a prized horse with a perfectly curled bang.
When evening rolls around, one of the other special perks of staying at Hotel Cheval is their nightly s'more creations. Every evening, from dusk until 10 p.m., guests have the option to choose from several gourmet constructed s'mores. I was fortunate enough to test taste a serrano chile honey s'more and for my second bit of gluttony, I topped it off with a classic dark chocolate. As someone who doesn't regularly indulge in sweets, I'm beginning to believe the owners of the hotel had a chocolate-covered childhood and us guests get to reap all the benefits!
[columns_row width="half"] [column]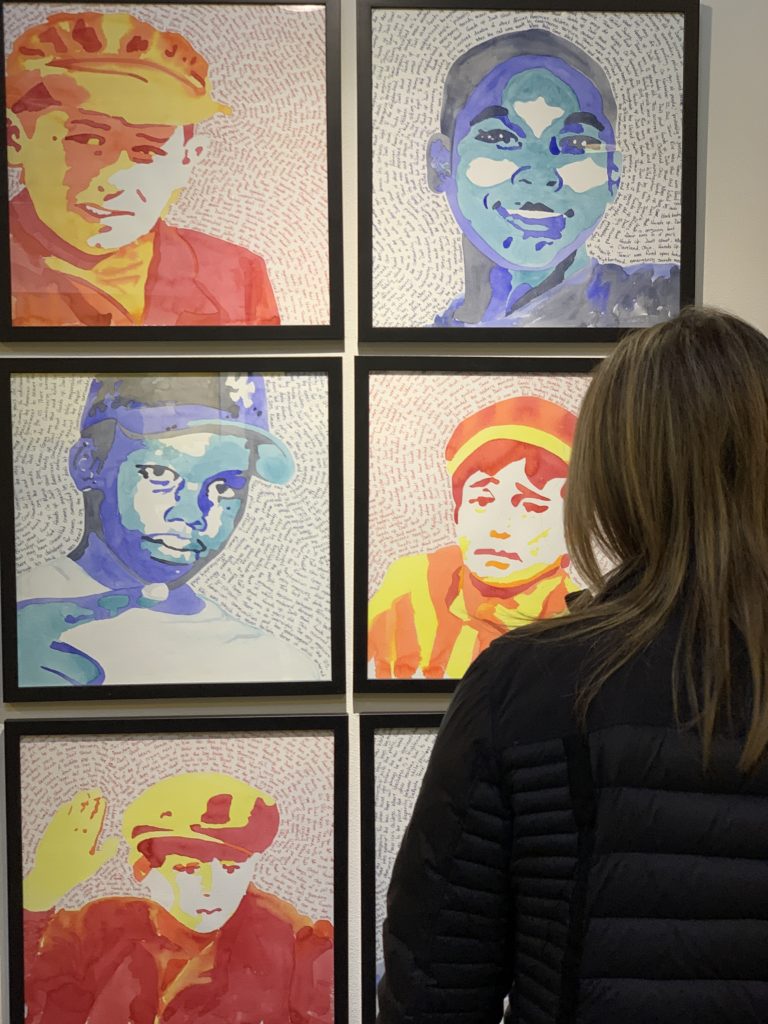 [/column] [column]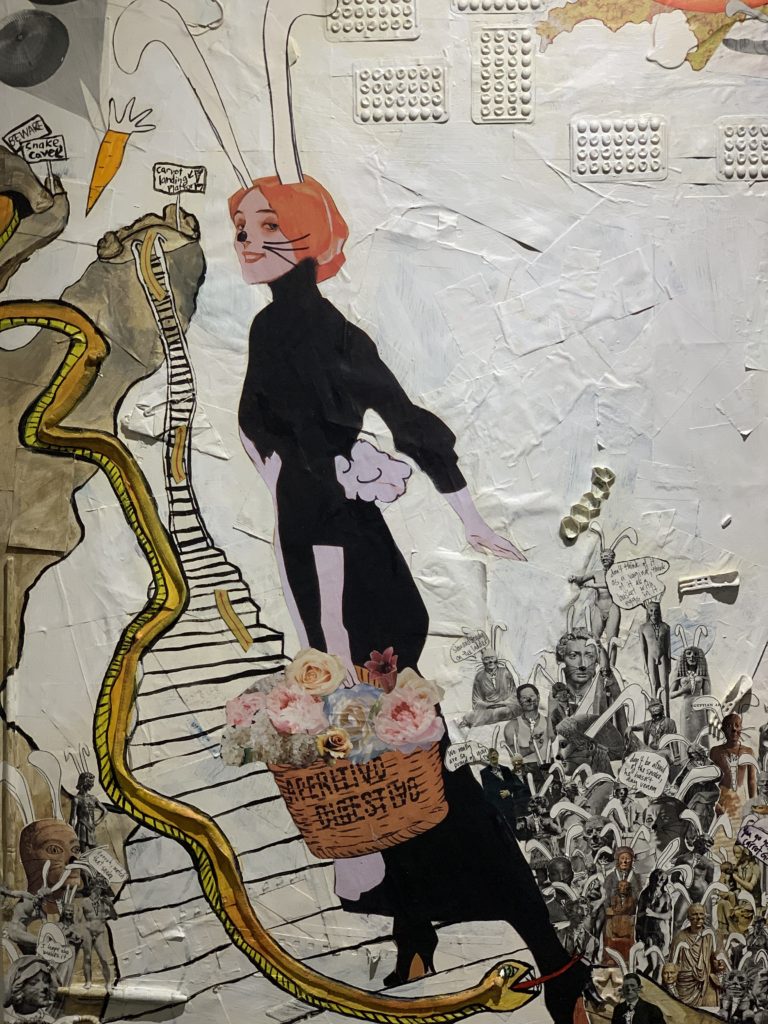 [/column] [/columns_row]
Greeted every morning with the newspaper, I spent my mornings in a state of leisure. The crisp winter air feels like a natural refresher against my skin and there's no better place than to enjoy that by exploring just outside the hotel doors. At Hotel Cheval, it's easy to wander down the street to explore the heart of downtown. When you're looking for inspiration you'll find it at Studios on the Park, a co-op art studio that houses local working artists. While I was visiting, the collective exhibition was one I deeply admired. It was a take on the current political climate and the art was powerful.
When you've had your creative fill, you can enjoy the boutique shops, local restaurants and bars, and find you way into Justin Winery's new meticulously curated wine tasting room for flights and bites. I highly recommend  When you finally get hungry, just behind the tasting room is Jeffry's Wine Country Barbecue. I was lucky enough to go when Jeffry Wiesinger was there cooking up a feast, and the barbecue? Some of the best I've had the pleasure of indulging in. Once you feed your appetite, nighttime in the square is beautiful, and after you've walked off dinner, a swanky spot in town for a nightcap is the local speakeasy, Eleven Twenty-Two. Outfitted with a prohibition feel and beautiful design accents that will bring the roaring twenties to life, the mixology program here is one that could stand up to any bar in LA or NY. It's thoughtful and story-driven.
Other notable and wonderful dining options include BL Bistro, Tin Canteen, Fish Gaucho, La Cosecha, Thomas Hill Organics, The Hatch, and Pappy McGregor's. Wineries to explore—primarily because the winemakers are so intriguing and fun to talk to—include winemaker Eric Jensen at Booker Winery, David Parrish at Parrish Family Wines, Paso Underground featuring local winemakers at Hubba Wines and Lost Blues, REFIND distillery, Ancient Peaks (their new tasting room and café is sublime), Tin City where you'll find wine, beer, spirits, and some of the most delicious sheep's milk ice cream you've ever tasted at Negranti.
Studios on the Park is worth spending some time in. The facility is a for-profit art space that gives back by working with 4000 children each year through art programs, furthering the importance and value of art as education. They hold wine and art classes, lectures, and more.
Heading back to the hotel is like coming home. It's cozy and warm in nature, and really is a wonderful place to rest your head.
PONY CLUB HOURS
Sunday thru Thursday » 5:00pm to 9:00pm  | Happy Hour » 5:00pm to 7:00pm
Friday & Saturday » 4:00pm to 10:00pm  | Happy Hour » 4:00pm to 6:00pm
NEXT UP: Best Eats + Drinks in Town, Ziplining, and a Creative Endeavor like nothing else in the world.
[separator type="thin"]