[title maintitle="Hooray for Dolly!" subtitle="Hollywood Pantages Theatre"]
As a child growing up in Los Angeles with a family that was threaded into the wonderful whimsical world of old Hollywood,  there were moments that lived on in my memory as exuberant times. Among them, a particularly special moment of going to the Dorothy Chandler Pavilion to see Hello, Dolly! starring Carol Channing with my grandmother. It was 1982 and I was a just a wide-eyed kid with an affinity for things like musicals, Lawrence Welk, and theatrics. I remember being in a fancy dress and gawking at the massive and exquisite crystal chandeliers that hung so delicately yet commandingly above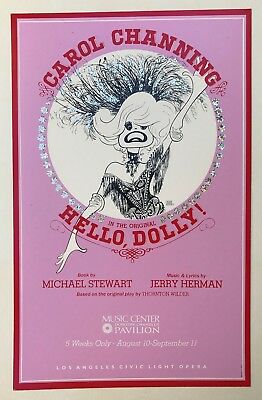 me at the Dorothy Chandler Pavilion. As the lights flashed and we were summoned to head into the theatre, my grandmother led me by the hand and I could feel her posture straighten as we stepped inside. I knew I was about to experience something magnificent, and I was right. For decades since, I've sung "Hello, Dolly!" throughout various stages of my life, and it has always brought a smile to my face.
Fast forward a few decades ahead and this time, at the famed Hollywood Pantages Theatre, Broadway's Hello, Dolly! was touring again. This performance would be starring yet another legend of my youth, Betty Buckley. I knew her as Abby from my days watching Eight Is Enough, and while I never thought anyone could top Channing's performance, Buckley's portrayal of Dolly Gallagher Levi was one of sheer jubilation! In fact, I would venture to say I was moved in such a way, my entire being felt that jubilee coursing through my veins as Buckley's voice soared, especially when it came time to sing my favorite musical tune ever written, "Hello, Dolly!"
[button content="GET TICKETS" color="pink" text="white" url="https://www.ticketmaster.com/hello-dolly-touring-tickets/artist/2480265?venueId=90160&list_view=1″ openin="_blank"]
photos by Julieta Cervantes
[columns_row width="half"] [column]
[/column] [column]
[/column] [/columns_row]
From the moment Buckley comes onto the stage—navigating to get on a trolly destined to ensure matrimonial bliss for a young couple—you know the musical journey ahead is going to be one of optimism, joyful song, and impeccable performances. The entire cast from Lewis J. Stadlen (a force in Broadway, film, and television) to Jessica Sheridan (highly entertaining), every character, secondary character and on through the entire cast of performers, engage and delight you.
The hopeful twist of an uncommon love story fills the air and through a tangled, yet sweet love soirée of four characters, we are taken on a ride of the most unusual circumstances. We watch thrilled and beguiled as Cornelius (Nic Rouleau – pure energy and grace), Barnaby (Jess LaProtto, whose dancing will leave your jaw on the floor-it's sensational), Irene (Analisa Leaming – funny and powerful) and Minnie (Kristen Hahn – adorable and endearing) turn hat shopping into a far more exciting adventure than one might expect. Cornelius and Irene, and Barnaby and Minnie fall innocently yet hopelessly in love, all while hysterical and poignant banter ensues between Horace and Dolly in scenes to follow. That leads us to a sensational performance of song and dance.
Taking place at Dolly's favorite restaurant, a cast of talented dancers doing impressive acrobatics keep us all singing, dancing, and bellowing with laughter. Eventually however, we are brought into the beautiful and inevitable joining of Mr. Horace Vandergelder and the contagiously gleeful Dolly Gallagher Levi and—your heart swells with happiness.
[button content="GET TICKETS" color="pink" text="white" url="https://www.ticketmaster.com/hello-dolly-touring-tickets/artist/2480265?venueId=90160&list_view=1″ openin="_blank"]
It can't be said enough that this performance bursts with the kind of power one always hopes for with a musical like this, but Hello, Dolly!—being the mother of all great musicals—soared! From stage design to phenomenal dance and song numbers, the cast is simply sublime.
Buckley went well beyond expectation and is worth every standing ovation she receives. She is even more powerful on stage than I imagined. Her sass, flawless performance (of not overacting) was a revelation to behold and, alongside Stadlen, she's quick-witted, humorous, wildly energetic, and perfectly played.
In lieu of being at a remarkable place in time for women, this timely musical was a champion for strong, independent women all while respecting and appreciating the good men that exist around us. Hats off to director Jerry Zaks, choreographer Warren Carlyle, scenic and costume designer Santa Loaquasto, and conductor Robert Billing. This is a large piece of theatre history and they did it proud. Congratulations to everyone involved and if I can leave you with but one thought, may it be this: GO! Get tickets NOW! This is the soul jubilation you've been needing.
All photos ©by Julieta Cervantes