Los Angeles really is a love story of sorts that tells tales of the past while trying to navigate through an ever-complex future. The past filled with simple beauty, architectural innovation, design standards that live on to this day and an elegance and charm that lit the town on fire. While Los Angeles has undergone structural change, our need to return to the nostalgia of our past is rising to the surface. In search of a past so graceful and beautiful, below you'll find an invitation to step through time.
[separator type="thick"] [title maintitle="No. 1 + No. 2 | B.H. Hotel " subtitle="Restored to perfection."]
No. 1 and No. 2 | The Beverly Hills Hotel is iconic. Not only is it where starlets flocked to once upon the glory of old Hollywood, it's also been the subject of some extraordinary photoshoots and backdrops for fashion, television, and film. Having opened its doors in 1912, the Beverly Hills Hotel was designed by Elmer Grey and while it has undergone multiple redesigns, it's the most recently restored bungalows that are all the rage. Having gotten a glimpse when I interviewed Gray Malin when he launched his Beverly Hills Hotel series, I can vouch for how truly decadent these bungalows are. Giving life to old Hollywood glory, the hotel just unveiled two newly restored their bungalows inspired by Marilyn Monroe and Howard Hughes. Below is a look at two reasons to love L.A.
Bungalow 1.
Marilyn Monroe spent most of her bungalow time at this hotel, in this bungalow. Thoughtful of Marilyn herself, the newly designed bungalow has the delicate and whimsical touches of her career as an actress.  "With curvy furniture, bright and abstract floor coverings, colorful travertine stones, and gold leafed ceilings, this feminine space is both playful and sophisticated. Strong Jean Michel Frank influences pay homage to her use of his designs in her own home, including extensive use of parchment to envelop aspects of each room", says the hotel restoration team. The space is visually stunning with the sweetness, glamour, and youth we all associate with Monroe. The in-room library also features a collection of books on Marilyn Monroe as well as her films.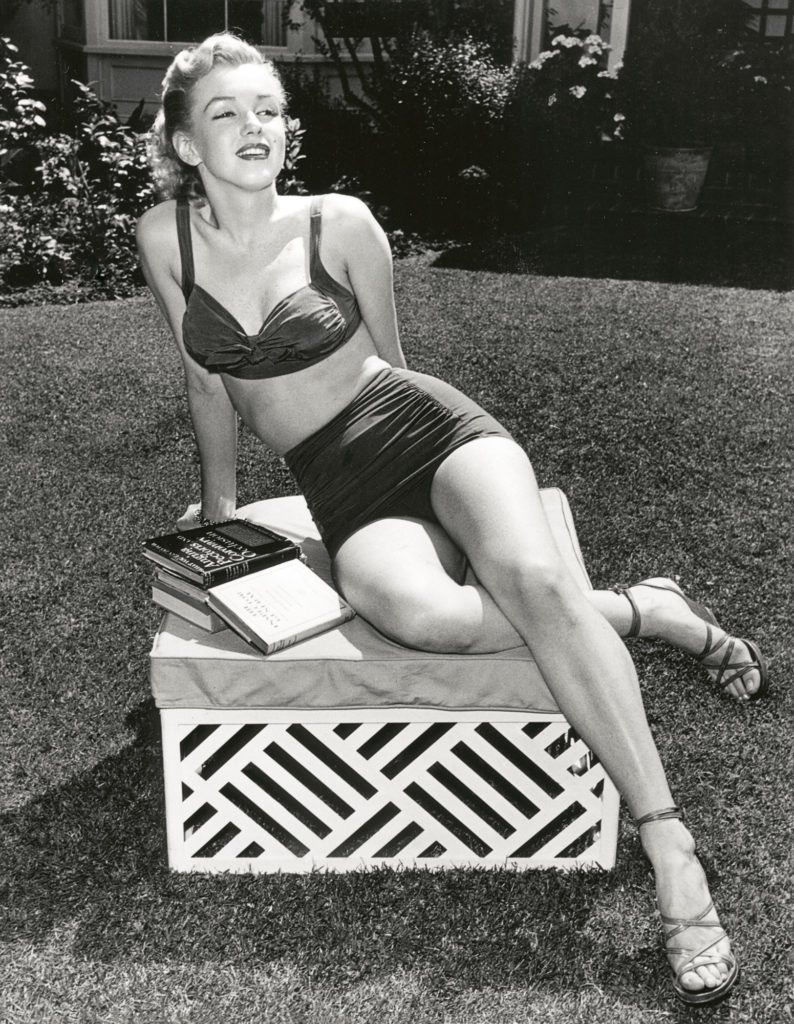 The one bedroom bungalow suite includes a living room with dining area, fireplace and half bath; master suite, full master bath and dressing room and private terrace. The main suite also connects to two adjoining bedrooms making it a three bedroom bungalow (2,620 sq. Ft.).
AMENITIES: Chanel No. 5 perfume bar, Chanel bath amenities, Marilyn Monroe champagne bath bubble experience featuring ceara pure Atlantic sea salt from the coast of Brazil, sweet orange and grapefruit oils inspired by Some Like It Hot, and a bottle of Dom Perignon.
Marilyn's Menu (available via in room dining for an additional cost), inspired by an interview that appeared in the 1952 issue of Pageant Magazine in which shenrevealed the following: "My dinners at home are startlingly simple. Every night I stop at the market near my hotel and pick up a steak, lamb chops or liver which I broil in the electric oven in my room. I usually eat four or five raw carrots with my meat and that is all." She also admitted that she occasionally treated herself to an ice cream sundae.
Items from Marilyn's Menu include: Prawn Cocktail, Heirloom Carrot Salad, DiMaggio's Spaghetti and Meatballs, Grilled New York Steak, and Marilyn's Ice Cream Sundae.
[columns_row width="half"] [column]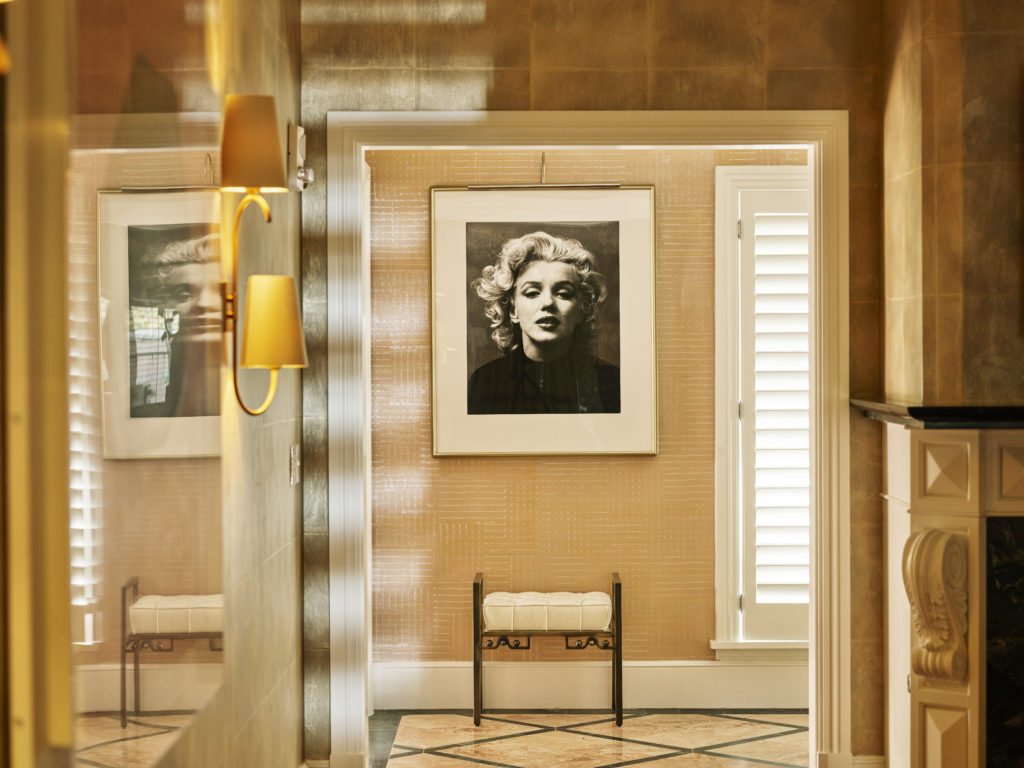 [/column] [column]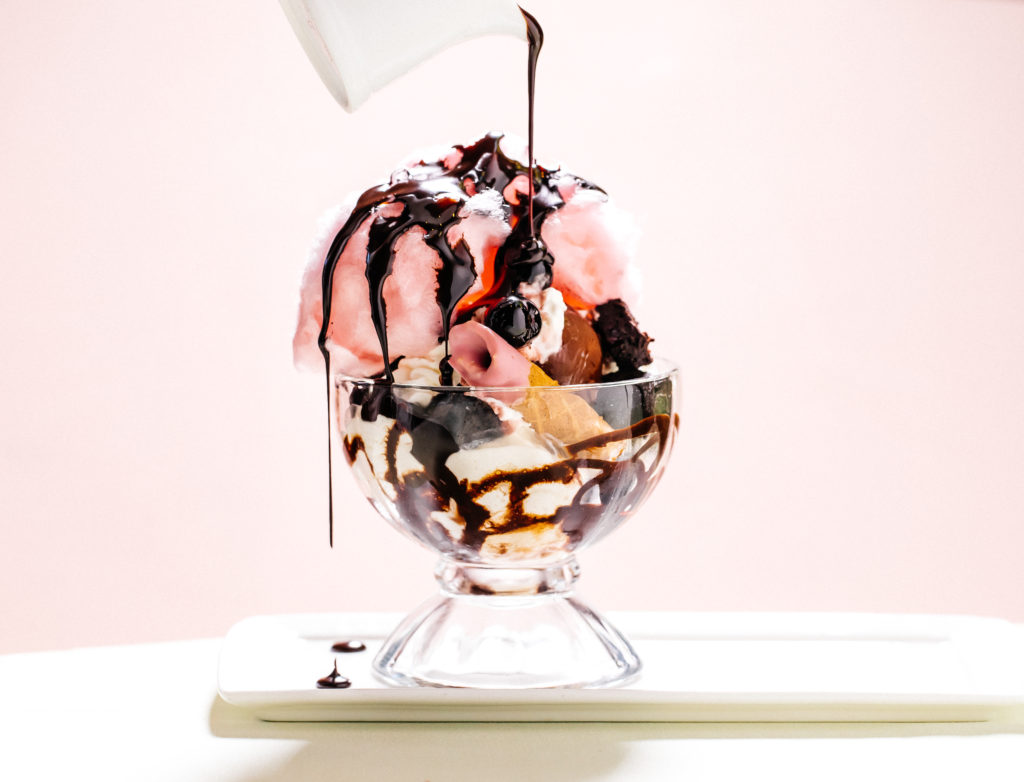 [/column] [/columns_row]
Bungalow 3.
Howard Hughes lived in the bungalows on and off for 30 years. The redesigned bungalow using colors that are rich, bold, and masculine with accents of exotic woods. "This bungalow's look and feel is as mysterious and moody as the reclusive billionaire himself. Art deco references include geometrics and rich sheens, conveying a masculine glamour through the use of glossy leathers, tailored shapes, and blue bedroom walls."
The one bedroom bungalow includes a living room with dining area, fireplace and half bath; master suite, full master bath and dressing room; and private terrace. The main suite also connects to two adjoining bedrooms making it a three bedroom bungalow (2,620 sq. ft.) . He also requested that one of his meals of choice, roast beef sandwiches, be left under a tree outside his bungalow almost every night which the hotel will gladly oblige.
[columns_row width="half"] [column]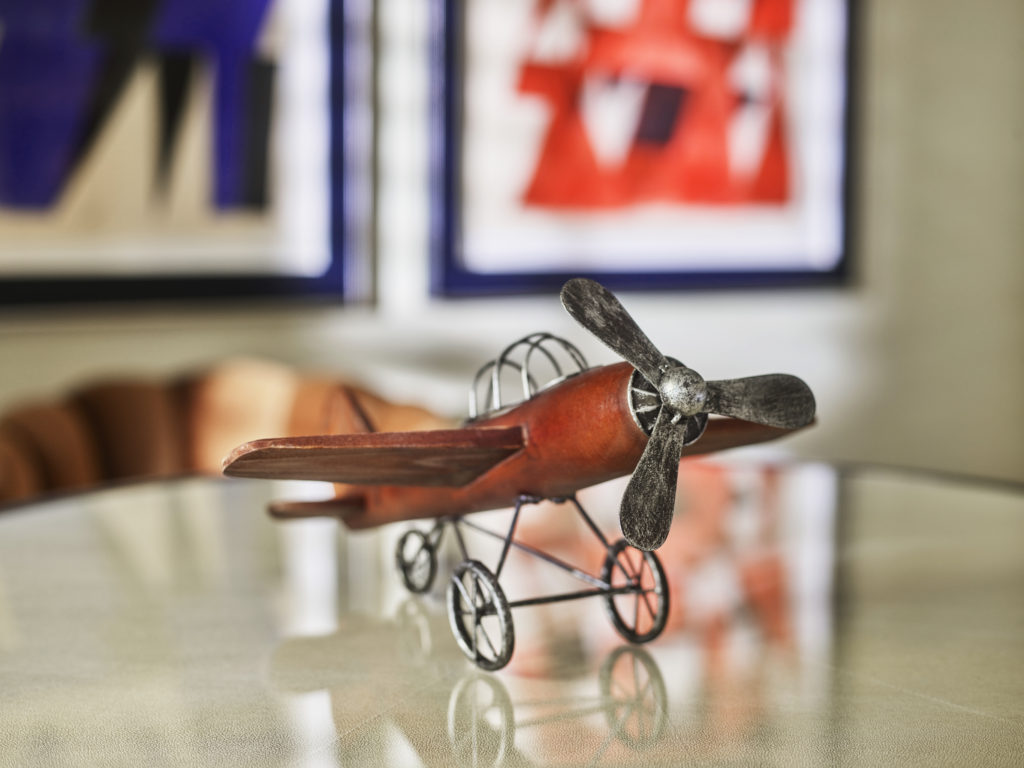 [/column] [column]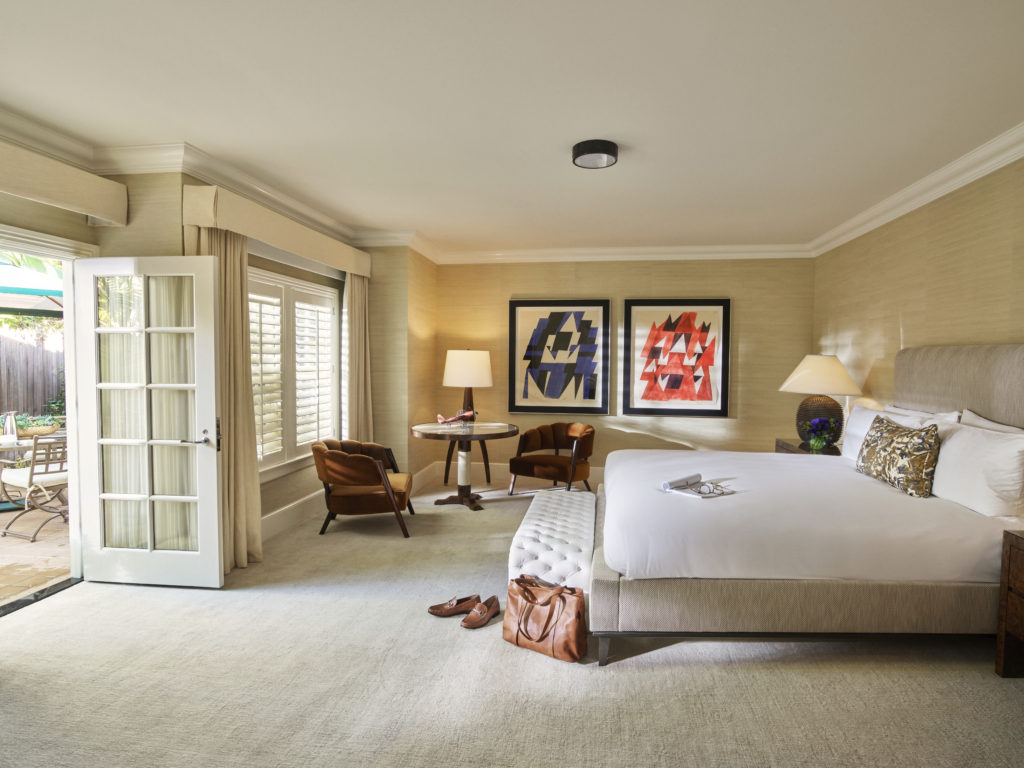 [/column] [/columns_row]
---
[title maintitle="No. 3 — HOXTON HOTEL " subtitle="Bright Lights, No Snobbery"]
The streets of New York have drawn us in the moment the first marquee went up on Broadway, but the charm and cool of Hollywood lured us in even further and the newest addition to the hospitality landscape of L.A., the Hoxton.The Huxton has all the je ne sais quoi we adore, including the art deco revival that is sperb. Embodying a mid-century modern influence, the allure of discretion, flashing signs with bulbs that beckon, the Hoxton is a 174-room hotel built generously among 10 stories, and the contrast of neon signs, art, time, the railway and times passed is elemental in its paradox.
Impressing guests upon arrival with cleverly named rooms such as the Snug, Cosy, Roomy, and Biggy, any inclination towards snobbery is tossed out the window, however these adorably named rooms are nothing short of luxurious. From bespoke timber cedar floors onto their zellige-tiled bathrooms, it's the accents of brass and copper, custom furniture, thought-provoking art, and minimalism that make it easy to harken a little sass of Bette Davis or the cool of Rock Hudson.
When you get hungry, their lobby bar and restaurant will feed any desire you have (well, almost). Their bar has tufted rounds, swanky chairs, and a thoughtful bar program that will excite your palate. Should you want to brave our odd winter air, head to the rooftop to take advantage of their minimalistic pool. The views of the city from the top will whet your appetite for exploration. It's also in the heart of downtown so art, more culinary choices, and a lot of great people watching is afoot.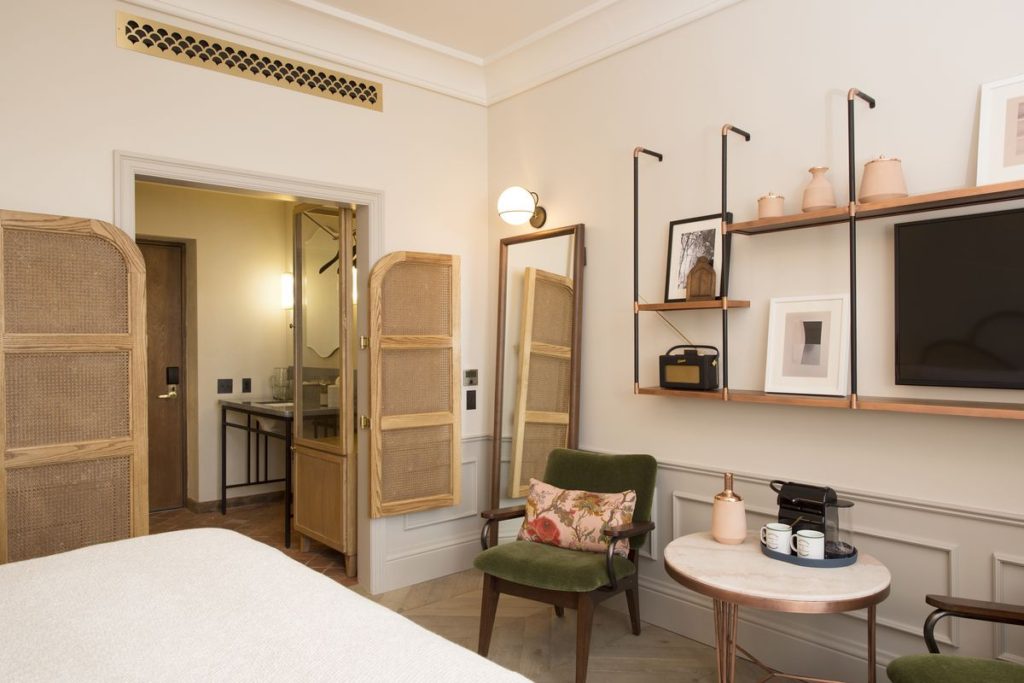 [separator type="thin"] [title maintitle="No. 4 | the EDITION " subtitle="Eclectic Meets Slim Aaron"]
Enthralled in design and art, a wealth of hotels and eateries is the beautiful and eclectic West Hollywood. A thriving LGBTQ community, WeHo is also where most of L.A.'s poshest spots to slip into a club, experiment with mixology, indulge in a higher caliber of cuisine, and where culture is abundant—and now there is one more breathtaking hotel with private residences to add to the mix, The Edition. Located in a part of town that is full of life and innovation, the Edition feels like a Slim Aaron set and sits on the hillsides where WeHo meets Beverly Hills, and the views are inescapable and thankfully so.
Serving as both a hotel and private residence, this 190-room, 20 luxury residence is meets your luxurious whims with their six-room spa, high-end restaurant, cool and sexy basement club, elegant rooftop pool, and even their top-of-the-line lobby lounge. The design is reminiscent of the sophisticated cool L.A. is recognized for. The décor appeases modernism, while never compromising refinement.
(cover photo of the Edition, WeHo)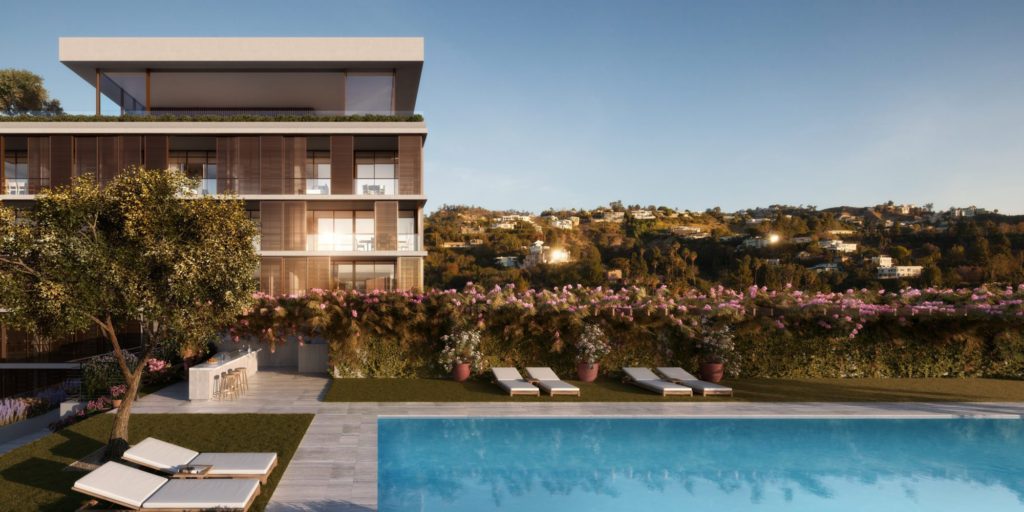 [separator type="thin"] [title maintitle="No. 5 | the TUCK hotel" subtitle="Swanky Swagger"]
Somewhere in the deep chambers of this great city, hoteliers must have realized the endless opportunity to bring in an array of style, ambiance, and choice to Angelenos. That's where the TUCK Hotel comes in. Simply designed with a minimalist vibe, this hotel is among the rather hard-too-find-gems in the city. With a masculine meets feminine approach to its design, Juan Pable Torre opened this 14-room hotel on Spring Street amid the pulse of the downtown fashion district. Unassuming in every way from the exterior, the moment you step inside rich tones of leather, rustic and sustainable wood, contemporary art, elevated simplicity, and Bar Garcia call your name.
Torre created something unique to the hospitality industry with this hotel. It feels like something you'd hope to stumble upon in cities like Chicago, Mexico City, or Brooklyn but thankfully he set his sights here in Los Angeles. Offering 15% through their Instagram account, this is a little swankiness you deserve to try.
[columns_row width="half"] [column]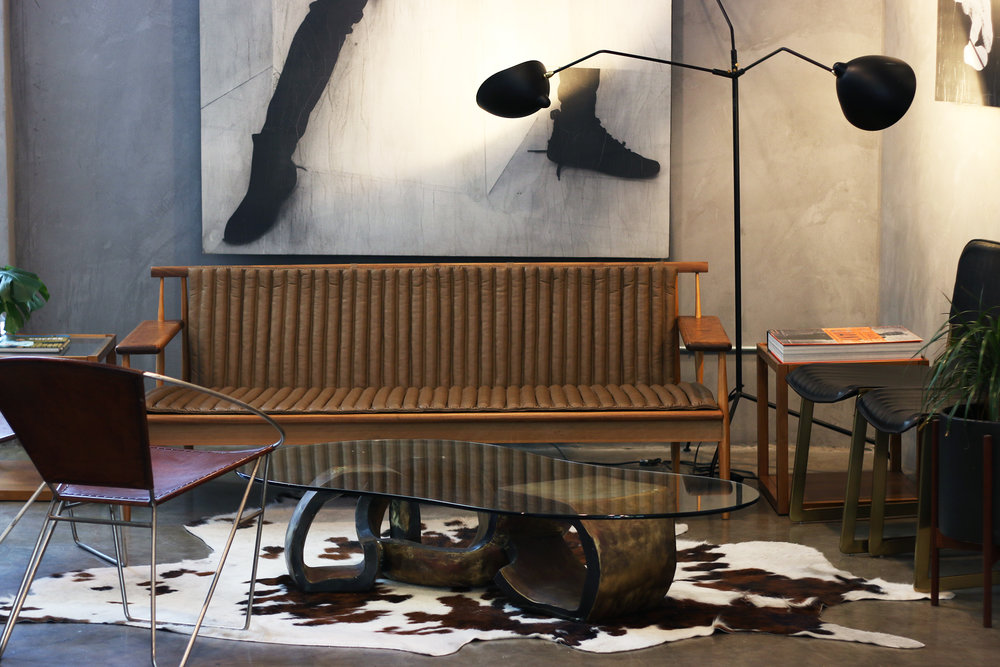 [/column] [column]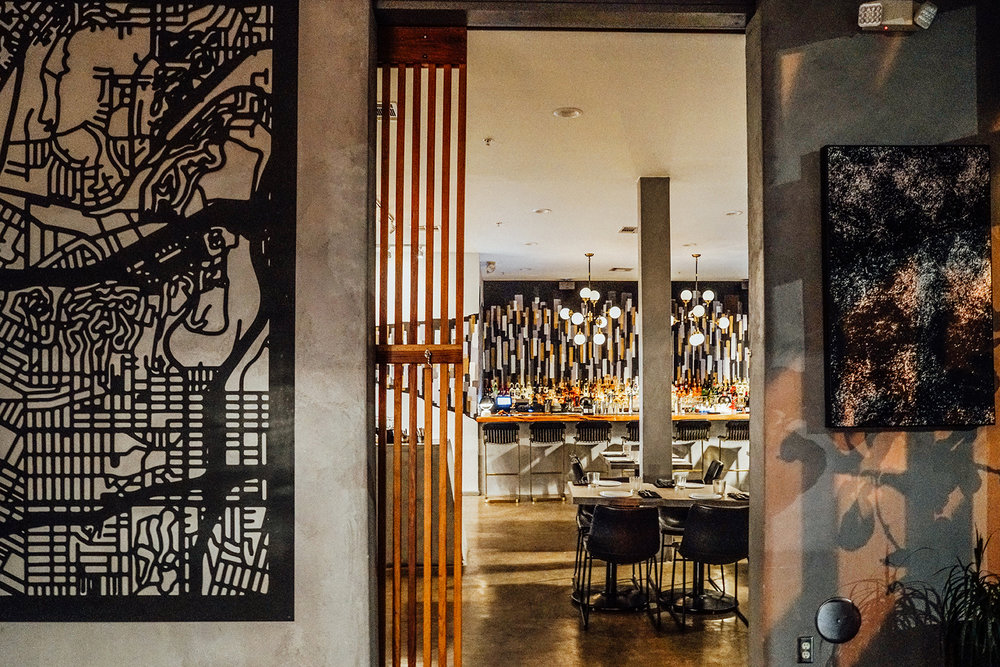 [/column] [/columns_row]
For more Los Angeles inspiration, check out our L.A. stories.